Listen To All the Bangas – New Zealand Radio Frequencies
The Best Kiwi Radio Stations for Your JUCY Road Trip (& How to Find Them)
Whether you're freedom camping in a JUCY campervan or heading out to a cool NZ attraction by car, road tripping to top tunes is a must! We share our fave Kiwi radio stations.
If there's one thing we know about road trips (let's be real, we know more than one thing), it's that a solid road trip is accompanied by solid road trip tunes. What a top tune is to you and a top tune to another is objective. With close to 30 radio networks and numerous local stations, you could spend a lot of time listening to bad music (bad according to your tastes, anyway).
Playing bad road trip tunes is like putting the wrong gasoline in your vehicle – it's all kinds of wrong! To help you out, here are the top NZ radio stations, what kind of top tunes you'll hear, and how to find their radio frequency in the towns you pass through on your JUCY road trip.

Solid as A Rock: The Rock
The giveaway is in the name, so yes, the Rock radio station rocks out to rock. From Led Zepplin to Black Stone Cherry to up-and-coming Kiwi rock bands, the crew at the Rock keep the adrenalin pumping as you road trip NZ in your JUCY campervan or rental car.
The best hours to tune in include too-early-o'clock to 10 am weekdays for the Morning Rumble, and Rock Drive with Jay and Dunc from 3-7 pm weekdays. While you're going to be so far away from your working life you won't remember you even have a job, the Rock Workdays offers 9 am to 5 pm weekdays without repeating a single song. This means if they randomly throw a Nickelback song in there, you'll only have to wait 3-4 minutes for the torture to end.
Key frequencies to find the Rock include Auckland: 106.2; Wellington: 96.5; Christchurch: 93.7; Queenstown: 100.00. For everything else, check here.
Wanna know the best rock music festival to road trip to? Homegrown on Wellington's gorgeous waterfront has a solid lineup for rock fans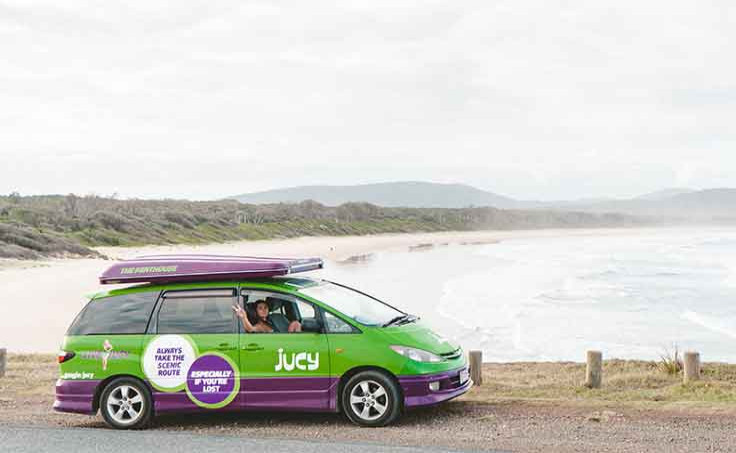 By George, it's Good: George FM
If you're into house, electronic, bass, techno or drum and bass (a surprisingly popular genre for Kiwis), then the bangin' tunes of George FM will not disappoint.
With the tagline "beats working", the alignment is real between George FM and your Kiwi road trip! George Days with Dan Aux is where the party's at, with Dan throwing down one world-class beat after another from 10 am, weekdays. To taste the ultimate freedom, park up at one of NZ's freedom camping spots, get the bevvies out under the starry sky, and tune in to George FM's ad-free Saturday House Party from 7pm to 3am. It goes off!
In Auckland, you'll find George on 96.6; Wellington: 106.7; Christchurch: 106.9; Queenstown on 96.8. For anywhere else, check out this page.
The best dance music festival to road trip to is Rhythm & Alps, close to Queenstown. It's beaut spot, with a stellar line-up.
Cutting Edge: The Edge
If listening to new tunes and top hits is your buzz, then the Edge will hit the sweet spot for you. Whether it's the latest Dua Lipe, Doja Cat or Shawn Mendes track, you can be sure it's trendy right now if you hear it on the Edge. On Saturdays at 2pm, The Edge 40 offers the best way to find out what's hot in the NZ charts. If you're driving New Zealand's windy roads, keep yourself entertained with giggles from Sharryn and Jayden from 3-7 pm on weekdays.
You can tune into the Edge from most places on the North Island and a chunk of the South Island. For Auckland, scan until you reach 94.2; for Wellington: 91.7; Christchurch: 88.9; Queenstown 95.2.
Our pick for the best on-trend music festival to road trip to if you like the Edge? The NYE mega-fest, Rhythm and Vines! It's the first festival in the world to see in New Year's Day, and they always get a couple of big-name acts as headliners.
Whether you're freedom camping in a JUCY campervan or heading out to a cool NZ attraction by car, road tripping to top tunes is a must! We share our fave Kiwi radio stations.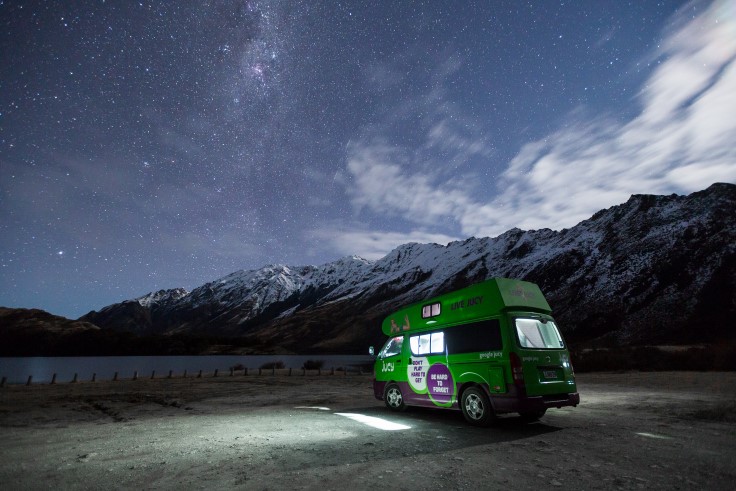 Mai Way: Mai
Mai FM is Aotearoa's largest urban radio station, throwing down R&B and hip-hop hits with a good focus on Māori language and culture, too. Kick off your day right with Tegan, Brook and Jordan from 6-10 am weekdays. They'll spill the latest entertainment news and with some top hits, plus a solid joke or two. The Mai Hot 20 gives you what's hot in the world of R&B and hip-hop from 7 pm until midnight on weekdays.
Mai FM is a North Island-only station, and you can tune in from 10 cities. For Auckland, it's 88.6 and Wellington 100.5. For everywhere else, check here.
While the Northern Bass festival isn't dedicated to hip-hop, it features on the lineup. Located in Mangawhai, an hour north of Auckland, this NYE fest has an epic summer vibe.
Hits the High Notes: Hits
The Hits offers a mix of contemporary and classic songs that brighten your day and make you question why you can't remember what you did last week, but you can remember the lyrics from your favourite song when you were 14. Whether it's old-school Gwen Stefani, new-school Billie Eilish or another massive tune in-between, Hits has it on their playlist.
New Zealand's most beloved comedy radio duo, Jono and Ben, create a hilarious, fun-filled three hours, from 6-9 am weekday mornings. It's the perfect complement to your camper breakfast and homebrewed coffee from whatever gorgeous part of NZ you were freedom camping at for the night. You can tune in to the Hits from 42 locations across the country (many are tourism hotspots). Find Auckland: 97.4; Wellington 90.1; Christchurch: 97.7; Queenstown: 90.4. For everywhere else, check here.
While there is no one festival perfectly suited to the Hits station, the Queenstown Winter Festival is pretty close, thanks to the fun events, live gigs, and epic parties!
In the Zone: ZM
Although ZM has been around for nearly 50 years, it's kept with the times, chucking vinyl on the record player (jokes) with the latest hits and a few classics, too. Tune in for some Post Malone, Lil Nas, Six60 (Kiwi icons) and more.
If radio ads irk you, you'll love ZM's Non Spon 90. From 9-10:30 am weekdays, you get tunes – and only tunes – blasting in your JUCY car or campervan! We're also fans of ZM's Friday Jams (9 am to 5 pm) with throwback music to get you pumped for the weekend ahead. Tune in to 91.0 if you're in Auckland, 90.9 for Wellington, 91.3 for Christchurch, and 88.8 for Queenstown. Head here for more frequencies.
The best festival for ZM fans is Splore. Not really because of a match in music (you'll enjoy having your tastes expanded, though); more for a match in attitude, as Splore is New Zealand's most fun and creative festival.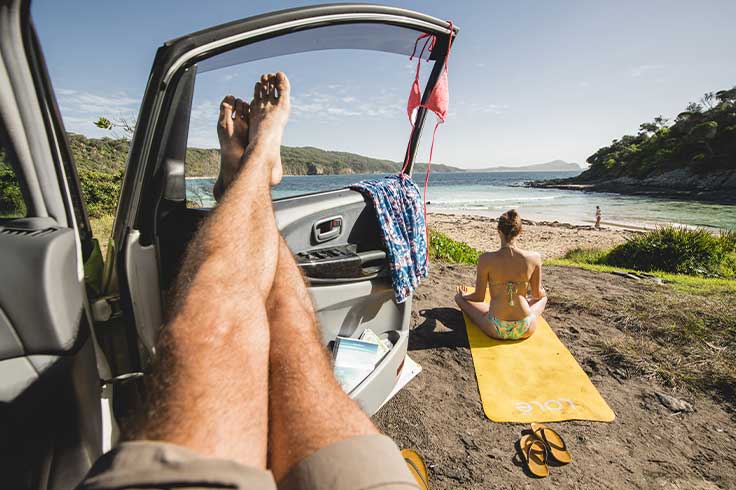 Never say we don't love you
Thanks to our handy guide, you can forgo road rage for radio raves in your JUCY campervan or car! Simply check this blog out with your road trip buddies, pick the best sounding radio station for you all, tune in, and sing along! Too easy!
Now you've picked your radio station, are your ready to pick your JUCY wheels? CLICK BOOK NOW, or call our friendly crew on 0800 736 399. Don't forget to tag @jucyworld on your JUCY adventures!