New Zealand road trip itinerary: travelling Aotearoa from south to north
Aotearoa doesn't mean 'the land of the looooooong white cloud' for nothing. New Zealand is a lanky country. Its skinny shape makes it ideal for a one-way journey. Driving all the way from the south to the north of New Zealand is a road trip of epic proportions. It'll involve one ferry crossing, hours of driving, and countless photo opportunities, hikes, pee breaks, and memories made.
Here is a basic itinerary for a drive from the bottom to the top of New Zealand. These stops are just a rough outline. To make the most of your trip, put the 'ad' in adventure and adlib along the way. Pull over at as many viewpoints as you can, stop off at walking tracks, detour to see waterfalls, and veer off the beaten path (just not the road) every now and then. Wake up for sunrises, eat fish and chips on the beach at sunset, bathe in the sun, and dance in the rain. This is going to be one of the best trips you ever take.
Queenstown
Kick off your epic south to north journey in Queenstown.
There are too many things to do in Queenstown to list them all in one short paragraph – you just have to get down there and discover it for yourself. The mountains surrounding the town are a playground for outdoorsy folk. Hike, ski, or cycle your way around, or hitch a ride up the hill on the gondola if you're that way inclined. Elevate things even further with a bungy jump, sky dive, or helicopter ride. The sky is literally the limit. When you need to relax, hit up the Onsen Hot Pools or kick back in one of the many outstanding bars and restaurants around town.
Get a taste of the open road and head a little further afield to Milford Sound, or just do a loop around Lake Wakatipu, stopping in at Glenorchy and anywhere else that takes your fancy.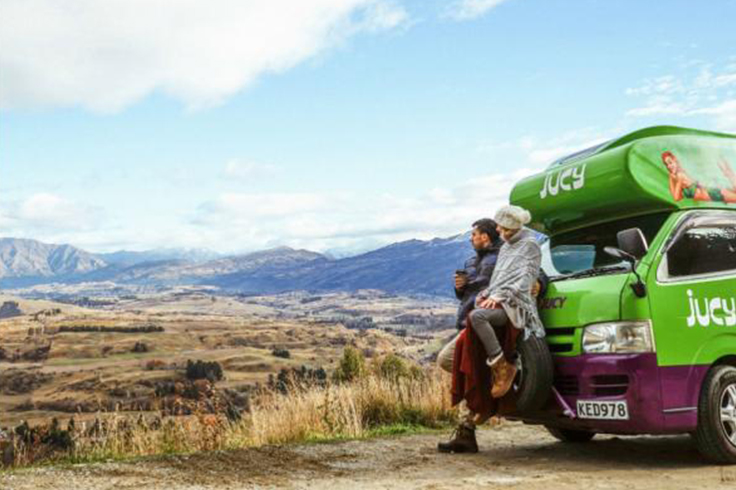 Wanaka
Head north from Queenstown along the Crown Range - one of the most scenic drives in the whole country.
It's only an hour up the road, so not far into your upcountry journey, but you should still stop in Wanaka. For one thing, you need to get a photo of #thatwanakatree. For another, Wanaka is a lot like Queenstown, but without the crowds. Stroll along the lakefront admiring views of Mount Aspiring National Park, climb Roy's Peak, or squeeze in some epic runs down Treble Cone if you're there before the season ends.
The Mt Iron Track, and Rob Roy Glacier trail are two more hiking options for keen walkers and view lovers.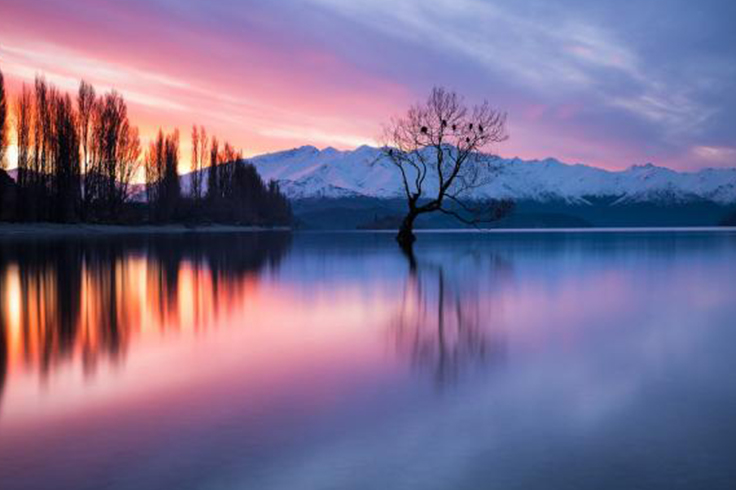 Christchurch
At about six hours, the first big leg of your south to north New Zealand road trip is the stretch between Wanaka and Christchurch. Stop off at Lake Tekapo and Lake Pukaki to break up the trip. You can also throw in a very worthwhile side trip to Aoraki/Mount Cook National Park, taking in the Fox and Franz Josef Glaciers.
Christchurch is a city under construction. The rebuild following the devastating earthquake of 2011 has brought a spirit of innovation and creativity into the city. With the quiet Avon River and ample green spaces, Christchurch makes a great base for exploring the surrounding area.
From Christchurch you can take a break from driving and ride the TranzAlpine across the backbone of the South Island to Greymouth and back. Enjoy the fully-serviced train carriages are a comfortable while you watch the Canterbury Plains and Southern Alps roll by.
One very worthwhile detour from Christchurch is Akaroa. The town itself is adorable, with a curious French influence still clearly visible. Go kayaking in nearby Pohatu Marine Reserve and get up close to seals and penguins.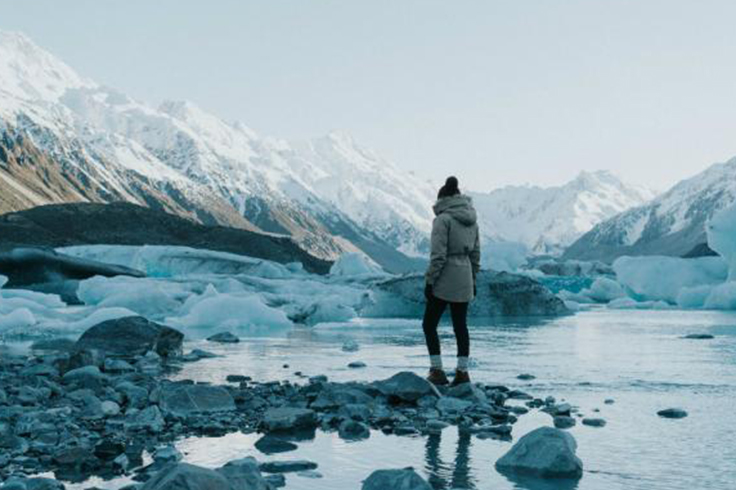 Kaikoura
Three hours further north, Kaikoura is a wildlife hotspot that will make nature lovers swoon. Spot whales, snorkel with seals, or just hike up Point Kean to see if you can get a glimpse of dolphins arcing through the water off the coast. The sweeping coastline and abundance of marine encounters make this an essential stop on a road trip up the South Island.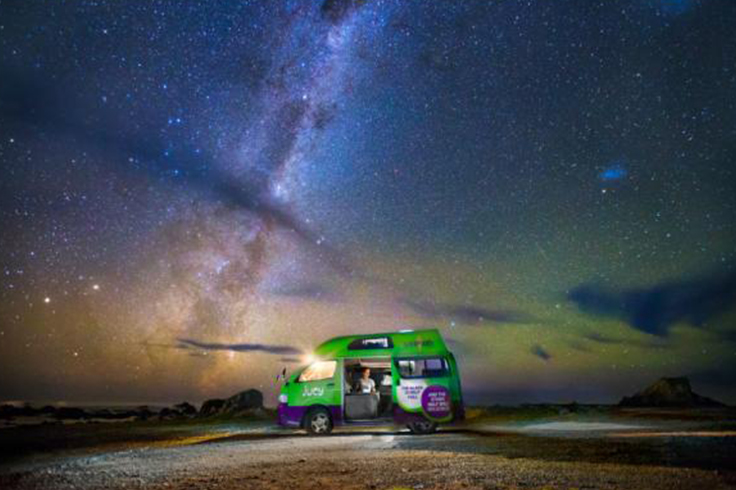 Nelson
With the Tasman Bay in front and the Richmond Range behind, Nelson is a little piece of paradise. In the town itself you'll find plenty of culinary and craft beer experiences, but it's what lies around the town that makes Nelson such a draw.
The Nelson trails encompass dozens of walks in the surrounding area, up mountains, around bays, and through national parks. Coupled with the fact that Nelson is the sunniest town in New Zealand, you might end up spending more time here than you originally planned.
After visiting the area around Nelson, make your way to the Interislander in Picton. The Queen Charlotte Drive is the stretch of road between Havelock and Picton. It is only around 40 kilometres, but it is one of the most beautiful drives in New Zealand, so make sure to include it in your country-length road trip.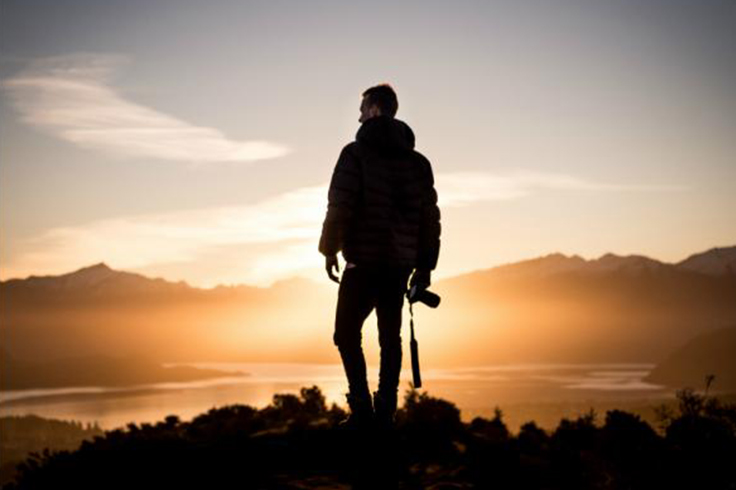 Napier
Napier is at the heart of Hawke's Bay, one of New Zealand's most famous wine regions and the culmination of the wine trail. The town is famous for its Art Deco buildings, considered some of the finest in the world. After exploring the town, you can ditch your camper for a cycle tour through the many glorious vineyards.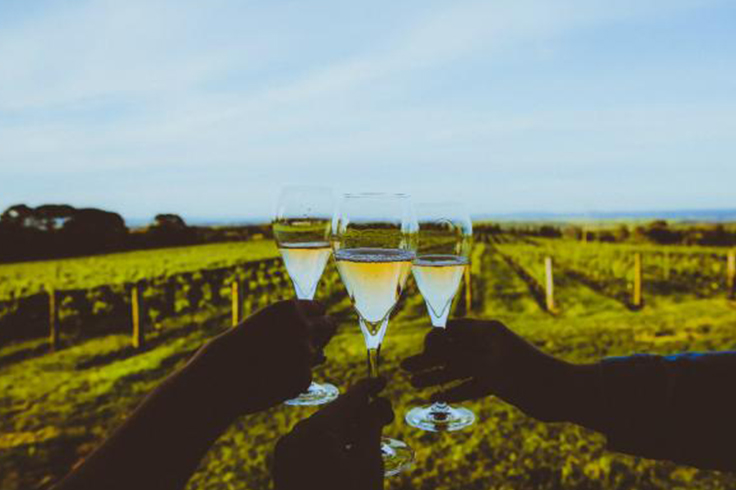 Taupo
From Napier, take the 'Thermal Highway' northwest toward Taupo.
Taupo is a hub of adventure activities. Take a speedboat up to Huka Falls, ratchet up your adrenaline with a skydive, find out why this is one of New Zealand's best mountain biking destinations, or explore the many geothermal walks and spring in the area. Or just hang out on the shores of a lake the size of Singapore, enjoying mesmerizing views of Ruapehu in the distance.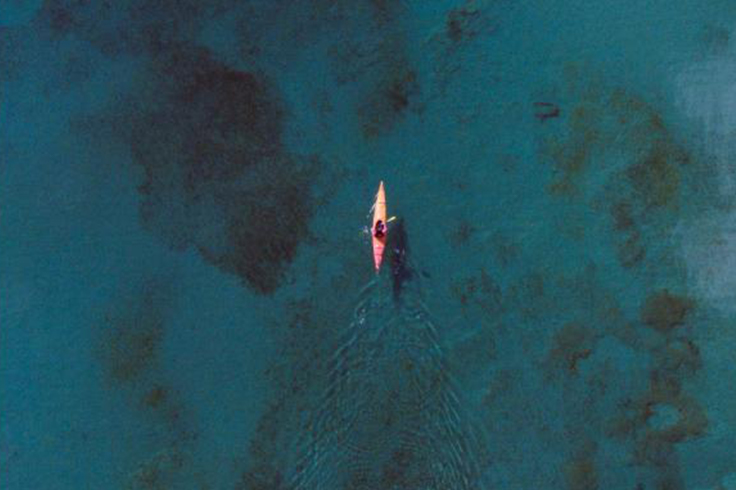 Rotorua
Continue on the Thermal Highway up to Rotorua, stopping by Wai-o-tapu on the way.
Rotorua is most famous for its geothermal activity (you can't miss that sulfur smell) and Māori culture. Check out Te Puia's bubbling mud pools and 30-metre tall Pohutu Geyser. Lakes Rotorua and Rotoiti and great paddle-boarding spots, and if you look close enough you'll find glow worm caves and thermal pools around their edges. With all the hot water springing out of the ground in Rotorua, this is also the place for indulgent spas and mud baths. Go ahead, treat yo'self!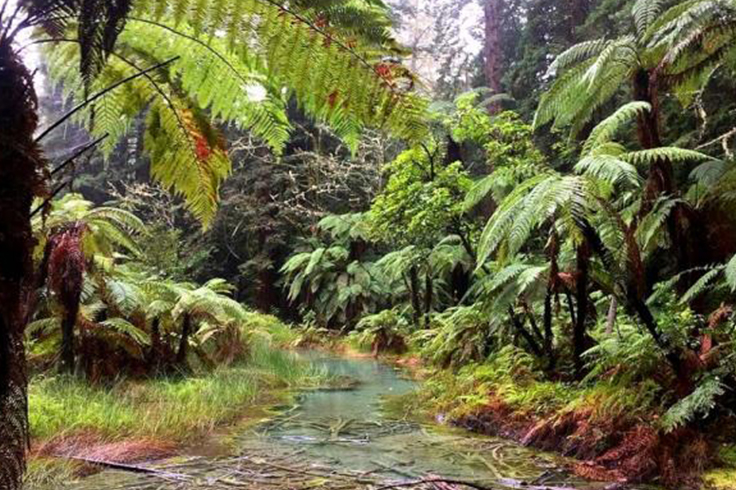 Mount Maunganui
After Rotorua, leave the Thermal Highway behind and head straight up to Tauranga instead. This will put you on the Pacific Coast Highway. You can spend a night or two in Tauranga or head straight out to Mount Maunganui.
You can't claim to have driven the length of New Zealand if you don't have a photo of you grinning at the top of Mount Maunganui.
Hahei
Carry on up the Pacific Coast Highway. It passes by beach towns of Waihi Beach and Whangamata before looping around the Coromandel.
The Coromandel is one of New Zealand's ultimate driving destinations, with a stunning view around every bend of the very bendy roads. You can take your pick of beaches to stop off at on the road that loops around the peninsula, but the classic destination is Hahei. Nearby Hot Water Beach and Cathedral Cove are bucket-list worthy attractions, and Hahei beach itself is magnificent.
Take the time to stop in at the little cafes, wineries, and fresh fruit stands you'll find dotted around the Coromandel. Going slow here is almost obligatory – because of the perpetual beach vibes as much as the narrow, windy roads.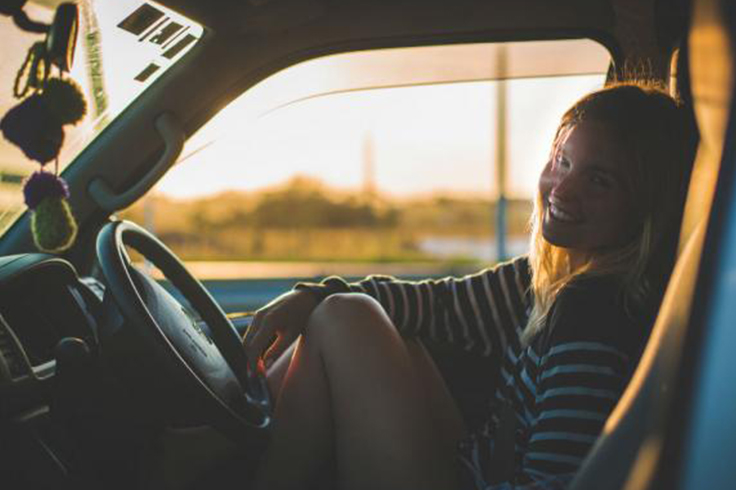 Auckland
Auckland's concrete and glass skyline draws in weary travelers with the promise of flat whites in trendy cafes, a thriving live music scene, and continuous arts and culture events.
New Zealand's largest city invites exploration. You'll find all the best places to visit in the suburbs lying around the central city. There are some of the best cityside beaches in the world, incredible harbor views, and markets galore. You can base yourself here for a few days and take day trips out to the west coast beaches of Piha, Bethells, and Muriwai. Or head north to Matakana and the surrounding vineyards for a day.
While you always have the option of carrying on up north, Auckland makes a logical conclusion point for your bottom-to-top Kiwi road trip.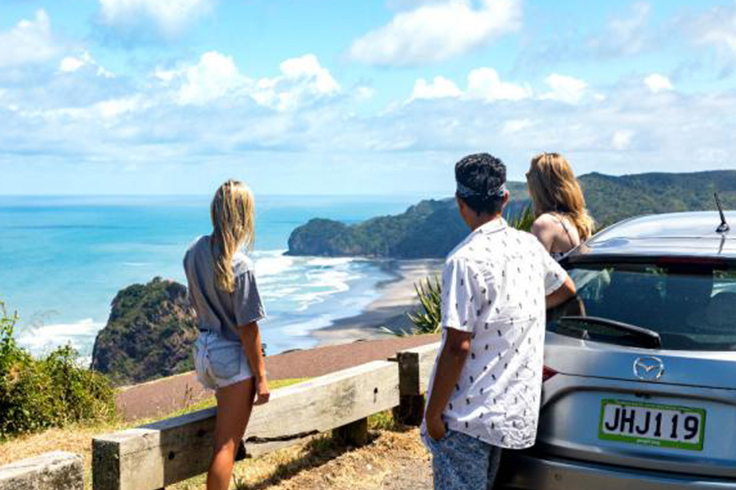 Sound good? Then jump on it and book now!
Petrina Darrah is a freelance travel writer from New Zealand. Check out more of her work at petrinadarrah.com.