JUCY DOLLARS GIFT VOUCHER!
Gift an epic New Zealand road trip adventure TO YOUR LOVED ONE!

Looking for an awesome gift idea or a little something to say thanks? Purchase a JUCY dollars gift voucher for a memorable JUCY Car or Campervan hire road trip across New Zealand.
We offer gift vouchers for a specific dollar value starting from $50 and up to $500. These gift vouchers can be purchased and redeemed easily by contacting our amazing JUCY crew. There is no extra fee/surcharge involved to purchase the voucher, your friends/family get to use 100% of what you pay. You're welcome!
Our JUCY gift vouchers are a great way to let someone know you're thinking about them, and you can send the voucher directly to their email for them to use – easy! Keeping in mind the uncertain times we live in, JUCY vouchers are valid for a year from the date of issue, so your loved ones can take their time to plan a memorable JUCY road trip.
They can choose to start their road trip from one of our three convenient locations around the North (Auckland) and South Islands (Christchurch & Queenstown). We've got them covered, whether they prefer to explore the best bits of the local region or all of New Zealand on a one-way campervan hire. What's the wait? JUCY gift voucher can help your family and friend have a New Zealand experience they'll remember for the rest of their lives.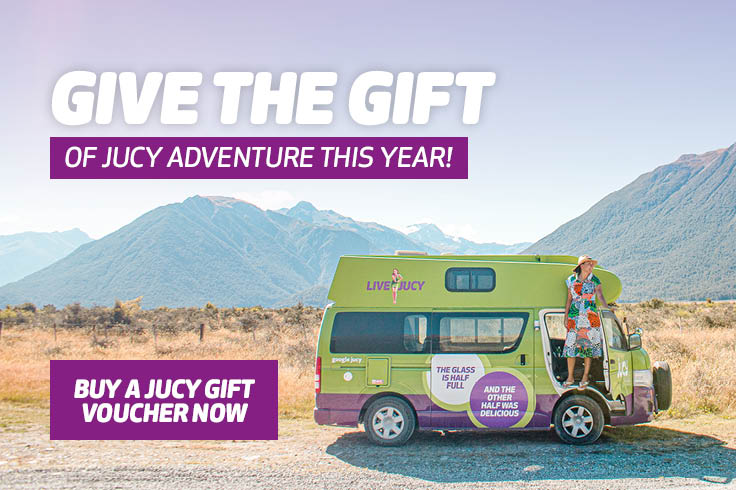 Purchasing a gift voucher
Purchasing the JUCY dollars gift voucher is easy! Just check out the below steps:
Just contact our lovely crew (0800 399 736 or

[email protected]

) with the below details:

Your full name
Your email & phone number
Gift voucher value in NZ$
Recipient's full name
Recipient's email address (we'll share the voucher with you, and we just need the recipient's email address for our record)

Once we have the above, our team will email you a payment link for the gift voucher value
Once you complete the payment, we'll issue the voucher within 24 working hours
Please note the voucher is valid for a year from the date of issue.
Redeeming a gift voucher
Please share these steps with the lucky one receiving the voucher:
To redeem the voucher, simply contact our lovely crew

[email protected]

and include/attach the voucher in the email.
Provide their road trip details (dates, location and vehicle type)
Our crew will confirm the booking using the JUCY dollars gift voucher
Please note if the total booking cost is higher than the gift voucher value, they need to pay the difference (at the time of booking or pick up)
No refunds will be issued if their booking cost is lower than the gift voucher value.
GIFT VOUCHER TERMS AND CONDITIONS:
Vouchers are valid for a year from the date of issue. To redeem these JUCY Dollars, all bookings must be made directly by emailing our reservations team at [email protected] (please attach the voucher in the email). The JUCY Dollars Voucher number must be quoted at the time of booking and is not valid for existing bookings. All hires are subject to availability & minimum hire periods. JUCY Dollars are non-transferable and cannot be exchanged for monetary value. JUCY Dollars can only be redeemed once and in one transaction. The bearer will not be entitled to a refund for any unused portion of the JUCY Dollars. JUCY Dollars recipients need to spend the JUCY Dollars voucher for hire in New Zealand only. Standard JUCY Terms & Conditions apply.