Check out our great car range in New Zealand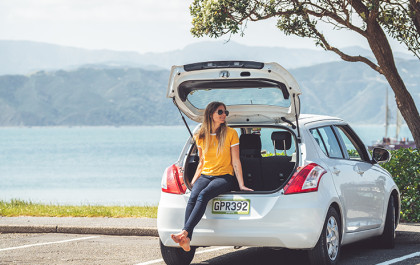 When size, style, and cost are important, hire our compact Small Hatch.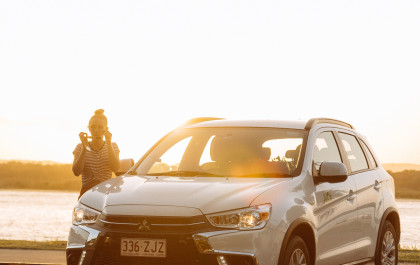 Hire our slick Compact SUV for a roomy, sporty, great value trip around New Zealand.
Where to hire JUCY cars in New Zealand
You can find JUCY rental cars in 3 handy locations around New Zealand. Choose to hire a car from New Zealand's largest city at Auckland Airport, the adventure haven of Queenstown, or the garden city, Christchurch. From any of these bases, you can belt yourself in and hit the road, en route you can take in the many cultural and natural attractions around Aotearoa.
Save with JUCY car deals
To save money on your car hire, keep your eyes peeled for our great deals throughout the year.
Peak season in New Zealand is over the summer period from December to February. Prices are highest around this time, so look for one way relocation deals which could help you get incredible low rates.
In winter, prices are lower and you're more likely to see awesome discounts on rental vehicles.
See all the latest deals here!
Get inspired: Tips for travelling New Zealand in a rental car
Whether it's an El Cheapo, or a stylish Small Hatch, a set of wheels is your best accessory when travelling in New Zealand. JUCY car keys unlock more than just your vehicle – they open up the whole country, allowing you to go on epic road trips as far north as Cape Reinga and as far south as Bluff.
View all articles
JUCY car hire reviews
Real reviews from fellow travellers so you can hire your car in confidence.
People choose JUCY because of our friendly customer service, convenient locations and great range of vehicles.
Read more about why people love living JUCY!
Service by staff was excellent
Everything was amazing easy pick up and drop off and good quality vehicles
Everyone was awesome to deal with, Thankyou
Relaxed and friendly customer service.
The Jucy Condo was perfect for the road trip with my two boys aged 8 and 9 . It is set up very well with heaps of room to cook, eat and sleep and play. We will definitely book one again for our next school holidays to explore more beautiful places in NZ. So fun and practical, drives well and super-easy to park. Big thumbs up from the Brereton family :-)
Just always such a good deal
10/10. Branch manager James of eagle farm was amazingly helpful & displayed excellent, friendly customer service.
Fantastic service, staff very friendly and so helpful. Car was great, exactly as advertised. Prompt pick up and drop off to airport making our trip enjoyable and stress free. Thanks Jucy!!!!
Colin at Cairns office was extremely kind & charismatic, he gave us a warm welcome & some good laughs! The vehicle itself was exactly as we expected, comfortable car, roomy boot & easy to drive.
Loved the pickup and drop off service from/to airport. Lovely staff upgraded us on our honeymoon also, much appreciated!
Would definitely use Jucy again. Polite, friendly and helpful staff. Car was ready for us to collect and on returning it, we were promptly returned to the airport via the courtesy bus. Great job!
Fast and easy pick up ,plus airport pickup was fast
Everything is impeccable. The car was working. Professional service. Staff nice. I unloaded the battery, road assistance arrived within the hour. I definitely recommend JUCY. A great company, I will use the next time. Satisfied from Poland
Great affordable prices, friendly & helpful staff
Amazing customer service and amazing cars
Always good ! Easy to deal with, no fuss car or van hire, always use Jucy !! Cheers Tank
Ease of use, no fuss and professional and friendly staff.
Fast collection from airport and ease with which everything was arranged. Also good value prices
great vehicle, was new and clean
Getting the car was super easy, the staff were really helpful and the ride back to the airport for departure was fab!
I liked how comfy and easy the bed was to put together, and that the fridge worked well. The whole process was easy
Great service… Love our jucy rental, from complimentary airport pick up, great check in and easy drop off! Thanks jucy x
Clean and hygiene car. Works awesome for a new user like me.
The staff were incredibly accomodating and considerate. I felt like a friend was looking after me and felt that the professional and personal mix was great. I was underway on my journey feeling good! The British guy at the desk I forgot his name was brilliant.
Efficient, friendly, value-for-money, hassle-free.
Everything was easy and the staff is very kind.
I´ll repeat for sure!
I love the staff and how friendly they are. I also love the affordable prices!
Fantastic, friendly customer service and a willingness to go the extra mile to help make our car hire smooth and seamless.
Love Jucy! Four times now for me, great company! Planning number five.
Service was amazing! Communication and pick up a breeze
Excellent service, most helpful booking in staff. An upgrade was most appreciated.
All you need to live the van life in NZ
Awesome service (staff / shuttle, and even the crew that work behind the scenes). Rented a Mazda recently and even though I loath autos, this was a sweet rental and cheap on petrol .. oops my secret is out. But for the budget wary travellers, this is great advise when petrol is so expensive. I will rent again. PS. Cheap deals too when staying with JUCY Snooze who I recommend as well. Happy travelling and enjoy the journey.
Service was great.....James the manager at Brisbane Depot was fantastic !!
Both the campers and the staff I have found to be good quality. The outfit of the vehicles, combined with the bold and fun branding are second to none in their price range - highly recommend the camper, and even the other JUCY campers toot as you pass as we are all enjoying the trips so much. The service has also been great as long as we the buyer are patient and clear on what we want ie; you're not a nightmare customer as we can all be at times. My family has used 3 brands of campers in NZ, and JUCY service and quality for money is the best.
Whenever I had a problem with breakdown to insurance renewal or extension of hire, service could not have been better. So helpful and beneficial. Jucy are like no other car hire company that I have dealt with and would have no hesitation in using them again.
Great and flexible service
Prompt, efficient & friendly
The cabana was awesome, had everything we needed and was perfect for the 2 of us
Very helpful, easy to pick up car, affordable price
Everything was fantastic, staff were lovely and easy checkin. 10
Great service. Lovely people. Good price. Clean car. Fair insurance rates. Thank you.
Seamless transaction, so so easy and very friendly staff. Nothing needed to change for my personal experience.
The car we had was not new but ran like dream. The staff that we met were helpful, cooperative and friendly. The staff on the phone were efficient friendly and polite. I would definitely recommend your company to all.
The shuttle pick-up from the airport was quick and very friendly driver. And also the lady at the depot was friendly, organised and a pleasure to deal with. A great experience with all, and i will be using Juicy again in the future.
Great service and fast collection from the airport
Great flexibility and pragmatism by staff to help during COVID. Van is clean and tidy, great value for money!
Customer Service has been great.
Experienced staff member Matt at the Christchurch Airport depot was fantastic to deal with and super informative.
The staff at Jucy Coolangatta were great. Great customer service
Your staff always goes above and beyond from pick-up to check in to returns or over the phone customer service. The vehicles are always top notch and the prices affordable.
Friendly efficient service and attended to our needs. Thanks for the upgrade, much appreciated.
Just hired a JUCY Champ for a 12 day South Island tour. I have to say, the pick-up and drop-off couldn't have been easier. Pick up took 15 minutes and when dropping off, the guy literally took the keys off us and we got in the shuttle bus to the airport terminal!
The people carrier was comfortable when driving and very cosy to sleep in both the van and in the tent on the top...

10/10. Staff were very friendly and helpful. Explained the set up of the van and were very thorough.
I loved that the van I rented had all the space I needed and was efficient on fuel, it cost me less to move back to cairns than it did getting to Brisbane in a turbo diesel truck that claimed to get the same mileage.

I liked how well the van was looked after and maintained, not a single issue on my entire 2000km trip!

You're entire system works great, I just wish I could've rented for longer
a lot cheaper for younger people compared to other car hire companies
I loved the quick turn over between vehicles as I hired 3 different vehicles over my holiday
As a first time jucy user it was very easy
Great staff in the cairns office
Loved the simplicity, ease of hire, and affordability.
The process was easy and the staff were friendly
Excellent customer service. Vehicle was clean and easy to collect and drop off.
My sister and I were so gutted we couldnt get the rental we had booked from another company because she forgot to bring her drivers licence. We called all the other rentals and they wouldnt release the car without a matching driver licence and credit card. We were so gutted! I then called Jucy and the person over the phone was so helpful! He said it was possible to use my licence and use my sisters credit card. Relieved is an understatement. The person who picked us up in the shuttle was friendly - the lady at the office was super friendly too! The whole process took less than 5 mins and we had a car! Totally saved the trip!!! And by the way Jucy was almost $200 cheaper than the original car company we booked so that was the cherry on top. Jucy were a lifesaver and so warm and friendly, efficient and no hassles. Will definitely rent from them again. Thank you!!!
Loved how they communicated and how patient they where, such great service 10/10 would use you guys again!
We liked the friendliness of the staff we dealt with.From the time we got picked up from the airport to driving away in our cute hire car.The young lady that served us was so so helpful & lovely.Highly recommended.
It was the perfect size for me - customer service was excellent as I had to change my booking a couple of times - was no drama and the staff at the qt depot was very friendly and helpful
Your staff were brilliant and actually connected with my situation and always made me feel that they were helping me the best possible way they could. I extended again and again for 99 days it was a great rental and needed at the time. Additionally I was dealing with the continued changes of restrictions meaning I couldn't go home and I needed a car, without the flexibility and consideration shown I would have been in a very difficult position without a car. Thank you guys! I am looking forward to my next rental with you guys when required.
It was easy to use and loved being able to move wherever we wanted. Definitely would rent another jucy in the future.
Loved everything, how clean the vehicle and bedding was and nearly everything was included. Only improvement, it would be really lovely if you included some dishwashing liquid as a nice little touch?
Great customer service, staff happy to show each 'area' i.e. gas, emptying of waste, bed setup etc. with clear explanations and they obviously had very good knowledge of the vans. Staff. happy to answer questions. Quick checkin process.
Customer service team in Adelaide were fantastic to deal with, friendly and efficient! It was an easy pick up and drop off process and a great little economical car - cheap to run!
Jucy was easy - the customer service was friendly and accommodating and the van we hired was perfect for my partner and I. We had everything we needed. Thank you
Very friendly staff, car was ready and clean, no delays
Great rates, great staff, great service. Couldn't fault anything at all
Great customer service - very friendly and helpful!
Thank you JUCY for a great trip with your vehicle!
From the moment we arrived customers service was on point. We never had problem with the caravan and we returned it after their working hours with no problems.
Thank you guys! We will definitely see you again for our next trip :)
Great service from the team at Jucy, the pick up was euper easy and the car great value for money
Friendly staff, very tidy and clean campers and had everything we needed.
The best car hire service I have ever experienced!!! I will definitely use them again and highly recommend them!
Jucy is great . Reasonable, best cars and extremely convenient
Friendly service at the check in and check out counter
Shuttle bus driver very entertaining
Great value for money
Amazing really helpful staff, great value for money !!!! simple, quick & easy every time
if in the unlikely event you have an accident, Jucy are very very quick to offer a replacement to continue your journey. Travelled world wide & we have found Jucy to give better service every time !!! THANK YOU GUYS !
Efficient pickup and processing. Online check-in very handy. Good clean cars. Very friendly and obliging management at Coolangatta office. Thanks Steve
Customer service was a 10/10. The Jucy Adelaide crew went above and beyond to make sure that I was comfortable and had a fantastic experience. Will definitely continue to book my trips with Jucy and I will highly recommend that my friends do as well. Thanks for a great time!
The guys who served me was extremely helpful, first time in Adelaide with my partner. He was recommending places for us to go to, definitely went above and beyond with the service. It made the atmosphere feel real, friendly and great. Thanks again, Will definitely use this company again. Thanks
10! Such helpful, informative and intentional customer service. Explained the coverage, utilities and specifications of the vehicle that we had hired. Very friendly and genuine. Would 100% recommend!
Nothing to improve upon here - every aspect of rental experience was superior to every other rental company from service to delivery and communication. What an outstanding business model and company.
Will be hiring through jucy for the foreseeable future very handy and very affordable. Thank you guys
The service from the Jucy Customer Service Representative's was first class
The van has all the amenities and was so easy to pick up and sort out it's a very smooth drive too
Great service overall and very friendly staff
The customer service at the North Plympton shop was fantastic, and the Jucy Champ we hired perfectly catered our road trip. We will definitely be using Jucy for our next adventure.
Rented a car for the day and couldn't be more impressed, excellent service and good quality cars for a good price.
The car was exactly what we needed didn't skip a beat n was reasonably priced. Would def use again and recommend
Jeannette was super friendly and Peter who brought us to the airport was also very hospitable. Excellent service. Thanks team.
Again, James and Brissy team are awesome!
Our check-in experience was amazing! The staff members were all super nice, helpful, and easy to talk to. They gave us tips and told me where I could park my car for free during the trip. They even threw in a couple of chairs even though we hadn't paid for them in our reservation! 100% recommended!
Very good customer service. Friendly and professional staff.
Best customer service !!
All the staff at their Cairns pick up/drop off office were so patient, friendly and very helpful.
Definitely highly recommend!!!
It's so fun and a very economical way to travel. We were able to take care of food and transportation and lodging for our family of five (two kids and a baby) for less than the cost of staying in hotels. Only going to restaurants once a day, rather than three times, makes the trip much more affordable! You van stay at free campsites along the way (use the Wikicamps app). JUCY was one of the only campers that had five seatbelts we could find. Highly recommend.
Really enjoyed Jucy, modern, comfortable, warm, great campervan for travelling around NZ :)
Loved how comfortable our 8 seater van was! Free shuttle bus to and from airport and friendly service.
Very affordable and easy to hire van service
Great customer service at the Christchurch Airport pick up!
Hired a car through JUCY in Queenstown. The online process was easy and the car we got was clean and nice to drive. I accidentally ordered the wrong sized car seat, which they corrected within minutes of arrival with no worries. Would happily hire through them again.
Every time I pickup from the Brisbane depo every staff member is so nice, thank you!
The staff were wonderful. The process was relatively easy. The car was fabulous.
We picked our vehicle up outside branch hours. Details for pickup were clear and we picked up the vehicle with no problems at all! The staff I spoke to leading up to our trip were lovely and helpful! Will definitely be using jucy again!
Customer Service and Rental prices - Absolutely fantasstic experience and totally impressed...
Friendly, helpful service and generous not greedy
The guys were all very friendly and easy going, and they really went the extra mile to improve our holiday!
I thought the entire process was quick, simple and easy.
Great explanation about the van's features and a very quick and easy pick-up experience!
Affordable, helpful staff, flexible drop off, clean car
Very efficient pick up and friendly and helpful customer service.
I liked the friendly staff, quick service, clean cars and availability
my kids loved the juicy experience , everytime we saw another juicy we waved to each other , as if we were one big juicy family .... too good .. we loved juicy !
The customer service was amazing from getting picked up from the airport and greeted with a friendly smile to arriving at the Juicy depot and showen our amazing camper.
Each dealing with your team at Coolangatta was spectacular. James, Ben, and Steven were helpful every step of the way, and went above and beyond to ensure the JUCY service was A+; very impressive.

Thanks, guys!
Very friendly and helpful staff.
Great service. Super friendly. Great van no problems at all. 10/10 I would definitely use again.
Great Van set up , for cooking and sleeeping.Cant wait to hire one again So much FUN.
Helpful team, nice set up in the van! Thanks
I already have recommended you to my friends, we got great, friendly, helpful service particularly from James in your Brisbane office. Thanks
It's magnificent customer service.
Quick, easy, friendly service both online and in person. Affordable
Friendliness of staff members from airport pickup to processing at the office.
I liked how smooth and easy the all process was and the cleanliness of the vehicle.
The staff was very nice and friendly.
Very helpful staff. Definitely recommend them such a great team !! I always book with them :)
Service was great car was clean and tidy thank you
The jucy love across the country side
Very thorough and professional. Everything happened as it should. Very friendly and helpful people
Amazing service, great staff.
Great service, prompt and able to assist with changes really easily and openly.
Customer service was awesome and super easy check in.
Great customer service, happy and helpful staff!
Excellent customer service & great resources to help campers.
I liked the campervans have all the basic items for a first-timer customer to focus on enjoying rather than focus on the preparation.
Loved the easy or pick up and drop off. The staff are great! Van was a powerhouse. So much capacity and so easy to explore the south coast!
Great customer service on the ground and during an online live-chat. Car was in great shape and made our trip extra special.
Friendly staff, great service & value for money. Excellent.
The attention to detail was excellent, a comprehensive introduction to the equipment and the added extras, table and chairs, as well as the USB adaptor that made the trip easier and more enjoyable for us first-timers. Nothing really could have been done better.
The price - so reasonable for a great little vehicle. How easy it was to book and the Jucy people were great to deal with. It was all very uncomplicated and easy.
Team was really helpful. Will come back
Very helpful with everything and all the staff I spoke with were so kind
The staff were awesome. The guy who picked us up from the airport was a true gentleman, fantastic service. Then the guy who processed the hire was also super friendly, helpful and professional. I will highly recommend!
Very friendly and helpful staff, good prices, easy process up on pick up.
Staff were incredibly friendly and helpful! Customer service was the best I have experienced from a car rental place.
Guys at Gold Coast (both shuttle driver and the person who served us at counter) were super friendly
The initial service. It was very easy and quick to get going and on the road. As the last thing you want after a flight is waiting around longer.

Thank you
Everything was just easy. Great experience with great prices. Thanks for adding to a fantastic holiday in Queensland
Everything about the vehicle, great on the road and plenty of space
Customer service was great and shuttle bus from airport quick and easy, no issues at all. Will book again.
Unlimited kms option, the whole rental experience was stress free and easy ... thank you
The service was awesome, the Juicy rep answered all our questions and had us out in and out in a jiffy or should I say juicy.
All was great - employees were really helpful and care drove well
Very friendly staff. Appreciated the shuttle service. Car ran well.
Welcoming, friendly service. Staff went over and beyond to ensure we got on the road sooner than we planned with everything in place. Your service and condo has exceeded our expectations. Thanks Jucy!!
Always friendly, always accomodating.
Service on the phone and at the office was top shelf: friendly and efficient
Great value for money and good comfortable vehicle with many useful features!
Friendly and prompt service with clear explanation
Great pick up service, friendly staff and very clean and well looked after Cars at a reasonable price. Would book definitely book a Jucy Car rental again.
Friendly efficient staff & clean great car to drive. Loved the whole booking & hiring experience & certainly will look at using the company next time.
Great to have a shuttle ready and waiting at airport, she was very friendly and helped with local knowledge questions i had. A great experience, the vehicle was super cheap and reliable - i had an elcheapo vehicle and no problems at all. Would use Jucy again no doubt.
Easy pick up and drop off and smooth airport transfer either way!
The efficiency and chattines of the team and their desire to want to relate to me and I must admit that was through the entire booking, collecting, hire and dropping off processes. Fantastically efficient, friendly and wanting to help. I'm a Jucy car and campervan fan forever now...
Super simple process, great staff and the drop off and pick up service was awesome
Definitely the service recieved over the Phone and in person Jonny at the airport depot. Bloody outstanding. Thank you
Easy to book; friendly staff; good and fair prices
Service with Emz and QT team were both amazing, easy to do all that process online and then when I went to pick up car after hours, vehicle was ready, excellent signage for me to collect keys - just hassle free. Thanks guys!
I cant think of anything that needs to be improved from my recent dealings with Jucy, very helpful and kind staff, ive never had any of the cars ive hired fail on me and i use Jucy few times a year when i travel to cairns for tafe, keep up the great service!!
Space in vehicle, some extras that you wouldnt find in other campers and very friendly staff that assure we have a full understanding of the camper, very pleased!
The service (Alex) is awsome, the car is perfect. I strongly recommend Jucy in Adelaide. Roger, from Germamy.
Loved ease and convenience. Super friendly service.
Very handy, comfortable, compact and not expensive. This was our second trip (14 days, 10 days) this year and we love it. Thank you Jucy (James from Brisbane)
Friendly staff, clear explanations and an interest in your trip.
Service was fast, efficient and very friendly
This is my 2nd time using Jucy vans & the great staff here at the Brisbane office always go above and beyond,they're so friendly & welcoming & helpful that I can not fault anything about Jucy hire at all. I will be getting the word out to my family & friends to use this service when hiring.Thanks Jucy you will lose us again soon.
Friendly staff and so quick and easy collecting the car. Car was also very affordable and clean and tidy. Was in and out with in minutes. I was also a hit early and no issue what do ever with that.
Friendly service and quality van
Super easy set up, reliable service, and the staff (Missy at Cairns) was so positive and helpful
How simple and easy the process was, the friendly helpful staff. The car itself. All round great company and will be back for my future car rentals ! Thank you !!
Fantastic service and assistance from Matt at Christchurch Airport today. Helped me beyond call,thanks Matt
Jucy team in Auckland are awesome, very friendly and extremely helpful! Would most definitely do another trip :)
The van was great, we were able to go and stay as we pleased.
Great service, always friendly and helpful. Love the Brisbane office near the airport, what a great crew. Thanks and see you next time. Kaye
Staff were super friendly and eager to help. Thanks for making it easy!
We loved our Jucy experience! The van had everything we needed and was super comfy and spacious. Staff were very helpful and easy to reach when we had questions or issues on the road. Would highly recommend Jucy to friends and family and will definitely be booking with Jucy again for our next road trip!
Process is easy and safe well maintained mid hatch cars. I've hired 2 now and no issues. Free airport transfer is a bonus!
Jucy staff were exceptional, especially when we turned up a day early for our hire, lol. All sorted with calmness and professionalism. Thank you Jucy!
Easy to contact, good location and pickup procedure was simple, staff were very friendly.
The car was great, the price was fair, the guy called Chris who drove us from the car pickup station to Brisbane Airport was funny and friendly
Excellent shuttle pick up, great customer service, lovely clean car, fabulous price.
Discover New Zealand in a JUCY car
New Zealand is a big country with a sparse population. All of the best sights are spread out over a large area, which public transport or private tours don't always cover. To make sure you don't miss anything, hire a car.
A rental car lets you stop as often as you like. Tiki tour with no set destination in mind.
In a JUCY car, you can tick off some of the most scenic drives in the world, including the Queen Charlotte Drive from Havelock to Picton, the West Coast from Westport to Haast, and the Pacific Coast Highway from Whakatane to Gisborne. Driving in New Zealand isn't just about getting from A to B; here, it really is about the journey. Keep your camera in the glovebox for easy access, because you will want to stop at every scenic spot – and in New Zealand, that's a lot of stops.
Hiring a car also saves your time and energy. With locations at four major airports in New Zealand, you can hop off the plane, pick up your car, and hit the road straight away.
We can even help you book your inter island ferry tickets, so you can have a seamless North to South (or South to North) road trip experience.
New Zealand at a glance
Attractions in New Zealand
Travel like a local in a JUCY car
New Zealand at a glance
Unless you have six months at your disposal, you won't be able to see everything in New Zealand. Choose a few of the country's major highlights or take a deep dive into one region to make the most of your trip.
- Head to the North Island for beaches, geothermal delights, and Hobbiton
- Pick the South Island for soaring Alps, bright blue lakes and rivers, and vast wilderness areas
- Make sure you tick off at least one of New Zealand's 13 spectacular national parks
- Check out New Zealand's amazing birdlife, from iconic kiwis to bumbling takahe and curious keas
Attractions in New Zealand
Behind the wheel of a JUCY car, you can see New Zealand's top attractions.
- See the snowy peak Aoraki/Mount Cook reflected in Lake Pukaki
- Explore the galaxy-like Waitomo glow worm caves
- Take a heli hike at the remarkable Franz Josef glacier
- Hike the world famous Tongariro Crossing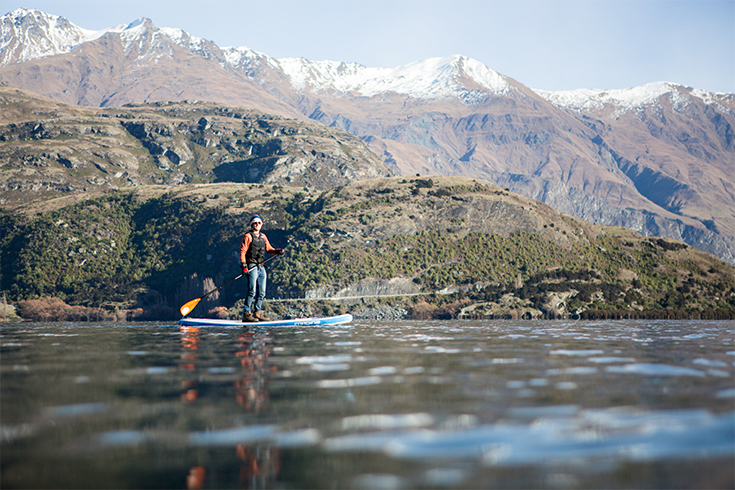 Travel like a local in a JUCY car
Life in New Zealand is unhurried. Embrace it; the country is best enjoyed at a leisurely pace.
- Park up by the beach and enjoy classic fish and chips for dinner
- Take it easy; slow down and chat to the local shop owners to get tips on where to go in the area
- Keep an eye out for the rest areas, so you can admire the scenery and take a break when you need to