10 ways to save money on your car rental
The cost of renting a car in New Zealand can take a large chunk out of your trip budget. No need to worry, though. We're here to help you out with these 10 tips to save money on your car hire, so you can spend more on fun activities!
1. BOOK IN ADVANCE
You'll always find the cheapest car rental prices when you book in advance. When fewer cars are available, prices jump up. Waiting until a few days before your trip to book a car could mean you end up paying almost twice as much.
Booking ahead of time means you'll have more options to choose from and also better rates.
2. TRAVEL IN SHOULDER OR OFF-PEAK SEASONS
Travelling in high season guarantees high rental prices. To find the best car hire prices, travel outside high season - so any time other than mid-December to the end of January, if possible. High season in New Zealand coincides with school summer holidays, so this time of year is extra busy all around New Zealand. Travel in February or March and you'll still be able to enjoy the sunshine, but without the crowds and with much cheaper car rental costs.
The lowest rental prices are in the dead of winter when you can get vehicles for less than half of summer rates. Accommodation costs are lower in winter as well, and you're more likely to find deals on activities.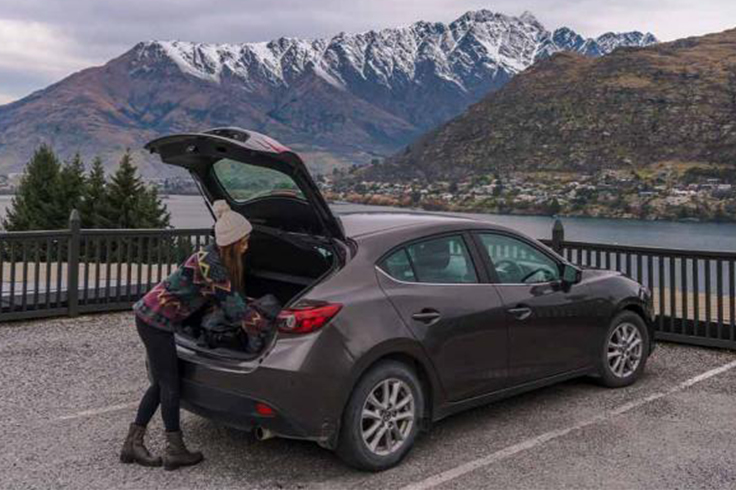 3. CHOOSE FUEL-EFFICIENT VEHICLES
One of the biggest costs of travelling New Zealand in a rental car is petrol. Prices vary, but petrol can cost up to $3.00 a litre in some areas. Fuel-efficient vehicles will help you save money on your petrol costs, even if the daily hire price is slightly more (newer cars tend to be more efficient). As well as cutting costs, reducing your petrol consumption also lowers your carbon footprint!
When booking with JUCY, you can compare the average petrol consumption per 100 kilometres, to help you choose the right vehicle. For example, our Small Hatch cars (Suzuki Swifts) use roughly six litres of fuel over 100 kilometres, while our 8 Seater use roughly 9.5 litres and the Adventure Wagon uses 12 litres per 100 kilometres.
Here are some bonus tips for saving on petrol costs:
Anything less than $2.30 is a good price, so fill up when you see this advertised
You'll need to return your car with a full tank, but if dropping your car off at an airport branch (our

Auckland,

Queenstown, and

Christchurch

centres are all close by airports), try to avoid filling up completely at petrol stations near the airport. These tend to have the highest petrol prices. Fill up further away and just top up your tank before dropping off your car
Close the windows when driving to reduce drag - this hikes up fuel consumption
Travel light - having lots of luggage can mean you burn through more petrol
Reduce your idling time. Just turn the car off if you are waiting by the curb, or stuck in peak hour traffic
4. RETURN YOUR CAR WITH A FULL TANK
While we're talking about petrol, make sure you return your vehicle with a full tank. If you try to get away with dropping off your car with less than a full tank, you'll be charged an admin fee for refuelling, plus you'll have to pay premium rates for the additional petrol. This can end up costing quite a bit and is a sour note to end your trip on.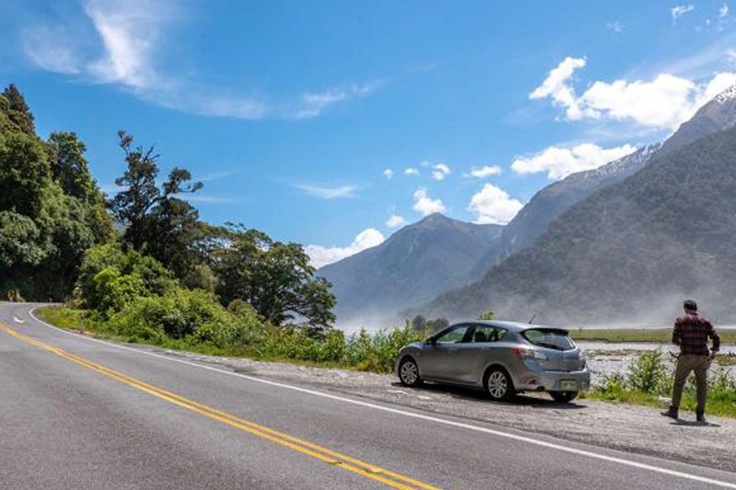 5. RELOCATE A CAR
When travelling from one town to another within in New Zealand, a one-way fee can sometimes apply. You can avoid this fee AND get the cheapest prices for rental cars when you relocate a vehicle.
Relocation deals occur when a rental car company needs to move vehicles from one location to another. You're basically helping them out, so they return the favour and give you the cheapest prices you'll find – sometimes as low as $1!
6. CHOOSE PICK UP AND DROP OFF TIMES CAREFULLY
Rental car companies typically charge their daily rate in 24-hour blocks. So, if you pick up at 10am on Tuesday, and drop off at 5pm on Thursday, you could be charged for three days days instead of two.
Try to time your pick up and drop off times to get the most out of your hire price. And try not to be late dropping off! If returning a vehicle later than the time listed in your rental agreement, you could be charged for another day's hire, a late return fee, or both.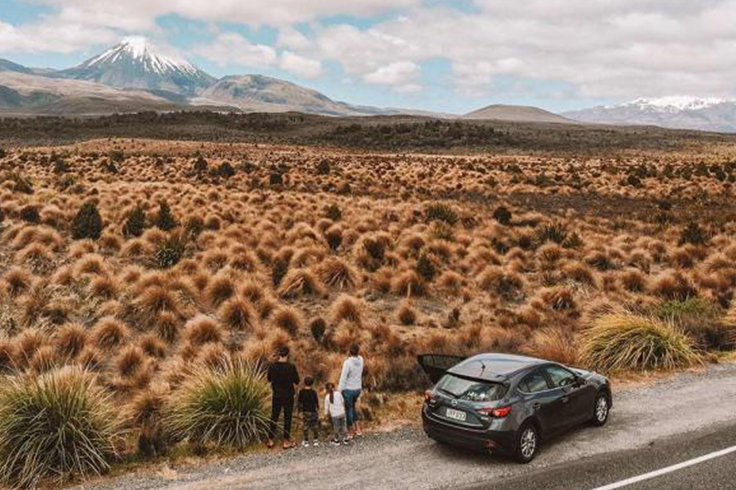 7. PAY TOLLS AND FEES ON TIME
Pay for any road tolls or fines promptly, or you risk being charged a hefty admin fee by your rental car company, on top of the fee itself. Of course, avoiding parking fines and speeding tickets in the first place is also a great money saving strategy! Tolls, on the other hand, are harder to avoid and easier to forget.
There are currently three toll roads in the North Island of New Zealand. The three toll roads are the Northern Gateway ($2.40), on the way north, the Tauranga Eastern Link Road ($2.10), which connects Tauranga to Whakatane, and the Takitimu Road ($1.90), also in Tauranga. You will have to pay a small fee to travel on these roads. The amount you pay contributes to the construction and maintenance costs of these roads. You don't need to pay in advance or at a booth - if you drive on these roads, your vehicle will automatically be charged.
You can easily pay for your tolls online. If you travel on a toll road and forget to pay, your car rental company will charge an administration fee on top of the toll, in order to pay it on your behalf. This can end up being significantly more expensive.
For example, JUCY charges a $30 admin fee for each unpaid toll, and $60 for all other unpaid infringements.
8. KEEP AN EYE OUT FOR DEALS
Time it right, and you might be able to find a promo code that will get you a discount on car hire. Black Friday, Christmas, and Boxing Day are all great times to grab a bargain, but JUCY offers deals throughout the year.
You can also be smart and see if by hiring a car with a certain company will get you discounts off any other services. Overall, you could end up saving on your entire New Zealand trip!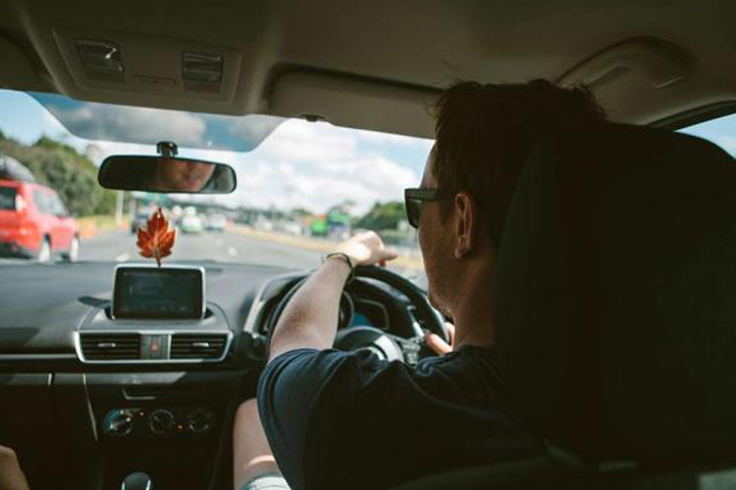 9. BOOK A SMALLER OR OLDER CAR
Unless you're travelling with your whole family or a group of friends, you probably don't need an 8 Seater or Adventuer Wagon. The cheapest rental cars are usually the smaller models, so downsize to reduce the cost.
You can also get a bargain if you opt for a small vehicle. Small faithfuls with a high number of kilometres on the clock are often rented for lower prices than bigger cars. In JUCY's fleet, our wise Small Hatch falls into that category. The Small Hatch has travelled around New Zealand a lot but has been lovingly cared for by our team so they're still in great condition. It might not be as flash, but it'll save you some moolah!
10. CHOOSE THE BEST EXCESS REDUCTION OPTION FOR YOU
JUCY offers multiple excess reduction options for cars - Risk Taker, Stress Free, and Stress Free Plus. Choosing the right one means finding a balance between how much you want to pay upfront, versus how much you can afford to pay if things go wrong. The excess you might have to pay in the case of an accident will almost always be more than the cost of adding excess reduction to your booking. In general, it is smarter to choose the safer option, rather than gambling on having nothing happen while you're travelling around.
There are also a couple of other factors to consider.
Risk Taker ($0 a day, but an excess of $3,000) might save you money upfront, but when you go to collect your car, a bond will be frozen on your credit card. it will only be released when you return the vehicle safe and sound, meaning you won't be able to access that money for the duration of your trip. If you choose Risk Taker, that means $2500 will be held as bond.
You'll also need to pay for any glass damage. Windscreen chips happen easily and cost on average $55. You could fork out a lot more for windscreen replacement.
So, while it may seem counter-intuitive to pay an extra $20 a day for Stress Free excess reduction, it could save you a lot in the long run, and you won't need to budget for a bond being held on your account during your trip. It also means you can travel with more peace of mind!
JUCY HAS A RANGE OF AFFORDABLE RENTAL CARS, FROM SMALL HATCH TO 8 SEATER VAN. BOOK YOURS TODAY!