Auckland's best 5 Day trips by car
A few years ago, Auckland went from a regular ol' city to a Super City! What did this mean? More places to explore, that's what!
As New Zealand's most populous city, Auckland has plenty to offer its visitors. So much so, in fact, that it can be overwhelming to whittle it down to a shortlist. On Trip Advisor alone, there are well over 1,000 activities to consider! Yikes.
Thankfully, when you travel with JUCY, you don't just get a rental car or campervan. We also offer free tourism advice to help you make the most of your time here. For your Auckland travels, we've put together our top five day trips (plus a bonus night activity) to discover our Super City, and beyond.
We get asked a lot if you actually need a car in Auckland. While improving, Auckland is not famous for its public transport. It is worth hiring a car while you're here to get full access. Consider a rental car as being your VIP upgrade to visit more than just the mainstream tourism hotspots.
The suggested day trips below are all driveable in two hours or under. We've picked the beaches, parks, wildlife, and attractions that are a challenge to reach without a car.
Are you ready for a super ride?

Get your glow on
The Waitomo Caves is one of the North Island's most popular attractions, but did you know there are other places to discover glowworms – and they're free?
The Abbey Caves, nestled in the hills of Whangarei, are found two hours north of Auckland. A loop track gains you access to three caves, with glowworms in all three. The Organ Cave is the most impressive, thanks to the sheer volume of glowworms that call it home.
To prepare for your visit to Abbey Caves, you'll need shoes with a good grip that you can get wet, as it can be slippery. Expect to get a little grubby too, as this is very much hands-on as you navigate among the rocks, stalactites, and stalagmites. You need light to enter the caves; a headlamp is best as it leaves your hands free to steady yourself across the uneven surfaces. The caves are suitable for kids if you're prepared, as recommended.
Oh, and don't forget your best 'wow' face for the moment you first spy the glowworms. It's up there in some of New Zealand's best wildlife experiences.

Board at Bethells
If you have a boogie board, you might want to pack it for a day out at Bethells Beach. Located on Auckland's rugged west coast, Bethells is often overlooked for its nearby neighbour, the more famous Piha Beach. While Piha is worthy of a day trip (and can be added on to this itinerary), Bethells offers that little bit more, thanks to the steep black dunes that are nearby.
Only 45 minutes out of Auckland, we think it's pretty damn awesome that you can not only spend time on the vast stretch of Bethells black-sand beach but also its sand dunes. How cool to be able to use your boogie board to surf the choppy waves first, then follow it up with a spot of sandboarding! The dunes are only a short stroll further back from the oceanfront, or you can park at Lake Wainamu car park.
If you have any energy after your board action, leave your JUCY rental car at Bethells Beach and walk along the Te Henga Walkway to O'Neill Bay. This hilly walk offers sweeping views over the rocky coastline and famous black sand beaches. O'Neill Bay is a beautiful spot and a popular place to surf. It's worth noting that the riptide here is powerful, so only swim if you're super confident in strong currents. To reach the bay, it's 2km, so plan for about 40-minutes of easy walking each way.
A word of warning: the black sand is as hot the latest iPhone on its release day. Sometimes even our jandals (that's flip flops to the rest of the world) aren't enough as the scorching sand edges over the soles. Like, yowzers! You have two choices to mitigate this; either wear closed shoes or head to Bethells in the morning, before the harsh sun begins to bake the sand like a Betty Crocker cookie.

Tranquil Tawharanui
We are big fans of Tawharanui Regional Park here at JUCY (it's pronounced ta-fra-noo-ee). It's only an hour's drive out of Auckland, yet when you are there, you immediately slip into vaycay mode.
Long sandy beaches, pohutukawa-shaded picnic areas, and trails that lead you into the leafy native forest. What's not to love?
While you might think you're only stopping for a quick nosey, you'll soon decide you're staying for the day. It's that kind of magic. To make the most of your visit, plan a combination of walking through the rolling pastures and native forest, sunbathing on the squeaky white sand beaches, and a swim or snorkel (pack a mask) in the refreshing rock pools and sea.
Remember to pack your sunscreen, togs (Kiwi-speak for swimwear), and plenty of water in the boot. If you're a twitcher, bring your binoculars as the Tawharanui Open Sanctuary Society built a predator-free fence (not even dogs are allowed here). It has encouraged many bird species to return to the area. The 3.8km Ecology Trail offers your best chance of spotting the unique flora and fauna that have made Tawharanui home.
For a bonus, on the return drive to Auckland, pop into Smiths Matakana Country Park for a divine feast.
Southern Charm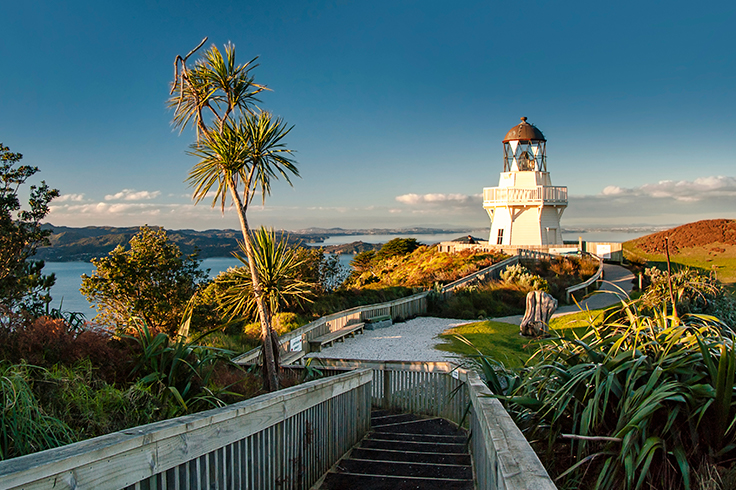 Awhitu Peninsula is a South Auckland fave and perhaps the Super City's best-kept secret. Few Aucklanders know about this beauty, located in the historic Manukau Heads.
Within the park, there are eight beaches – two black-sand, the rest stunning white sand that makes you amazed that Awhitu is so under-visited! The peninsula makes the beaches nicely sheltered, and the shallow waters prove a great place to splash around on a sunny day (especially for kids). A tip though: it's best to check the tides if you want to swim. During low tide, however, you are rewarded with being able to walk/wade to the tiny island of Kauritutahi.
Do include a stop at the Manukau Heads Lighthouse. It's one of the few lighthouses in New Zealand that's open to the public to wander inside. The lighthouse was rebuilt to its original 1874 octagonal design making it particularly picturesque.
If you're up for a hike, there are three trails here. The Awhitu Regional Park walk takes around 1.5 hours around the wetlands, beaches, and early settler homesteads and is a JUCY fave.
For a Rainy Day
It's New Zealand, and we have a famous 'four seasons in one day' saying, so it would be foolish to leave you without a lousy weather option. Just in case.
After taking in Auckland's coffee culture (it'd be rude not to), take your JUCY hire car 45-minutes out of the city to Karaka.
By day, you have two choices here. Asylum Paintball has both indoor and outdoor arenas, so rain or shine, you're able to bombard your buddy with paint pellets. The crew here are on point with their focus on customising your experience and providing a great-value visit.
Alternatively, Laser Combat has combat archery tag. It's like a real-life opportunity to pretend you would volunteer to be tribute in the Hunger Games. Here you'll learn martial art combat bow techniques. This, plus the cool woodland setting, make it almost impossible not to take on an alter ego during your stay (and maybe a little bit after, it's intoxicating!).
If the weather permits, Clarks Beach is only a 10-minute drive from both activities, and the Clarks Beach Takeaways does a mean fish and chips. And, let's be honest, both activities mean you've earned a mammoth portion, and perhaps a pickled egg!
Fright Night
The main reason to come to the Karaka area of Auckland, though, is for the perfect finish to this day. Or any of other, for that matter. In Kingseat, you'll find the eerie, creepy, can't-believe-we-paid-for-this Spookers.
Spookers is an interactive experience where actors are paid to scare the bejeebus out of you. Yep, you pay to be utterly spooked, and it's so worth it!
Spookers is set in an old psychiatric hospital with a reputation for being especially haunted. Like, soooo many sightings here over the years. The history of the building and its long-standing haunted reputation only increase the unnerving feeling you have as you wander the attractions. Every tiny sound or movement makes you almost jump out of your meat suit. Boo!
Whether it's tiptoeing through the Haunted House, hiding behind a tree in the Freaky Forest, or running for your life in the CornEvil maze, you'll have never been so happy to be terrified.
While Spookers is open during the day, the darkness is a magnificent complement to the actors that are intent on disturbing you. Bring a torch if you're planning on including the Freaky Forest of Fear, or you can rent one at Spookers.