Hiring a car in New Zealand - The ultimate guide
Hiring a car in New Zealand is one of the best ways to explore the beautiful landscapes the length of this very long country. To make sure your car hiring experience goes smoothly, we've put together this comprehensive guide on the ins and outs of hiring a car in New Zealand.
IS IT DIFFICULT TO TRAVEL NEW ZEALAND WITHOUT A CAR?
The first question you'll have about a rental car in NZ is whether or not you really need one. The short answer: A car makes travelling around New Zealand a lot easier.
The largest towns and most popular tourist attractions in New Zealand can be reached via public bus or shuttles. However, buses can be slow, expensive, and have limited timetables.
Hop-on, hop-off bus passes can make life easier, as this will give you access to private bus networks that reach more specific destinations. But you will still be restricted to the stops within the bus network.
To experience all of the off-the-beaten-track destinations, you can book a group tour that ticks off the main sights you want to see. However, tours have some of the same limitations as public transport – you'll have to stick to a schedule and only go to set destinations.
Many backpackers resort to hitchhiking as an alternative way to travel New Zealand without a car. Hitchhiking gives you more freedom, but it's not entirely safe and you face a lot of uncertainty – you could find yourself waiting by the side of the road for hours in cold or wet weather.
Ultimately, a rental car in NZ gives you the greatest amount of freedom, flexibility, and safety. If you only have a limited amount of time and a lot of things you want to see, a rental car will be essential.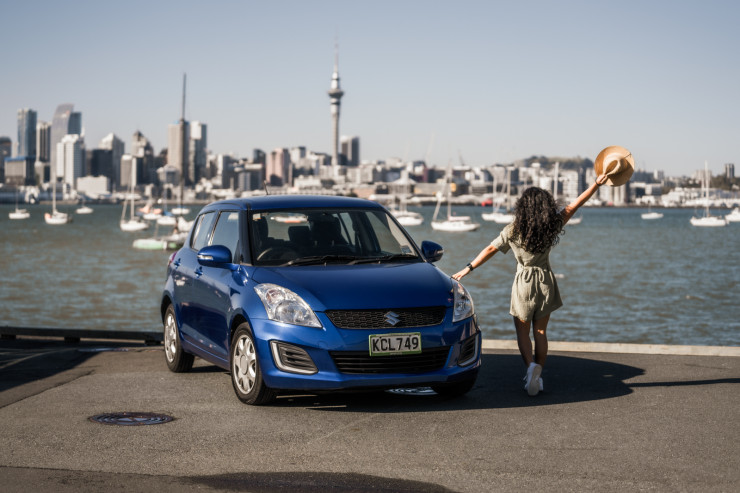 WHAT TYPES OF CAR CAN YOU RENT IN NEW ZEALAND?
You'll find all types of cars available to rent in New Zealand. Choosing a car usually comes down to price and space. The number of people and bags, plus the length of your trip, are the deciding factors when comparing vehicles.
New Zealand's roads are generally well-maintained, so you don't need a heavy duty vehicle to get around outside of cities. A mid-sized hatch is more than enough for two people and their bags - a Mazda 3 handles well in both town and country. If you're travelling light, a small hatch Suzuki Swift might be all you need.
A four-wheel drive or one of our SUVs can be great if you're keen to drive through mountain ranges and other remote areas or go on ski trips.
In terms of price, the age and model of the car can affect the fuel efficiency of your vehicle. This can make your rental car much cheaper to run. However, you can often rent older vehicles for less than the newer models. If you don't mind having a few more kilometres on the clock, this is also a great way to keep the cost of renting a car down.
Manuel cars aren't common in New Zealand. For example, all JUCY vehicles are fully automatic. This makes it easier for everyone to drive our vehicles, so you can focus on staying on the left side of the road instead of changing gears.
HOW MUCH DOES IT COST TO RENT A CAR IN NEW ZEALAND?
The price of a car rental in NZ varies widely depending on the season. Over summer, which is peak travel season, prices can be almost double winter prices. On the cheaper end of the scale, you can expect to pay around $40-$50 for a small model or older car in high season. A larger vehicle, such as a Holden Trax compact SUV can cost more than $70 a day. Four-wheel drive vehicles are usually the most expensive, costing up to $80 or more per day in high season.
In winter, a small car can cost as little as $20 a day. Larger models can cost between $30-$50 a day.
Excess reduction costs approximately $20 extra a day in addition to the hire price.
To help keep the cost of your New Zealand rental car down, you can book in advance to help secure more affordable prices. When vehicles are nearly sold out the prices go up, so the early bird gets the best price! Travelling outside of peak season (mid-December to the end of February) will also help you find cheaper car prices.
It also pays to keep an eye out for special deals and offers. JUCY offers discounts and relocation deals throughout the year, so keep an eye out.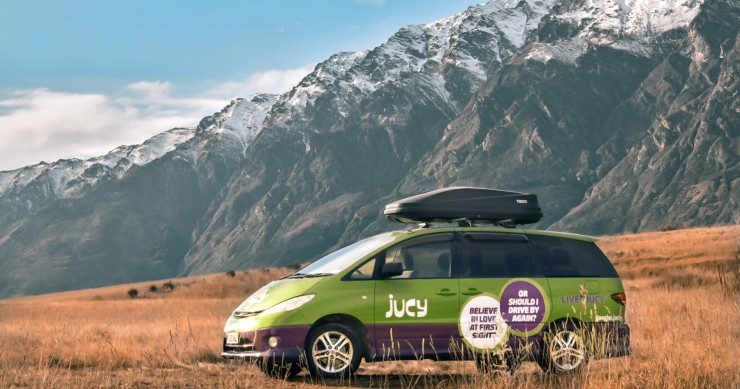 IS RENTAL CAR INSURANCE WORTH IT?
Having rental car insurance, or excess reduction, is highly recommended. Car insurance is not compulsory in New Zealand, so if your rental car is damaged by a third party and you don't have cover, you might not be able to recover the costs.
JUCY offers multiple excess reduction options for all vehicles. For a small daily cost, you can feel at ease knowing your excess is reduced. The most comprehensive cover, which reduces your excess to $0, also covers you for windscreen or glass damage.
Opting to go without excess reduction, or choosing to take out car insurance separately, means you'll have a bond frozen on your credit card when you pick up your vehicle. This can be up to $2000 for cars. Although we don't remove the amount from your account, the funds will be frozen for the duration of your trip, meaning you won't be able to access that money.
CAN YOU SLEEP IN YOUR CAR WHILE TRAVELLING NEW ZEALAND?
It can be tempting to save money on your car rental by treating your wheels as a hotel. However, freedom camping in a car is illegal in most places in New Zealand. In order to freedom camp, you typically need a self-contained campervan. This is to ensure that you aren't dumping grey or black water in public areas. If you're interested in sleeping in your vehicle and waking up closer to the view, take a look at our self-contained campervans.
You can sleep in your car if you stay in a campground. There are free campsites around New Zealand – DOC has a fantastic network of camping grounds around the country. Basic DOC campsites are free, while standard campsites cost a small fee. Toilets and running water is typically provided, so you can easily sleep in your car when staying in these campsites. It doesn't cost any extra to pitch a tent though, and you'll have a much more comfortable sleep!
AT WHAT AGE CAN YOU RENT A CAR IN NEW ZEALAND?
25 is the typical minimum age for car rental companies in New Zealand. Some companies rent to drivers under the age of 25 but charge an underage fee.
JUCY rents cars to anyone aged 18 years or over. We don't charge an underage surcharge for drivers aged 18-20.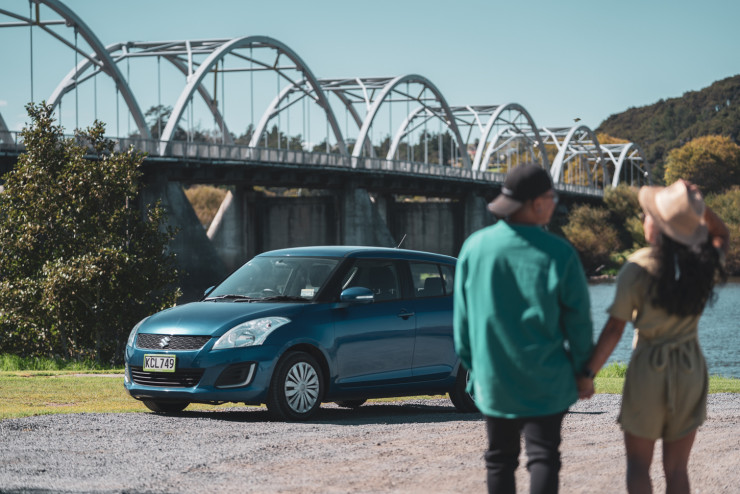 DO YOU NEED AN INTERNATIONAL DRIVER'S LICENCE IN NEW ZEALAND?
You can drive in New Zealand with an international driver's licence if:
You have been in New Zealand for less than one year
Your licence is in English OR you have a certified translation
If your licence is not in English, you will need to carry an International Driver Permit or certified translation of your licence at all times, as required by New Zealand law.
Licence holders from English speaking countries, such as US and UK, can drive in New Zealand on their home licence for up to one year. After 12 months, you'll need to apply for a New Zealand licence.