Enjoy these six

Christchurch day trips by car
When you've finished exploring all that Christchurch has to offer, it's time to uncover the regional gems. From endangered dolphins to mind-blowing hikes, to the centre of the universe (yup!), we share our favourite road trips straight outta Christchurch.

Hike the undulating Rakaia Gorge
Traverse the geographical wonderland of Rakaia Gorge, an hour's drive out of Christchurch. If you like hiking against a backdrop of mountains worthy of being on a postcard, then this is the day trip for you.
While there is a shorter one-hour hike, it's the 4-hour journey to the upper viewpoint where you're fully rewarded for your efforts. From here, the River Rakaia weaves off into the distance, surrounded by forest, farmland, and foothills. If you have any phone reception, you'll want to call home to humble-brag about what you're seeing, the landscape and natural palette are that outrageously good.
It's not a particularly strenuous hike (skip to the Avalanche Peak below for that), but you will want to wear shoes that can get muddy. When you reach the canopy of montane forest and shrub, keep an eye out for the disused entrances to the old coal mines of the area.
Layers are always a good idea for New Zealand tramps, as are snacks and plenty of water. To make the most of your time at Rakaia Gorge, you'll want to head there earlier in the day. JUCY crew pro tip: if you're hiking here in summer, wasps can be a problem so wear light clothes and carry medication if you're allergic.
For a food fuel-up after the hike, Methven is only a 15-minute drive and has a range of eateries. The Dubliner's gourmet pub grub is a local fave.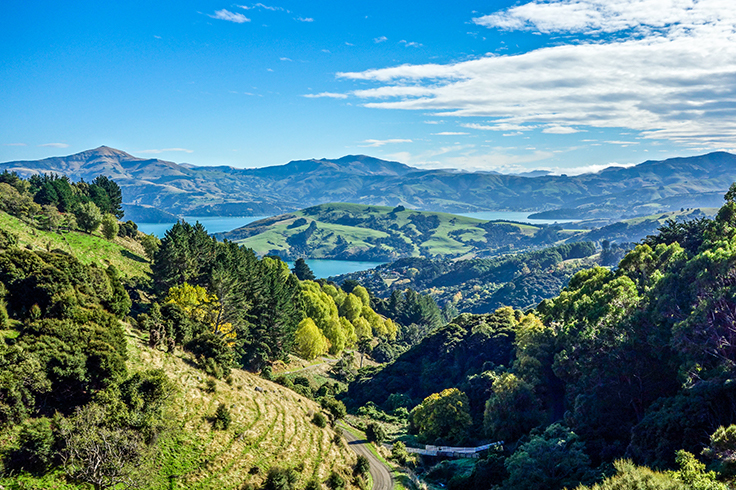 Akaroa
Out on the Banks Peninsula, Akaroa is a perfect spot to day trip to. This quaint, formerly French harbour town has an impressive number of sites to cram in. Perhaps this is due to its location inside an ancient volcano, probably from its colourful history, whatever the reason, this is a fun-filled day trip.
Akaroa is home to the world's smallest and rarest dolphin. Protected and residing within a marine sanctuary, hector dolphins are only found in New Zealand waters. A boat is an ethical way to see these rare mini dolphins as the skipper is clear on the rules that keep them safe.
Alongside spotting marine life, it's also worth walking the streets of Little France (as it's affectionately known). Stop by the Kiwi-sounding authentically French, Sweet As Bakery. You may also enjoy the Heritage Museum before heading out for a walk.
For a cultural route, Onawe has stunning views and is a sacred Maori site (so leave the snacks and drinks in the car as they are a no-no).
Akaroa is approximately an hour and 20 minutes from Christchurch, with State Highway 75 offering the most scenic route out.
If you're visiting Akaroa between March and September, pace your day trip. If it's a clear sky, you're going to want to try your luck waiting for the magical southern lights to show. Nearby Birdlings Flat is considered an optimal spot locally to catch aurora australis when the clear night sky appears to dance with hues of purples, oranges, and pink. To ensure you're in with a shot, check the aurora website in advance or sign up for an aurora alert. Birdlings Flat back to Christchurch CBD is around 40 minutes; though take it slow if you're driving at night.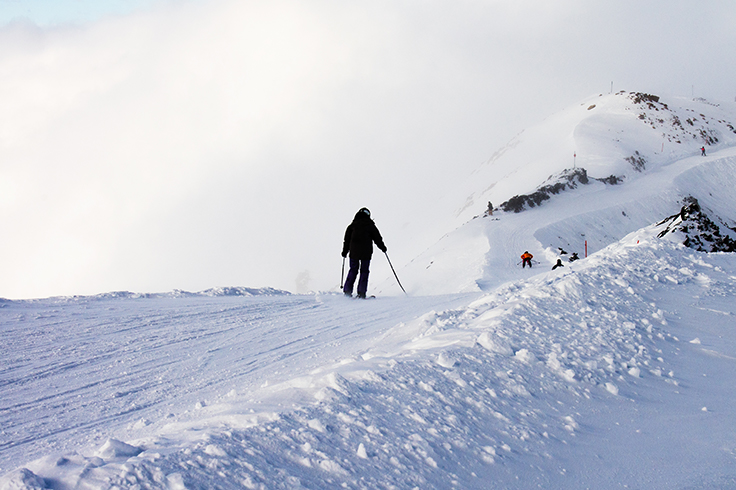 Take advantage of a
b
luebird day at Mt Hutt
If you're a skier or snowboarder, you know that a bluebird day is the kind of day where you cancel all other plans and head to the slopes. When you rent a car from JUCY's Christchurch branch, it's not only the brilliance of a sunny day on the piste that allures, but also that it's going to be a much less crowded ski field than most others in New Zealand.
While many visitors, both local and international, hit up the slopes in Queenstown and Wanaka, Mt Hutt, has some special drawcards. Only an hour and a half's drive from Christchurch, Mt Hutt has been voted New Zealand's Best Ski Resort for the past four years. It's also lauded for its vast terrain, epic scenery, and slopes for all levels. And the best bonus a snow bunny can hope for? Mt Hutt has the longest ski season in the country!
Mt Hutt has 365 skiable hectares and is open from June to October, from 9am to 4pm daily. Check the mountain's snow report before heading out there to see what's what.
Don't forget to add ski chains to your JUCY hire car if you are planning on taking advantage of a bluebird day – or any kind of ski day for that matter. If you're bringing your own board or skis, our Mid Hatch, Compact SUV, SUV, and 8 Seater vehicles all have roof racks as a booking add-on.

Visit the spiritual centre of the universe
It's no small statement – to call Castle Hill the spiritual centre of the whole universe – but it is the claim that the Dalai Lama made when he visited this private farmland in 2002.
While the ruins of the castle provided the namesake for Castle Hill, it's the impressive boulders scattered here that drew such a passionate response from the 14th Dalai Lama.
Formerly Kuru Tawhiti, the Maori that resided here also understood its spiritual significance. Kuru Tawhiti translates to 'treasure from a distant land'. Search the limestone boulders for traces of the 500-year-old Maori charcoal drawings left by the Waitaha, the first people to travel here.
Castle Hill is 700m above sea level and may look familiar if you've seen the Chronicles of Narnia. These 30-million-year-old limestone boulders feature in the final battle scenes of the movie. Pretty cool, huh?
To visit, it's an hour and twenty minutes by car, and it's free to access. Once at the boulders, if you're interested in the elevated energy experienced here, you may wish to spend some considerable time meditating at the boulders. Alternatively, there are hiking trails that pass by Castle Hill, from either Craigieburn Forest Park or Korowhai/Torlesse Tussocklands Park to integrate into a more active day trip.
If you have some spare time after your time here, continue on to tranquil Lake Pearson, a 15-minute drive away. This bird-watchers paradise is home to the rare southern crested grebe.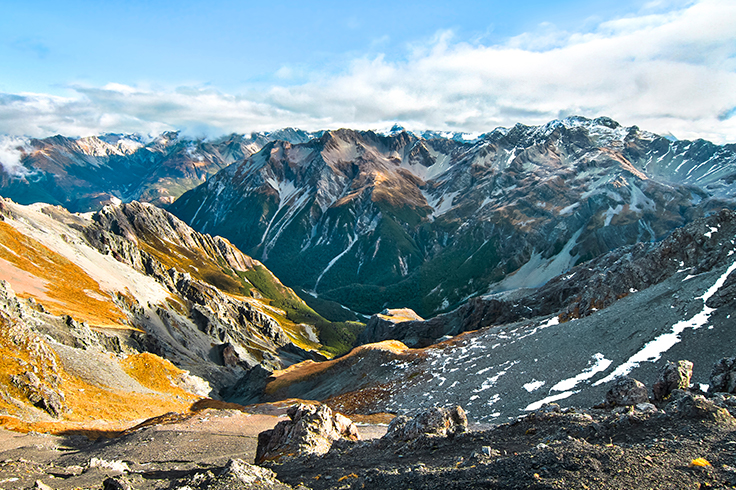 Hike to panoramic views of the Southern Alps
For hikers and adventurers, Avalanche Peak on Arthur's Pass is the stuff of legends. It's not for the faint-hearted, as it's a vertical 1,1000m to the summit! That's a steep but rewarding hike at 2.5-kilometre walking distance; it's just kinda upwards a lot!
As you take in views from the summit, you'll be glad you put in the effort as the rewards include jaw-dropping vistas of some of New Zealand's most breathtaking mountain scenery.
While there is a choice of returning the way you came, the loop walk is recommended for a more varied hike. Follow the signs to Avalanche Peak Track then Avalanche Peak Route up. Come down via Scotts Route and Scotts Track. Plan 6-8 hours for the total hike time; your fitness and Instagram moments may slow you down.
The start of the walk is from behind the Visitor's Centre with a pleasant meander through the forest. Once out of the trees, it's a butt-firming climb through alpine terrain. At the summit, the orange and yellow marked poles are signs you've made it.
Reasons to take a breather (besides, you know, actually needing to catch your breath) include views of the surrounding peaks, plus the Devils Punchbowl waterfall.
It's considered best to hit the trail in the morning to ensure you've plenty of time for your descent in daylight hours. You'll also need proper footwear, layers, snacks, and water to even consider this tramp, no matter the weather, which will also play its part.
The name may give it away, but this is not a hike to do in the cooler months when avalanches are a risk on this peak. Call the visitor's centre before you set off to be sure it's safe to hike. Dial +64 3 318 9211.
If you're ready to book your rental car roadie in after these inspiring regional wonders, get a quote above, or call our crew 24/7 on 0800 399 736.