The best day trips from Queenstown
Queenstown is dramatic. Like Taylor Swift dramatic. Only instead of boy dramas and frenemies, it is dramatic mountain scenery, thrilling activities, and a super-charged food and wine scene that attract. And it's not just New Zealand's adventure capital that can claim this pull on your emotions. That's why we've compiled our favourite day trips to take, using Queenstown as your base. By day, drive to these epic locations, by night, return to Queenstown's thriving restaurant and bar scene (including our very own Miss Lucy's). Best of both worlds? Don't mind if we do.

Nature's Playground
If Queenstown is the adventure playground of New Zealand, then neighbouring Wanaka is the region's natural one. Crystal-clear lakes, snow-capped Southern Alps, and laid-back vibe where nothing is taken too seriously, It all makes Wanaka a firm favourite on the tourism map. Plus, Wanaka has the best cookies we've ever tasted! In our book, that's reason enough to go.
From Queenstown, Wanaka is very accessible; it's an hour over the Crown Range (New Zealand's highest public road), or add 30-minutes more if you go the scenic route via Kawarau Gorge. (We know, all routes are scenic in New Zealand).
Outdoors is where it's (mainly) at. Hiking is the number one way to explore the spoils of this attractive resort town. If you're feeling hardcore, take a full day to summit Roys Peak for panoramic views. Alternatively, Mt Iron Track is a one and a half-hour loop walk, offering 360-degree views over the town, the Pisa Range, and the Southern Alps. As it's offering a full 360 reward, both sunrise and sunset are brilliant times to hike Mt Iron.
Seeing Lake Wanaka is exciting. Being on it is even better. There are plenty of ways to achieve this, too: boat cruising, kayaking, jet-skiing, and wakeboarding. Our pick? The serenity and pace of paddleboarding. Paddle Wanaka can sort you out with gear, or even a tour if you'd prefer some commentary and banter as you go.
If you're visiting Wanaka in winter, a board or ski on Treble Cone, Cardrona, Coronet Peak or The Remarkables are a must.
Finally, while a movie date might not usually be on the agenda in a stunning outdoor paradise, we make an exception for Wanaka's Cinema Paradiso. Aside from its vintage vibes and eclectic collection of old couches and seats, it has the best cookies we've ever tasted. Rush to get yours in the intermission (yup, remember those?) as they go faster than a Jelly Tip ice cream on a sunny day.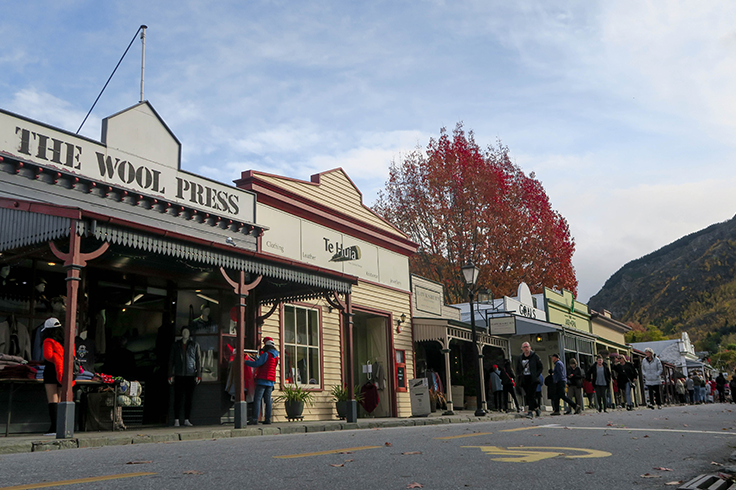 Golden Towns
Surrounding Queenstown are some unique and historic small towns. Whether it's a snapshot of the region's past, it's postcard-perfect landscape or the boutique wares on offer that draws you in, you'll come away richer for your day trip experiences here.
While the autumn leaves may be the most popular time to call in on the folks of Arrowtown, we're fans of a trip to this historical destination year-round. The quaint Gold Rush town buildings offer a charm, not least because of Arrowtown's stunning alpine backdrop.
Only 25 minutes from Queenstown, you could easily spend an entire day exploring Arrowtown. Our itinerary, however, is to get a taste of the region as a whole. So, for Arrowtown, the extensive Lakes District Museum is going to reveal the town's gold mining history best. The riches were claimed from the ground in the 1860s. Today, you can still try your luck by renting a gold pan and heading to the Arrow River. A stroll down Bedford Street brings your Arrowtown lessons to life.
Next up – Cardrona! While also a gold rush town, it's the picturesque setting on the Crown Ranges that we're keen for you to experience. Of course, if you're here in winter, you'll be stopping by the Cardrona Alpine Resort to ski or snowboard the mountain's legendary pow-pow. When the ski runs are closed though, the Cardrona Hotel is our fave stop. Get a taste of history and a tasty feed, as its one of New Zealand's oldest hotels. How does artisanal pub grub in a beer garden with views of the Crown Ranges sound? That's our thoughts, too!
From Cardrona to Cromwell, New Zealand's farthest inland town. Nestled in the Otago Ranges, Cromwell carries the moniker, the 'fruit bowl of the south'. Tasting some fruit here is almost obligatory, as is a photo stop at the town's giant fruit sculpture. You can't miss it.
Aside from getting fruity, visit the free outdoor Cromwell Heritage Precinct to find out about the town's history (also gold-related). If you're looking something on a par with the thrills you've experienced in Queenstown, Highlands is an adrenaline-pumping speedway, plus go-kart track.
Looking for a mellower vibe? If one of your group will be the sober driver, visit the number of wineries and cellar doors in Cromwell. It's great to taste the effect of Otago's extreme climate. Finish up the day with a delectable tapas feast from the outdoor seating at the Bannockburn Hotel. It's just over the bridge from Cromwell with river valley views.
Satiated in both mind and body, conclude your day tour with your final drive back to Queenstown. It's a 50-minute straight drive, but if you're touring in summer, use the last of the daylight to make a stop at the Kawarau Gorge. It's the final tick on an incredible day.

The Mightiest Peak
Have you ever been shopping and fallen in love with something so much you had to have it, no matter the price tag? That's what happened to us at Milford Sound. Only, instead of getting an expensive bag or a leather jacket, we bought two cruise boats! Sometimes you just have to say yes. That level of passion means we have plenty of tips for a brilliant day out from Queenstown to Milford Sound.
Rudyard Kipling declared Milford Sound (also known as Piopiotahi) the '8th wonder of the world'. We're obviously in agreement, and we're confident you will be too. It's mystical, captivating, and offers images that no matter how old your phone is, they still look like a professional took them. It is a charmed destination that, even in the worst of New Zealand's weather, appears beautiful. In fact, many of our crew prefer a rainy day on Milford Sound.
Set off early for the drive to Milford; allocate 3.5-4 hours, each way, or take the stress out of your journey and travel via our Coach or Fly options. We recommend having two drivers if you can, as the drive is long and windy, therefore requiring some solid concentration.
There are two perfect pit stops on your way to Milford. First up, fuel for the body in Te Anau. It's about two hours into your journey, and there are a few places to grab a morning coffee and a yummy pie for the road. Secondly, fuel for the mind at Mirror Lakes. A gift from nature, the stillness of Mirror Lake reflects the mountains in the distance. Note; some people like to spend the night in Te Anau, at least one way, to break the journey up.
From Mirror Lakes, it's an hour until you meet the famed Mitre Peak and the fiords that inspire visitors from around the world. Most people choose to explore Milford by boat for that up-close-and-personal view into the gushing waterfalls, some far higher than Niagara. Oh, did we mention that we have not one, but two catamarans? Book a spot on our standard cruise boat, or upgrade yourself to our luxury glass-roof catamaran.
If a boat trip feels a little tame for your adventurous spirit, consider kayaking out to the falls.
However you're exploring the sounds, just know your jaw probably won't drop far enough to really showcase the grandeur of one of New Zealand's most untouched places. Particularly if you spy a pod of dolphins against this staggering backdrop, an occasional treat for our cruise guests.

One itinerary to rule them all
If your desire to visit New Zealand became heightened after the Lord of the Rings movie franchise, then this is one road trip to rule them all.
Either direction out of Queenstown leads you to some of Middle Earth's memorable sights; just have to know where to go. That's where we come in! Follow this itinerary and bring to life those movie moments in your own way. Whether that's recreating scenes for Insta–pics (tag us #jucyworld if you do) or absorbing the atmosphere at each stop, it's your call. If you take all our recommended stops, you can expect your drive time to be approximately four hours in total, spread out over the day.
Start with the furthest point of the day at Glenorchy and the most 'Middle Earth' of all the film's locations. The stunning scenery, ancient beech forest, and small-town vibes would make this an attraction in its own right, but add in LOTR and… just wow.
Close to Glenorchy is Paradise (great place name, huh?) transformed to Parth Galen and Lothlórien in the movie franchise. If you want to get specific, this is where Gandalf met Saruman at Isengard. If you want to add adventure as you take in Middle Earth, take a jet boat or funyak (it's an inflatable kayak) tour with the Dart River Adventures.
From Paradise Valley, head to Bennetts Bluff. Aside from being a fabulous lookout point, it may also feel familiar as the outlook towards Isengard and Lothlórien.
Next, drive to Ithilien – or 12 Mile Delta as it's back to being called these days. The campsite on the banks of Lake Wakatipu was the location for a riotous scene. This is where Gollum, Frodo, and Sam watched the battle between the Oliphants and Faramir's Rangers of Ithilien. Perhaps do battle with the wrapper on your picnic sandwich, instead? It's a sweet spot to take in a snack or some lunch if you've packed one.
Swing back past Queenstown but continuing straight to Arrowtown. Once there, park up and walk to the Ford of Bruinen on the Arrow River. You can also wander to Wilcox Green to see the Middle Earth marshlands at Gladden Fields.
It doesn't seem like a terrible inconvenience that one of the LOTR sites is right by a vineyard. That's right; Chard Farm Winery is a fantastic viewpoint to see Anduin and Argonath, the Pillar of Kings. It won't detract from your experience that the Pillars themselves are absent; they were CGI'd into the movie in production. As you're driving, maybe grab a bottle of their outstanding Pinot Noir for the end of the day?
If you want to go further into this location, continue on to Kawarau Gorge. Especially if you're both a Lord of the Rings fan and an adrenalin junkie. Why? Because this was AJ Hackett's first bungy location, that's why! Ready to take a dive off this 43m platform?
When you've put your stomach back in the right place, either from jumping or watching bungy jumpers, head back to Queenstown. "Be bold, but wary! Keep up your merry hears, and ride to meet your fortune!"
One Last Word
A word of advice for all of our Queenstown day trip itineraries. This region is very mountainous. And with mountains, come windy roads. Drive slowly on bends and feel free to pull into the vehicle bays safely to let other driver's pass if you prefer to take it slow. We find it makes your drive a lot more fun!