Top 10 geothermal experiences in New Zealand
New Zealand is known for its awesome geothermal activity so we've put together a list of the top 10 locations to see bubbling mud pools, steaming lakes and active geysers.
1. WHAKAARI/WHITE ISLAND
White Island is an active composite volcano situated 48km from the East Coast of the North Island. As New Zealand's most active volcano, it has been created by continuous volcanic activity over the past 150,000 years. White Island has been continuously smoking since it was discovered in 1796 - crazy, right?! Explore this epic geothermal location via White Island Tours.
2. TAUPO
Known as a geothermal wonderland, Taupo is home to the iconic Mount Ngauruhoe as well as natural thermal pools, boiling lakes, steaming cliffs and bubbling mud pools. Attractions include mountain biking along Craters of the Moon and exploring the incredibly rare geothermal cave at Orakei Korako. With tonnes of other attractions in Taupo, hire a JUCY vehicle for a few days and make the most of what Taupo has to offer!
3. WAI-O-TAPU
Wai-O-Tapu is one of the most colourful and beautiful geothermal areas in New Zealand. Make your way around the reserve via a walkway that provides visitors with the opportunity to explore the different areas of the Wai-O-Tapu reserve such as Lady Knox Geyser and a mud pool that was once a mud volcano until erosion destroyed it in the 1920s. There is so much to look at here, so pack a picnic and make a day of it!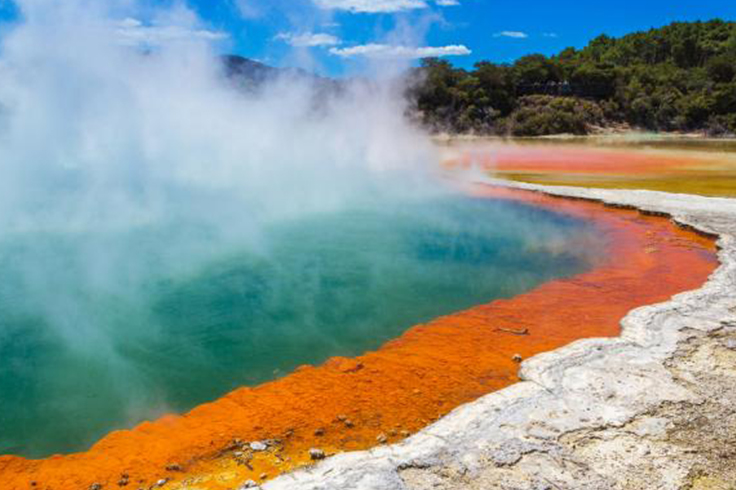 4. TIKITERE
Also known as Hell's Gate, this is Rotorua's most active geothermal area and features attractions such as Kakahi falls, fumaroles and a mud volcano. What's a fumarole you ask? Well, it's an opening near a volcanoes crater that allows sulfurous gases to escape giving this area a unique scent! Make sure to stop and see Inferno, an area consisting of five separate pools which range from temperatures of 70 C to 110 C!
5. TONGARIRO CROSSING
As one of the most popular tramping tracks in New Zealand, the Tongariro National Park is a place known for its natural and cultural significance. The crossing passes over the multi-cratered active volcano and visitors can expect to see loose tephra and solidified lava flows along the way. Despite being rocky and mountainous, Tongariro is a geothermal field. In fact, it's the only high altitude geothermal area in New Zealand. You'll pass by brightly coloured sulphur lakes during the hike. Tongariro's Emerald lakes are particularly stunning. Along the hike you'll also pass the occasional steam and gas vent.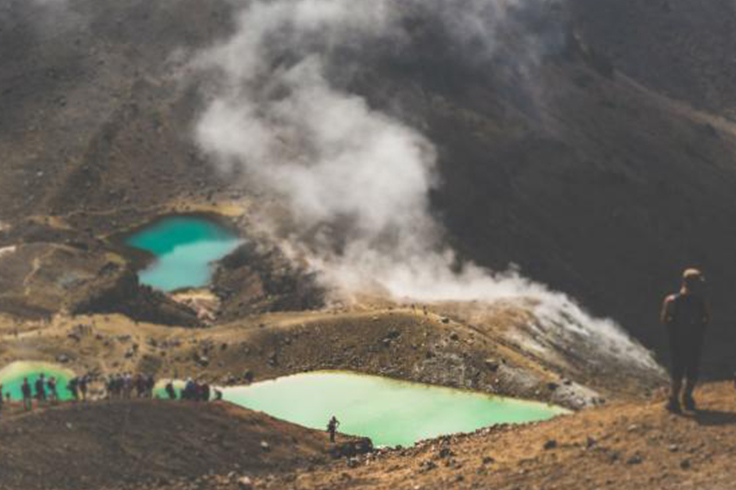 6. RANGITOTO
A volcanic island near Auckland, Rangitoto is the only known polygenetic volcano in the Auckland field. Visitors can get to this Auckland icon via a ferry which takes approx. 25 minutes from the Auckland City ferry terminal!
7. WHAKEREWAREWA THERMAL VILLAGE
Experience Maori culture and explore a geothermal wonderland at Te Whakarewarewa Valley. Nature trails allow visitors to stroll through Manuka scrub and bubbling mud pools. Pack your hiking shoes, make a day of it and take the 4-hour walk to a lookout over Te Roto A Tamakeke. Totally worth the hike for this stunning view!
8. TE PUIA
Home to Pohutu Geyser, the largest active geyser in the Southern Hemisphere, Te Puia is a must-do! This geyser erupts once or twice every hour and can reach heights of 100 feet! Surrounding areas of nature and Maori architecture make this location one to spend your whole day at.
9. FLAT HOT POOLS
Located at the end of the Copland Track is the Flat Hot Pools. The pools are surrounded by native forest and mountain views and are perfect to relax in after a long day hiking the track.
10. WAIMANGU VOLCANIC VALLEY
This stunning area is the world's youngest geothermal system and is home to rare botany, unique ecology and steaming volcanic crater lakes. You can also enjoy scenic walks ranging from 45 minutes to 4 hours of discovery through the epic valley.
What are you waiting for?! Book your JUCY car rental today, and explore the best New Zealand has to offer.