7 day road trip itinerary from Adelaide to Melbourne
Australia is a gigantic feast for the senses. Instead of gorging on the whole delicious country, try tackling just a piece of the pie in day-sized bites. We suggest nibbling away at some of the best sights and stops in the country in a campervan road trip.
One awesome adventure that will introduce you to some classic Aussie attractions in the drive from Adelaide to Melbourne. You can do this trip in a week, hitting at least one highlight each day.
This seven-day road trip itinerary from Adelaide to Melbourne lets you enjoy the best of Australia's south coast in digestible chunks. Check it out and keep scrolling down to get some of our bonus camper van road trip tips!
DAY 1. ADELAIDE TO SELLICKS BEACH
50 minutes (52 kilometres)
Pick up your campervan hire from JUCY Adelaide and head to Sellicks Beach, which is a broad sandy expanse backed by golden-coloured hills. The turquoise waters are safe for swimming and when the weather permits it's also a great windsurfing spot.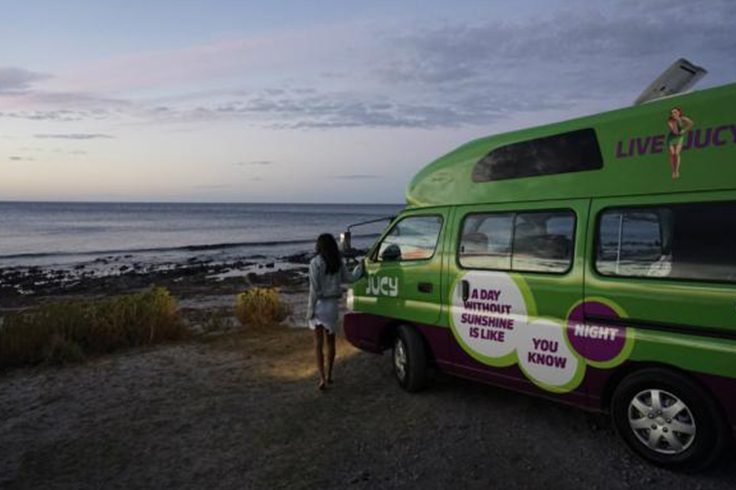 DAY 2. SELLICKS BEACH TO SECOND VALLEY
40 minutes (40 kilometres)
Second Valley, found on the Fleurieu Peninsula, invites exploration and long slow coastal drives. The rocky coastline is an inviting tableau of coves tucked in between rambling rocks, and narrow paths that connect quaint jetties with high cliffs. You'll find the best views in Second Valley along the cliff tops which run from the Second Valley Caravan Park to Rapid Bay. It's not a hard or long hike, and it gives you a great vantage point to take in the rugged coastline.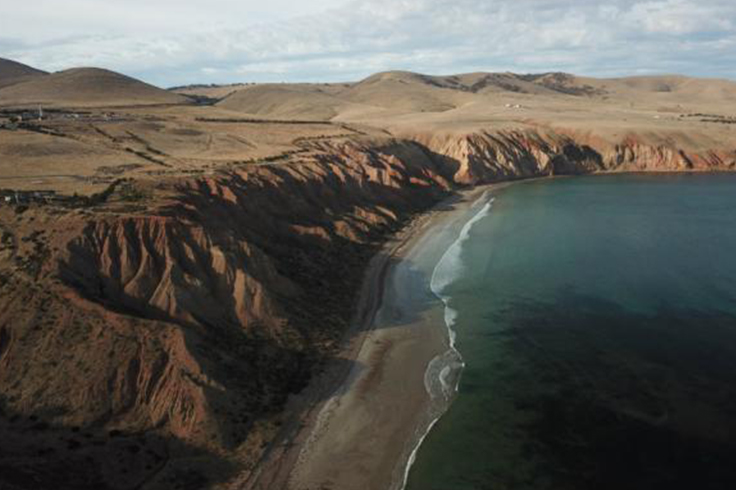 DAY 3. SECOND VALLEY TO ROBE
5 hours (394 kilometres)
Robe calls itself South Australia's favourite seaside town, and with good reason. Miles of windswept beaches stretch out on either side of the adorable town centre. Layers of history blanket the old buildings in the community – a historic walk encompassing 45 places of interest in the area makes a great break from driving.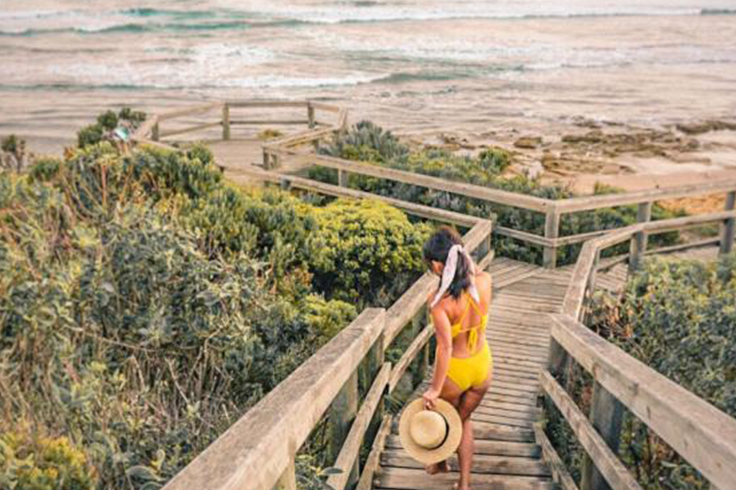 DAY 4. ROBE TO BEACHPORT
35 minutes (47 kilometres)
A short hop down the coast will take you to Beachport. The main attraction here for anyone on four wheels is the Bowman Scenic Drive. The gently undulating road carries you past the Cape Martin Light House, and gives you views of the aptly named Penguin Island just off the shore. Continuing on down the coast, you can stop off at various viewpoints to get a closer look at blowholes, spectacular rocky outcrops, and small lakes set among the dunes.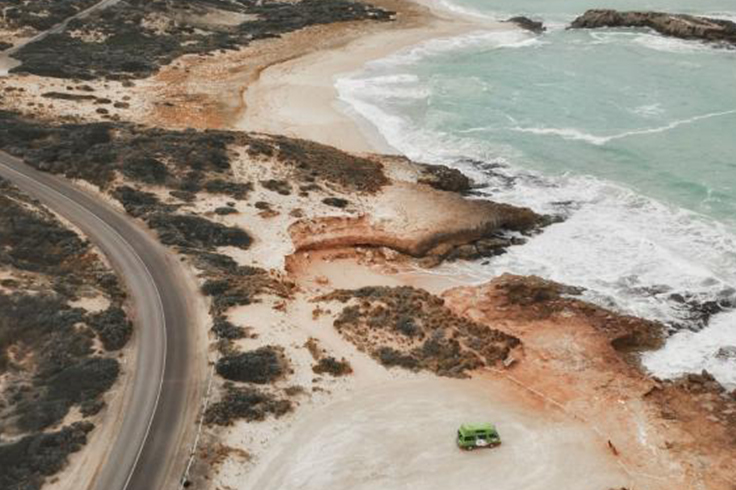 DAY 5. BEACHPORT TO THE GREAT OCEAN ROAD
5 hours (approximately 400 kilometres)
You could spend a week exploring the Great Ocean Road alone. Along this mind-boggling stretch of coastal highway you'll find one of Australia's most iconic natural attractions – the 12 Apostles. These impressive limestone structures are located I Port Campbell National Park, where you'll also find rock formations such as The Arch. The Grotto, and London Bridge. Cruising the Great Ocean Road you'll visually gorge yourself on natural wonders, and most likely use up all the space on your camera's memory card. You can spend the night in any of the small towns along the Great Ocean Road - a couple of great options are Port Cambell and Apollo Bay.
One of the more thrilling ways to experience the Great Ocean Road is by doing a skydive. Skydive Australia offer an adrenaline-packed Great Ocean Road experience that will give you unforgettable views (and photos!) of the area.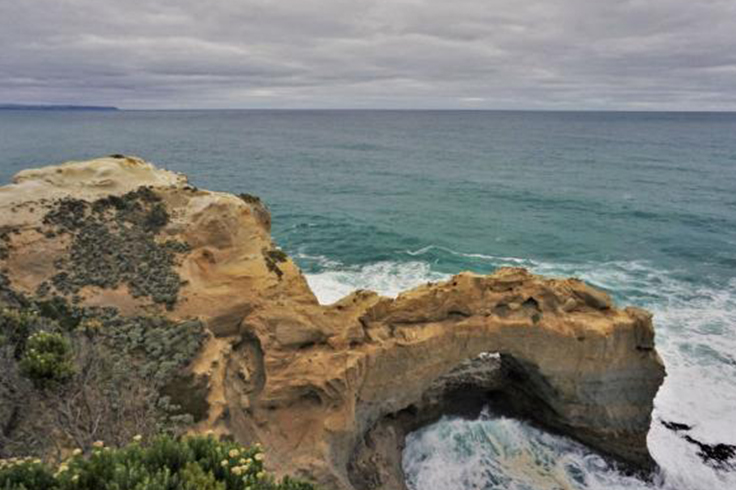 DAY 6. GREAT OCEAN ROAD TO TORQUAY
2 hours (92 kilometres)
Torquay is the official end (or start) point on the Great Ocean Road. The laid-back seaside town epitomises Australia's surf culture. There are rolling waves and chill vibes in equal measure. The beaches are pristine, the nature walks are relaxing, and there is even a Surfing Museum that explores Australia's quintessential pastime.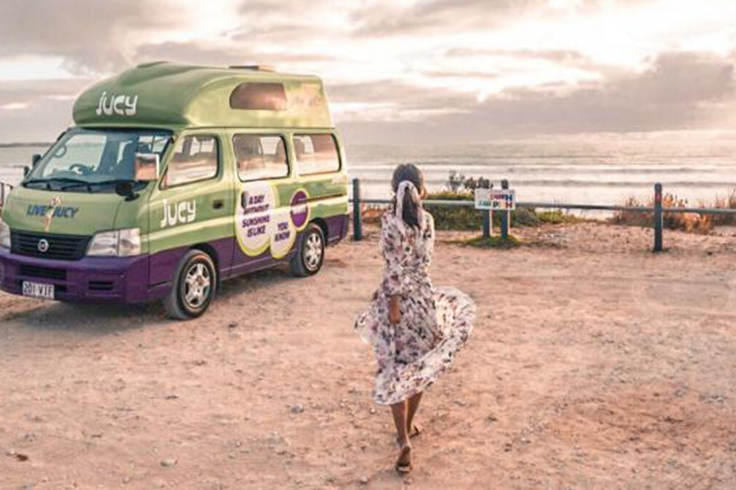 7. TORQUAY TO WESTGATE PARK
90 minutes (100 kilometres)
As you roll into Melbourne, make time for a stop at Westgate Park. The salt lake in the park is a bright red hue, thanks to a pigment produced by algae in the water. The unusual lake is a great spot for photos and a picnic at the end of a day of driving before dropping off your campervan hire at JUCY Melbourne Airport.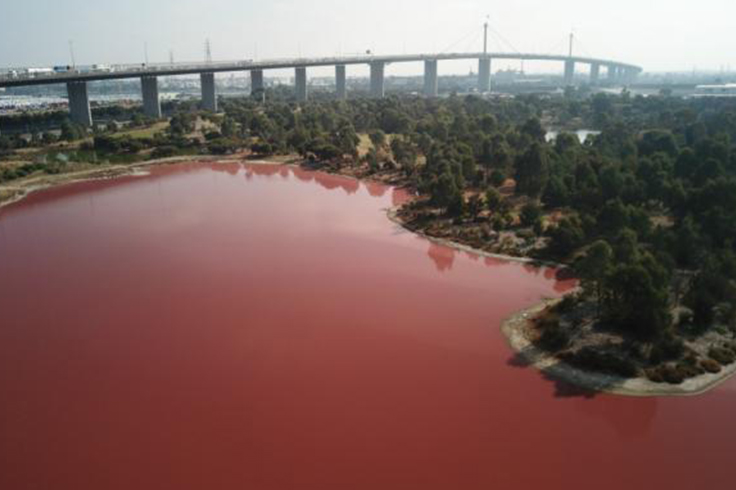 BONUS: TOP CAMPERVAN TRAVEL TIPS TO ROAD TRIP AUSTRALIA
Book campsites early if travelling during long weekends, school holidays, or peak travel season in general.
Bring warm clothing for night time. Check out JUCY's thorough packing list to make sure you don't forget any other important items.
Don't rely solely on GPS. Check Google Maps/Earth to plan the best routes and stops along the way.
Watch out for kangaroos on the road. This is particularly relevant if you are driving through South Australia, where they are frequently spotted.
Budget time for less-than-ideal weather if you're a photographer!
WANT TO GET A TASTE OF ADVENTURE FOR YOURSELF? TAKE A GANDER AT OUR JUCY-LICOUS DEALS ON CAMPERVANS!