Brisbane to Outback Queensland road trip itinerary
When you think 'the outback', you think of red dirt, long roads and flat land as far as the eye can see. In Outback Queensland, you're treated to all of those iconic sights: but also dreamy sundown sessions, billabongs that feel like apparitions and the friendliest locals you'll ever meet: oh, and you might even cross paths with a bilby or two!
Set off on your outback road trip adventure with a campervan rental from busy Brisbane to beautiful, rugged Carnarvon Gorge and get ready to share some epic instagrammable places with this Brisbane to Outback Queensland itinerary.
BRISBANE TO TOOWOOMBA
Day 1:
Cruise on down JUCY Brisbane and pick up your campervan hire: don't forget your road-trip playlist! Today you'll be driving to Towoomba, about an hour and a half away: two if you hit peak hour traffic. When you get into town, head to the supermarket and stock up on food and snacks for the next few days (as well as some vino!), before hitting the hay in your unpowered BIG4 Caravan Park Site; you'll need to get an early night, because tomorrow is the first in a series of sunrises you won't want to miss! TIP: Check the sunrise time, and wake up an hour earlier than it.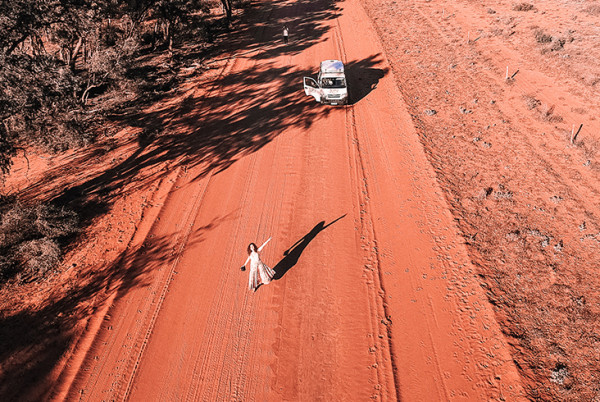 TABLETOP MOUNTAIN
Day 2:
Waking up while it's still dark isn't easy, but it is so worth it: you're going to climb Tabletop Mountain and watch the sunrise over the plains. The great thing about waking up in a JUCY campervan is that you can quickly pack up your bed and get straight out in to your day of adventures. Leave yourself twenty minutes to drive to the base and about half an hour to climb the mountain, it probably won't take that long but you do not want to miss the pink and orange light filtering over the hills, trees and landscape beyond, it is seriously magical.
If you're not into an early morning hike (or you are into a bit of a sleep-in!), head to Picnic Point (fifteen minutes from the caravan park) and see the dawn break there, instead. Either way, a cooked breakfast is in order; there's plenty of space just down the hill from Picnic Point to set up the campervan and whip up some bacon, eggs and strong coffee before a day of driving!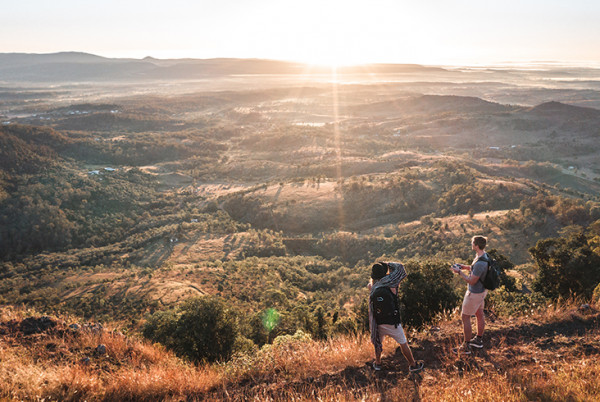 ON THE ROAD TO CHARLEVILLE
There's seven hours of road-time on the way to Charleville, with a couple of stops on the way. The first one will be in Chinchilla – if you arrive at the right time (every second February), you'll be able to soak up the Chinchilla Watermelon Festival: if not, snap a photo with The Big Watermelon and grab one for the road, and on you go. You've got time, today, so stop at any small town that takes your fancy for some lunch, or pull over and throw together a sandwich with the ingredients you grabbed last night if you prefer. When you get to Charleville, head to the caravan park and grab some dinner at On the Rocks Restaurant : be sure you've wrapped it up before the sun goes down though, because you are in for a treat at the Charleville Observatory!
Arrive at the Cosmos Centre at 6:15pm for a bit of a tour and some incredible fables about Astrology over the last few thousand years, and then settle in at the Observatory from 7:30-8:30pm: you are going to see more stars than you ever knew existed, and a couple of planets if you're lucky too.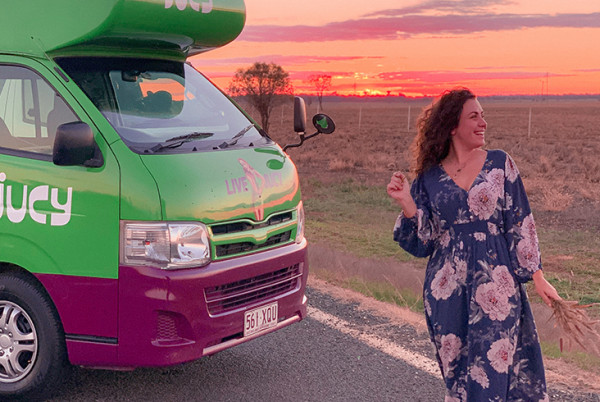 Day 3:
Sleep in until 7:30 this morning, then pack up and walk or drive to the iconic Heinemann's Bakery before a really special experience at 9am: - the Charleville Bilby Experience's Up Close and Personal Tour.
Here you'll learn about the cutest little animals you ever will see, and some special folk's mission to save them: a new profile picture with one of the little guys might be in order! Right, now back in the car– today you're on the way to Longreach (5.5 hours away), but there are plenty of stops on the way. The first is in Tambo, where you'll check out Meghan and Harry's favourite royal plushes at Tambo Teddies and head to the Royal Carrangarra for lunch. You probably won't see their famous chicken races as these happen around dinner time, but you will get a delicious feed and a cold drink; and if you head out the back and ask really nicely, you'll even get to hang out with the resident lambs, dogs or whatever else is around! From here you'll be driving another couple of hours down a long red road to a true trip highlight: Lara Wetlands.
If you've got time, stay here a night: it is ridiculously serene and beautiful, and even at its busiest there is plenty of space for everyone. If you're in a hurry, stop long enough to marinade in the sunset; the sky changing colours over the water is unforgettable. From here, press on to the Saltbush Retreat in Longreach, stopping at the Wellshot Hotel in Ilfracombe for dinner on the way.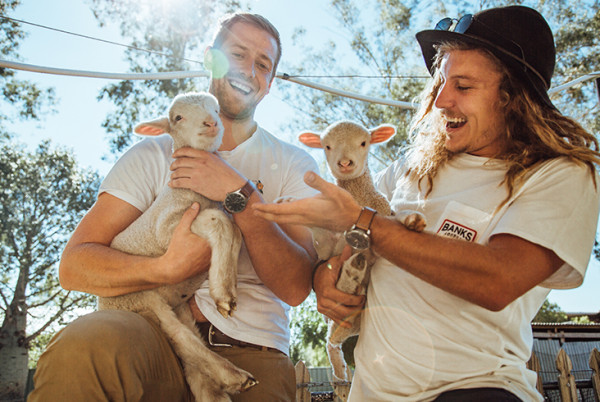 REST DAY
Day 4:
A rest day, filled to the brim with good stuff! It will have been dark when you arrived at the Saltbush Retreat last night, so prepare yourself to be blown away by the beauty of where you are. Step outside of your (gorgeous!) hotel room to legions of kangaroos lazing around on the grass out the front, and leave yourself time to soak in the outdoor tubs, overlooking huge paddocks filled with Saltbush. Yes, the water is warm!
Casey's does an incredible breakfast here, and at 11am wander over to the Australian Stockman's Hall of Fame for their Stockman's show – talk about an authentic outback experience. There's singing, storytelling and a couple of very clever horses to see! If time permits, don't miss the QANTAS Founders Museum across the road, you can check out some really old planes here, imagine what it would have been like to be a celebrity in the 70's and even walk on a jet's wing – how cool.
Chill out in the afternoon before being picked up for a Sunset River Cruise and Smithy's Outback Dinner and Show – book a cheese platter, grab a gin and tonic or a nice shiraz and coast down to an unreal true-blue feast and a performance to match.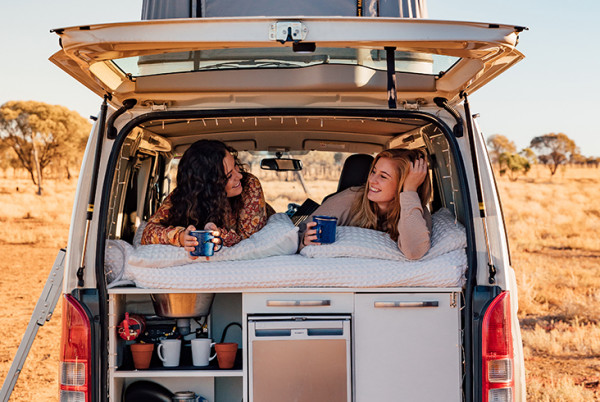 DRIVE TO CARNARVON GORGE
Day 5:
Today's a big driving day, so throw your bags in the van and start the trip to Carnarvon Gorge, seven and a half hours away. After a few clicks (that's outback speak for four and a half hours) you'll roll into Emerald: you can't go past Einstein's Burger Bar for lunch, and if you're feeling brave grab an organic camel patty! If not, all the burgers are great. You'll want to head to the supermarket while you're here, as it's the last one you'll see for a few days: stock up on food and water, and on the way from Emerald to Carnarvon Gorge stop at Rolleston to grab some petrol too – it's the only chance you'll have until the way back, and you don't want to run out.
When you get to Carnarvon Gorge, set up camp at Sandstone Park for the best views: settle in and cook yourself some spaghetti bolognese for dinner, with a steaming cup of hot chocolate for dessert.
BOOLIMBA BLUFF HIKE
Day 6:
It's a 4:30am wakeup today, for the most incredible sunset you might ever see. You'll be heading to Boolimba Bluff for a 7am Sunrise; the hike takes around three hours return and involves a lot of stairs! The bluff towers 200 metres above Carnarvon Creek and is accessed by a track that passes through a diverse range of habitats - from forests full of ancient ferns, to rugged rocky outcrops dotted with giant boulders. Make sure you spend about an hour up here to see the colours of the landscape change, from dusty pink to vivid orangy-red to beautiful rich green. If you're up for another few hours of hiking, eat some breakfast and then continue on to Big Bend – 9km away.
This is a moderate walk along a mainly flat track, with numerous creek crossings and some staired sections. There are so many incredible stops along the way, including the Moss Garden, surrounded by sandstone walls that drip with water and lush green moss, and lots of spots soaked in rich, interesting indigenous history.
If you'd rather take it easy, explore the billabongs and watering holes around the base of the hike, enjoy a picnic lunch on the grassy areas around the visitor's centre or head inside and learn some more! You're staying at Sandstone Park again tonight; how's the serenity?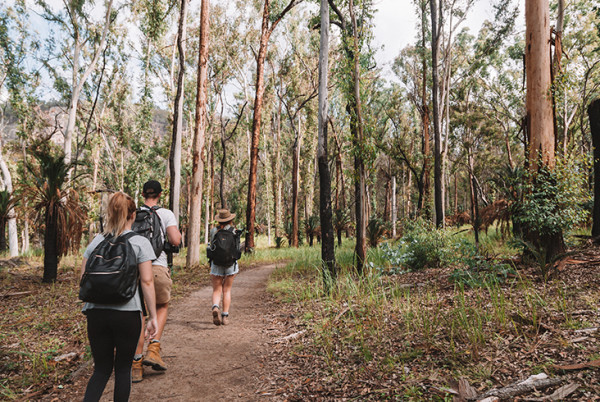 BACK TO BRISBANE
Day 7:
Sadly, all good things come to an end, including your trip through Outback Queensland! It's a huge drive today – 9.5 hours – so make sure you leave plenty of time for travelling, as well as food, drink and rest breaks. Aim to get back to JUCY Brisbane at about 4PM if you want to miss the busiest time of the day on the road. Now it's time to sit back and reflect on all of the incredible things you've seen and done over the last week – and to start planning your next trip!