As Good as Gold: Take a Treasure Hunting Gold Coast Campervan Road Trip with us
Take a golden opportunity to experience the best Gold Coast campervan rental road trip with our 5-day itinerary from JUCY Gold Coast.
If you're not in a hurry, collect your JUCY van and drive the (very) short distance to expansive Tugun beach. Consider the dip of your toes in the sand and sea the start point of your Gold Coast roadie!
It may be Surfers and schoolies and theme parks and beaches that spring to mind when you think of the Gold Coast. In fact, you may not even think of it as a particularly campervan-friendly destination. But guess what? It is! Woop! With over 400 sq km to cover, there is so much more to the Gold Coast.
You've got better things to be doing than planning an itinerary, right? Zoom calls to be had in your PJs, kids to home school, and all those online courses you signed up for and never started. That's why we've compiled a jam-packed 5-day itinerary to ensure you have the gold standard in Gold Coast campervan road trips! Check it out.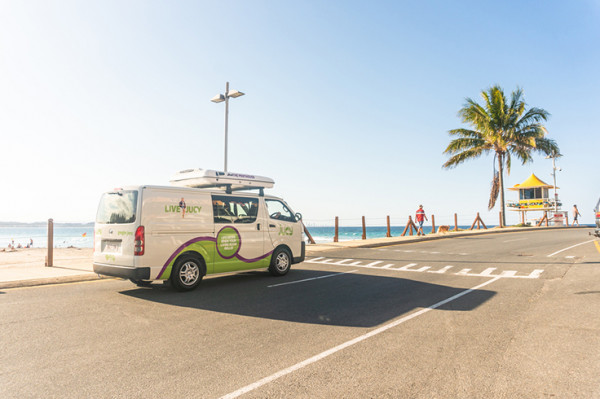 Day 1 - Go For Gold: Beaches, Wildlife & Rock Pools
Your day starts at our JUCY campervan hire branch on the Gold Coast. It's so close to the beach you can smell the fish and chips from the branch - much to the chagrin of our awesome crew. When you pick up your JUCY wheels, expect some fun banter, a few in-the-know travel tips, and an expedited zero contact pick-up process. We even have an airport shuttle if you arrive in one of those things we used to travel in... erm... planes!!
If you're not in a hurry, leave the van at our handy branch and stroll twenty minutes along your first GC beach: the lesser-known Greenmount Beach. Check out the legendary surf break at Snapper Rocks. Found at Rainbow Bay, this rocky outcrop is the start of something great – you're 5-day Gold Coast road trip! Dip your toes in the sea and watch the incredible surfing feats before getting behind the wheel of your new best friend, your sweet JUCY Gold Coast campervan hire.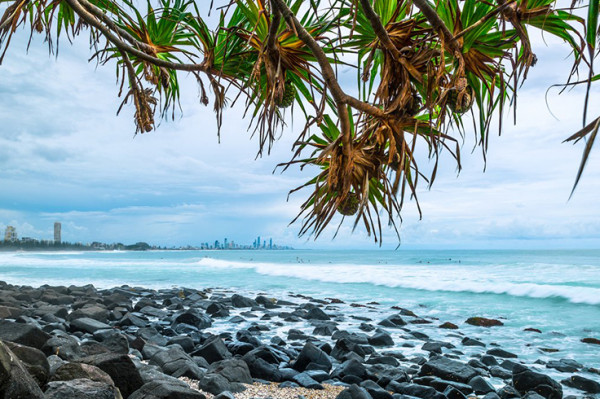 If you're feeling peckish, dine at the Currumbin Beach Vikings Surf Life Saving Club. The outlook across the broad sandy beach enhances the taste of your yummy seafood platter or oversized salad.
Next, drive twenty minutes to the outstanding Currumbin Wildlife Sanctuary where every type of Aussie land critter has a place to call home. Koalas, check. Tassie devils, check. Wombats, check. Cassowaries, check.
Uncover the secrets of this not-for-profit sanctuary in the stunning Currumbin Valley rainforest. It also serves as a great introduction to the magic and merits of the Gold Coast hinterland. It's not all beaches, y' know? Allow 3-4 hours to meet the animals, visit the wildlife hospital, and to explore the flora of the Lost World. If you want to amp your adrenaline, there's a TreeTop Challenge high above the canopies, too.
When you're finished with oohing and aaahing at cute and/or dangerous animals (it is Australia, after all) head inland to the Cougal Cascades. The scenic drive through the lush Currumbin Valley is worth the journey alone. But that's not all! Silence is golden as you take in the stunning waterfalls, rock pools, verdant rainforest foliage, and even a natural waterslide to enjoy.
To reach the pools drive to the Mount Cougal car park (past the better-known Currumbin Rock Pools), follow the sealed walking track to the falls. If you'd like to get a caffeine hit before the pools, take a short detour to Freeman's Organic Farm. It's a good opportunity to fill your campervan mini fridge with yummy fresh produce, too.
Head back to the coast and park your JUCY for the night at the Nobby Beach Holiday Village. It's a perfect spot on a Gold Coast campervan adventure as it's located in Miami beach! If it's a Wednesday, Friday or Saturday night, do not miss the Miami Marketta. Chow exotic eats and hear trendy beats under pretty fairy lights. Also, just around the corner, let off some steam in the most epic way possible - axe-throwing at Lumberpunks!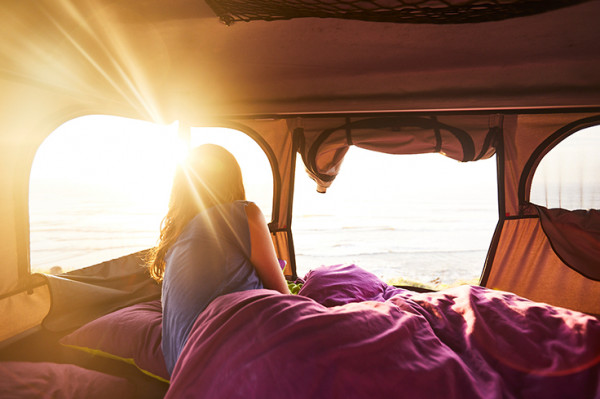 Day 2 – Gold Digger: Treasures at Lamington National Park
What makes this national park so special is not only the trails that wind through lush flora and fauna, but that it also makes up part of the UNESCO World Heritage Gondwana Rainforests. Some species here are MILLIONS of years old – 225 million in fact! Legendary!
The best way to explore the park is on foot, where exotic birds fill the tropical canopy. A JUCY favourite hike is to the Morans Falls Track. It's a 1.5-hour grade four hike to the Morans Falls and Morans Creek gorge, so some fitness is required. Enjoy sub-tropical trees and spy ancient lava flow. We recommend you pack snacks or a picnic to eat at the falls, before heading back the way you came.
If you have little ones in tow or are short on time (or energy), then the grade one Centenary Track is an ideal easy introduction to the park.
If you're into chasing waterfalls, then the discover the gorgeous cascade of Elabana Falls, nestled deep within the Green Mountains region of Lamington National Park. It's found close to your recommended camping spot for the night - the eco-tourism O'Reilly's Campground. The epic views over the McPherson ranges make you want to stay awhile so if you have more than five days up your sleeve, consider adding another night here.
Depending on how much time you spend exploring Lamington National Park on foot, consider visiting the O'Reilly's Canungra Valley Vineyards. Or, perhaps, more importantly, the onsite Mountainview Alpaca Farm where you can take an alpaca for a walk! Don't know about you, but we'd make time for a cuddle with a snuggly alpaca.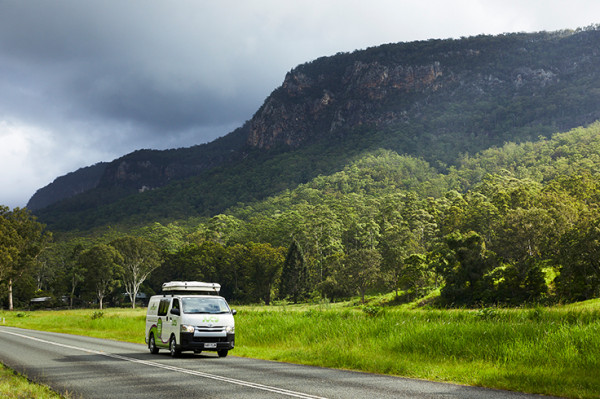 Day 3 – The Gold Rush: Theme Parks, Tweets, & Spa Time
One thing the Gold Coast does exceptionally well is entertainment, and where better than at an epic theme park (or two) for some childlike frivolity!
While you have plenty of theme parks to choose from, for a more adult angle, we love Wet'n'Wild in summer, and Movie World or Dreamworld any month of the year. Check out which one is more your scene here and here.
If you'd rather listen to fingers down a chalkboard 24/7 than head to a theme park, leave the rest of your friends or fam at their chosen park and head off to the pot-of-gold savings at the nearby Harbour Town Premium Outlets. We think if you follow it up with a spa treatment at SpaQ at the QT Hotel, it'd be the pamper-worthy kind of day you deserve, no?
Alternatively, if you're a twitcher, then the birdlife at Queensland's oldest national park - Tamborine National Park is not to be missed. The Canopy Walkway gives you the best chances of spying the 150+ avian species that call the park home, including incredible rare birds like lyrebirds, bowerbirds, and whip birds. The Witches Fall Circuit is a reasonable one-hour long stroll to jaw-dropping viewing platform vistas.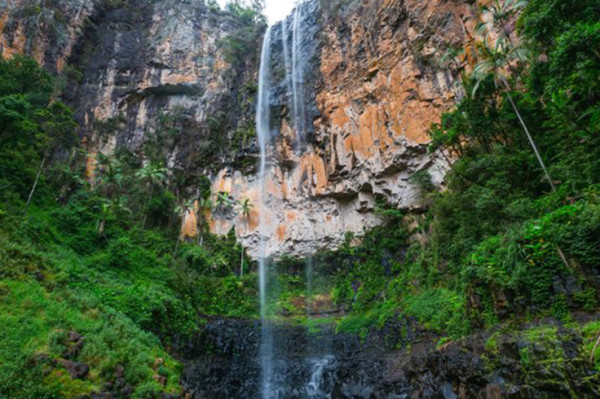 If you just so happen (y'know accidentally like) to end up in Mt Tamborine village, don't miss out on a sweet fix at Fudge Heaven and Chocolates on Gallery Walk. Fortitude Brewing is also good for a craft brew and sophisticated pub grub. Just saying.
If you feel like a night out of the camper to enjoy the throng of action at Surfer's Paradise, then consider a night at quirky, decadent QT Hotel Gold Coast.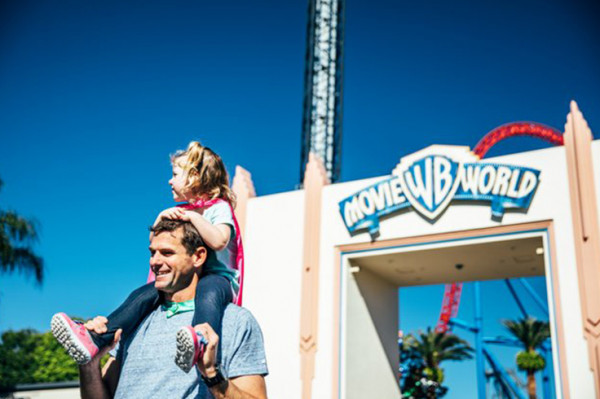 Day 4 – Pure Gold: Springbrook National Park or Coastal Gems
Two choices today for your Gold Coast campervan journey today: more time in nature's finest at the epic Springbrook National Park, or stay on the coast and get your kicks in the water.
The natural wonderland of Springbrook could keep you entertained for days, but for a wow-worthy day trip, check off the iconic Natural Bridge. The unusual rock formation is accentuated by the rushing waterfall that plunges into an Insta-worthy turquoise pool. It's heavenly, especially as along the trail you'll witness tropical birds swooping across the canopy of the park's ancient trees – some are as old as 3,000 years!
Springbrook is also part of the UNESCO World Heritage Gondwana Rainforests and chock-full of trails that reveal the flora and fauna that has been around for millennia. An easy hike to get acquainted with this natural history lesson is the 30-minute walk to Canyon Lookout where Rainbow Falls and views across to Stradbroke Island await. For a more strenuous hike, head to the Best of All Lookout. You can guess why it got its name, but tag us #jucyworld when you're up there and have seen the view for yourself.
If you're game for staying in the park all day or want to visit later after water sports, then plan to be there for dusk when the glowworms appear at Natural Bridge! It's nature's finest light show.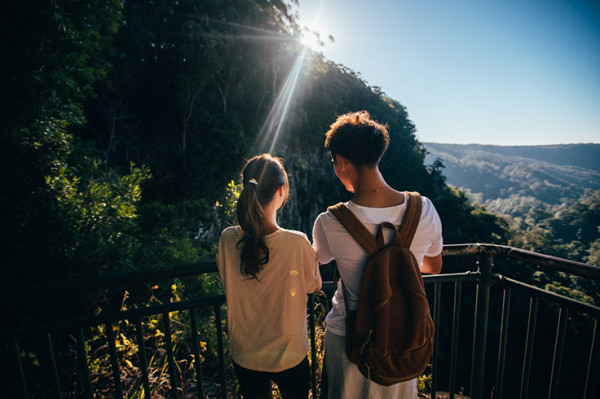 If you're a water baby, in any way shape or form, then forgo Springbrook and have a go at some iconic Surfer's activities. The most iconic of all on the Gold Coast, of course, is to don a wetsuit and go surfing!
If you'd like to try something a little more vertical, Go Vertical will hook you up with SUP rentals, lessons, or tours.
For a more educational water excursion, head to the ecologically significant Coombabah Lakelands Conservation Area. Explore 1,200 hectares of wetland, swamp, forest, and saltmarsh, spying the native avian residents as you wander.
Our recommended snooze for the night is at the BIG4 Gold Coast Holiday Park.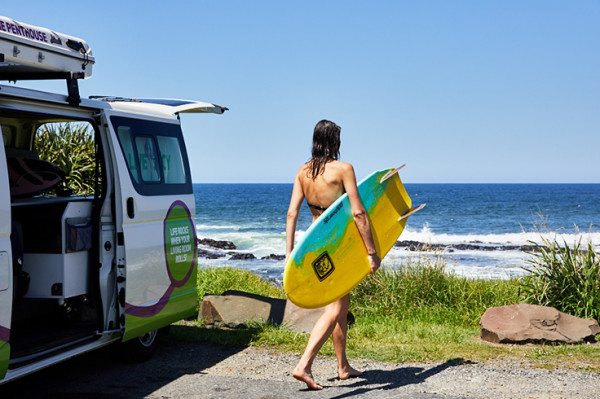 Day 5 – There's Gold in Them Thar Hills: Burleigh Heads
Awww, what?? How is it the last day of your Gold Coast campervan trip already! Don't worry, you've got time to cram in a final day of activities, thanks to our new Zero Contact policy. And if it feels like you need more time before parting with your new best friend, you can even hang beyond office hours for a lowly $30.
It's worth the early start to catch the gold star of sunrises at Burleigh Heads. Drive 20 minutes south to Burleigh Hill and take a brisk stroll upwards in time to see the first rays of the day peeking over the horizon.
As Burleigh Heads is a relaxed surfie suburb, there are some fab brekkie and coffee options before you explore the Heads further. We're raving fans of Commune and Social Brew.
Fuelled and ready for action, walk the 7.4km Oceanview Track from Burleigh Heads National Park to Tallebudgera Creek, concluding with a refreshing creek dip. Burleigh Heads National Park covers 27-hectares of rainforest, mangroves, eucalypts, and grasslands, fringed by golden sands and the hexagonal basalt rocks that form the coastline.
If you're smart (and we know you are, you're JUCY fam), you'll have packed at some snacks or a picnic to enjoy on the gorgeous stretch of Tallebudgera Creek beach. Just casually, a dolphin or whale may cruise by while you're chilling if you're lucky.
Take time on the beach to reflect on the magic of your 5-gold-stars Gold Coast campervan roadie. We'd love to see your trip highlights: tag us #jucyworld!
From Burleigh Heads, return to your camper and our JUCY Gold Coast branch. Unless you're planning on a big roadie or a one-way rental, of course. In which case, check out this itinerary to Cairns or reverse this one to Sydney. Tempting, huh?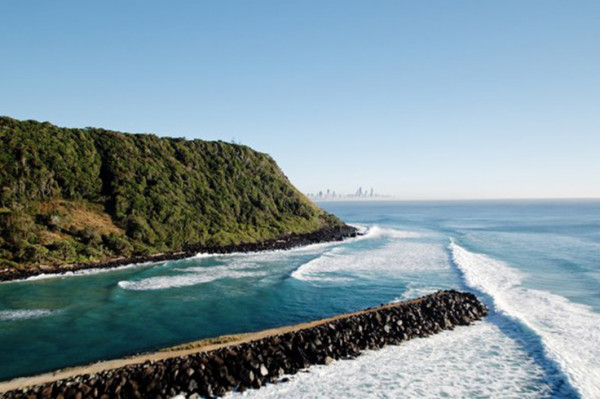 No need to lay down all your gold for this outstanding adventure, we've got great low-cost rates for our Gold Coast campervan rental fleet. Call us on 1800 150 850 or book now.