Car Rental Locations in Australia
Your JUCY car rental options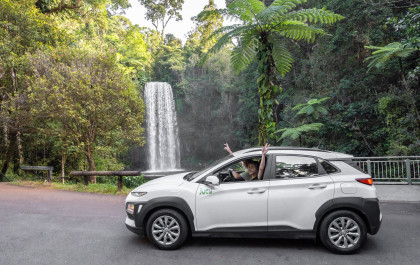 The perfect sporty, stylish Compact SUV car hire to explore Australia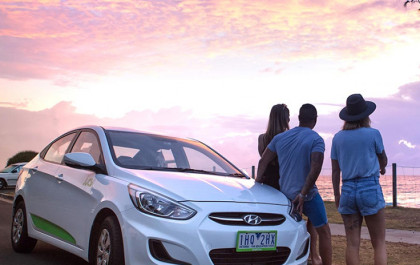 For long legs and space lovers, our Sedan is comfy and roomy. Great for long road trips!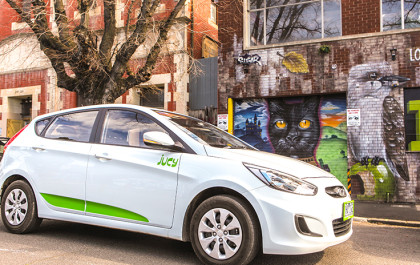 Our popular Mid Hatch is a safe and spacious ride. Rent your great value hire car today.
Choose an Australian JUCY branch location
We're passionate about road trips, it's why we have seven branch locations and permit one-way travel. We love to give you the freedom to travel far and wide around Australia!
We've got the best of Australia covered with our branch locations dotted from Cairns, all the way to Adelaide.
Where will you start your Australian road trip?
Renting a JUCY car Australia
Australia is a fascinating destination and one that's rarely visited just once. It's huge, so it needs to be broken down by city, state, or scenic route.
Exploring Australia by car means you can enjoy the freedom of picking your routes (and detours) while choosing from a range of accommodation options, you can even pack a swag or tent!
Freedom on the road means that when you hear of a meteor shower heading your way, you can hop in your JUCY rental to find a dark sky area to view the magic. Or say yes to a detour when your buddy finds a giant statue of a mango that they must get a selfie at. It's your road trip, exactly as you've imagined it, even with the giant mango.
And if you're road trip inspiration has spurred you to dream of driving from Cairns to Melbourne, or to head north through the Outback from Adelaide, we say "go"! We offer one-way rentals between our seven branches, so you don't need to backtrack. You'll also find our unlimited mileage verrrrryyy handy if you're looking at committing to a roadie of epic proportions! Did we mention Australia is huge?
As you're planning your Australian road trip, we're here to assist. You'll find a diverse range of itineraries, travel tips, and useful info across our site, or you can call our friendly crew any time.
Consider us your cheerleaders, whether you're planning a coastal adventure, national park extravaganza, or a journey across the Outback.
Give us a "J", "U", "C" "Y"! Let's go!
Car rental Australia experiences

Australian sights

Australian facts
Car rental Australia experiences
Our passion for road trips is what got us started in the rental vehicle business, but it's our commitment to helping you enjoy a great roadie that keeps our fire ignited. That's why we offer affordable rates on a range of hire cars, plus a ton of bonus perks.
Like:
Unlimited mileage - drive as far as you want!
Our awesome customer service crew
Plus all the travel tips you can handle to plan your epic Aussie roadie, including tips on road safety!
A trip to Australia is the stuff of daydreams. When you book your JUCY wheels, you're saying "heck yes" to making that dream an epic reality. Woop!
Here's are some road trip teasers:
The Great Barrier Reef extends for 2,300km. That means that when you drive the coast of Queensland, you can stop multiple times to reach the reef!
The Blue Mountains are less than two hours from Sydney. The blue haze here comes from the four species of eucalyptus trees.
Did you know that the Great Ocean Road is the world's largest war memorial? A trip along this iconic route is a must-do on your Australian roadie.
Australia is a country of intrigue to many, here are some of the reasons why:
Australia is the world's driest continent, yet it's abundant with incredible fauna, too!
Biodiversity is a major drawcard for visitors, as 10% of the world's animal and plant varieties are found across the country. Your chances of seeing wildlife on a road trip are very high!
Australia has a staggeringly long coastline, at 25,760km. This means numerous opportunities to be at a beach, in the water, or exploring the Great Barrier Reef. Sweet!