Car Rentals Melbourne Airport
Get off your flight and arrive at JUCY Car rentals Melbourne Airport in no time thanks to our convenient branch location. Plus, we offer a free (yup, free!) shuttle bus! Woop!
Pick from all the best car rentals Melbourne, including the budget-friendly Mid Hatch, stretch your legs in our Sedan or Compact SUV. We even have a large 8 Seater for those roadies that are better with all your mates.
Did you know that during business hours you can catch a free shuttle bus from the airport to JUCY Melbourne Airport? Read further down the page to find out all the deets for picking up your JUCY car rental!
Are you ready for your Melbourne or Victoria road trip adventure?
Contact JUCY Car Rentals Melbourne Airport
| | |
| --- | --- |
| Address: | 1 Silicon Place, Tullamarine, VIC 3043 |
| Reservations: | 1800 150 850 |
| Hours: | 08:00am - 06:00pm Monday to Friday |
| | 08:00am - 02:00pm Saturday |
| | 10:00am - 02:00pm Sunday |
JUCY rentals Melbourne are closed on Christmas Day only
JUCY car hire Melbourne Airport
Melbourne is a cool city, but know what's cooler? The freedom to explore the whole state! Whether you're planning a quick weekend break or looking to travel across Victoria, we've got a range of rental cars and two Melbourne branches to get your road trip started.
Victoria offers stunning scenery, natural wonders, fun-and family-filled attractions, and an abundance of native animals.
Journey one of the world's most famous coastal drives along the Great Ocean Road. Spend time uncovering the treasures in the Otway Ranges. Or head inland to the Great Alpine Ranges where the scenery is the kind you have to upgrade your photo storage for.
How do we know all these cool travel tips? We make it our business to! You'll find our website loaded with itineraries and trip advice. Plus, our JUCY crew is on hand with free travel advice and assistance. Call us on 1800 150 850 to find out more.
JUCY airport shuttle

Picking up your vehicle

Dropping off your vehicle
When you land at Melbourne Airport, you want one thing: to bring your travel plans to life finally! We're all about making your dreams a reality ASAP, so we speed things up with a shuttle from the airport to our nearby branch. And guess what? It's free!
Here's what you need to know to catch it:
Got your bags and cleared all the important parts of the airport? Great! It's now time to give us a call on our freephone number: 1800 150 850. Punch in 1 to tell our crew that you're ready for your shuttle.
Exit the airport and cross either pedestrian crossing. There are signs for the hotel and airport buses; follow these and wait at this stop. You'll see a green and purple van coming towards, guess who?
Our airport shuttle is available during our business hours, and the last pick-up for our car hire customers is 5.30pm on weekdays and 1.30pm on weekends.
For peeps not coming to us via the airport, you'll need to make your own arrangements. If you're looking for the cheapest way to reach our Melbourne Airport branch, take the Skybus to the airport, then follow the steps above to catch our free shuttle. If speed is your need, an Uber from downtown will set you back around $50.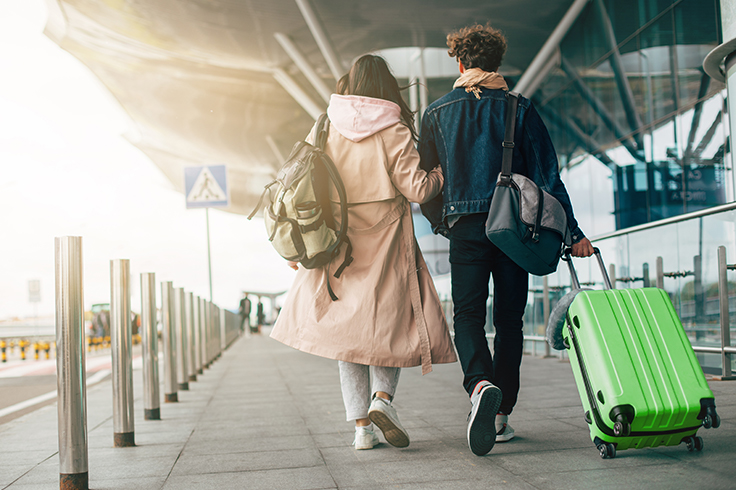 Woop! You've made it to our Melbourne Airport branch. Want to know what happens next?
Whether you arrive on our free shuttle bus or of your own accord, a warm welcome is the first priority. You're JUCY family now!
Next, we'll run you through the necessary paperwork and vehicle show-through. Once you're comfortable with everything, you're more than welcome to ask a ton of travel questions to our crew. We can't help ourselves; we love talking road trips!
Be sure to reach us by 5.30pm on weekdays and 1.30pm on weekends. That's the latest check-in time for your JUCY car pick up.
We do not offer after-hour service at this branch.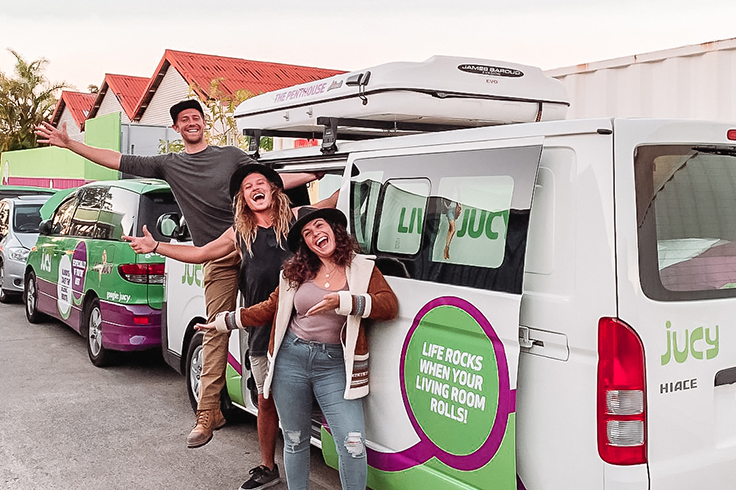 Dropping off your vehicle
We're not crying, you're crying. Seriously, though, it's not uncommon for us to feel a little something-something when a road trip ends. What we do to cheer ourselves up: we make sure it's a great send-off!
During our opening hours, here's how:
Drive to our branch at 1 Silicon Place in Tullamarine. You can't miss our green and purple building! Leave a 45-minute buffer if you're heading to the airport.
Did you remember to fill up your petrol tank before you pulled in? No worries if not, a quick minor detour to the nearest petrol station at Caltex Star Mart, Sharps Road, Tullamarine will sort you out.
It's time to unpack your belongings from the boot. And the door holders. And the glove compartment. And under the seats. You get it: do a thorough check before you hand in your keys. We find some incredible items when we do our vehicle grooming! We'd love it if you could clear out any rubbish, at the same time, please.
Say your goodbyes and hand in your car key.
Heading to the airport? Hop aboard the next free shuttle bus. Come back anytime!
We do not offer after-hour service at this branch. Melbourne Airport branch offers zero contact pickup/drop off option during office hours only.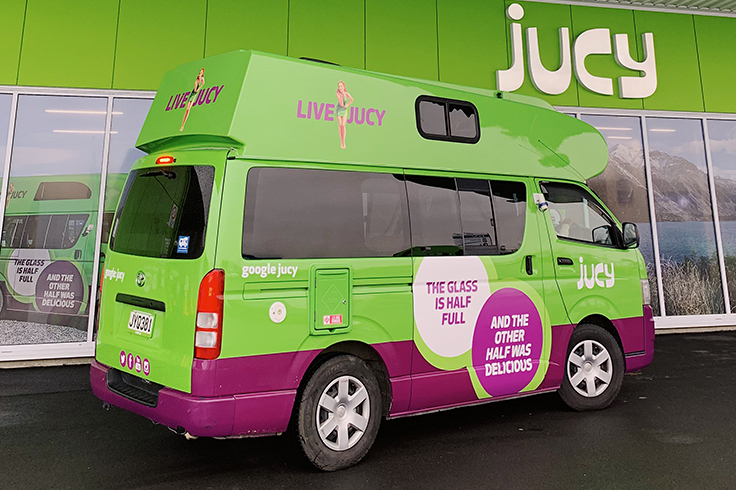 JUCY Car Hire Melbourne Options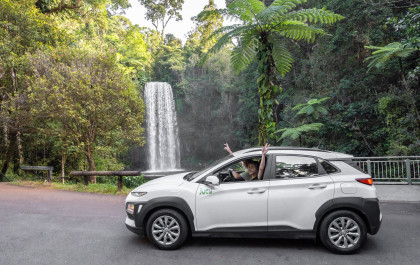 The perfect sporty, stylish Compact SUV car hire to explore Australia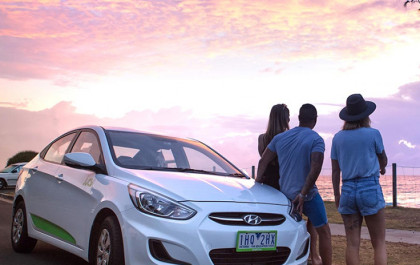 For long legs and space lovers, our Sedan is comfy and roomy. Great for long road trips!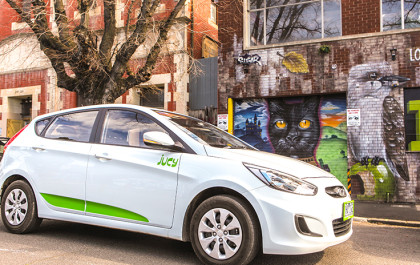 Our popular Mid Hatch is a safe and spacious ride. Rent your great value hire car today.
Making the most of your JUCY car adventure in Melbourne and Victoria
One of the greatest aspects of travel are those unexpected moments. The 'wow, is this real-life' experiences, sights, and scenery. The yearning to explore Australia may have come from another state or city's attractions. However, we think that Victoria has a long list of attributes to make it worthy of your exploration.
Picture this: jagged mountain ranges that pierce the horizon. Lush fields and wineries pepper the view through your car window. Imagine peeking through the verdant trees and sub-tropical forests to find a surprisingly broad range of native wildlife taking refuge.
The tried and true routes of the Great Ocean Road and Grampians Way are recommended for inclusion in your itinerary. But, add to that the under-visited basalt columns of Organ Pipes National Park. Or the diverse landscape and flora-and-fauna filled ecosystem of Croajingolong National Park in Gippsland. We could go on, but seriously, take our word for it: Victoria is one big road trip full of surprises!
How you travel is up to you. Choose our compact Small Hatch; go for style and space with our Mid Hatch or Sedan. Or maybe you need an 8 Seater to take your friends or fam on an epic roadie? Whatever you choose, you're gaining the freedom of driving the region your way. And that includes detouring to snap a pic at the Giant Koala at Dadswell Bridge and the Big Koala on Phillip Island. Just because you can.
So, when is the best time to visit Melbourne and Victoria? We're claiming May to March, and September to December as the optimal times to take a roadie, weather-wise. Also, December to February is our busiest period, so book ahead. You can do that on here, or by calling 1800 150 850, anytime.