In Celebration of Te Wiki o te Reo Māori: the Best of Māori Tourism
In celebration of Te Wiki o te REO Māori (Māori Language Week), we've curated our favourite road trip experiences around Aotearoa. Read on to discover our top picks.
Haere Mai (welcome)! It's Te Wiki o te Reo Māori (Māori Language Week)! To celebrate, we've pulled together our favourite Māori words that weave into the best natural, adventurous, and cultural travel experiences around Aotearoa. Whether you're picking up your JUCY campervan or car hire from our Auckland, Christchurch, or Queenstown branch, we've got an adventure below for you.
Panuihia (read on)!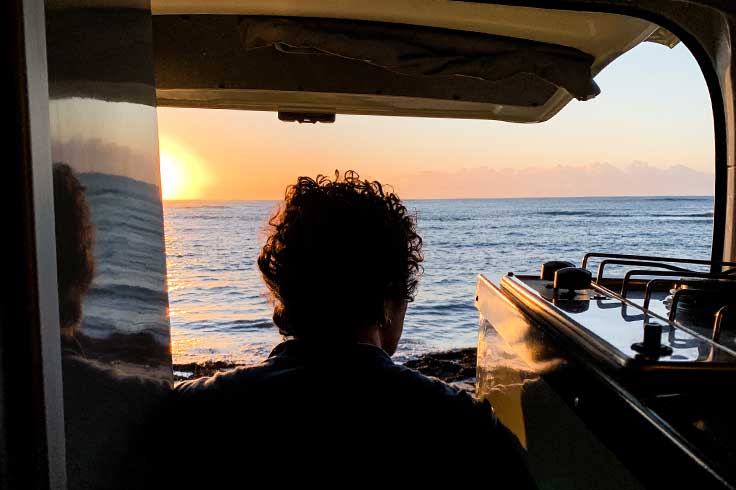 Maunga (Mountain)
One of the most culturally and spiritually significant maunga (mountains) in New Zealand, Maunga Hikurangi in the Tairāwhiti region, is the first sunrise point in New Zealand. While you can visit solo, taking the Journey to the First Light dawn tour gives you not only the wow factor atop this incredible landmark but also the cultural and historical background of why Maunga Hikurangi is so sacred to the Ngati Porou tribe. Combine your trip to Maunga Hikurangi with other Gisborne highlights.
Other sacred mountains include Aoraki (Mount Cook), Para te tai Tonga (Ruapehu), Taranaki, and more.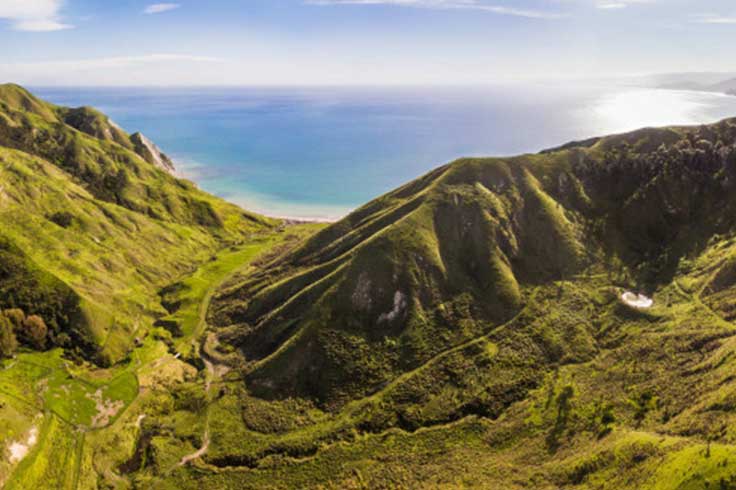 Moana (Ocean)
The first Māori settler, Kupe, arrived in Aotearoa by waka (canoe), so it's only fitting to give a waka a go and see how you would fare in similar circumstances. Okay, okay, not similar, because a guided tour is defo more secure than Kupe's intuitive voyage following the stars and ocean currents! Still, think you've got what it takes?
Join Waka Abel Tasman to explore the gorgeous bays of New Zealand's smallest national park. Will you choose a waka tuarua (double canoe) or waka ama (single-hulled outrigger) to share in this heritage experience to Split Apple Rock? Discover more about the Abel Tasman National Park here.
Booking a city weekend getaway in a JUCY rental car? A waka-ing good time is still yours! You can show off your paddling prowess with the Te Wharewaka o Pōneke tour around the gorgeous Wellington waterfront.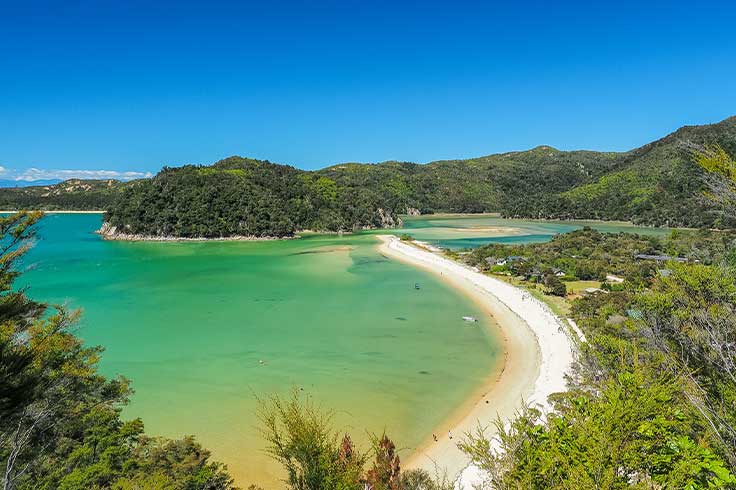 Papatūānuku (Earth)
Māori have deep spiritual bonds with Papatūānuku (the Earth Mother) and take their responsibility as guardians of the land, water, and soil seriously. Travelling Aotearoa by JUCY campervan affords ample opportunity to connect with nature – the mountains, the shores, the bush. Still, we feel most strongly connected when we sit under the branches of Tane Mahuta, the God of the Forest. Immersed in Northland's Waipoua Forest, this incredible towering kauri tree stands at 18 metres tall and nearly five metres wide. It conjured feels of awe, curiosity, and a shift in your perspective on life (it's true).
Feed that curiosity on a night tour of the forest with Footprints Waipoua, departing from Hokianga. Along with identifying the night sounds and sights that go bump in the forest after dark, you'll also learn about the legends of this ancient forest and its giant inhabitants. Want to know where to camp when you head this way? Luckily, we've got a recommendation for that.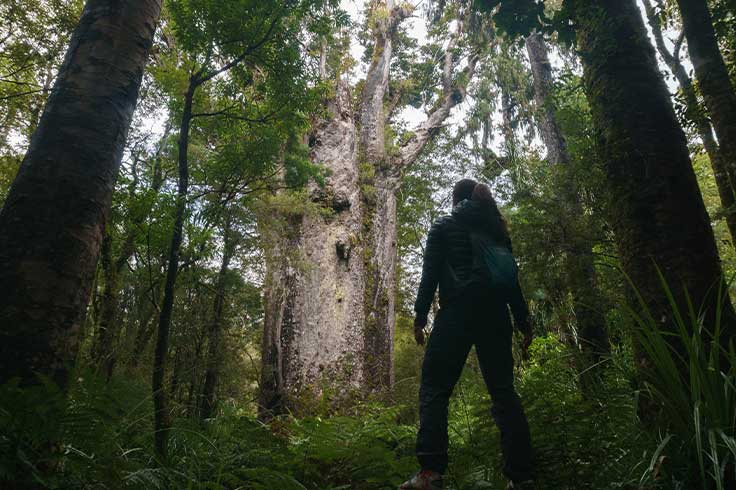 Awa (River)
An immersive awa (river) trip is the stuff adventure lovers live for (i.e. we do, and therefore you probably do, too!). With Unique Whanganui River Experiences you can go all in on Te Awa O Whanganui (Whanganui River). Choose from their 1-, 3-, 4- or realllly all-in 5-day river tours, led by experienced Māori guides. Alongside navigating this lush stretch of Aotearoa by canoe and camping alongside the awa, you'll also learn about the area's history, kai (food), and culture. The popular 3-day experience includes time spent with a small Māori community.
Wanting a longer campervan or car hire road trip? Consider adding this Whanganui River adventure with our North Island West Coast itinerary.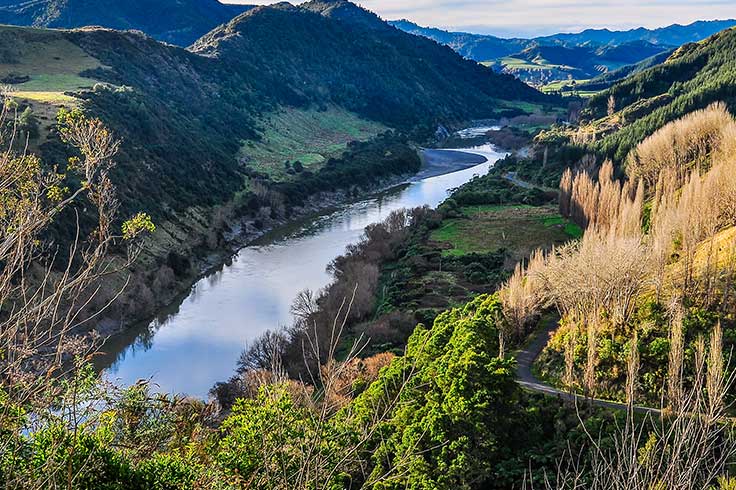 Hītori (History)
To connect with ancient Māori history, depart from our Christchurch branch for Timaru. Yep, Timaru! It's here that you can visit the Te Ana Māori Rock Art, dating back an estimated 700-1000 years. These tapu (sacred) rock art drawings are from the Ngāi Tahu tribe and date back to the arrival of Māori to the South Island.
Still in the Canterbury area, make time to visit the Okains Bay Museum in the Banks Peninsula. Thanks to their extensive collection of artefacts, this is how you get the complete skinny on all things cultural, historical, and fascinating in Aotearoa. The Whare Taonga houses a collection of national significance. This includes taonga puoro (Māori musical instruments), which you can hear being played. You can even spend the night at the museum in their retro museum bach!
We can't talk about Māori history without mentioning Russell in the Bay of Islands. Considered the birthplace of today's Aotearoa, Waitangi is a significant site to understand the history of New Zealand and how the Treaty of Waitangi came to pass. Read more about a visit here – and North Island gems – here.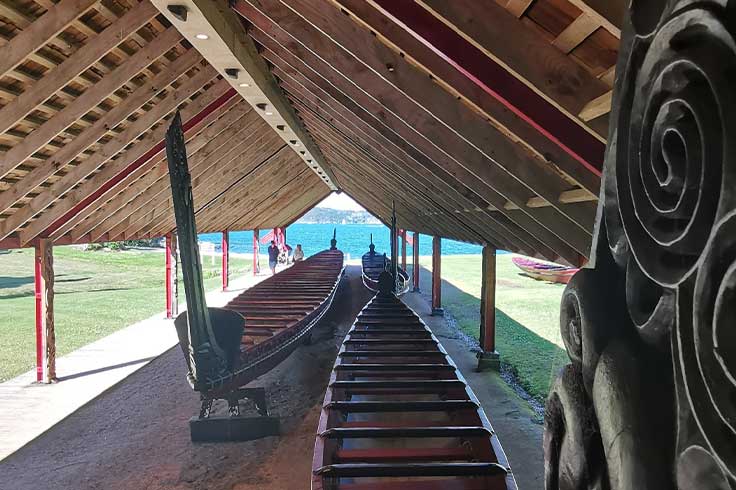 Kai (Food)
Hospitality is as much a part of Māori culture as whanau (family) and kapa haka (group performance). Which is why gathering for a hangi is a great way to connect. A hangi translates to 'earth oven' as the meal is traditionally cooked underground. Over 2000 years ago, a hangi may have been a feast for all with sweet potato and fish wrapped in flax leaves. It's now been modernised, with more menu options and different wrapping options. To experience a traditional hangi, Tamaki Māori Village in Rotorua – New Zealand's most awarded travel experience - includes a meal in its day, night, and overnight offerings. In West Auckland, the Maori Kitchen offers authentic kai seven days a week.
For a modern take on the hangi, head to Karaka Café on the Wellington waterfront. Here, hangi-smoked meats and vegetables form part of the rārangi kai (menu). For travellers with dietary needs, there are lots of gluten-free, dairy-free, and vegan options here, too.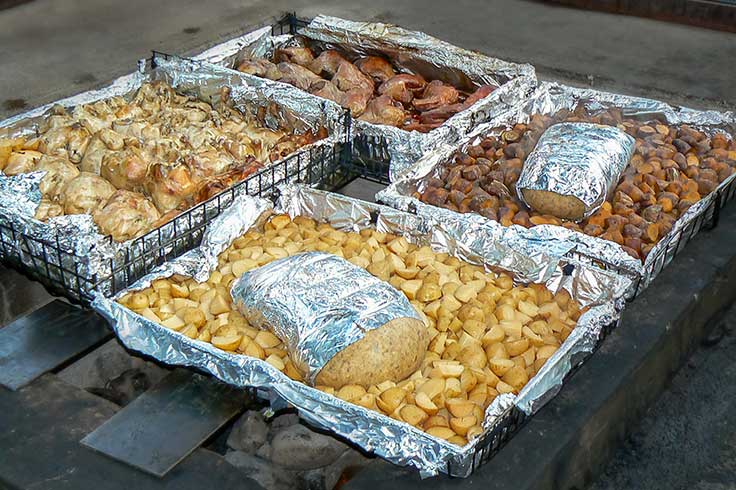 Mahi Toi (Arts)
As with many cultures, the arts and artistic endeavours play an important part in representing what's important, what's current, and what creative expression looks like for those people. To understand the tuakiri (identity) through artwork that represents the people, environment, and customs, and culture, a visit to Te Papa is in order. It's home to the most significant museum-curated collection of Māori Art!
You can also experience the symbolism in raranga (Māori, tā moko (tattoos) and understand the importance of pounamu (greenstone). We're fans of the Arahura Greenstone tour near Hokitika. Here, you can find greenstone along the Arahua River bed, along with learning the legends of the region.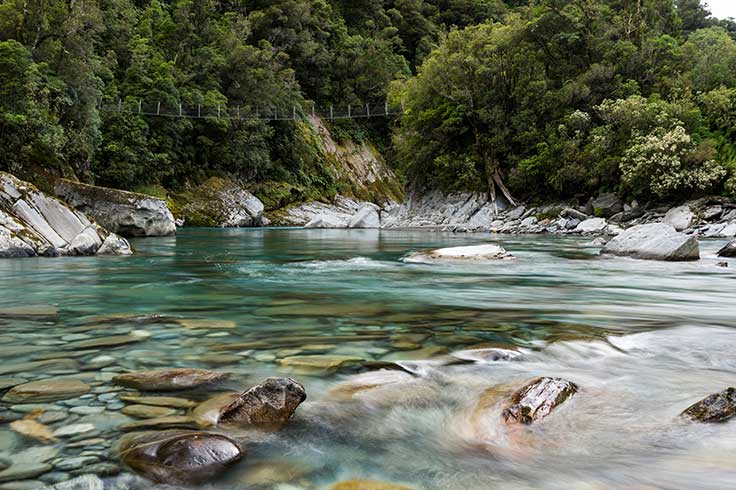 Whakairo (Carving)
If you're visiting Rotorua (many consider it the epicentre for Māori activities), be sure to visit the Māori Arts and Crafts Institute. It's not just about experiencing these ancient traditions – like whakairo (carvings) - firsthand. It's also fascinating how they keep these traditions alive. And yes, of course, you'll want to experience the other wonders of Rotorua while you're visiting, including the geothermal mud pools, the redwood forest, and Lake Rotorua. It's also worth booking in for a traditional Māori massage – mirimiri or romiromi therapy.
Go big or go home, right? To stand in awe of a giant whakairo, take a boat or kayak trip to the impressive Mine Bay Māori Rock Carvings at Lake Taupō. Some 14-metre high, these carvings represent the 4-tribe hapū (ancestral lineage) and can only be seen from the water.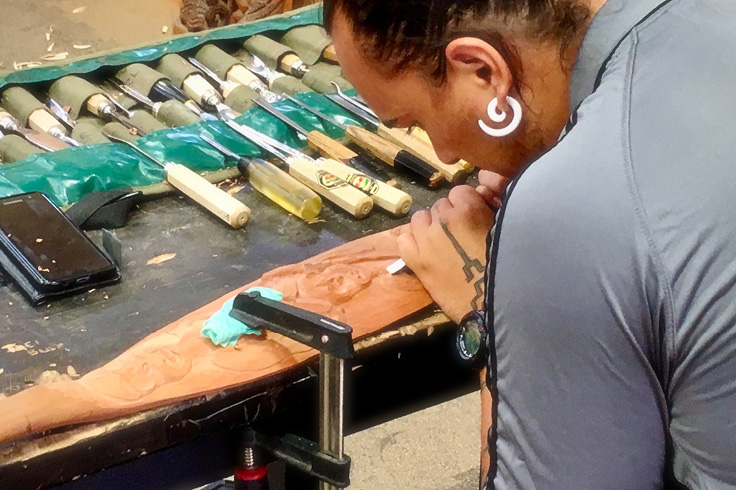 Whakahou (Rejuvenation)
Head to the Taupō rohe (region) for nature's finest R&R: soaking in the (adults-only) geothermal pools of the Wairakei Terraces. These therapeutic healing waters soothed the aches of pains of ancestors of yore. This is thanks to the silica- and mineral-rich waters that nourish, moisturise, and heal.
Of course, no mention of whakahou (rejuvenation) can ignore the therapeutic bliss of Rotorua's geothermal pools and mud therapy. The Polynesian Spa is a top-notch place, though we're always love-struck when we spend time at the Secret Spot.
More on Rotorua's wellness vibes can be discovered here.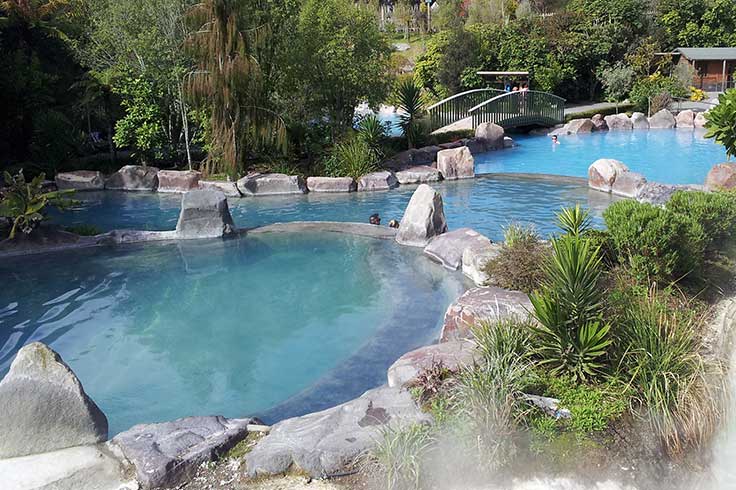 Whetū (Star)
The interpretation and love of the night sky is not exclusive to any one culture, of course. Still the Māori stories and legends are fascinating and revealing. Tales and songs of the Māori myths of creation accompany a heart-warming level of manaakitanga (hospitality). All discovered on this 4-hour Horizon Tours experience out of Ōtepoti (Dunedin).
There's no better time to connect to Aotearoa's night sky than during Matariki, the Māori new year. And in 2022, it's a New Zealand public holiday for the first time! Our Matariki blog not only reveals the best places to witness the rising of the Matariki star cluster but also the best astro-tourism events too!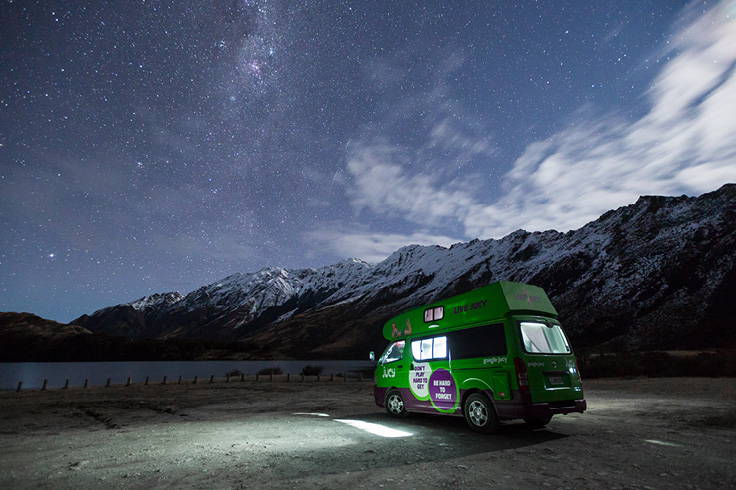 Ready to haerenga (travel) and practice your te Reo Māori on the road? Nui! We've got great deals on campervan hire and car rentals to ensure you've got plenty left in your budget to invest in Māori-owned travel operators and tours.


Karanga mai (Give us a call) on 0800 399 736 and speak to our JUCY whanau, or book here!