The 12 Most Awesome North Island Campgrounds
Experience a fun-filled road trip in a JUCY camper! We've picked our 12 fave North Island campgrounds to suit every style of New Zealand roadie.
The Great Kiwi Camping Holiday is a staple of every childhood memory. In fact, are you even Kiwi if you didn't grow up on a sun-drenched beach with the sound of a ball game being played in the background? Or bush-whacking your way through a riverside trail with your dad leading the charge?
What better way to reclaim your childhood than on a Great Kiwi Road Trip? Only this time, instead of scrapping for elbow-space in a sweaty tent with your siblings, you adult and rent a JUCY Campervan. Enjoy space, sturdy shelter, some home comforts, and no-one's top-to-tail feet in your face.
We've selected the awesomest North Island campgrounds to suit every kind of Kiwi holiday.
Best North Island Beach Campground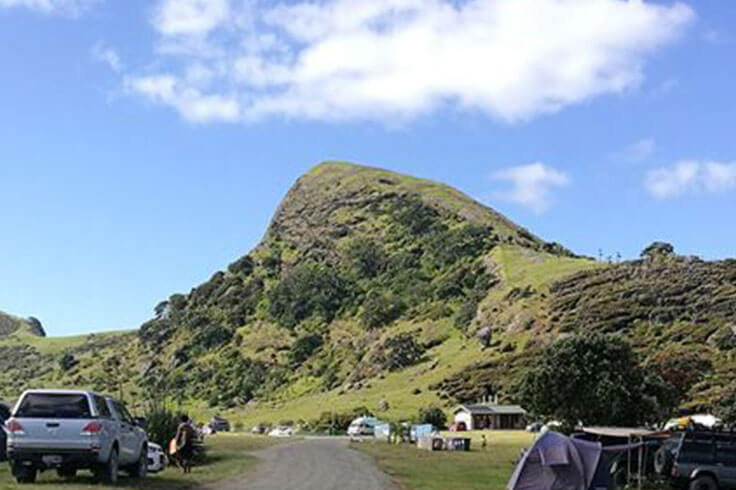 Spirits Bay, Far North
Ah, the great Kiwi summer vibes kick off the minute you see a beach, right? Even in spring, autumn, and winter! Obvs it's a tough call to pick one best beach campground when the North Island has several hundred to choose from!
But we did it.
Our fave is Spirits Bay, at the northernmost tip of the Far North. This Department of Conservation (DOC) campsite is about as far from the rat race as you can get in a vehicle. Think broad sandy beaches, sparkling azure waters, and - as it's super-secluded - some 'at one with nature' vibes. It's a beaut spot. The grounds are on a first-come, first-served basis, but given the tourists are out of the picture right now, you should be sweet to snag one of the 45 non-powered spots. In the area, swim, dive, or tramp – the bay forms part of the Cape Reinga Coastal Walkway.
Dog-friendly: No
Rankers Score: 90%
Best Romantic North Island Campground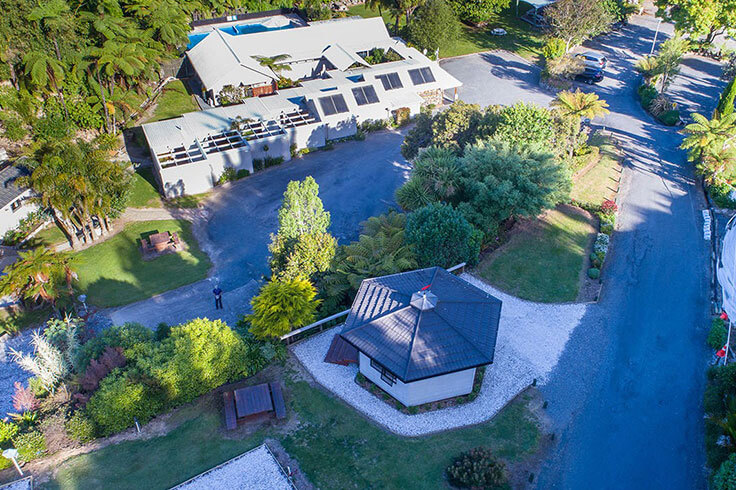 Fernland Spa, Tauranga
Camping can be a little bit grimy at times: sandy feet, sea-salty bodies, sweaty socks. Not so romantic, hmmm? Until you decide to camp at lush Fernland Spa with its onsite (and included) thermal pools. Yup, you and your beau can stroll from your JUCY camper to the hot pools and soak away the less lovey-dovey parts of any roadie.
Situated in a tranquil location only fifteen minutes from Tauranga, this is the best of both worlds. Or three worlds, as you have access to all of Tauranga and Mount Manganui's goodies, the expanse of nature across the Fernland Spa grounds, and the mineral-rich, chlorine-free thermal waters. Plus, you and your plus one can also get a massage, or book a private pool for a very affordable rate. Our pick for your snuggle-worthy JUCY campervan for your perfect North Island campgrounds roadie? Our 2-berth Cabana or our innovative EV Electric Campervan
Dog-friendly: No
Rankers Score: 90%
Best In-Nature North Island Campground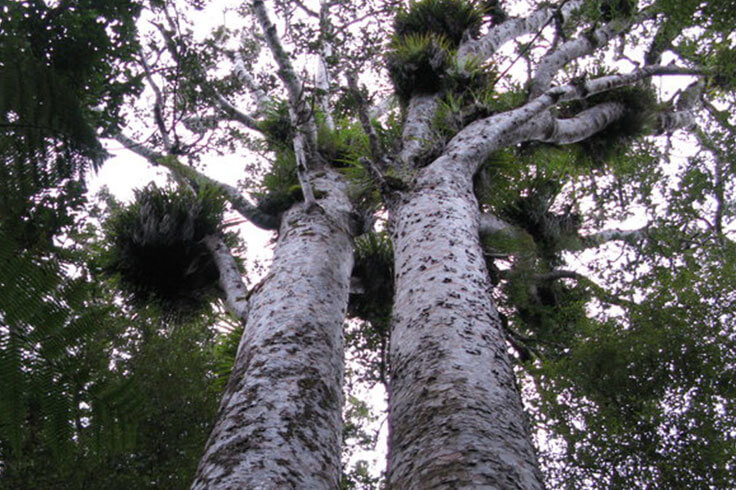 Kauri Coast Top 10 Holiday Park, Dargaville
If setting up your JUCY camper and nestling amid two idyllic hectares of native bush sound like heaven to you, then don't miss a stay at the Kauri Coast Top 10 Holiday Park. Imagine waking to birds tweeting, then taking a short walk to the swimming hole for a morning dip, before a stroll along the nature trail. If you're bringing the kids, the flying fox is a bonus.
Bring some spending money as the real star of a stay here happens after dark. Discover the secrets of the forest on a 2-hour guided walk through Trounson Kauri Park forest.
While onsite is an awesome experience in nature in itself, you've also access to some Northland treasures nearby. The famed giant kauri tree – Tane Mahuta – is only 20km away, and the epic Kai Iwi Lakes are close, too.
Dog-friendly: Yes, on a leash
Rankers Score: 96%
Best Kid-Friendly North Island Campground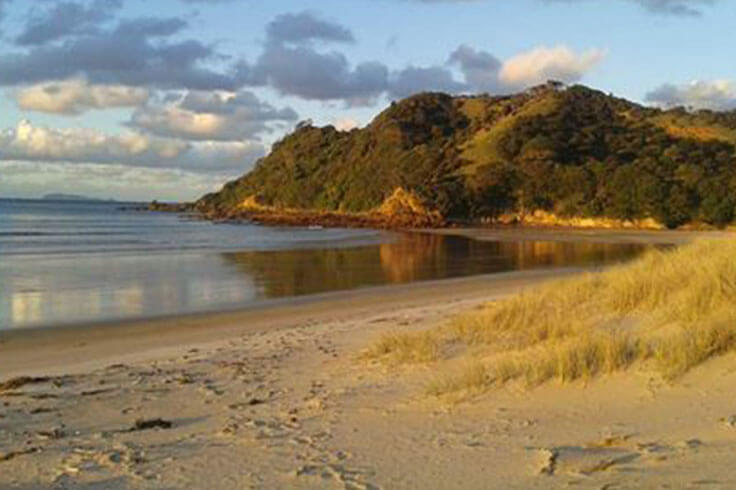 Waikawau Bay Campsite, Coromandel
When you're travelling with your children, peace of mind is a big drawcard. That's why we love the family-friendly DOC Waikawau Bay Campsite and its safe sea waters for swimming and fishing. The unspoiled white sandy beach isn't so bad, either.
This is the chill life! Alongside being the gateway to the Northern Coromandel gems, Waikawau is surrounded by treasures, with two estuaries, broad wetlands, and native bush. Kayak, swim, fish, explore, or flop and drop, but whatever you do, don't miss the Matamataharakeke Walkway!
Waikawau has no cooking facilities, so it's super handy that our 4-berth Condo or 3-berth Chaser have kitchens, so you can set up home with ease. BYO supplies as it's a 15-minute drive to the nearest store.
Dog-friendly: No
Rankers Score: 91%
Best Lakeside North Island Campground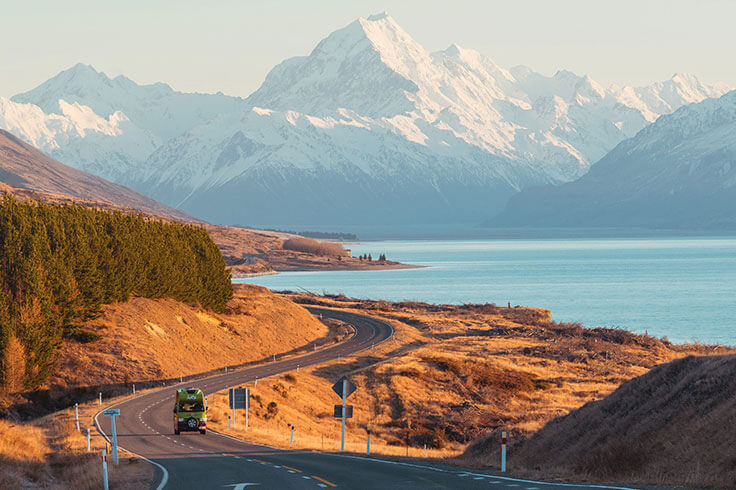 Whakaipō Bay Recreational Reserve, Lake Taupo
If you're road tripping in a self-contained JUCY Chaser or Condo, then the free DOC Whakaipo campground gives you the best lakeside camping in Taupo.
It's a short walk over the native shrubbery to reach the lakeside beach, and that natural boundary gives the campground a sense of privacy and serenity that inspires rest and relaxation. If you want to amp things up, rent a kayak or paddleboard, or experience the mountain bike track here, too.
The 50 non-powered campsites are on a first-come-first-served basis, with a maximum stay limit of four nights. The toilets are long-drop.
Dog-friendly: Dogs on a leash
Rankers Score: N/A
Best Night Sky North Island Campground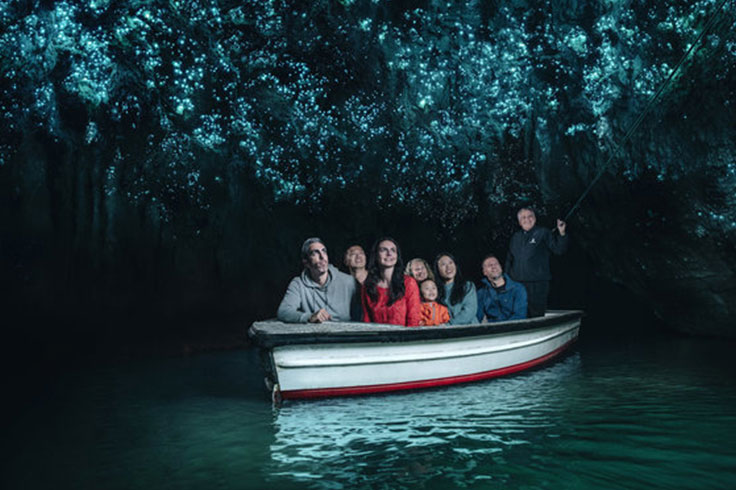 Mangaokewa Scenic Reserve, Waikato
Is this possibly New Zealand's sparkliest stay? The Mangaokewa Scenic Reserve is close to the Waitomo Caves (25-minute drive) for glow worms by day. By night, the solitude of the reserve makes for some spectacular stargazing (weather permitting).
This beautiful riverside location gives you a sense of freezing time, especially as mobile service is sketchy at best. It's spacious, too, so you don't need to park close to your neighbours unless you want to. While you're there, chill, cook up a storm in your JUCY kitchen (wild berry dough dessert, anyone), or take one of the tramping tracks that cross the Mangaokewa stream.
Check out our JUCY bonus experiences as we've got sweet savings for your black water rafting adventure in the Waitomo Caves!
Dog-friendly: No
Rankers Score: N/A
Best Dog-Friendly North Island Campground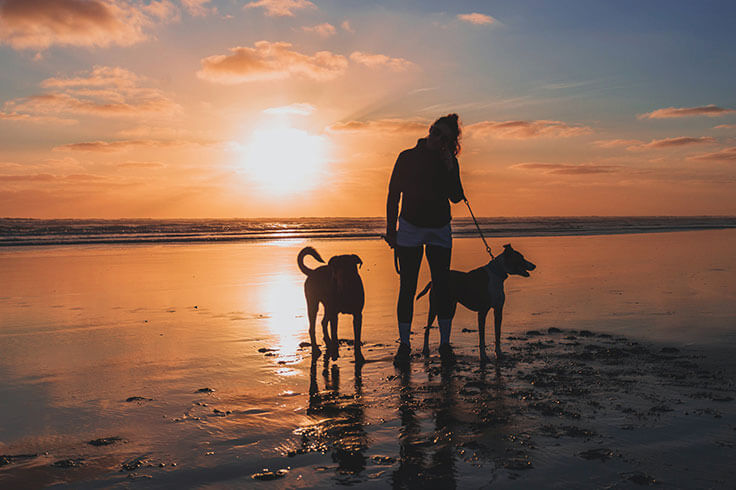 Seabreeze Holiday Park, Coromandel
Did you know that JUCY has dog-friendly campers? This is a big win for the family and the fur-kids (max two) as you all get to stay together on your Kiwi roadie – hurrah! In our humble opinion, there's no better alarm clock than the birds tweeting outside your campervan and a dog licking your face in it!
We're fans of the Seabreeze Holiday Park for not only allowing your dog to stay (by prior arrangement) but also for allowing them into their onsite brewery and brasserie. The whole fam can enjoy the country outlook at Seabreeze, as well as the onsite gym, BBQ, volleyball, and bike and spade hire. The latter is important as Hot Water Beach is less than 10 minutes away, as is Hahei, Cooks Beach, and Cathedral Cove.
Dog-friendly: Duh! Yes!
Rankers Score: 73%
Best JUCY Deal North Island Campground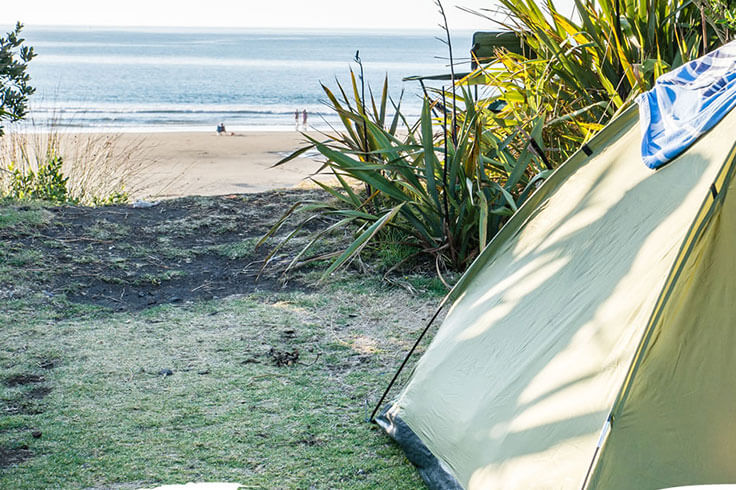 Fitzroy Beach Holiday Park, New Plymouth
New Plymouth's only beachfront holiday park is a sweet find.
Juicy JUCY savings aside, Fitzroy Beach is a sweet-as surfing and swimming beach, and the holiday park is right on the award-winning Coastal Walkway. This seaside path takes you all the way to Port Taranaki. Perfect for walking, biking, or if you bring your blades! The pool, playground, trampoline, and BBQ are also a hit with guests.
There are powered and non-powered beachfront campsites available, or you can try glamping if you're renting a JUCY car. It's the perfect base to explore New Plymouth and Taranaki.
Dog-friendly: Yes, on a leash
Rankers Score: 88%
Best North Island Campground to Hike From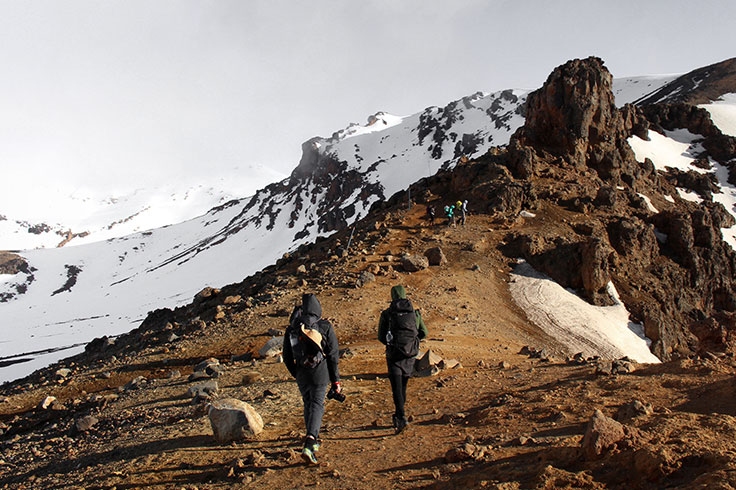 Whakapapa Holiday Park, Tongariro
Returning to the comfort of your JUCY camper after tramping the iconic Tongariro Crossing is one of complete bliss. Cooking up a feast to refuel, before plopping down on our comfy mattress for one of the best night's sleep is heaven!
Even more heavenly at the Whakapapa Holiday Park are their free hot showers, and free unlimited Wi-Fi. The latter is crucial for those social brag pics you've earned for nailing the Tongariro Crossing.
Dempsey Buses run shuttles from Whakapapa Holiday Park for both hiking and skiing/boarding days. Whakapapa ski field is just six km's up the road. Want to read more about the Tongariro Crossing? Read our blog HERE.
Dog-friendly: No
Rankers Score: 87%
Best "I'm Not Sure I'm a Camper" North Island Campground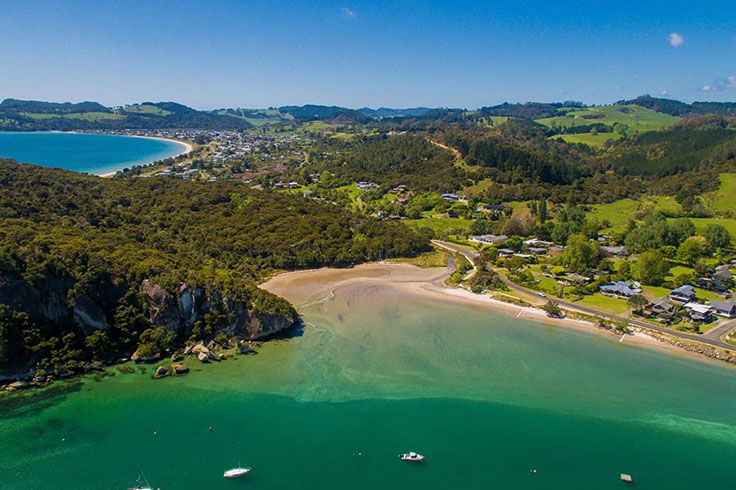 Flaxmill, Coromandel
You're over sweating in a tent, and you love the idea of all the comforts of a JUCY campervan. But juuuuust in case, you'd like to know that there is a fail-safe back-up available. If this is you, then a stay at boutique Flaxmill Bay at Cooks Beach in the Coromandel not only offers powered and non-powered camping sites for your JUCY wheels, but also adorable Sleeper Cabins or cottages. Flaxmill is also a great option if your 'rents want their own place or you're hiring a JUCY car.
Flaxmill Bay has one of those stunning Kiwi beaches that as a child made you believe that summer would never end and Jelly Tips were always free. While you're here, you can enjoy some R&R at the beach, family time around the BBQ, or head off on a rejuvenating bushwalk.
Coromandel hotspots are also super accessible from Flaxmill, including Hot Water Beach, Cooks Beach, the Cathedral Cove Walkway, and ferry to Whitianga (perfect for a break cooking from yummy meals in your JUCY camper kitchen).
Dog-friendly: No
Rankers Score: 94%
Best North Island Campground for Surfers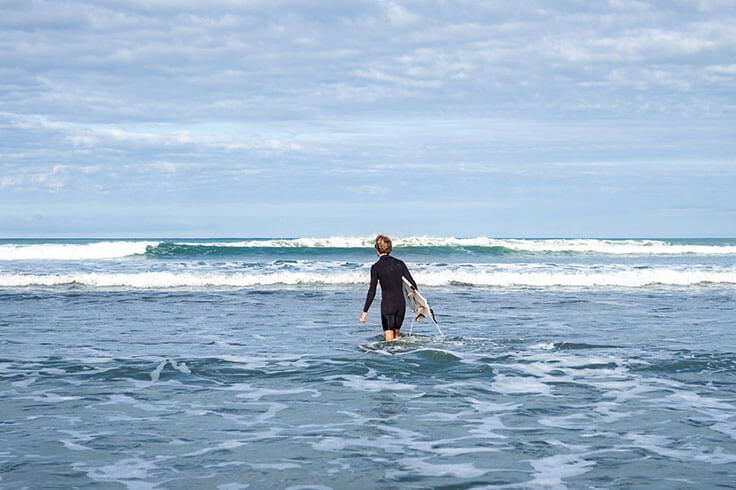 Tatapouri Bay, Makorori Bay
The relatively undiscovered surf breaks of the eastern cape make a roadie to the region a must if you're into right-point breaks and beach breaks.
Arise from your non-powered site to see the sunrise before the rest of New Zealand at Tatapouri Bay, a gorgeous campground in Makorori Bay, 16km from Gisborne. A stay here is soul-enriching as you listen to the waves break just metres from your camper. The expansive night sky doesn't disappoint either - unless the clouds do (sad face).
Onsite there are free hot showers to wash that salty seawater off, along with a BBQ area, laundry facilities, and a very handy café (caffeine is our buzz). Oh, and free Wi-Fi.
Dog-friendly: Yes
Rankers Score: 82%
We probs don't need to say it, but here's a quick reminder about the Tiaki Promise. Tread lightly, leave no trace, be respectful, and travel with an open heart and mind. And enjoy, of course!
Tempted to take a roadie now? We've got great rates for great mates (aka YOU) and some JUCY camper wheels to whisk you away from it all. Click BOOK NOW to get started or call us on 0800 399 736.