Want an epic winter road trip? Drive the new Snow Highway!
Want an epic winter road trip? Drive the new Snow Highway!
One of the best things in life is going on a road trip. The best thing about a New Zealand winter is the snow. Put the two together, and you have the country's most epic winter road trip along the brand-new Snow Highway! Travel from Christchurch to Queenstown, hitting the best slopes along the way for the best winter roadie ever.
The Snow Highway is the brainchild of Nico Porteous and SOUTH, Christchurch Airport's regional tourism partnership. Nico, in case you're not familiar, is New Zealand's youngest ever Olympic gold-medallist freestyle skier and all-around good guy. With his love of the pow-pow and SOUTH's love of the South Island, together they mapped out the Snow Highway.
Not to make you feel like you're not making a success of your life or anything (because maybe you're a Nico-type person, too), but Nico has achieved all of this – medals, accolades, designing a road trip - and he's not even 21! Discover more of what you love about winter in Aotearoa along the Snow Highway. Stop by the big-name ski resorts and the tucked-away gems, all accompanied by the après ski opportunities, too. Although the Snow Highway is designed to be a one-week itinerary, it can easily be adjusted.
Short on time? Do one half this year, the other half the next. Want more time soaking up the South Island's diverse slopes? By all means, add more days! It's too hard not to, we get it!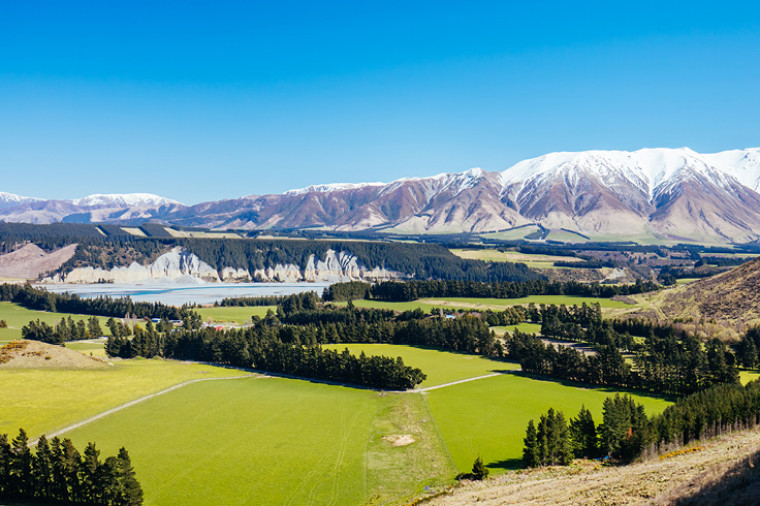 Mt Hutt
Starting from our Ōtautahi Christchurch branch, pick up your JUCY Ski Wagon or new Compact SUV and head an hour inland to Mt Hutt.
Mt Hutt is an award-winning ski resort. Like 7x award-winning, in fact! Thanks to its affordable prices, reliable snowfall, and wide-open terrain, it keeps other resorts from taking their 'champ ski field' title.
Whether you're a skier, a snowboarder, a beginner or a pro (or even Nico Porteous), Mt Hutt's natural playground, extensive facilities, and spectacular Canterbury Ranges backdrop create the setting for an epic day on the slopes. After a long day shredding up the trails, a good soak is in order, and Alpine Spas sit at the top of Mt Hutt's Summit Six chairlift!
As it's the highest altitude spa in Aotearoa, it'd be rude not to book in, right? So where to snooze? The nearby town of Methven is popular for skiers and boarders to use as a base, though Christchurch's proximity means it's a reasonable alternative if you want to mix things up a bit.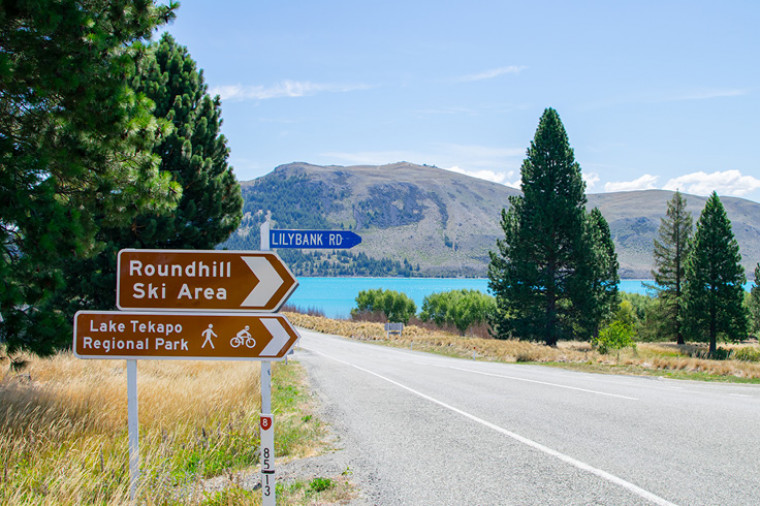 Roundhill Ski Area
A surprising number of Kiwis don't know about the Roundhill Ski Area – but they should! In the gorgeous Mackenzie Basin, Roundhill is a boutique ski field with jaw-dropping views across Mount Cook National Park and Lake Tekapo. Like, legit, your jaw will be on the floor as a "wow" escapes your lips (in one of those breath plumes, because, winter).
This is a mum-and-pop-run ski field, and the friendly family vibes are strong as you enjoy a relaxed day on slopes that suit the whole clan. This is the kind of resort where life-affirming chats happen with random strangers as the ski lift carries you to the next run. We're all about that life.
Base yourself around Lake Tekapo while playing up at Roundhill. It's around 50-minutes to reach the resort, and you can also use it as a base for the next stop, Mt Dobson, as it's a similar distance, but in the other direction.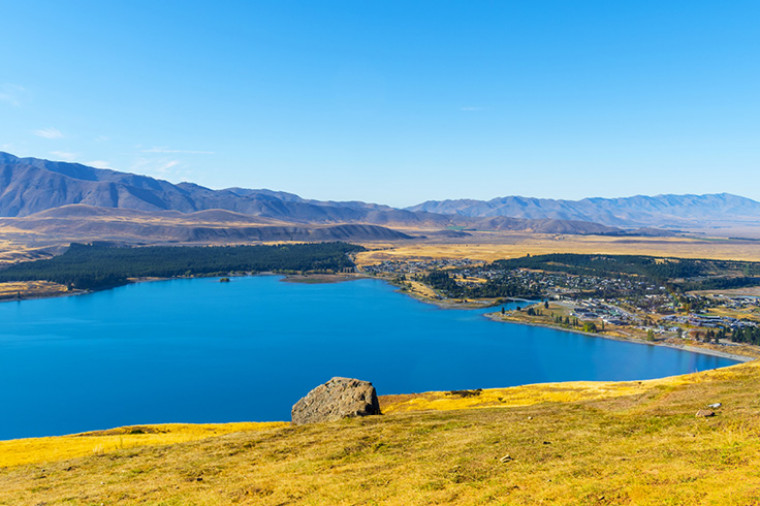 Mt Dobson
The gloriously uncrowded ski runs of Mt Dobson are next up on your awesome Snow Highway itinerary. Another Kiwi gem, Mt Dobson offers wide-open spaces (for those wide-legged snow ploughs) for beginners. For the seasoned skiers and boarders, the fluffy snow is the kind you hashtag in your Insta pics, it's that good.
Also in the Mackenzie region, Mt Dobson does sunshine like a Nico Porteous does medals (#winning), meaning fabulous days spent skiing, boarding, and getting giant panda eyes! The Mt Dobson crew take care of everyone on the slopes, with unrivalled attention to those signed up for ski and board lessons.
Ohau Snow Fields
The third boutique ski resort in the Mackenzie area is the picture-perfect high-country resort of Ōhau Snow Fields. It's as breathtaking, blissful, uncrowded, and away-from-it-all as Roundhill and Mt Dobson and not to be skipped. And the best bit? Ōhau has a 72-room lodge just 20 minutes from their ski field, making for an effortless ski-and-stay adventure. It's best to add snow chains to your JUCY rental if you want to drive yourself to the slopes here.
The mountain is suitable for all abilities. For adventurous runs, you can hike past the double chair lift to reach the best powder. It's not only the pow-pow that rewards up there; the views are outstanding, too. Heading to the cosy alpine-style Ōhau Lodge at the end of the day is the best kind of convenient.
The proximity of the two means you can be in their scenic hot tub, bevvy in hand, 20 minutes from the end of your last run! It's quite possibly New Zealand's most cruisy ski day out!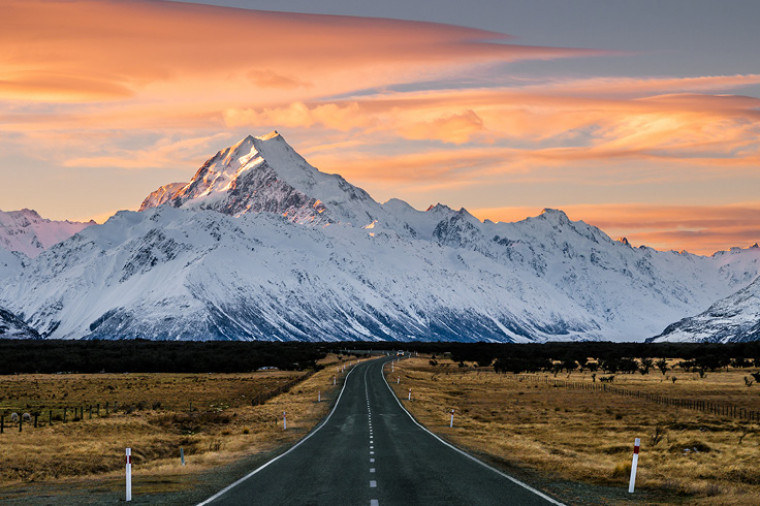 Aoraki Mount Cook
For the detour of your life (perhaps), head to the iconic Aoraki Mount Cook for a thrilling day on the slopes. Not just any ol' slopes, but the slopes of New Zealand's largest glacier!
Ski the Tasman is a cool-as alpine guide-led tour company offering skiers, the opportunity of a lifetime to make first tracks on the Tasman Glacier. With over a thousand metres of descent across New Zealand's two longest ski runs, you'd think this would be for skiing pros only, but nope! The runs are green and blue, meaning most skiers can tick this off their bucket list.
Along with skiing, you'll also explore blue ice caves, ice formations, and helicopter like a bad-ass between the two slopes. Not a skier? Ski the Tasman will take snowboarders on a private tour (four works best), so get in touch if you're keen as a jellybean to beat the norm! Want to heliski untouched terrain instead? Mt Cook Heliski gives you access to the largest heliski area in New Zealand!
Where will you ski? Options include six mountains in the Southern Alps and 200 named runs, with glaciers extending the terrain covered. Pretty epic, huh? Stay in Aoraki Mount Cook village while indulging in these top-level snow bunny adventures.
Coronet Peak
It'd be rude to go on a snow adventure around the South Island without stopping in Queenstown. In fact, you might be ostracised
from all of New Zealand if you did. Jokes, obvs, but it is Aotearoa's most well-known ski and board destination, thanks to the proximity of its world-class resorts and the liveliness, charm and gorgeous backdrop of the town.
Coronet Peak is the closest resort to Queenstown, meaning you can be on the slopes 20 minutes after slamming the boot on the new JUCY Compact SUV or pow-friendly Ski Wagon. Twenty!! Family friendly Coronet Peak was New Zealand's first commercial ski area (in 1947) and is well-known for its fun terrain, referred to as 'rollercoaster' - making for an epic day out.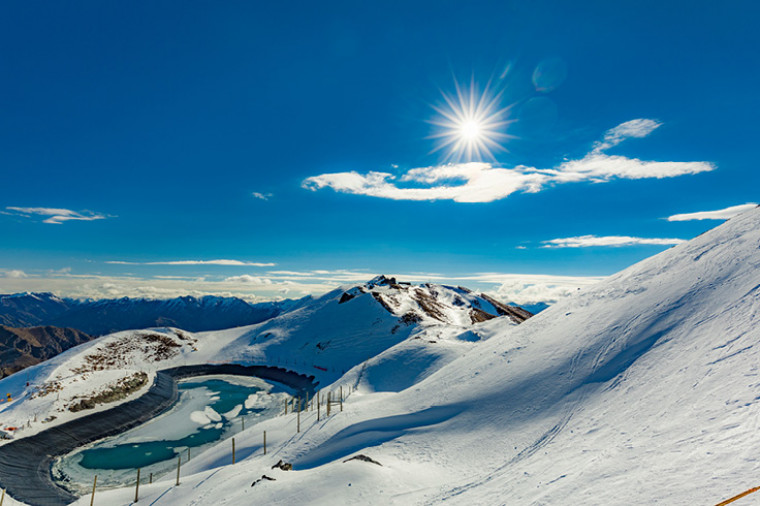 The Remarkables
For back-country adventures, head to The Remarkables, 40 minutes from Queenstown. Famous for its high altitude and north-facing slopes (meaning sunny days), the quality of terrain, powder, and runs make for the perfect shredding conditions. The jump park here is a fave, btw.
Cardrona
Considered the most reliable ski conditions in the region, Cardrona Ski Resort is nestled in the spectacular Crown Ranges, midway between Queenstown and Wanaka. If you think the scenic drive en route to Cardrona is impressive, wait until you're at the top of the slopes! While Cardona is fab for all ski and board abilities, the set-up for beginners, including their gondola chairlift, makes it a great resort to introduce friends, family or little ones to the slopes. The more likely the newbs enjoy their day (and think it's easier than they expected), the more likely they'll want to go again!
For the more advanced among you, the four terrain parks, two half-pipes, and gravity-cross course will unleash your big kid playground energy. Woohoo!
Treble Cone
The last resort on the Snow Highway is Treble Cone in Wanaka, renowned for its legendary off-piste terrain. Covering some 550 hectares, Treble Cone is yuuugee (huge), with ungroomed runs and a whopping 90% of its terrain suited to intermediate to advanced skiers and snowboarders. Add to this views over the Southern Alps and Lake Wanaka, and it's not unknown for visitors to weep at the layers of wow that are on offer here. Of course, those tears may freeze on a particularly chilly day, but it's worth it!
Treble Cone is an hour from Queenstown; travellers often base themselves there and day trip over. However, Wanaka has a totally different vibe, so consider spending at least a night here to switch things up and soak up the chill times. From here, either return your JUCY to our Queenstown branch (a one-way fee applies) or drive six hours back to our Christchurch depot! Too easy.
So that's it, the all-new Snow Highway in all its glory. Just waiting for you to get your snow gear out of storage, your JUCY wheels booked in, and your lift passes ordered. It is a winter road trip of legends and, as a legend, you're invited!
Ready to get your Snow Highway road trip locked in? Click BOOK NOW above or give our friendly crew a buzz on 0800 399 736.