The Van, the Myth, the Legend: We Reveal All About Self-Contained Campers
Self-contained campervans are a great way to explore NZ, but what are they? Do they offer more freedom? What are the pros and cons? We spill everything!
Not knowing what a self-contained campervan is is like not knowing the square root of 13,056. Some people will just know, but the rest of us have to get a little help, which is where we come in.
A calculator is a helpful tool for the non-maths brain (like ours) to discover the square root of 13,056 (it's 1,088 btw). Your helpful tool for all things campervans? It's us, the road trip experts (21 years on the road, baby)!
Read on to discover what a self-contained camper is, why renting a self-contained campervan can save you $$$, and how they can get you stays across spectacular New Zealand.
What the heck is a self-contained campervan?
A self-contained campervan is not a quiet, independent van that doesn't like to park with others. Self-contained, in this instance, means it has everything it needs for its purpose. In New Zealand, it's not just some convenient extras that make your #vanlife trip easier; self-contained means you can freedom camp!
To qualify to camp in designated places around New Zealand for free means your JUCY camper needs to have these things:
· A sink connected to a watertight greywater tank
· A portable or fixed toilet
· Freshwater tanks holding 12 litres of water per person for three days
· A blackwater tank that can hold the same or greater amount of waste for three days
· Evacuation hose
· A rubbish bin with lid
· A self-containment certificate displayed
Consider it done!
What JUCY Campervans are Self-Contained?
Our JUCY Condo and JUCY Chaser are our fully self-contained campers with all the above features. Both are custom-designed minivans that maximise space without losing the ability to drive into small town centres and park like a pro. They are also more cost-efficient on the gas-guzzling front compared to clunky RVs.
The Self-Contained JUCY Condo
The JUCY Condo seats five and sleeps four, perfect when you want to road trip with the whole fam (whether it's your blood kin or the friends that feel like fam). Two comfy double beds mean you're not laying on a rock/twig/ant hill, and the cool interior means more lay-in time when the sun rises compared to a tent!
The compact Condo kitchen means you can cook up a storm no matter where you are. Well, maybe not on SH1 during a holiday traffic jam, but beachside, mountainside, riverside, and countryside, you can cook your brekkie, lunch, and dinner. While you can (and will) enjoy dining in at the Condo's interior table, we're also big fans of rugging up under a starry night sky for hot choccie and toasted marshmallows treats.
The cassette toilet and grey water tank seal the deal in making this a fully compliant self-contained campervan suitable for freedom camping.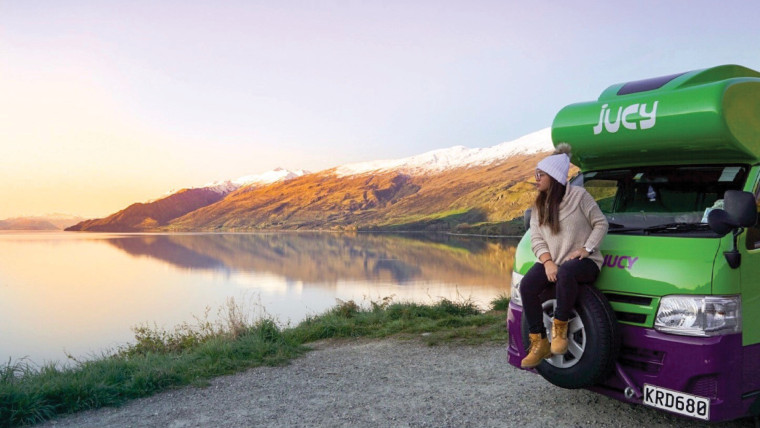 The Self-Contained JUCY Chaser
If you'd like to up your comfort levels, consider renting a JUCY Chaser. Our popular camper sleeps three, has a built-in shower and toilet, an 80-litre freshwater tank, plus a 50-litre fridge.
As manoeuvrable as the Condo, the Chaser gives you the freedom to explore New Zealand your way. That means easy parking, lower-cost fuel-ups, and setting-up camp wherever you fancy (in the designated zones, of course). All JUCY campers include unlimited kilometres, 24/7 roadside assistance, kitchen equipment, cutlery, dinnerware, towels, linen, duvet, pillow, and cleaning tools to ensure an effortless journey.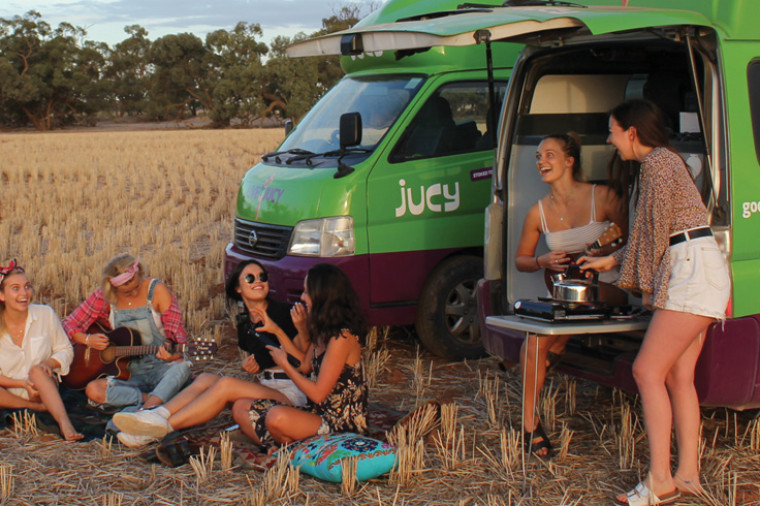 The Pros of Self-Contained Campervans
The freedom to take spontaneous right turns is the greatest benefit of travelling in a self-contained camper. When you're not beholden to hotel bookings and check-in times, you can see a sign that says 'this way to adventure' and take it. It's liberating!
Then there's the cost! Because there are over 500 responsible (yes, free) camping sites across New Zealand, your odds of finding a place to park your JUCY campervan without forking out any dollars are pretty high. Especially when you travel out of peak season (some places have space restrictions, of course).
When renting a JUCY Chaser, the toilet and shower is a welcome perk. Especially if you're someone who spooks easily when camping in the bush (was that hoot-hoot from an owl or a mythical beast?). While the cassette toilet in the Condo does the job, it's not as convenient.
As you're managing your wastewater in a self-contained vehicle, you can feel great about your life decisions as you can be more environmentally conscious. You're less likely to have a long shower in a camper set-up than at a hotel (yay, less water waste). Plus, as you need to deposit your grey and black waste water in designated areas, you're not contributing to the problem of dumping it into the ground. Bookmark this Rankers page: they offer a handy guide to public dumping stations.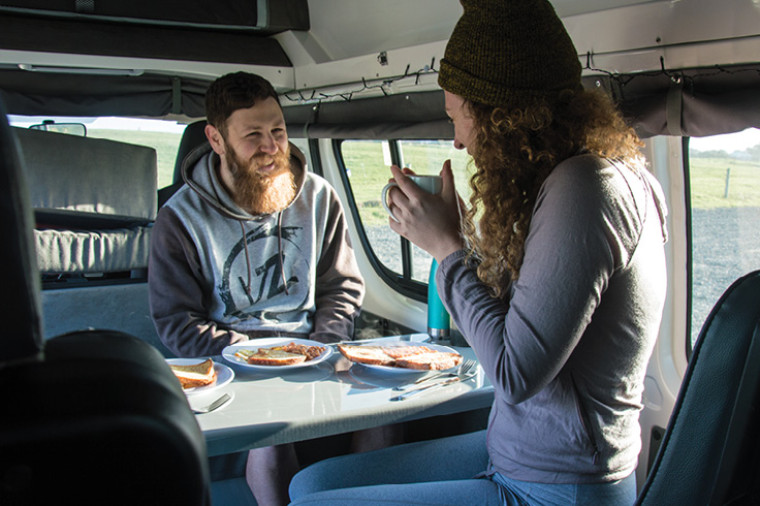 The Cons of Self-Contained Campervans
As you may expect, there is a price difference in renting a vehicle with more bells and whistles (or tanks and sinks). What you pay for is marginal compared to hotel or Airbnb prices, though, and if you're splitting your travelling costs with your mates, it is very doable. And, given you can save on campground fees as you travel, a well-planned itinerary could actually save your group money. It's not only the self-contained extras that see a difference in our prices, our JUCY Crib is also a compact 2-berth, our most economical on fleet, so if keeping to a tight budget is your top priority, check that out. Be sure not to freedom camp in a Cabana, though, the fees can be hefty if you get caught!
Erm, What is Freedom Camping?
The gift of exploring New Zealand isn't just the beautiful places and warm, friendly locals. It's the bonus of being able to camp in public places for free! Before you cancel all your campground bookings, there are a few rules to know about. This is why you'll want to read this to get the complete low-down.
TL; DR, you can freedom camp if you have a certified self-contained vehicle. You've got to leave no trace (like 100% do your bit, it matters), so be sure to take your trash with you, pee and poop in your vehicle's facilities, and only dump your waste at designated dumping stations. You'll also want to check for signs before you park up: setting up camp in the wrong area can incur a joyless $200 fine. Ain't nobody got time for that (especially on holiday)!
Remember, while freedom camping may be free of charge, it's not free of responsibility. You're expected to take care of the land along your travels. Read our tips on responsible travel around Aotearoa. It's worth having a read of New Zealand's Tiaki Promise, too. Tiaki means to care for people, place, and culture.
Where Can I Go in My Self-Contained JUCY Camper?
Anywhere! That's the beauty of travelling with your bed and kitchen! Whether you're in a non-self-contained or self-contained campervan doesn't restrict where you can travel, however, freedom camping does open up some stunning locations to wake up in.
Places like Kaiaua Beach, north of Gisborne, will blow you away: you're so close to the ocean the waves will lull you to sleep. Or how does Dawson Falls sound? In the summer months, the nearby falls can almost make you think you have your own swimming pool (kinda, right?). From North to South, you'll find some incredible nature wonders that help you connect with the very best of New Zealand – without costing a cent.

How to Find Freedom Camping Sites
So, you've booked your JUCY self-contained Condo or Chaser, you've eyed up some top destinations, now how to find those epic campsites? The Department of Conservation (DOC) is a great start as you can search for feeedom campsites and find out what areas are prohibited for freedom camping. If you'd like some human feedback, reviews on Rankers are fab, covering every campsite in NZ. Their offline map is super handy for the places when cell service is as spotty as a Dalmatian. Rankers also have an app, Camping NZ. Campermate is a handy app with a dedicated section for freedom camping spots to forget your worries and soak up the best of Aotearoa. If you don't mind forking out $2.99, WikiCamps has offline maps, as well as handy other offline features (like a compass, because you never know!).
Has all this talk of freedom and waterfalls and cooking under the stars got you ready for a road trip? Sweet as! Click BOOK NOW to get your self-contained JUCY van booked or call our freedom-lovin' crew on 0800 399 736.