The Cruiser Campervan
Other campervan options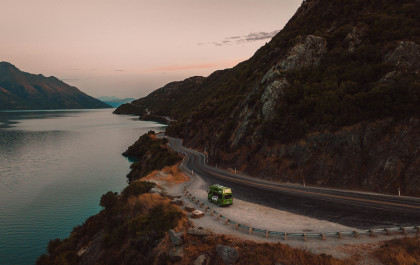 A legend on the NZ roads, our self-contained Condo sleeps 4, with a kitchen and toilet.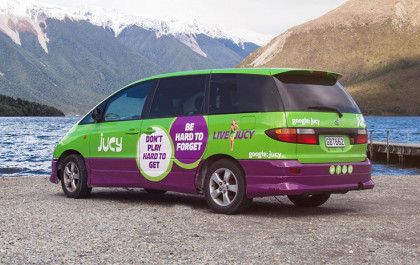 Looking for a zippy, economical campervan? Our Crib comes with a kitchen and sleeps 2.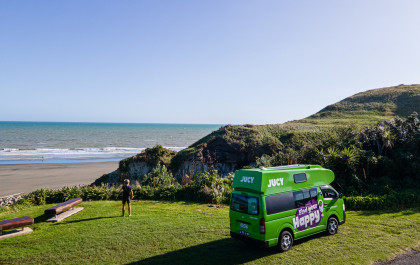 Three's company in a JUCY Chaser! It's fully self-contained with a kitchen, shower, and toilet.
Explore New Zealand in the 4-berth JUCY Cruiser campervan
Seek out your next adventure and explore untrodden paths with our fully self-contained JUCY Cruiser campervan. Take a breath, a moment to explore those hidden gems around New Zealand and enjoy the freedom of rocking up to a hidden beauty spot and taking in the epic views.
No need to rush off when you get there as you have all you need in your campervan. With a shower, toilet and well-equipped kitchen you have the ultimate freedom to stop and explore.
Need a rest? Snuggle up in one of the comfy double beds, and take in the views, or rustle up a campervan meal from your very own kitchen. Perfect for cosy meal nights in, or morning cuppas as you watch the changing landscape with the rising sun.
There's everything you need in the JUCY Cruiser, with seatbelts for four, you can also add child seats for younger members of your family.
And the JUCY Cruiser is surprisingly easy to drive with cruise control, parking sensors, rear reversing camera, ABS and collision warning.
Where to go
At JUCY we love to explore, and have searched out the best places to stop on a road trip, where to satisfy your appetite for adventure and where to soak up the epic views.
You can read our road trip itineraries here, or keep on reading for a snapshot of some of our favourite New Zealand adventures.
Queenstown thrills and outdoor activities
Who could visit the South Island and miss experiencing all Queenstown has to offer? Not us! We love this awesome destination not just for its stunning scenery, lake views and vibrant nightlife, but also for the endless opportunities for adventure. Skydiving, mountain biking, trekking, bungy jumping, skiing, white water rafting, and quad biking are just some of the adrenalin filled activities available – Queenstown has it all!
For those looking for a more relaxing holiday, the hot pools, vineyards, scenic cruises, flights and tours, ensure plenty of stunning, leisurely experiences.
Our Queenstown branch is close to the airport and our friendly crew will be ready to show you through your Cruiser campervan and share their tips on best things to do and see in Queenstown. You'll be on the road in no time!
Take in the alpine landscapes and rugged Christchurch coastline
Queenstown may be known as the adventure capital of the world and be famous for its stunning mountain views but Christchurch also has a few thrills up its sleeve for adventure seekers and for those who love being in the great outdoors!
Experience the thrills of ziplining, paragliding, jet boating, and rafting or stroll along sandy beaches, and take in the rugged coastline and marine life.
And while you're in the South Island don't miss getting up close to some of the most awe-inspiring glaciers - Fox and Franz Josef. For even more epic views and adventures make a detour and take in the wild landscapes on a long weekend road trip from Christchurch to Kaikoura.
With so much to do in the South Island you might not make it to the North Island in one New Zealand road trip, but with our handy pick up and drop off location in Auckland, close to the airport its well-worth taking the time to explore the surrounding regions.
Time to visit New Zealand's largest city – Auckland
Auckland may be New Zealand's largest city with a bustling nightlife and world-class cuisine, but its also a great starting point to explore some spectacular beaches, iconic islands, and world-famous vineyards.
Explore the rugged beaches of West Auckland, or travel North to Kai Iwi Lakes to take in the stunning white sandy beaches and freshwater dune lakes. Just a few hours out of Auckland is the Bay of Islands which has some of the North Island's best beaches. Drive your Cruiser campervan rental a little further to Oke Bay to experience a more off-the-beaten-track beach.
Waiheke Island is just a 40-minute ferry ride from downtown Auckland, and home to over 20 vineyards and heaps of beautiful beaches. Even closer to downtown is Rangitoto Island, which boasts the world's largest Pohutukawa forest. If you're feeling energetic you can kayak to Rangitoto rather than use the ferry!
And we mustn't forget Tiritiri Matangi, a sanctuary Island home to rare wildlife such as the Kōkako and Takahē birds. Take a guided walk through the native forest while you're there, or make your way through the walking tracks on your own. After a walk up to the lighthouse, make your way back down to relax on the quiet sandy beaches and admire the views.
Wherever you decide to explore in New Zealand, your 4-berth Cruiser has everything you need for the perfect road trip. Book your campervan hire by filling in the boxes above, or call our friendly JUCY crew on 0800 399 736.
Book The Cruiser Campervan now