The Condo Campervan
Other campervan options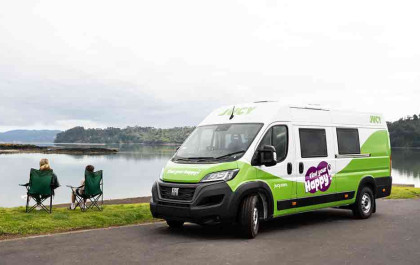 Self-contained with shower and toilet. Sleeps 4, well-equipped kitchen.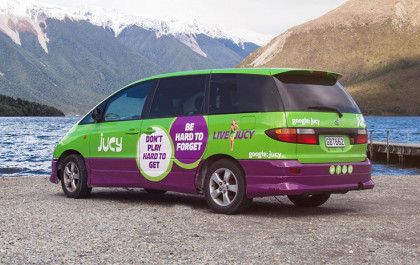 Looking for a zippy, economical campervan? Our Crib comes with a kitchen and sleeps 2.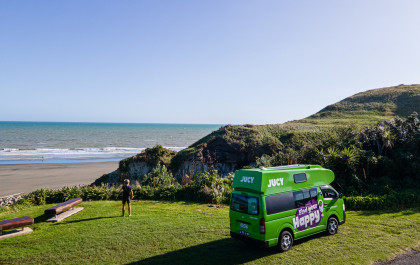 Three's company in a JUCY Chaser! It's fully self-contained with a kitchen, shower, and toilet.
Discover New Zealand in the 4-berth JUCY Condo campervan
As a fully self-contained campervan, the Condo gives you the ultimate freedom to explore New Zealand like a boss. How does waking up to epic views sound? Being so far from bright lights that the night sky turns into a personal observatory? And having the freedom to take the left fork, or the right, just because?!
You'll love our 4-berth campervan. Not only because it's custom-built, super easy to drive, and compact enough to go anywhere without worrying about parking! You'll also love how effortless it is to Live JUCY!
One of our most praised Condo features is that come rain or shine (or wind or hail, it is New Zealand, after all), you can cook inside and stand up! Whip up your hot meals and morning cuppas in comfort from your cool and compact Condo kitchen.
The beds are comfy-as, too. As there are seatbelts for five, you can actually pack a tent to ensure that no mate (or small child) gets left behind. Who gets the tent versus who sleeps on the comfortable double beds is up to you!
Talking of small children, the JUCY Condo is the only campervan on our fleet that can fit a child seat or baby capsule. If you're bringing the brood, this is your best choice! And while we can help you with renting a baby seat or child booster, we can't help you with dealing with many "are we there yet?" calls from the back seat. You could just turn up the radio, we guess? Jokes.
The JUCY Condo is the effortless road trip you've been dreaming about!
Where to Go in Your 4-Berth JUCY Condo Campervan?
Itineraries: ain't nobody got time for that! Well, actually, we do! Exploring New Zealand is our area of expertise, after all. Plus, if you need a break, you're likely dealing with work pressure, relationship commitments, a busy social life, gymming, and who knows what else. There's simply little time to get into some heavy travel planning action. So, we've been a total sweetie (if we say so ourselves) and have taken care of you by pulling together some comprehensive (and therefore actually useful) New Zealand itineraries. You can read most of them here, but we've also picked out some of our faves that we think pair as nicely with our JUCY Condo as a Cloudy Bay sav blanc pairs well with fish fresh from the Marlborough Sounds.
Nature's Disneyland: Road Trippin' Queenstown
When you look up adventure in a dictionary, Bear Grylls might be the human form of the word, but Queenstown would be the destination version. (Ooh, imagine seeing Bear Grylls in Queenstown, the ultimate!).
Queenstown is where you get to pop your Bungy jump cherry. Or chomp down on a legendary Ferg Burger. Then there's the views, the hikes, the action, the rivers, the lake, the everything! We could go on because Queenstown really does have it all. And, as our Queenstown branch is moments from the airport, as soon as you land, your adventure begins!
Trust us when we say you'll have zero regrets if you opt to take a JUCY Condo tour of Queenstown and the Central Otago surrounds. In our handy Queenstown guide, we reveal the best hikes, sunset spots, bike trails, hot pools, wineries, and more. Plus, there's a road trip to the "8th wonder of the world" (that's Milford Sound if you don't know this Rudyard Kipling attribute) plus ski season intel. Our adrenals have started spiking just reading about road tripping there! Can we come with?
The Key to a Nature-Filled Romantic Road Trip? Take Your Plus One on a Roadie from Auckland to the East Coast
One of you loves tents and nights out in nature under a starry sky. The other is more into 5-stars than starry nights, more familiar with the Hilton frequent stayer program than anything on sale in a Mac Pac store. Good job JUCY is here to save your romance with some common ground. All the benefits of being in nature, accompanied by the perks of staying in comfort and style in a JUCY Condo (or any of our campers, really). We're sure we've helped rekindle some romances thanks to our cosy campers!
So, where to go to up the romance vibes? We share our fave East Coast rom-com style activities and destinations in this 5-day itinerary. Think dreamy sunsets, off-the-grid activities, empty beaches, and tandem bike rides. Oh, and of course, we know that food is as much of a great part of couple time as the five love languages, which is why we've included some charming local eateries. We're getting a little emotional just thinking about all the lovey-dovey points you'll rack up as you explore the romantic hot spots of the North Island's East Coast.
Your Night Sky Roadie: Matariki
While Matariki may only occur once a year, our Matariki inspired blog still delivers plenty of intel about great dark sky spots around the country. What's makes a dark sky destination, you ask? No light pollution! And you know what's great when you're looking to escape the bright lights of bustling cities and big towns? A campervan! Get away from it all (except millions of stars) on a night sky road trip.
Did you know that Great Barrier Island – the world's first Dark Sky Sanctuary - is an epic place to catch a glimpse of Orion's Belt and the Southern Cross? And do you know which Kiwi island was the latest to get its Dark Sky Sanctuary accreditation (hint: it's not the North or the South Islands). Plus, we share the most legendary place in New Zealand to feel really teeny-tiny under the expanse of the Milky Way (and possibly the Aurora Australis). Do you know where it is?
So, who's going to be the first in your Condo travel party to spy on a shooting star?
Surf Safari: The Ultimate West Coast Surf Road Trip
If you love surfing then chances are, you are not interested in missing out on a single barrel, keg, or pointbreak. That's why renting a JUCY Condo suits so many of our surf-loving travellers. It's not just the freedom to go where the surf is good, but also how mint it is to go straight from the salty sea to a hot indoor shower. Fresh to death!
We share surf hot spots in this Auckland to West Coast surf trip. Picking up your JUCY from our Auckland branch, you'll quickly be on your way to catching a beach break at Muriwai against the backdrop of craggy rocks and soaring gannets. And why not surf NZ's longest waves Te Kohanga. Plus, we share how to catch a sneaky peak at Bluff.
Of course, it's not all surf-surf-surf; we slip some travel tips in there, too. All up, this is a surf-lovers dream roadie! BTW, are you interested in a mega surf trip? Add this South Island surf itinerary to your travel wish list, too.
Saving Your Pennies for Activities? Read this Budget-Friendly Campground Blog
As your JUCY Condo is a self-contained 4-berth campervan, you get the ultimate freedom to choose whether you want to stay in a holiday park, a designated campground, a DOC campground, or even go freedom camping (more on that here). So much choice, so little time!
In this handy guide, we give you the low-down on the pros and cons of each camping option and some approximate pricing so you know how to find a place to match your budget. Plus, there's a link to a map that shows the best camping spots in New Zealand!
Psst. Want more ways to save cash on your Kiwi roadie? Check out our deals page! Once you've booked your JUCY wheels in (no matter whether it's a car or campervan hire), you'll get access to how to snag these epic travel savings.
Is your travel brain engaged after reading these itinerary suggestions? Well, don't let us hold you back. In fact, let us help you! Book your JUCY campervan hire by filling in the box above, or call our friendly JUCY crew on 0800 399 736.
Book The Condo Campervan now