Surf's Up, the Ultimate Surf Beaches on the Great Ocean Road
We've carved up our fave Great Ocean Road surf stops, so all you need to do is book your JUCY, pack your wetsuit, and go!
Surfers the world over have Australia's Great Ocean Road in their sights for the quality waves enjoyed against Victoria's most stunning backdrop.
Surfing was introduced to Australia in 1915 by Hawaiian Duke Kahanamoku. With Australia's legendary coastline and love of the great outdoors, it did not take long to catch on here, and now you, over 100 years later, get to see what the fuss is about. Discover why pro surfers consider the Great Ocean Road region some of the best surf in the world.
Pay homage to the waves, whether it's a break, barrel, or bomb, with our epic itinerary. If you're looking to camp (so many sweet campsites en route), our campervans are ideal to stash your boards. Do you need to be a pro surfer to connect with the thrilling waves? Nope, surf's up for everyone, from beginners to Layne Beachley, Australia's most famous surfer.
Ready to plunge in? Come with us as we reveal the best Great Ocean Road surf spots out of Melbourne. Here we go!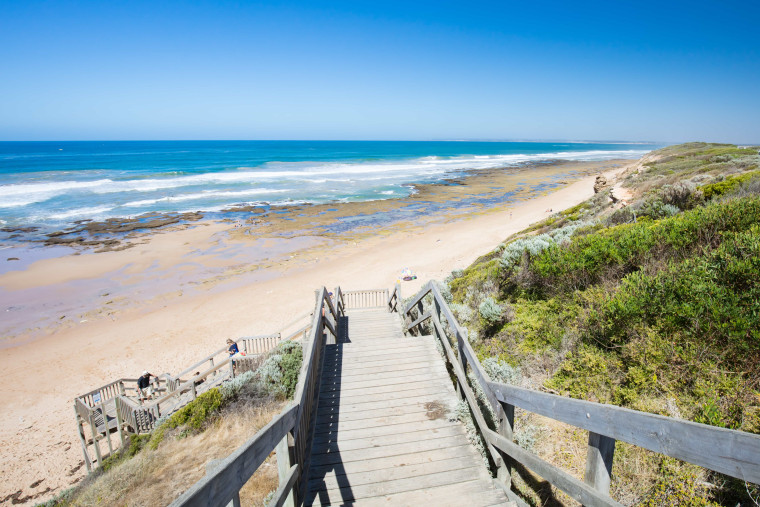 Melbourne to Thirteenth Beach & Torquay
Pick up your JUCY wheels from our Melbourne City or Melbourne Airport branches to kickstart your surf-inspired road trip. If you're bringing your own surfboard our JUCY Condo is your mate, or rent a Cabana or any JUCY car (except the 4WD) with an optional roof rack to strap them to the top. If you're renting boards as you travel, any of our six epic campervans will suit, or choose the car-and-board option and pick some surf-inspired Airbnb's as you travel.
Departing Melbourne, expect to be pulling on your wetsuit and ripping beach breaks at Thirteenth Beach about 80 minutes later. A beginner-to-intermediate spot, consider Thirteenth Beach your Great Ocean Road surf road trip warm up!
Just 15 minutes drive down the road, you'll find Torquay Beach. This quaint nook has been a fave beach for Aussies since the '50s, thanks to its world-class waves. Besides catching Torquay's soft, spilling waves, you'll want to stop by the Australian National Surfing Museum. The hall of fame is sure to provide inspiration.
Once you're parked up for the night, head to Torquay's Bells Beach Brewery to sip one of their eight signature, surf-inspired beers.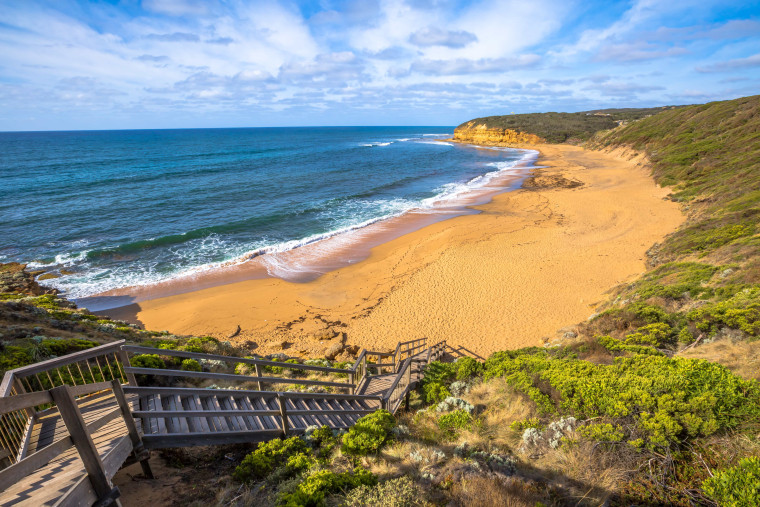 Torquay to Bells Beach & Lorne
No crazy drive time today as you're only taking in the waves a quarter of an hour down the road at Bells Beach. This is another opportunity for inspo as Bells Beach is home to the world's longest-running event in competitive surfing, the Rip Curl Pro Bells Beach. It'd be rude not to don a wet suit and get your board out, right?
While surf legends travel from all corners of the globe to compete at this annual surf showdown, it doesn't mean you need to be world-class to enjoy the waves (as long as you have some skills). Magic Seaweed rate Bells Beach is an intermediate-to-advanced spot. If you want to watch said legends in action, the Rip Curl Pro Bells Beach event is at Easter typically.
Journey 45 minutes from Bells Beach to Lorne next, a fave getaway for Melbournians. We love Lorne because it's a top spot for beginners (Lorne Beach) and experts (Cathedral Rock) alike, with less swell than your previous surf stops.
Lorne's secret sauce is its positioning, protecting the wave from SW winds, leaving Lorne Point nice and clear when other spots are blown out. If you're keen on a day out of the water, watching surfers at Lorne Point is a great way to take in one of Victoria's top surf beaches.
Besides Lorne's epic surfing opportunities, you can also enjoy the town's other outdoor pursuits. Maybe you'd like a dip in Jebbs Pool, a gorgeous swimming hole in the bush? Erskine Falls is another natural wonder, just a few k's out of the town centre. We're also fans of lunch at the Swing Bridge Café and sunset at Teddy's Lookout!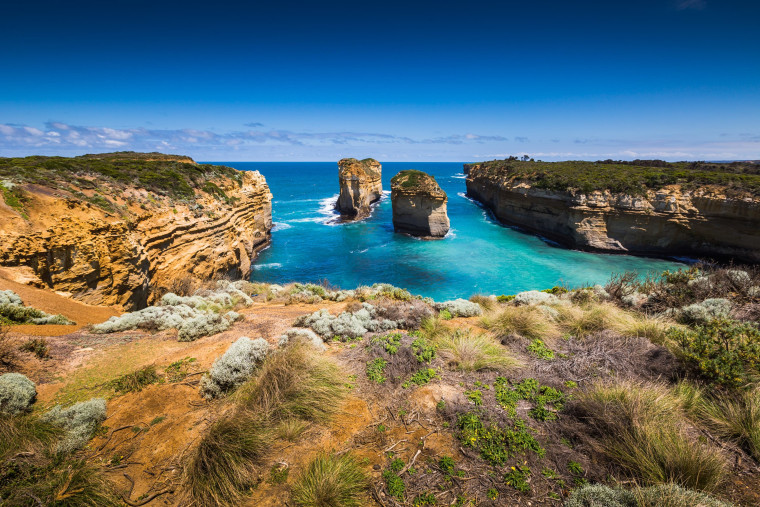 Lorne to Apollo Bay
Today, make your way to Apollo Bay. It takes less than an hour to reach this absolutely stunning destination. Its sheltered bay makes it ideal for surfing (especially for beginners). The further north you head away from the harbour, the bigger and more powerful the waves get! Hit up Skenes Beach on the way into Apollo Bay if you're experienced with left and right breaks in sometimes rough conditions.
Apollo Bay is as famous for its seafood as its surf beaches, with plenty of places to chow down and see why the catch of the day is so popular. Be it crayfish, abalone, squid, scallops, or gummy shark flathead.
If you're in a JUCY camper, head to the Apollo Bay Fisherman's Co-op to cook up a storm in your handy kitchen. The best dining options include the Birdhouse Apollo Bay and Apollo Bay Seafood Café.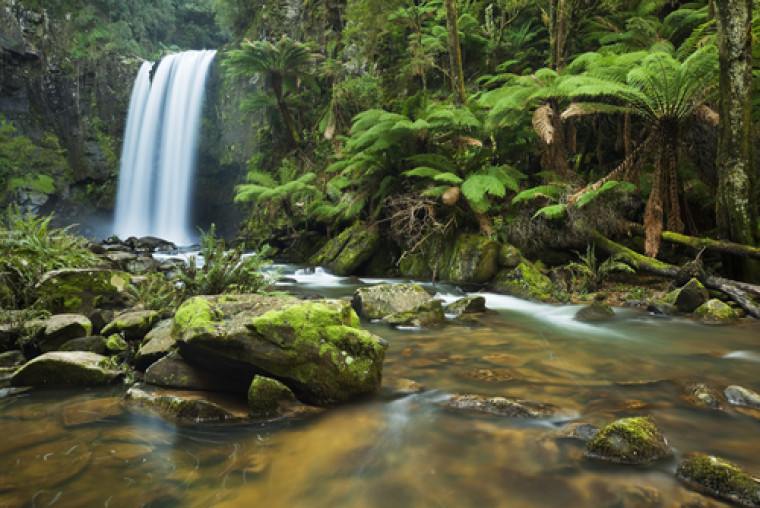 The Otway Ranges
With stunning beaches and six waterfalls close to Apollo Bay, getting your nature fix is as easy as finding a surf school. Especially if you head into the Otway Ranges, AKA Great Otway National Park. At the peninsula's tip, this Southern Victoria gem has it all – beaches, bush, mountains and wildlife! Only 30 minutes from Apollo Bay, choose to stay in the bay as a base, or head into the park proper, where plenty of accommodation awaits.
The scenery and wildlife within the ranges are major drawcards. Be warned: it's so epic, you may want to extend your trip by a couple of days! Especially when you hear the Otway Ranges are a prime spot for koala spotting. You can even camp under them at Bimbi Park if you'd prefer a change of scenery from Apollo Bay.
Triplet Falls is one of Otway's most visited falls, thanks to, you guessed it, three impressive levels of gushing falls. You can reach the falls on foot in about 30 minutes. If you're keen on a longer hike, Little Aire Falls is a 2-hour round-trip trail. At dusk, take a 6km hike up Grey River Road from Kennett River to see hundreds of glowworms. It's magical!
While you're exploring the Otway Ranges, be sure to snap a selfie at the Cape Otway Lightstation. The views are unreal, and you can find out why this lighthouse is one of Australia's most significant.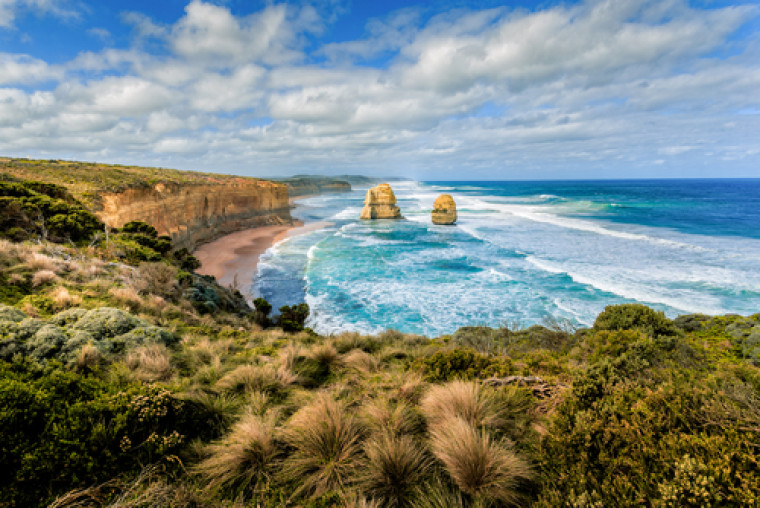 Apollo Bay to Port Campbell
Grab a coffee before settling into your JUCY car or campervan for the drive to Port Campbell. While it's a 90-minute drive, you'll be wanting to stop at the 12 Apostles, a highlight of any Great Ocean Road journey.
The 12 Apostles are dramatic rock stacks jutting from the choppy Southern Ocean, located in Port Campbell National Park. Formed by 10-20 million years of erosion, these were once caves, then arches, and now towering pillars. The last arch-turned-stack occurred only as recently as 1990 when two tourists were stranded on a limestone formation after the arch crumbled into the sea!
Sunrise and sunset alter the tones of the 12 Apostles. Because you'll be basing yourself in nearby Port Campbell (10 minutes down the road) you can visit more than once to witness the changing hues for yourself!
Port Campbell offers another surf practice spot on this iconic road trip. If you want to see how long you can stay on a wave, this is it! The breaks, just beyond the pier, often allow surfers to ride right into the bay.
Another attraction in Port Campbell is the Gibson Steps. Get a butt workout as you walk the 86 steps carved into the cliff face. Once on the beach, the towering limestone stacks can feel quite imposing.
It's also fun to walk the Port Campbell Discovery Walk, along cliff tops and past lowland heath. This 1.5-hour walk has a few highlights, including another vantage point of the 12 Apostles and plenty of wildlife spotting opportunities!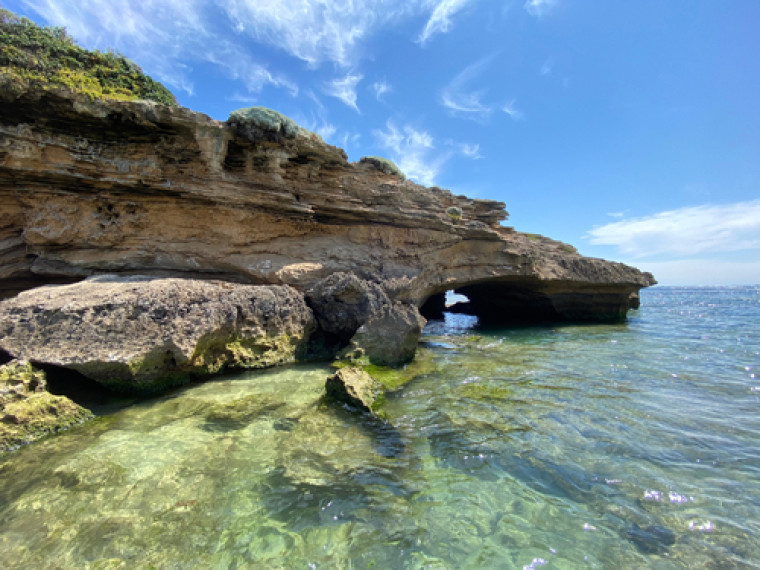 Port Campbell to Warrnambool
Drive 50 minutes today to Warrnambool, one of the greatest surf breaks on the Great Ocean Road.
If you're a beginner, you'll be pleased to know Warrnambool's safe, sheltered beaches give you ample opportunities to get your confidence up on your board. Head to Warrnambool and the east of Port Fairy Beach to practice. For more skilled surfers, Japs is an exposed beach break with both left- and right-hand waves.
Rock, sea, and river fishing is another popular Warrnambool pastime, especially at Killarney Beach, Levys Beach and on the Hopkins and Merri Rivers.
Warrnambool has another drawcard you won't want to miss: the healing properties of its hot springs! Mineral-rich waters come from an ancient water source called the Dilwyn Aquifer, found 850-metres underground. Allow the mineral, salts, and steaming temps to soothe your body and restore your health at the Deep Blue Hotel and Hot Springs.
For a little bit of local history (with a touch of tourist cheese), consider stopping by the town's main attraction. By day, it's the Flagstaff Hill Maritime Village, a museum built around the 1858 state heritage-listed Warrnambool Lighthouse. By night, it transforms into Tales of the Shipwreck Coast, an interactive digital installation and a light show created to educate on the regional stories of the whaling industry and the famous Loch Ard shipwreck.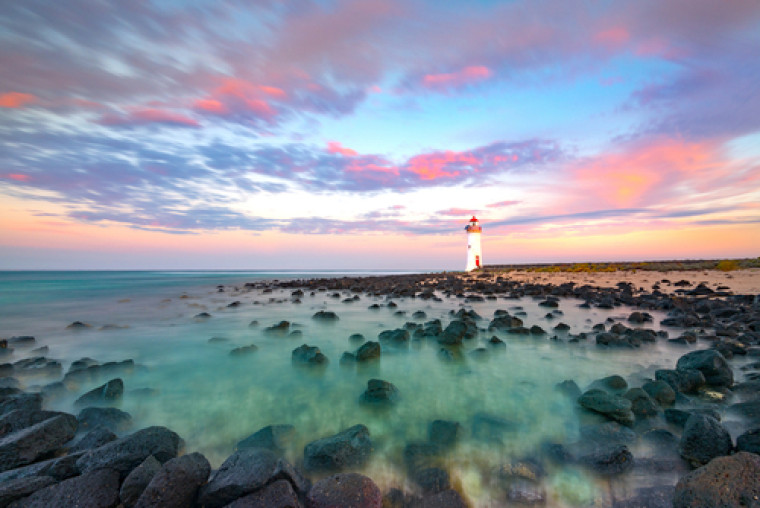 Warrnambool to Port Fairy
The exposed reef and point break at Port Fairy make it another one of Australia's best surf spots when hitting up the Great Ocean Road on a surf-inspired road trip. East Beach is a hit for beginners (and snorkellers and paddle boarders); though head to The Passage if you're game for big, unpredictable waves.
Port Fairy seaside town has charisma, a cool-as arts scene, and seafood: all wins in our book! Wander the white-washed whalers' cottages, take the Shipwreck Heritage Walk or fill your JUCY boot with local arts and crafts from the quaint shops you'll find across the town.
Great beaches accompany the great surf. We rate Pea Soup Beach both for its scenery and name. Tower Hill Wildlife Reserve is an interesting addition to any itinerary, thanks to the lush flora and fauna that call this extinct volcano home. Time your visit right and you'll be able to gain a deeper perspective of the reserve on a 2-hour guided tour by the Worn Gundidj Aboriginal Cooperative.
Include a little splurge during your Port Fairy stay and stop by Basalt Vineyard for tapas and a vino to pop into your JUCY fridge. You won't regret sampling their seafood and vego tapas as a little treat on your Great Ocean Road surfing road trip. You've earned it, right?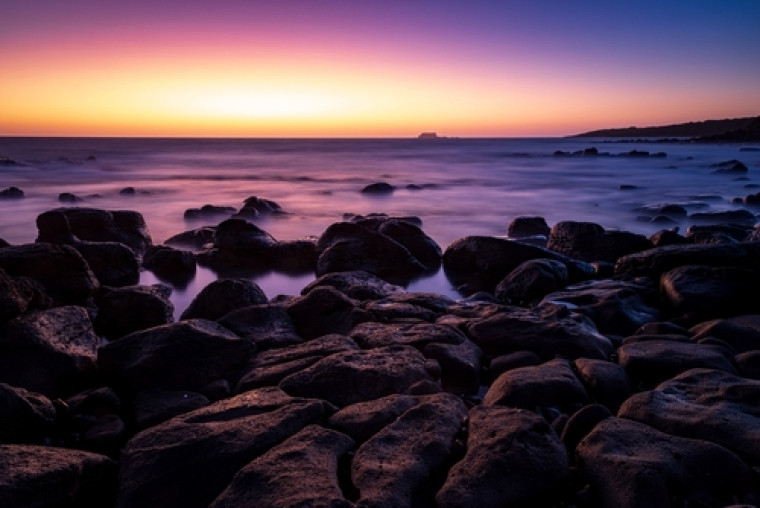 Port Fairy to Portland
Come for the surf, stay for the vibes? While it may be a ride on Portland's Blacknose Point's long, long waves (said to be the longest in Victoria), it's not the only thing that'll attract you to Portland, VIC, a 90-minute drive from Warrnambool.
Nope, you can also get your history kicks in this far southwest corner of Victoria. The site of Victoria's first permanent settlement back in 1834, the town has heritage by the bucketload. Over 200 buildings have National Trust protection, making wanders around the town particularly pleasant. Be sure to ride the Portland Cable Tram (there's also a Cable Tram Museum).
Stop by the best of the town's fine fare, including Margaret and Agnes café and Neart Tide Distillery.
If you're a keen hiker, the Great South West Walk is a 250km trail that can be done in 2-hour loops, full-day walks or the whole shebang. The scenery is beyond breathtaking whether you do one part or all. Hike past rugged cliffs, tranquil bays, verdant forests, and scenic rivers and discover how idyllic this region truly is.
Side note, while there are many places along the Great Ocean Road to spy migrating whales in the winter months, the proximity with which they come to the Port of Portland makes this a fave place to tick whales off on your road trip bucket list. Added to this, 600 Australian fur seals call the area home; catch them at nearby Cape Bridgewater.
Portland to Adelaide/Melbourne
So where to from Portland? If you're on a one-way Melbourne to Adelaide road trip (totes doable if you've pre-booked it and paid the one-way fee), head inland to Adelaide. You could add on a side trip to the Fleurieu Peninsula if you've time.
If you're on your way back to Melbourne, it's a 5-hour straight drive. We personally wouldn't be in a hurry to get back, though. We'd either take the inland route via the Grampians or return to our favourite spots (especially foodie faves) to break up the journey.
Surf's Up
As we all know, the weather these days is unpredictable and with it surf beaches, too. Keep up-to-date with the surf forecast by checking out Magic Seaweed and Swellnet for surf conditions and forecasts.
Victoria's local visitor information centres are also well-versed in the best surf spots at their relevant destination. This is especially helpful for beginner or rusty surfers.
Ready to say yes to a swell road trip? Talk to your friendly-as crew on 1800 150 850 or click BOOK NOW above.
We'll SEA you soon!