Drive the Legendary Pacific Coast; Road Trip Itinerary Sydney to the Central Coast
Is the Pacific Coast Highway the most iconic-y NSW road trip? We think so! Read on for 10 idyllic days with a Sydney to Byron Bay road trip itinerary.
Driving the Central Coast with a campervan rental from Sydney to Byron Bay is as iconic a road trip as Route 66 in the US or the Garden Route in South Africa. Yeah, we said it.
For a coastal route, the terrain is more diverse than you can imagine and it's best experienced behind the wheel of a JUCY campervan where you pull over in awe at any time. Stunning beaches, jaw-dropping vistas, expansive lakes, and ancient rainforests await on our 10-day campervan Sydney to Byron Bay itinerary. Enjoy endless highlights with your JUCY Sydney to Byron Bay drive.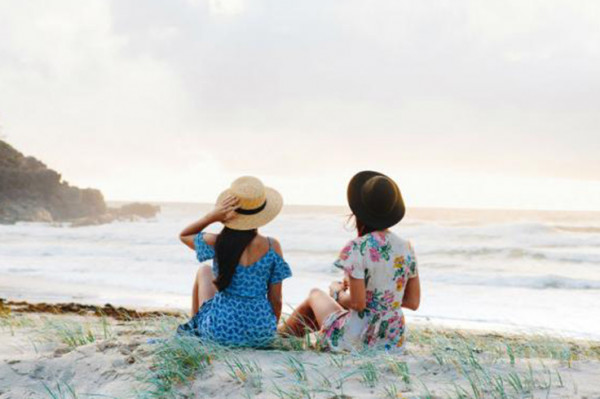 DAY 1: SYDNEY TO LAKE MACQUARIE
Rise early, because although you only have a drive of three hours today, there are adventures to be had! Head to the JUCY Sydney branch conveniently located only five minutes from Sydney Airport or 15 minutes from the CBD to collect your Sydney campervan rental. We even have contactless pick-up options for the easiest, swiftest road trip getaway in history!
Like any great NSW itinerary, a beach break or three is in order on your campervan road trip. Forget hustling for beach-towel space on one of Sydney's well-known beaches, instead head to the 1,532-hectare Bouddi National Park.
This unspoilt natural wonder is only 90-minutes from the city centre, but light-years away in vibes (it's chilled to the max). The 8km Bouddi Coastal Walk is a must if you have the time. You'll need to allow 3.5-4 hours to enjoy what's known as the region's best coastal walk.
If you're more of a go-hard-or-go-home type, pick up some snacks from your campervan mini-fridge and walk the short-but-steep Maitland Bay Track. The pristine yellow-sands of Maitland Bay are all the reward you need.
Bouddi is also home to over 100 Aboriginal sites of importance, including rock shelters, and middens. Head to Daley's Point to see sandstone carvings, or to discover the region's rich heritage on a tour with the indigenous-owned Girri Girra Aboriginal Experiences.
Next, head north to Lake Mac.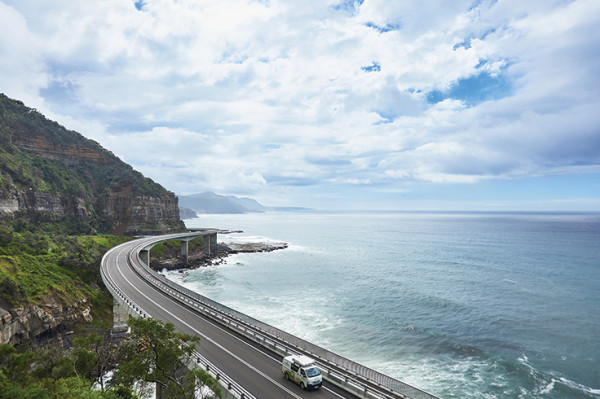 DAY 2: LAKE MACQUARIE
At four times the size of Sydney Harbour, this is a Big Mac that's actually good for you. You could spend days exploring here - there are over 90 towns and villages for a start! With 32 kilometres of coastline, you'll need a guide – that's us! We know travel like a teen knows Tik Tok.
For lake thrills, go sailing, rent a kayak or paddleboard, or book an exhilarating jetboating adventure. Look out for dolphins! If you're up for a drier expedition, rent a bike to cycle the waterfront pathway.
For lake chills, the Lake Mac café scene is buzzing, especially for brunches and sundowners. Our pick? Grab some yum-worthy brekkie at Café Macquarie, as well as cooking in your JUCY campervan.
Time your day just right with a stop at Catherine Hill Bay for their famed sunsets over the expansive stretch of squeaky-white sand. It's a Central Coast highlight! The fire-red sky is not the only claim to fame here; it's twice lauded one of Australia's best beaches! Plus, the heritage-listed mining village is also good for a pic or two.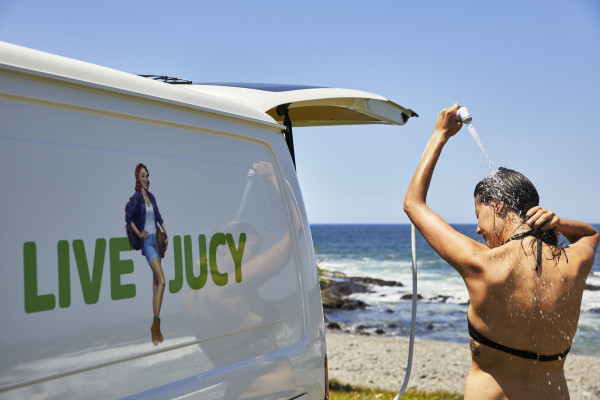 DAY 3: LAKE MACQUARIE TO HUNTER VALLEY
If you're visiting Lake Macquarie on the weekend, you'll want to stop by the local markets before hitting the road. There is something deeply satisfying about filling your camper fridge with fresh produce from a local farmer's market!
From here, a short drive will take you to Caves Beach. Tides permitting, you can welcome the day with a stunning 30-minute walk to the caves and rock pools.
The journey is as good as the destination, so they say, so include a stop in Newcastle en-route to the Hunter Valley. Newy, as it's affectionately known, is Australia's second oldest city (after Sydney) proudly offering Central Coast historical sites alongside its natural gems.
Feel cultured and get a load of the view at Fort Scratchley. This legendary 1880 fort is now a museum with fun underground tunnels. Take a short walk to Nobbys Lighthouse before a quick dip in the oldest ocean pool on the east coast. Bogey Hole is a picture-perfect rock pool hand-hewn by convicts back in 1819.
From Newcastle, the Hunter Valley beckons. But first, doughnuts! Doughheads is an Insta-iconic Newy bakery that demands you stack some topping-laden doughy treats for the road. (Sssh, yes, we know the drive an hour).
Sugar-charged for the drive, head to Australia's famous wine region, the Hunter Valley. Pokolbin is a common base.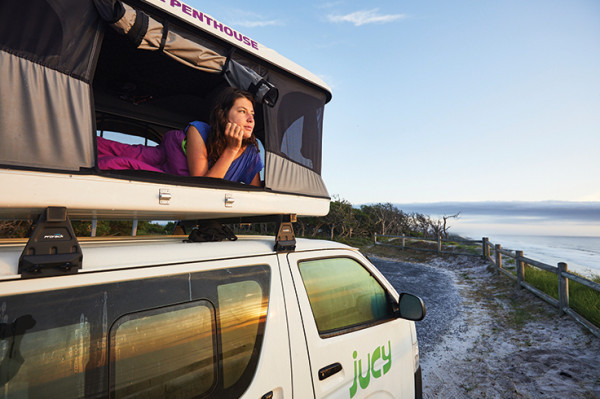 DAY 4 : HUNTER VALLEY
A full day exploring the Hunter Valley is in order, unless you're not into feeling like a million bucks!!
It would be remiss to skip a Hunter highlight. Rise early for a gourmet breakfast hot air balloon ride over the lush vineyards as the sun rises.
If you're keen to experience one of the 150 wineries and inviting cellar doors, then park up (unless you have a sober campervan driver in your group) and iHop the hops. The iHop hop-on, hop-off bus tour is a great value option to explore the cellar doors at your leisure.
Alternatively, road test the new 10-kilometre cycleway. More than a dozen cellar doors line Hermitage Road, along with a spa for the ultimate day of pampering. Plus, any purchases made are dropped off at the bike rental shop or your JUCY campervan later, so you don't spill a drop.
Is wine-care just like self-care? Asking for a friend.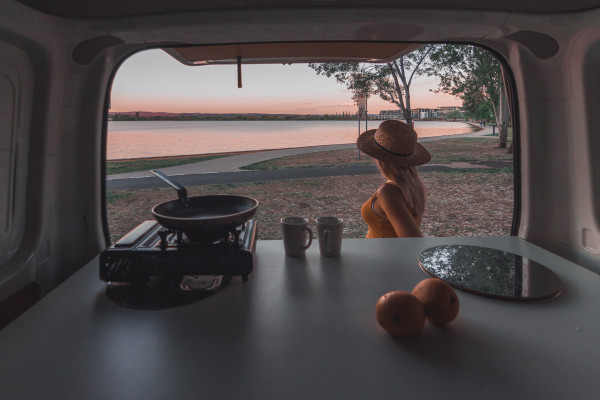 DAY 5: HUNTER VALLEY TO PORT STEPHENS
Port Stephens is an often-overlooked destination on the Central Coast and only 90-minutes from Pokolbin. With 26 postcard-perfect beaches and some gorgeous eateries, Port Stephens has a reputation for being a tad romantic. Still, whether you're with your plus one, your loved ones, or the one you love (aka yourself), it's a swoon-worthy spot!
Earn your Port Stephens treats in advance with a walk up the Tomaree Head Summit. It's steep, but we did say earn. Here, 360-degree views await, including sweeping views across the bay and Central Coast. Perfect for picking out the beach you want to visit later! You'll also be able to spy Cabbage Tree and Boondelbah Islands – nature reserves home to endangered Gould's petrel.
Back on flatter land, visit the nearby sand-scape of the Worimi Conservation Lands. As you need a 4WD to self-drive (check our FAQs for restrictions) this Aboriginal-owned dunes and land, book a tour to explore. Choose from quad biking, sand surfing, horse riding and more.
Conclude your day with a sea-to-seafood treat. Kick back at the beach for some R&R until sunset. We love Shoal's Bay, One Mile Beach, and Soldier's Point, with the latter offering fresh seafood feasts with a side of wow-worthy views at the Point. Alternatively, Port Stephens town is abundant in delectable eateries for every budget.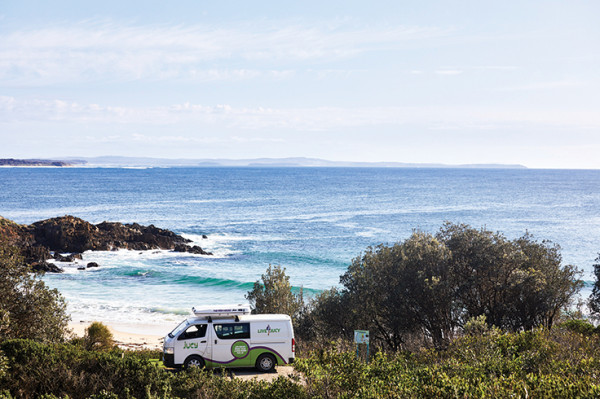 DAY 6: PORT STEPHENS TO CROWDY BAY NATIONAL PARK/PORT MACQUARIE
Head out early today to pack in more natural wonders. Whether you're Insta-crazy or just crazy for a perfect view, a stop at Forster is a great break, 90-minutes into your journey. See the sparkling blue Coolongolook River, cross the Wallis Lake bridge, and soak in the views at the Bennetts Head Lookout. Llook for whales and dolphins.
Be sure to leave plenty of time to reach Crowdy Bay National Park and Diamond Head before sunset. Here, kangaroos appear like they have been waiting for you to snap one million pictures of them. Opt to spend the night here and wake to kangaroos outside your camper, or continue on to Port Mac.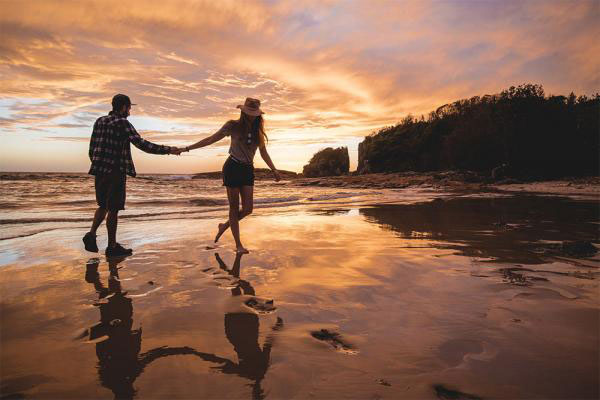 DAY 7: CROWDY BAY NATIONAL PARK/PORT MACQUARIE TO DORRIGO NATIONAL PARK
No visit to Port Macquarie is complete until you've visited the Koala Hospital. Gain some good street cred with the tale of that time you visited injured and sick koalas on your trip. What a hero. Pre-bookings essential for this rewarding visit.
The Port Macquarie Coastal Walk affords an excellent opportunity to soak up the scenery of the area. Alongside the verdant coastal landscape and impressive beaches, you'll also pass historic sites until the rainforest meets the sea. The full walk is 3-4 hours, but it can be shortened easily.
For a more fun expedition, follow the trail map or discover at leisure some of the 70 1-metre-Hello Koalas sculptures across Port Mac, by trail map or at your leisure.

DAY 8: DORRIGO NATIONAL PARK TO COFFS HARBOUR
This stretch of the East Coast of Australia is full of surprises, and the Dorrigo National Park is one of them. Why? Because Dorrigo National Park is part of the UNESCO World Heritage site of Gondwana Rainforests. Once part of the Gondwana super-continent, this area is millions of years old and the most extensive sub-tropical rainforest in the world. And get this: a myriad of flora and fauna only exist here!
Head back in time as you explore Dorrigo, including discovering the stunning waterfalls, like on the Crystal Shower Falls walk or Cassuarina Falls Circuit. The Lyrebird Link Track is a popular easy walk under this ancient rainforest canopy. To get above it, the 70m Skywalk is an elevated boardwalk some 21m high. Identify the feathered residents with this cool rainforest birds app.
From Dorrigo, it's an hour's drive to Coffs Harbour. If all that activity sees you famished, stop by the gorgeous Cedar Bar in Bellingen en-route.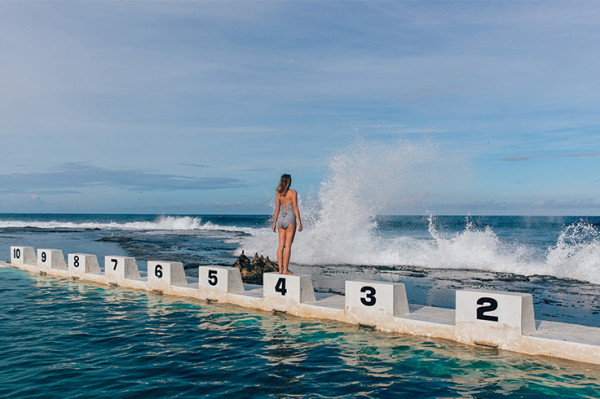 DAY 9: COFFS HARBOUR
If you're not beached out by now (is that a thing?), then Coffs Harbour has a long white stretch or two to entice. The wheelchair-accessible Jetty Beach is great for everyone, or visit the more secluded Corindi Beach. The best of Coffs is experienced, however, out or in the water.
Snorkel or, if certified, scuba dive the protected waters of the Solitary Islands Marine Reserve with Jetty Dive. They also do whale watching, and Coffs Harbour is one of the few places in the world where you can swim with humpback whales from August to September.
Back on land, the 600m Gumgali Track in the beautiful Orara East State Forest offers an Aboriginal cultural experience along the trail, brought to life through art and sculptures. Sealy Lookout and the Forest Sky Pier are also located here for epic vistas.
DAY 10: COFFS HARBOUR TO BYRON BAY
Departing Coffs Harbour is made sweeter with a stop by the Giant Big Banana ten minutes out of town. This iconic roadside mammoth banana is the perfect opportunity for a crew pic as your roadie comes to a close.
The final stretch is in sight for Bohemian Byron. It's a 3-ish hour drive from Coffs Harbour to Byron Bay, but why do it all in one go when you can stop in Yamba en-route? Yamba is considered a surf mecca, which translates to great beaches (Brooms Head Beach is our pick), boutique surf shops, and as many smoothies and flat whites as you can down on your roadie break. From Yamba, it's an hour and 45 to reach Byron Bay.
A Byron Bay road trip has been a bucket-list destination for many thanks to its laidback vibes, natural treasures, and bustling community here. Be sure to include a visit to Go Sea Kayak to experience the bay by water too.
Short on time, or wanting to explore Queensland with your campervan next? Did you know that JUCY offers one-way campervan rentals? Keep driving your campervan hire to JUCY Gold Coast or Brisbane (borders permitting) and take the short cut; aka fly over the Central Coast home. It's too easy when you know life's hacks, huh?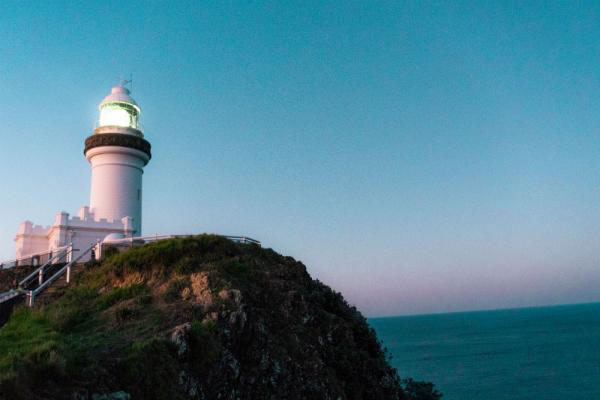 You deserve a Sydney to Byron Bay road trip. Book your JUCY Sydney campervan rental here so you can explore more of the Central Coast!