5-day romantic campervan road trip from Auckland to the East Coast
Want to get more loved-up with your loved one? Read on to discover the magic on our 5-day love-inspired romantic campervan road trip from Auckland!

Are you ready to wow your partner on a romantic campervan road trip? Great, because we've got the perfect 5-day itinerary. Starting in Auckland, visit the swoon-worthy best of the Coromandel and Bay of Plenty. This is love for the adventurous couple, but without the schmooze-fest and high-end price tag.
You know that Netflix movie where Rebel Wilson finds her unremarkable life has become a dazzling, cliched rom-com? Where everything is perfect and partners are swoon-worthy, and the gifts extravagant? Yeah, well book a JUCY campervan a loved-up getaway, and you can bedazzle your partner on an epic romantic campervan road trip. It won't be cliched (yawn, dinner and a movie) and we swear no-one will break out into a flash mob along the way! We can't promise, however, you won't both belt out a road trip anthem as you wind your way to a real Kiwi-as romantic campervan road trip!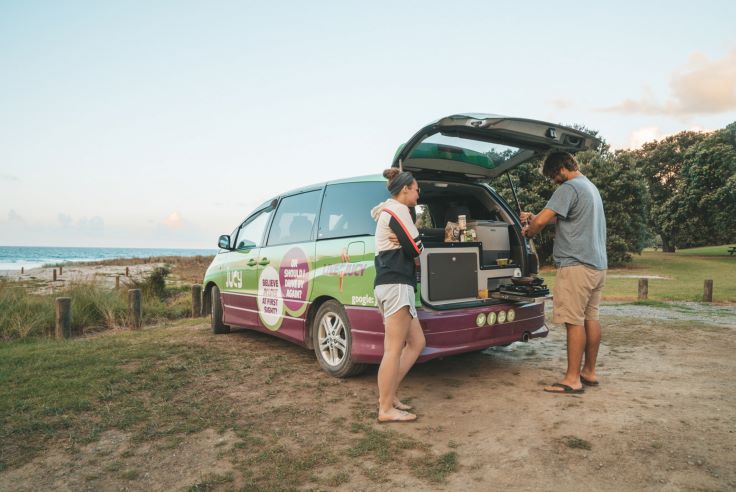 Day 1: Auckland to Cathedral Cove
To kick off any good loved-up adventure, you need a little intrigue. And at our JUCY Auckland Airport branch, you'll find just that as we show you the magic of our custom-designed campervans. We've been in the camper business for 20 years now, so we know how to surprise and delight. Our unique, got-everything camper kitchen will do that (perfect for a moonlit meal). As too, will our comfortable double beds (wink, wink). After your campervan show-through (which of our four models did you pick?), you'll be on the road and ready for a swoon-worthy adventure! First up - We hope you have chosen the smoochiest playlist to accompany your 2-hour drive to your first rom-com worthy destination: Cathedral Cove and Hahei.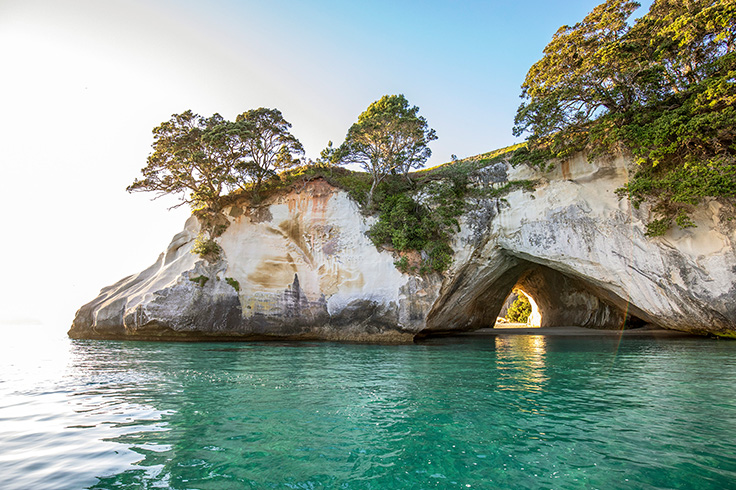 Cathedral Cove is the Coromandel's most famous location. It's situated only 10-minutes from the sweet-as beach town of Hahei, and iconic Kiwi summer experience at Hot Water Beach.
Pack the selfie stick because there's a totes Instagrammable moment at the iconic Cathedral Cove limestone rock arch. You'll want to do more than snap a pic though, as it's a stunner (almost as hot as your partner, yeah?). For hikers, there's an easy 90-minute trail. For kayakers rent a double kayak.
Be sure to have a 'moment' on the beach at Hahei. No, we don't mean you need to propose (unless you're ready, in which case, get in touch so we can assist!). Simply that the pohutukawa-fringed, white sandy beach gives lovebugs a chance for some intimate moments. For love declarations, and the like (okay, okay, maybe we do think it's a perfect spot to pop the question, ahem). If you've packed a snorkel, you'll want to use it here, too.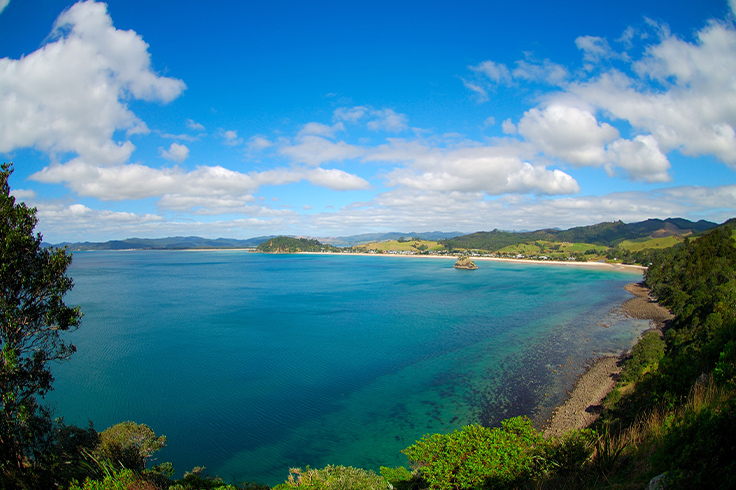 If you prefer to hike to your beach spots to make sure they are as secluded as possible, then head north to Whangapoua Beach. Here, walk the 30-minute track to New Chum Beach.
Any good fairy tale getaway needs to get the food sitch right. While we're big fans of cooking in campers, tonight we recommend booking a table at the Church Bistro. Located in the original 1990s church, the ambience and food here set the night up to feel like you're one long piece of spaghetti away from a perfect kiss.
While you have a few options to park your JUCY camper for the night, we're fans of enjoying summer at Flaxmill Bay at Cooks Beach. The fab location and welcome shade make it a welcoming spot.
If you're travelling with a third wheel on your romantic campervan road trip, then we love Seabreeze Holiday Park. No, it's not a swingers campground. And no, we don't mean that awkward mate that always tries to tag along; we mean your dog, duh! Seabreeze is dog-friendly (bookings required), but more importantly, so are we! Find out more here.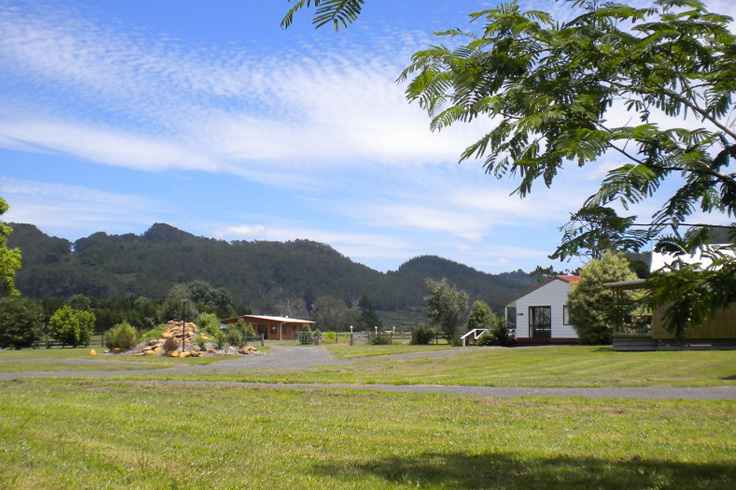 Day 2: Cathedral Cove to Waihi Beach
Start the day at Hot Water Beach for some good ol' fashioned bucket-and-spade action as you did your own sandy hot tub. Your Hot Water Beach visit is dependent on the tide (check timings here); visit two hours either side of low tide. If you need to hang out at Hot Waves Cafe while you wait, you'll find it no great hardship, trust us. There are local art galleries to explore around here, too.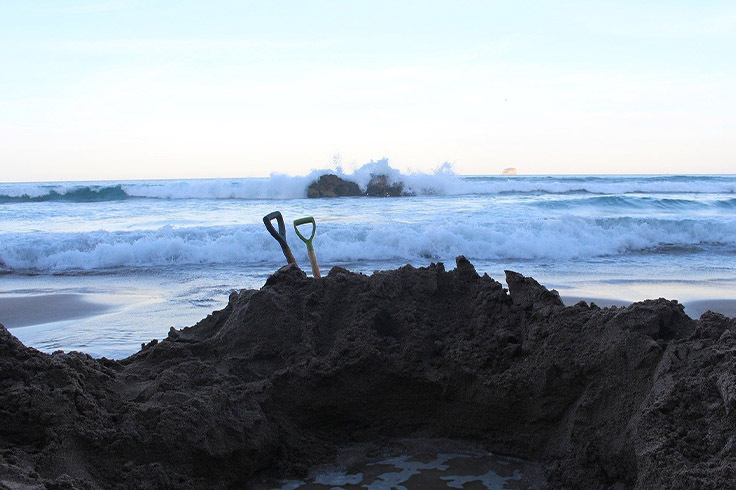 Next up, head down the Coromandel Peninsula to Waihi Beach, at the northern tip of the sunny-side-up Bay of Plenty. Waihi Beach is your typical Kiwi summer holiday spot – but that doesn't mean it's all noisy kids and dripping ice cream. Plenty is going on for a couple of lovebirds like you two.
Learning something new together is great for any relationship, so consider surf lessons with the Waihi Beach Surf School. Alternatively, rent a bike and ride part of the Hauraki Rail Trail. While we don't know of any tandem bike rentals (aww, shucks), it's still pretty neat to go on an adventure together across the best bit of the trail – from Waihi to Paeroa (24km). This is the only remaining section of the heritage railway that linked the North Island in the early 1900s. In Paeroa, be sure to find the giant L&P bottle for a quick couple's selfie. The Karangahake Gorge is also unmissable, whether you visit by bike, or on foot on one of the Karangahake Gorge trails.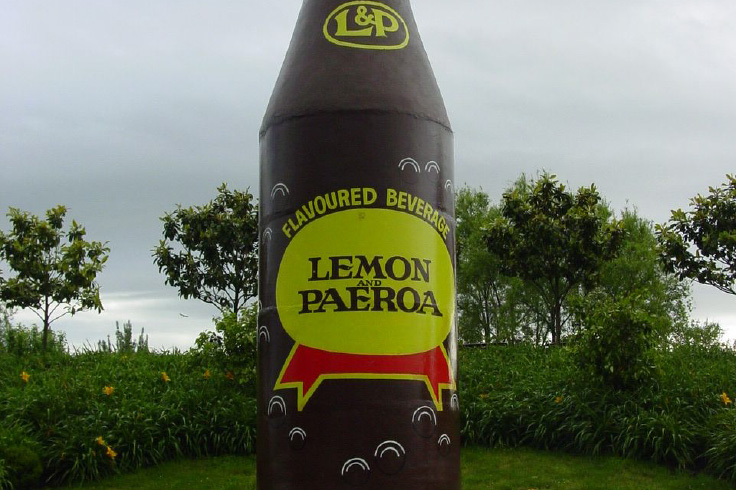 Back in Waihi, camp at Bowentown Beach Holiday Park so you can be lulled to sleep with the sound of the ocean close to your JUCY home-on-wheels. You can also stargaze as light pollution is minimal here. Pro romance tip: pack some battery-powered fairy lights to hang around your campervan.
With such a perfect seaside setting, show your partner what you've got in the way of culinary skills by utilising your JUCY camper kitchen. How about fresh fish tagine, followed by wild berry dough dessert? It's easy-yet-impressive!


Day 3: Waihi Beach to Mount Maunganui
Nothing says romance like getting up at 5am all bleary-eyed, with stink morning breath, and an unfuelled-by-caffeine brain, to see the sunrise, right? Exactly! That's why we rate heading to brunch at a reasonable hour at the gorgeous Balinese style Secret Garden. Yes, we sure know how to keep a relationship together!
We'll tell you what else forges a stronger connection – happy vibes! That's why today your romantic campervan road trip is taking you only an hour south to Mount Maunganui. It's possibly the happiness capital of the North Island.
While the gorgeous beaches at one of New Zealand's sunniest regions are cool and all, there is so much more to do here. Like kayaking on Lake McLaren and into the atmospheric Mangapapa canyon. Or take riding the iconic Kewpie Cruise and finding a secluded spot on the 20-kilometre-long Matakana Island.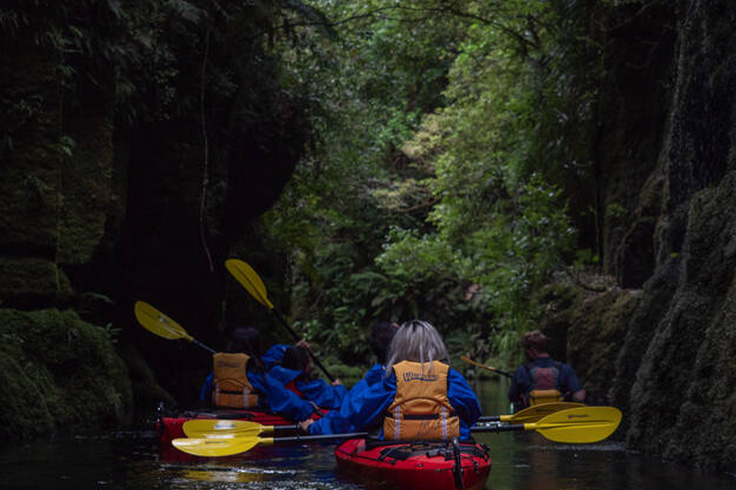 For something a little different, head into Tauranga for some funky street art. Choose to drive the Art Lovers trail or meander the Downtown Art Lovers walk.
For the Mount's best caffeine fix, visit Luca. For the kind of loved-up lunch Mr Darcy would approve of, pack a picnic from Elspeth Bakery – totes delish! The picnic-perfect Kaiate Falls is only a 30-minute drive.
The Mount Maunganui Beachside Holiday Park is our pick as you deserve to be spoilt! And by the view, not the price tag! It's nestled at the foot of the Mauao historic reserve, and it faces both the ocean and harbour. And it's also only a few minutes' walk to one of Mount Maunganui's best sunset spots at Pilot Bay. Score!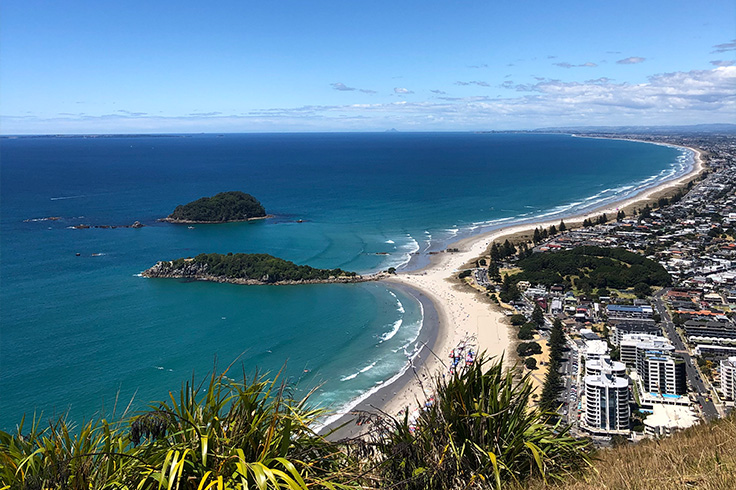 So, yes, sunsets over sunrises! It is romantic to watch the sunrise or sink, but with our comfy campervan beds, we already know that the pull to stay tucked up in them is too strong for a pre-dawn start. That doesn't mean we don't advocate some effort to get a stellar sun fix. If the 5-minute stroll to Pilot Bay sounds too easy, consider instead hiking the Mount Maunganui Summit Track, a steep-yet-rewarding tramp to an elevation of 231m. Allow 90 minutes without stops, but duh, of course, you want to stop! Pack some snacks to enjoy at the peak while the sun does it's thang, and bring a torch for the trip back down.


Day 4: Mount Manunganui to Rotorua
You might think Rotorua's sulphur stink might kill the romance, but we're here to tell ya we disagree! The opportunity to rub therapeutic mud across each other's bodies at the geothermal mud spa. The wow-worthy thrill as the 30-metre-high Pōhuta Geyser spurts from the earth (cue opportunity to hug while you wait). The need to snuggle close because you're sleeping among dinosaurs (more on that soon).
If you're a thrill-seeking couple, you'll bond further as you white-knuckle wait for the V-Force Reverse Bungy to launch you skyward at Velocity Valley. Alternatively, hop into a Zorb together and slip-and-slide in a giant bubble down one of the legendary tracks at Fairy Springs.
If you're more into your greenery than being green at the gills, the Whakarewarewa 'Redwoods' Forest - five minutes out of Rotorua - is a 5,600-hectare playground. Here, hiking, biking, and even horse riding are possible. If you really want to up the fairy tale vibes, nab an after-dark ticket to walk the treetops at the enchanting Redwoods Nightlights.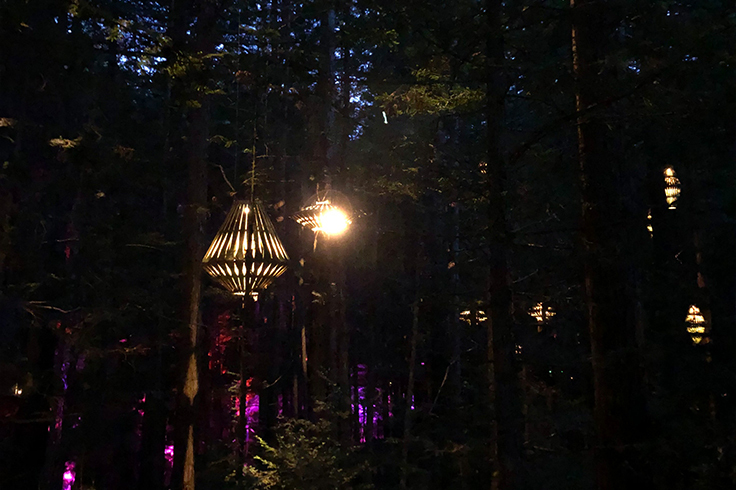 If you'd prefer to splurge on a fancy meal for your last night together, take your relationship to a new height (literally) at Stratosfare Restaurant and Bar. You'll need to ride the Skyline Rotorua to reach your award-winning dining experience perched on Mount Ngongotaha. It's worth it, as you taste-test paddock-to-plate delights with a panoramic view across Lake Rotorua (if you can peel your eyes off each other).
For your last night with your JUCY camper, you can stay at the All Seasons Holiday Park campsite. It's close to Lake Rotorua and only eight minutes out of central Rotorua. Plus it has a weird-but-cool dinosaur theme (aaahh).
(P.S. a soak in a private hot tub at the Secret Spot is a great way to unwind after an active day.)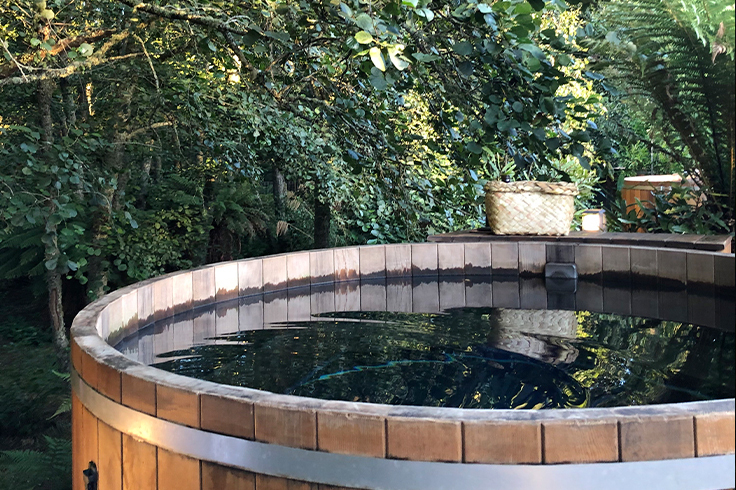 Day 5: Rotorua to Auckland
Before returning to Auckland, kickstart the day with Kaitiaki Adventures thrills. You can unlock some epic deals like white water rafting and more here.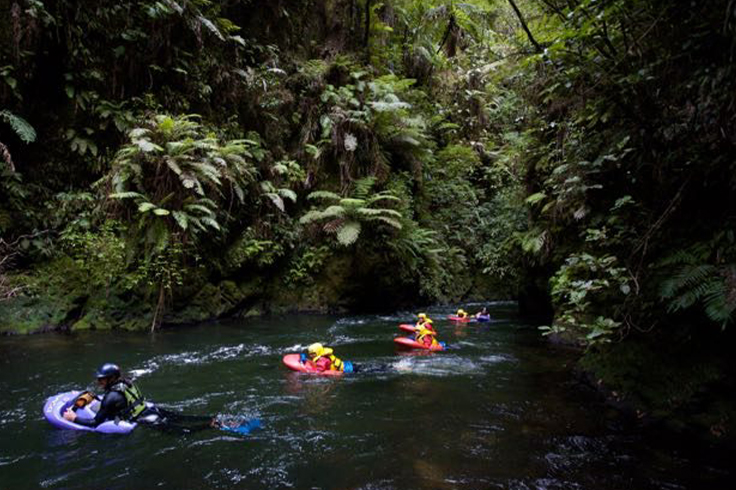 En-route back to the City of Sails, it's only fitting to conclude your romantic touring at Te Aroha (y'know, because aroha is Māori for love). Stop for a quick look, or explore this Edwardian spa town fully: it only adds 15 minutes to your drive.
Squeeze in one final couple's soak with the affordable private wooden spa tabs at the Te Aroha Mineral Spas. The spa is filled with water from the nearby Mokena Geyser – the world's only hot soda water geyser. It's the final high-vibes, rom-com-worthy experience of the trip.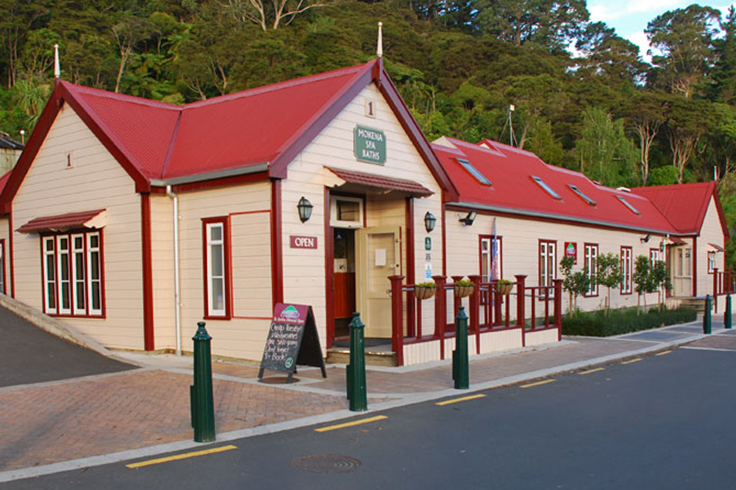 It's the final stretch from here, a 90-minute drive to our JUCY Auckland branch. Just enough time to play that smooshy playlist again and reflect on the epic times of your romantic campervan road trip. And for that last chance to include us in your proposal plans (Jokes! but, seriously, we love a good love story).
If you need a free ride back to the airport, we've got you sorted as long as you arrive 30 minutes before we close. You then get to reenact that time on Titanic when Kate and Jack say their goodbyes. Only it'll be a farewell to your JUCY wheels - and more like 'see you later' - because (spoiler alert) no one drowns in this love story!

Did your heart feel all a-flutter at the chance to go on a romantic campervan road trip with your plus-one? Woohoo, us too!

Give us a call on 0800 399 736 to get your trip booked in or book NOW! We can't wait to help you enhance your love bond!