Why You Need a November Road Trip This Year
With great deals, empty roads, and an unseasonably warm season on the cards, now's the time to take that November Kiwi road trip!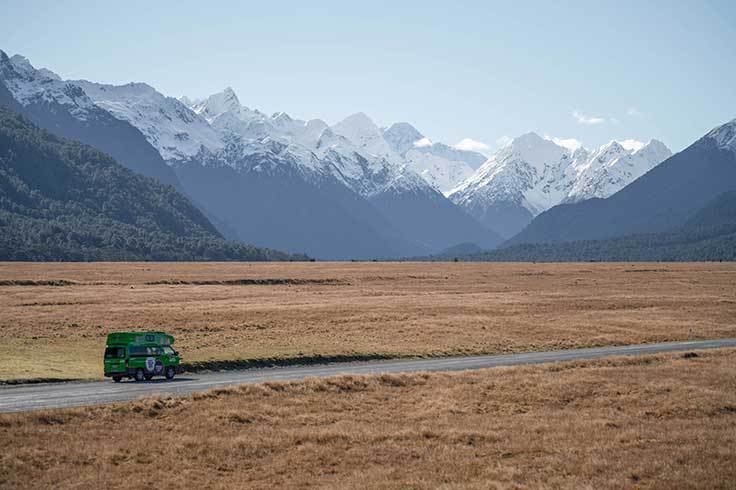 We've got plenty reasons why you need a road trip this year. 'Nuff said, really, but we'll give you some legit additional excuses, too. So call your bestie, your plus one, your fam or your higher self and say heck yes to a November roadie.
First up, it's unseasonably warm this year. Did winter even happen, beyond a few chilly nights? It felt like autumn and spring decided to partner up for once, cutting out the frozen middleman. Global warming aside, we liked it. If you want to take advantage of this seasonal trend, consider hiring a JUCY campervan or car and get away this November.
Secondly, Christmas is coming (well, duh). Usually, you'll need to prepare yourself by shopping excessively in jam-packed malls with Mariah Carey playing on repeat. Well if there is one thing COVID taught us all (besides incredible hand hygiene), it's how to shop online. And you can actually do something amazeballs with the time saved. Like, go on a road trip to New Zealand's most non-mall like attractions. Like, the non-shopping mecca of the Bay of Islands, maybe? Or a boat cruise on Milford Sound? Or perhaps a weekend in nature but staying at a campground with Wi-Fi so you can shop from your comfy JUCY campervan bed? Sounds like a plan to us!
November is also the cusp of low-season, which means Ker-ching: savings!! Historically November is a quieter month across New Zealand tourism – the calm before the summer season storm - it's like Santa came early, just for you! Schools break December 11ish so take advantage of this and book a roadie. Not only will you get great savings with your JUCY camper and car hire in November, but you'll also enjoy quieter roads, and fewer people photobombing your selfies. Plus, we are offering our camper trips with a 3-day minimum hire period, we have scored you some sweet deals on attractions, and flights are cheaper, too. Makes it so easy to fly into one of our three JUCY branch locations affordably.

Where to Go on Your November Roadie - Our Fave Long Weekend Gems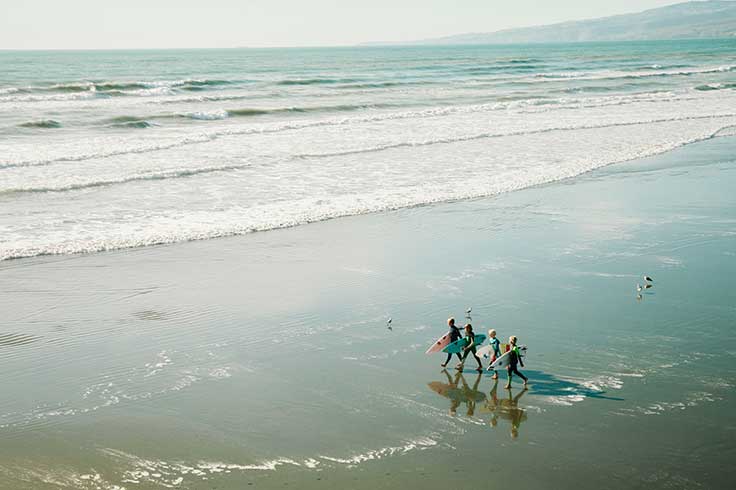 Sun's Up: Auckland to Gisborne
If you're picking up your JUCY car or campervan in Auckland, you've got as many choices for a road trip adventure as the CBD has overpriced flat whites (for reals). While there are the popular locations out of Auckland, like the Coromandel, Lake Taupo, or Rotorua, we're big fans of heading to the East Coast to explore the North Island gem: Gisborne.
You're ahead on November camper specials, tourism deals, and sparsely visited destinations, and Gisborne allows you to get ahead on the sunrise, too! As the most Easterly point in New Zealand, it's the perfect way to not only enjoy your November roadie but also to feel a bit smug about it. Especially if you decide to stay at the gorgeous Tatapouri Bay campground.
Good for the mind, body, soul, and surf, you can park your JUCY camper here, or if you're in one of our hire cars, book a stay at their fancy glamping sites or Zen Cabins. Oh, and Tatapouri Bay is dog-friendly – and so are we!
Discover more things to do in Gisborne here.



Baywatch: Auckland to Bay of Islands
Feeling like you'd like a little adventure with your November suntan? Head north of Auckland to the Bay of Islands and Cape Reinga. In the Bay of Islands, you can go crazy on water-based activities. Like dolphin swimming, jetboating to the 'Hole in the Rock', and parasailing.
Head further north still to Cape Reinga to sandboard and hike the 7.5km Te Whara Track. This culturally significant hike follows the 700-year-old footsteps of the Northland Maori ancestors. The stunning panoramic views are a fabulous bonus, too.
For a sweet-as DOC campground, head to Spirits Bay where the secluded beaches balance out your adventure activities for the weekend.



Up North: Christchurch to Blenheim
Yes, the weather is as interchangeable as a Leonardo DiCaprio girlfriends. Still, according to forecasters, the next few months will be mint in the South Island! Like dry, hot, and the perfect excuse to stop at every dairy for ice cream!
Pick up a JUCY campervan or rental car right at Christchurch Airport, and head on your merry way northwards in record time. Kaikoura is a must on any northbound vacay, as is the Queen Charlotte Track, Picton, and Blenheim.
One little known gem to add-on your way is the 14-person beach community of Gore, Cheviot. Badlands erosion formed the Cathedrals, and they are stunning to take a slight detour to on route to the north.



On Trend: Christchurch to Dunedin
Anyone else noticed that Dunedin got decidedly cooler this year? Border-bound Kiwis searching for unexplored destinations, plus some smart marketing, put Dunedin more firmly on the NZ tourism map. It's like that time when you hadn't seen your nerdy little cousin for years and the next time you do her street cred has gone through the roof. In Dunedin, visit the heritage buildings, Otago peninsular, and the natural paradise of the Catlins.
Before departing Christchurch, you might like to set the tone for a relaxing holiday with a dip in the new saltwater hot pools in New Brighton. En-route to Dunedin, be sure to stop at the steampunk capital of NZ at Oamaru; there's a blue penguin colony here, too.



As Pretty as a Picture: Queenstown & Wanaka
Even if you're 'done' Queenstown before, you've not 'done' it. It's like the Willy Wonka destination of New Zealand, where every corner turned reveals a new jaw-dropping take-all-my-monies attraction or vista. And with a set of JUCY wheels, you get to explore them ALL! This is the one time we give you permission to go full Augustus Gloop and try everything.
Hike the plethora of trails around Queenstown and Wanaka, visit the olde-worlde towns of Arrowtown and Cromwell, and be sure to take a day trip to Milford Sound. Your JUCY driver even gets a discount on our awesome Milford cruises! Get more inspo for your Queenstown day trips here, and a range of epic partner deals here.
What's On: Time Your Roadie with These Events
We love a good combo roadie (our US campers are famous at West Coast festivals, did you know?) so show us an event and we'll make a road trip weekend out of it. And hello November, you've got some stellar events on offer!



Run, Forest, Run
The beauty of the Queenstown Marathon is that you don't have to run to enjoy the beauty of the Queenstown Marathon. Support your partner! Child! Mate! Or yourself, of course... as there the full marathon, the half-marathon, a 10km run, or a 2.2km kids' event. Whether you're running or offering running commentary, don't miss out on heading to Queenstown for Saturday 21st November for the world's most scenic marathon. Aside from competing in the race, the rewards are the outstanding mountain views, pristine lakes, and lush countryside that make Queenstown such a stand-out destination. Our JUCY Snooze accommodation is filling up, so get in early to book your pod or your bed.
Short & Sweet
If you'd like a sweeter treat that weekend, why not pick up a JUCY hire car or camper in Auckland and take a roadie down the west coast to the Kapiti Coast Strawberry Festival. It's the kind of fun local event that showcases everything special about New Zealand, plus all profits go to Mary Potter Hospice.
Go Hard or Go Home
If you love a top tune on your Kiwi road trip, how about adding in a top event to the mix? Deep Hard and Funky is a legend on the Auckland gig calendar, and COVID could not keep it down. Join dance music icons (including Mt Eden) for a fist-pumping night to celebrate DHF's 21st birthday. And you know how 21sts goes so it's an appreciated fact that the Remuera Motor Lodge is only 20-minutes on foot from the venue. Which means you can park your camper up and stumble back in the wee hours when the doors close at 4am.
Buzzing
Now, are we saying you plan a road trip to Auckland to visit the NZ Chocolate and Coffee Show? No... well yes... wellllll, it wouldn't hurt to plan a trip to Auckland over the weekend of 14th and 15th November, surely? You'll need road trip snacks is all we're saying. If you're up for sandwiching food at either end of a week-long adventure, the Auckland Food Show is the following weekend, too! Yum.



Be a Good Sport
For cricket fans, renting a JUCY camper to navigate the Black Caps vs West Indies events at the end of November is a smart way to get the best of both worlds – roadies and sports! Nothing says summer like having the cricket back on, and the West Indies kickstart the tour for some fun in the sun. Pick up your JUCY wheels at our Auckland airport branch in time for the first match on the evening of the 27th, held at Eden Park. Then tiki tour to Tauranga for the next two games on the 29th and 30th November. Howzit sound?


Again, Again! Want to Win Another Roadie? Share your #JUCYMOMENTS to WIN a 100% Refund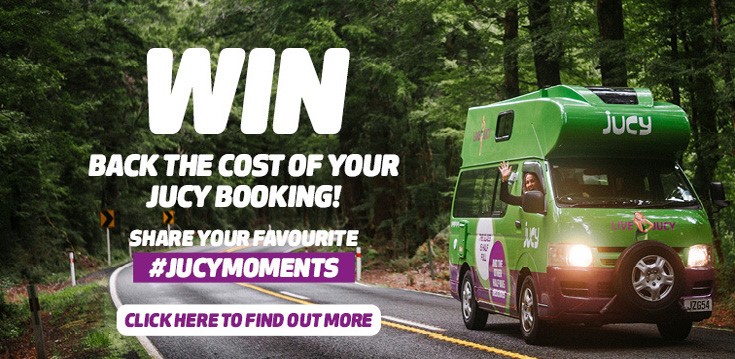 We know, we know, we're spoiling you. Great rates, JUCY deals, and now a chance to win a 100% refund so you can explore your backyard again!
Grab the chance to turn your awesome #JUCYmoments into cash by sharing your favourite photos or videos from your JUCY car and camper rental adventure.
If that sounds like an epic offer, all you have to do is book and travel in a JUCY car or campervan and share that epic #jucymoments. It is a comp, so T&Cs apply, obvs; check out all the nitty-gritty details here. And good luck!
Ready to getaway? We can get you sorted for your November JUCY roadie right away. Either free call us on 0800 399 736 or click Book online to get a quote, or your booking started. We can't wait to get you on your way!