New Zealand Campervan Locations
Check out our campervan hire options in New Zealand
Select a campervan location in New Zealand
Whether you're flying into Auckland Airport from overseas, or just nipping down to Queenstown for a ski weekend, we're right where you need us most.
Choose one of our three campervan rental locations to learn more about picking up and dropping off your vehicle
Campervan travel in New Zealand
The main goal of travelling New Zealand in a campervan is to have as much freedom to explore as possible. You take your accommodation with you, so no need to pre-book hotel rooms or worry about the extra cost of a room each night.
You can pull over at any point and enjoy a hot cup of tea, or find (legal) freedom camping spots in scenic locations if you're driving a self-contained camper.
Imagine rolling out of bed and throwing open the door of your vehicle, to step outside and greet the sun rising straight out of the ocean, or settling down for the night in a remote campsite shared only with kiwis (the birds) and a perhaps a handful of adventurous Kiwis (the people).
You can change your plans on a whim, choosing to take the scenic detour and take the road less driven.
The best campervan hire in New Zealand will let you do all this, and more.
JUCY's multiple campervan hire locations mean you can tailor your itinerary to suit your interests and time available. With the flexibility to drop your campervan off in five separate locations, you can cover an impressive amount of the country in a limited time.
Top Destinations NZ
Far more compact than Australia, you can pack a lot into a Kiwi Road trip. You can even travel from the snow to the surf in one day! Many travellers will plan their trip around either the North or the South Island. However, we also host a ton of keen adventurers who cover the highlights from Cape Reinga in the north of the North Island to Invercargill at the bottom of the South Island. With three JUCY branch locations and the option to travel one way (for a fee), Kiwi road trips are a breeze with JUCY.
Uncover the best New Zealand road trip destinations on our Get Inspired campervan page.
Freedom camping
Freedom camping is a popular way to travel around New Zealand. It allows people in fully self-contained campervans to camp in some places for free. Self-contained means it can function without outside resources. There are restrictions on where people can camp and how long, and there are fines if people breach the rules. We have this dedicated Rankers page to help travellers discover where to camp legally for the night across Aotearoa.
Camper experiences in New Zealand

New Zealand Sights

New Zealand facts
Camper experiences in New Zealand
The hardest part about travelling New Zealand in a campervan is deciding which direction to take. No matter whether you choose north, south, east or west, you'll be in for adventure.
Road trip from Auckland to the Bay of Islands to discover dolphins and golden beaches

Drive from Christchurch to Queenstown to discover Lake Tekapo, the

Lindis

Pass, and Wanaka

Make your way from Wellington to Christchurch to experience the magic of Marlborough Sounds, abundant vineyards near Blenheim, and whale-watching at Kaikoura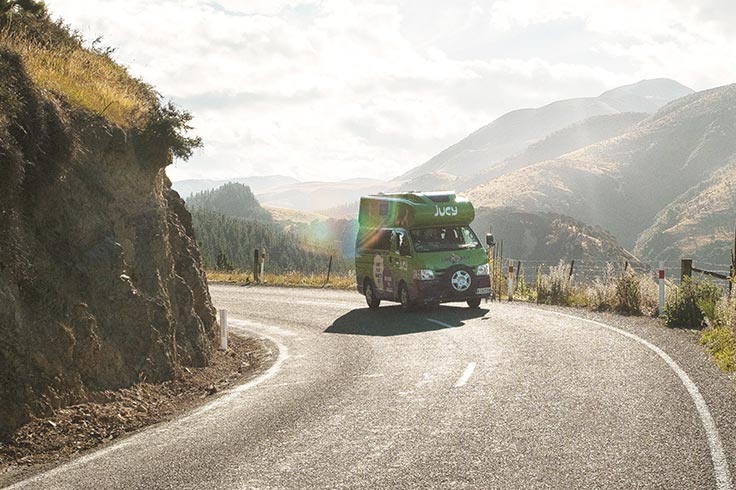 You'll come across dazzling scenery around almost every bend in the road in New Zealand. Lace up your hiking boots and get outdoors to explore!
Visit Abel Tasman National Park for picture perfect golden beaches

Check out Hobbiton for a dose of Lord of the Rings themed escapism

Take a stroll through the

colourful

lupins along the shores of Lake Tekapo

Explore the Fox and Franz Josef glaciers on the West Coast of the South Island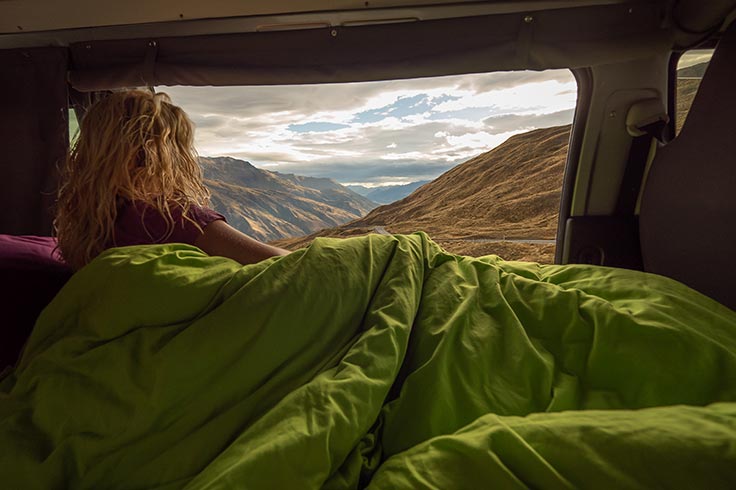 New Zealand is a quirky little country at the end of the world. Did you know?
30% of New Zealand is covered in forest. Visit a national park to get a feel for the unique native flora of the country!

New Zealand is home to the longest place name in the world;

Taumatawhakatangihangakoauauotamateapokaiwhenuakitanatahu

, a hill in Hawkes Bay

There is no place in New Zealand more than 150 kilometres from the ocean – you'll always be just a few hours from the beach!

Blue Lake, found in Nelson Lakes National Park, is officially the clearest lake in the world