Take a Pow Trip: Road Trip Auckland to Mt Ruapehu's Slopes
Mt Ruapehu's ski season is upon us: it's time for a pow trip! We've spill the tea on all things ski and board at Whakapapa and Tūroa.
It's winter, must be time for a 'pow trip'! Yeah, we made up the term, but you know the concept: road tripping to the snow!
While being a bit chilly in winter can kill a few vibes – tog time, ocean swimming, ice lollies at sunset – the frosty weather amps up the good times for ski and board lovers. Who doesn't love fresh dumps of pure white powder on some of the most scenic slopes in the world? And we are crazy-mad that from Auckland you can make it to Mt Ruapehu to ski or board the slopes of a volcano!
As road trip masters (20+ years in the game, baby!), we know a thing or two about busting a move from Auckland to Ruapehu to hit the slopes. This is why you've been hitting us up with your questions about the North Island's most famous ski fields.
Sharing is caring, so read on as we spill the tea on the answers to your FAQs on an epic Auckland to Ruapehu pow road trip.
What's the deal with Mt Ruapehu's ski areas?
Whakapapa
Want access to one of New Zealand's largest ski fields? At 550 hectares, Whakapapa ski field offers world-class ski and board opportunities atop ancient lava flows, old crater rims, and views far across the stunning Taupō plateau.
For many ski and board fanatics, the quality of the powder is everything, with scenery a nice-to-have bonus, not a must. We're more the kind of people that live in the have-it-all call, and fall hard (in love, not due to our dodgy ski moves) at Whakapapa's broad trails, expansive snow-filled basins, and spectacular views. Good powder and good views equal good times!
With 67 named runs, it has something for everyone. Around 30% of the field is beginner terrain (see Happy Valley below); 45% is sweet-as for intermediate skills, and 25% suits the advanced skier and boarder. If you want access to all the slopes, purchase a full mountain lift pass.
Sustenance is key when you're speeding down blue runs all day. Fortunately, no one goes hungry on Whakapapa, so you don't need to stuff your ski pockets with snacks. Refuel at Lorenz's Café and Bar, Happy Valley Bistro, Pātaka the Larder, or Four Peaks Alley. The latter two are accessible at the top of the Sky Waka Gondola (more on that later).
Whakapapa also has a ski school, gear rentals (including clothing), and sledding fun.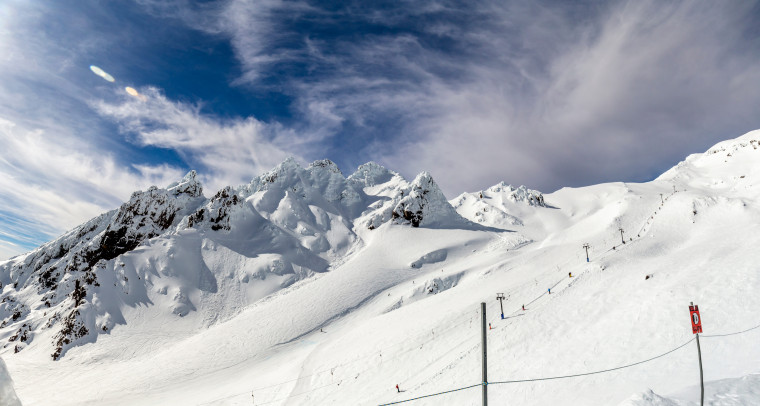 Happy Valley
If you don't know your snow plough from your parallel turns, Whakapapa's Happy Valley ski area is the place for you. Happy Valley is a great place to finally let your bestie or plus one convince you that skiing/boarding is the best thing in the world.
Buy a lift ticket specifically to this beginner-friendly self-contained area and you'll get access to the slopes in June, a month earlier than the rest of the mountain. And the best bit? Access to this beginner's area is almost half the ticket price, compared to full Whakapapa access.
That the Happy Valley season typically starts a month earlier is a blessing to all beginners. It gives you a head start on your mates, meaning you can (perhaps) wow them with your master of the slopes by the time the more advanced ski areas of Whakapapa and Tūroa open up.
BTW, we think learning to ski or board is like learning to drive: for the sake of your relationships, it's probably best to stick with instructor-led lessons. Plus, it's so much less polite to curse at your instructor versus your mate after the 10th time you've slid on your butt in an attempt at navigating a green run! The instructors at Happy Valley are known for their patience and clear instructors, is your road trip buddy?
Tūroa
If you've been making tracks for a while now, Tūroa is it. Perfect for intermediate and experienced boarders and skiers, it not only offers more challenging terrain and runs, it's also a little quieter than Whakapapa. Meaning less time waiting for lifts and more time showing off your tricks and kicks.
Tūroa goes long, dude. It's got Aotearoa's highest lifted point and biggest vertical run, plus cool natural flow with its half-pipe bowls and wide-open slopes.
Leave the protein bars at home because Tūroa has four ways to refuel. Pizza at Base is a popular on-the-run spot (more time to whizz down the mountain), and the Alpine Bar and Bistro offers a top spot to bring the crew back together. At the top of the Parklane Chairlift, find the Snowflake. The Giant is named after the Giant chair lift; find it at the top.
How to get from Auckland to Mt Ruapehu
The best way to get to the slopes? In a JUCY, of course!
Collecting your JUCY rental car or campervan from our Auckland Airport branch couldn't be easier. We even offer a free airport shuttle if you land during our branch hours. Once you're behind the wheels of your vehicle, most snow-crazy travellers make a beeline for the slopes, following State Highway 1 and 4 to get to Ohakune in a four-ish hours straight shot.
If you're looking to make more of a traditional roadie out of it, you can make a pretty epic circuit once past Hamilton. Stop by the glowworms at the Waitomo Caves on the way down and Taupō and Hobbiton on the way back! Check out our Lake Taupō inspo in this wellness-inspired blog.
Thinking of road tripping in a JUCY camper? For the entire ski season (until the 31st of October), we've got 10% off our NZ camper range out of our Auckland branch, making a pow roadie an even better idea! Discover more here.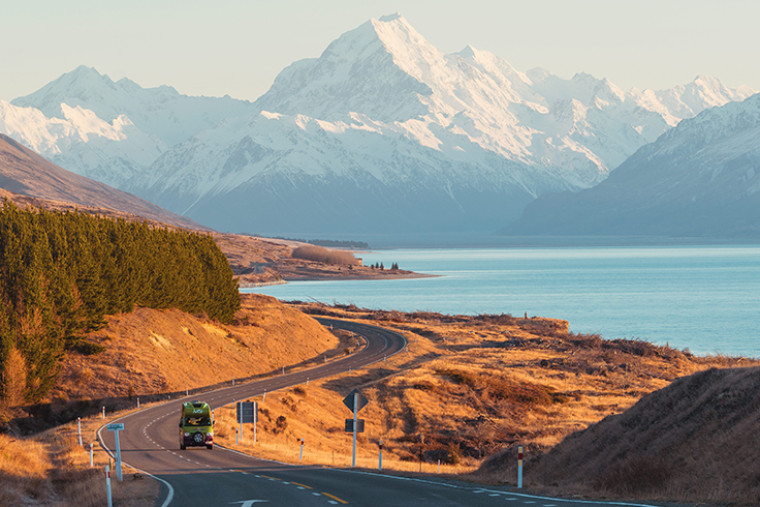 How to Get Up the Slopes
You can drive up to Whakapapa or Tūroa, though parking can be hectic at times.
If you'd rather keep your stress levels low, leave your JUCY wheels in Ohakune and hop aboard a local shuttle. This is ideal if you're travelling on a peak day (weekends, August to September, and especially school holidays) when the whole scene can get a little cray-cray.
If you've got space in your JUCY (and the inclination), you could even offer a carpool ride via Snow Riders.
Only visiting for the day, so no accommodation to leave your car at? In Whakapapa, the park and ride centre offers all-day free parking in the national park, connecting you to pre-booked shuttles. Perfect when you're fitting in a snow day to an overall North Island roadie.
When is the Mt Ruapehu Ski Season?
Mt Ruapehu's two ski fields are generally open and operational from early July to late October, from 9am to 4pm daily. If the weather gods permit, of course. If you're heading down from Auckland, check out the Mt Ruapehu report for up-to-date conditions, includes slopes, lifts, and road conditions. Don't forget to add snow chains to your JUCY booking.
Do More on Ruapehu
Yes, fresh powder and enticing bluebird days make spending your whole vacay on Ruapehu's slopes appealing. However, there are plenty of other exciting adventures and attractions to add to your Auckland to Mt Ruapehu pow trip.
These are our top three #NZMustDo options to add to your pow roadie.
Sky Waka
Whakapapa is also home to the cool-as Sky Waka Gondola, New Zealand's longest gondola, passing almost two kilometres over the region's other-worldly terrain. Witness picturesque waterfalls, ancient lava flow, and scenery for miles. Let your jaw gape as you see the famous Tongariro National Park from the comfort of your 10-seater cabin.
Once at Knoll Ridge Chalet, some 2,000m above sea level, grab a brew or snack, play in the snow, and take in the breathtaking views of the Pinnacles.
Tongariro Alpine Crossing
Aotearoa's most popular 1-day walk, the Tongariro Crossing, is not for the unfit or the faint of heart. This is a 6–8-hour hiking challenge with rewards that far outweigh the exertion. The scenery shifts across the day, from alpine views that make you feel like yodelling to a landscape you could easily mistake for Mars.
Combining the slopes of Ruapehu with the Tongariro Crossing makes for a memorable long weekend out of Auckland.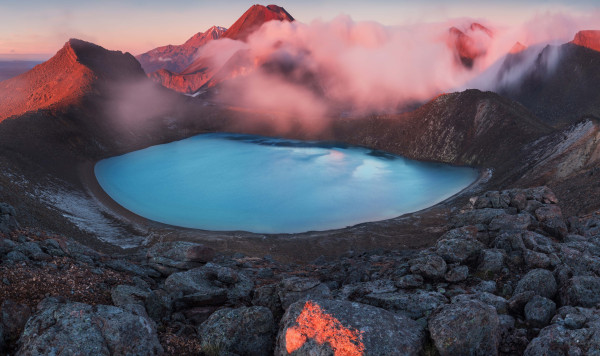 Hot Springs, Taupō
We can think of no better excuse for a soak in mineral-rich geothermal waters than a day spent on the slopes. You've earned it!
Maybe your accommodation has a hot tub, but nothing beats Taupō's two natural thermal springs. DeBretts is the family friendly option; Wairakei Terraces has three adult-only pools filled with silica-rich soak-worthy waters.
Where to stay on your Mt Ruapehu roadie
You've got a few accommodation options for your pow roadie, with Whakapapa Village offering the most convenience (it's 10 mins from the ski fields). If you're looking to splurge, the iconic Chateau Tongariro is worth it for the room views alone.
Ohakune is probably the liveliest place to base yourself, especially if you're planning more time up Tūroa. Aside from more places to stay, the après ski is better.
Feeling pumped for the current ski season and ready to book your JUCY rental car or camper? Click BOOK NOW above or give our JUCY legends (the HQ crew) a buzz.