The Crib
Other campervan options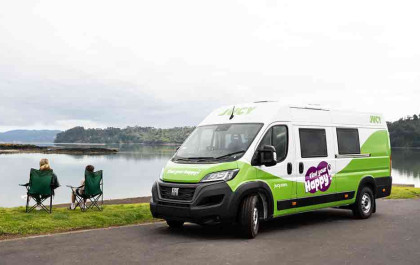 Self-contained with shower and toilet. Sleeps 4, well-equipped kitchen.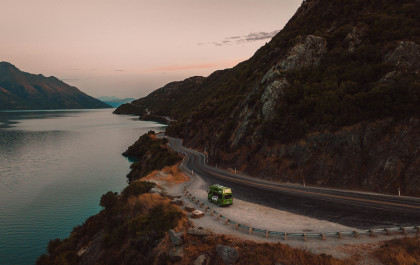 A legend on the NZ roads, our self-contained Condo sleeps 4, with a kitchen and toilet.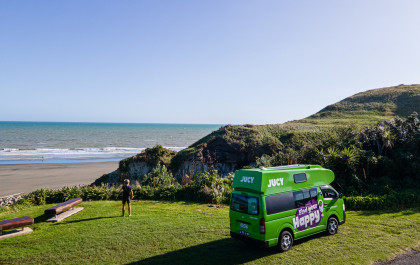 Three's company in a JUCY Chaser! It's fully self-contained with a kitchen, shower, and toilet.
Travel New Zealand in the 2-berth Crib campervan
Ready for an epic NZ roadie? Great! Our Crib is the perfect campervan rental for two friends or a couple. It's small and sleek, making it easy to drive, even if you've never gotten in a campervan before, never mind behind the wheel of one! Its compact size makes it a breeze to park in larger towns and busy cities, too.
Did you know that JUCY campers are like a friend-magnet? Perhaps it's our bold green and purple colours that embolden others to invite you over for a BBQ or a vino. Or maybe it's just your bold choice of choosing JUCY for your Kiwi road trip adventure that makes people want to hang with you. Either way, you'll be the talk of the campground in your Crib!
As our JUCY Cribs aren't self-contained (meaning they don't have an on-board loo), you won't have the option to freedom camp, but that's all good because there are a ton of amazing campgrounds out there with kick-ass facilities! We even put together this handy list!
You're not left wanting for any other facilities in your JUCY Crib, though. Nope, you'll still have our awesome custom-converted kitchen in the rear to make some dope-as campground meals. In the kitchen, you'll find a fridge, gas cooker, sink, plus all the kits you need to actually make food like pots and spatulas and stuff (kinda handy, huh?). Aside from saving you cash, cooking in campers is a great way to sample the local produce and farmer's market yumminess you pass on your travels.
One last thing, as your double bed is inside, you have an easy time getting your bed set up, no matter the weather. Take that nylon tents that try to fly away in high winds and rain!
We love our Crib, can you tell?
Wondering Where to Go in Your Crib? We've Picked our Fave NZ Camper Trips
The glory of New Zealand's mountainous scenery means that every switchback you take and every corner you turn, it's mind-bogglingly gorgeous. This also means we've seen a few peeps think they can't take a JUCY road trip because they've never driven a campervan before. So not true! Besides the fact that we have rental cars, we also have incredible campervan models, like the Crib, that make road tripping New Zealand simple. Think of it like driving a Soccer Mom-style van without any of the mum jeans (unless you're into them, then you do you!). Seriously, we've made #NZcamperlife super easy!
So, where to go in our easy-drive Crib? Top of the North Island, to the bottom of the South, we've pulled together a summary of our most popular Kiwi roadie itineraries!
Your Very Own Rom-Com: Auckland to the East Coast
Do you know that old lovey-dovey song about a bicycle made for two? Well, you know what's more smoochy? A custom campervan made for two! You, your plus one, and wherever the whim takes you on a romantic adventure.
We pulled together a swoon-worthy 5-day itinerary from our Auckland branch out to the East Coast. Think about you both double-kayaking across the Coromandel Peninsula. Or digging your own spa on Hot Water Beach. And how about stargazing in Wahei and rubbing mud into each other's bodies in Rotorua. Oh, and don't forget the magical sunset from Mount Maunganui. It's just too romantic for words, so you'll need to go check it out, right?
To find out more about this lovey-dovey roadie, click here.
The Wonders of Nature: Christchurch to Wanaka West Coast Itinerary
For a road trip adventure you'll never forget, take the West Coast route from Christchurch to Wanaka. Aside from the fact that you'll love the ease of driving the Crib over the stunning Arthur's Pass (be sure to stop off at Castle Hill), you'll also get to see some of New Zealand's more underrated travel sites.
Hokitika's natural wonders impress, as to does the tiny settlement of Okarito and its avian-filled lagoon. Then there's Fox and Franz Joseph glaciers, where adventures await from the tame to the extreme. And Wanaka, home to many dentists because of all the jaws that drop after seeing the stellar mountain views (groan, dad joke). For reals though, you expect your mouth to gape at Wanaka's scenery.
Continue to Queenstown via Arrowtown (don't skip Post Masters for brunch, yum!). Once you've arrived in the Adventure Capital of the World, you can either extend your trip with the intel found here, or drop your 2-berth campervan back to our Queenstown Airport branch. We even have a shuttle to get you to the airport (it's very close).
Get Away From It All: North Island West Coast Roadie
We love the big destination, we do, but sometimes we just want some downtime. Whether that's you and your plus one wanting some alone-time, you and your bestie wanting deep and meaningful chats, or you wanting to get away from everyone on a solo road trip (our Crib is fab for that), then consider a North Island's West Coast trip.
In this fun-filled 5-day itinerary, we reveal the best spots to soak in the magic of this underexplored region of Aotearoa. Like do you know where to go to see waterfalls near Hamilton? And the best way to see the Raglan Pancake Rocks? Or the best spot for a photo of Mt Taranaki from New Plymouth? Or why Mt Egmont is likely to be your trip highlight? Read this itinerary to discover these gems and more!
Tramp-Lovers Rejoice: The South Island's Best One-Day Hikes
We mean tramping, of course, so dig out your hiking boots, best merino top, and windbreaker because we've pulled together our five favourite South Island hikes! Whether you want to choose by location, type of adventure, or make a truly awesome itinerary from all five, is up to you. Dare you to stop at just one trail, though!
Pick up your JUCY campervan at our handy Christchurch Airport or Queenstown Airport branches. One-ways are permitted for a fee if you don't want to backtrack – we really have tried to think of everything for an effortless Kiwi roadie!
So, the hikes. Are you curious where in New Zealand you'll find the easiest glacier hike? Or which trail we consider NZ's most surprising (clue: it's near Abel Tasman)? Or where you can get the most bragging rights (if you're into that sort of thing)? We share this and more (including our staff pick, the Hooker Valley Track in this adventure-filled blog.
Curious About the Costs of a Campervan Road Trip?
Wondering how much you'll need to set aside from your JUCY campervan roadie? No worries, we asked a JUCY traveller to share her expenses as a guide. Sometimes it's good to hear it from someone who's done it all!
You'll learn how to keep your costs down (if you need to), where to get excellent campground info and tips from, plus petrol costs and savings. Also, if you've been wondering about whether having a campervan actually saves you money, this guide talks about food costs and why camper kitchen cooking is a cost-saving winner.
For the budget-conscious or those who like to get a little saving here and there, this 'How Much Does it Cost to Travel New Zealand in a Campervan' is a must-read blog!
Have we whetted your appetite for a Kiwi adventure? No matter where you choose or which of our campervan vehicles, we know that you'll have a blast! To book your camper now, fill out the booking form up there, or give us a bell on 0800 399 736.