Escape the City Choose one of these 4 incredible Sydney scenic drives
Feeling like a road trip is in order but don't have the vacay days for a big trip? We've got just the idea: Sydney's most scenic drives!
Whether you've only time for a day trip, a weekend getaway, or a few days up your sleeve, these incredible road trips remind you of what's important in life (travel, duh!).
We take care of the easy bits with our epic campervans and trusty cars for any kind of getaway; you do the rest (I.e., pick an itinerary below, get your JUCY wheels locked in, and GO!) We even take care of your airport pick-up to our Sydney branch if you're jetting in during our branch hours!
Why, yes, we do think of everything.
Explore Royal National Park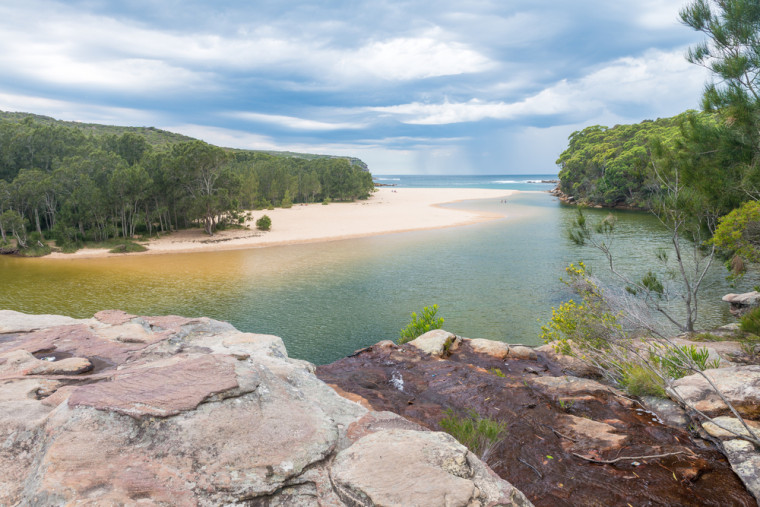 For a place that's practically on Sydney's doorstep, there is not enough chat about Royal National Park and the epic escape from 'real life' it offers. In our humble opinion, anyway. Whether you've been toiling at your office job, backpacker gig or entrepreneurial side hustle, Royal National Park is the on-off switch for a life reset. And it's only 30 kilometres from Sydney CBD. It's practically like having a free wellness retreat on hand!
Established in 1879, Royal National Park is one of the world's oldest national parks (Yellowstone is the oldest, in case it comes up on a trivia question). Across 15,000 hectares, you have access to lush parkland, pristine coastline, ancient Aboriginal sites, and a plethora of flora and fauna.
The best scenic drive in Royal National Park is down Sir Bertram Stevens Drive from Audley Road, located in the northwest corner of the park. We love it for the myriad of scenery that unfolds, from swaying pines to hardy eucalypts to the rugged heath that indicates the coast is close by.
And close it is! A popular beach within Nasho (such an Aussie nickname) is Garie Beach, another of Sydney's ridiculously good-looking beaches, as is Watamolla. Add Burning Palms and Era to your roadie to-do list, especially as there's a cool walking track between the two.
Other park attractions to include in your explorations include the picturesque (read: Instagrammable) Wedding Cake Rock, Figure 8 Pools, and Winifred Falls. Renting a rowboat or canoe at Audley Boat Shed offers some guaranteed laughs.
While there are a few places across Royal National Park where you can see Aboriginal art, the engravings at Jibbon are considered the best.
Want to camp the night in the park? Bonnie Vale Campground is suitable for both campers and tents!
Into the Blue Mountains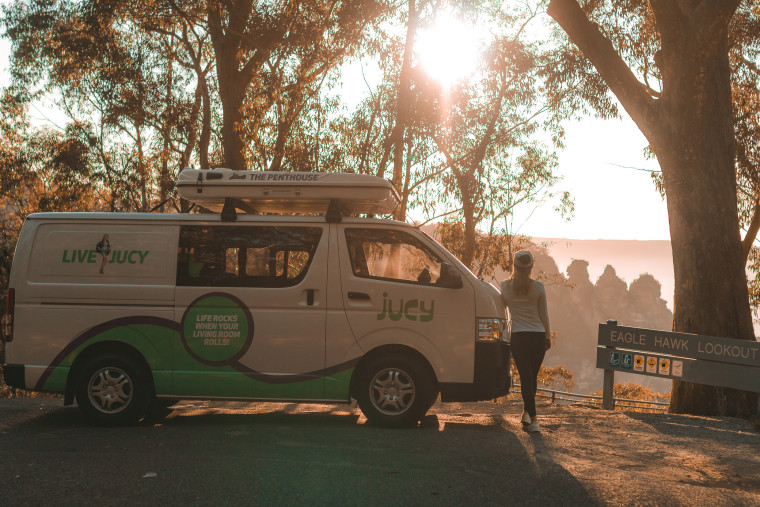 You've got two fab options if you're thinking of heading into the serenity of the Blue Mountains: Bells Line of Road and the Greater Blue Mountains Drive. Wherever you are in the UNESCO World Heritage Site of the Blue Mountains, you're never actually blue. It's too breathtaking to bring your mood down!
The Bells Line of Road, named after Archibald Bell Jr, introduced through the blue-hazed eucalypts route back in 1823. While the passage is much easier today (Bell and his two Darug escorts had to pass through the density of the forest on foot), it's no less impressive.
And then there's the Greater Blue Mountains Drive. While a greater time commitment – it's a 1,200 km road trip – the rewards merit the effort. And, of course, you don't have to do it all in one day!
The views are the kind that sees your jaw hit the floor, as expansive valleys weave through craggy sandstone cliffs, and the thick forest canopy invites you in to explore. Alongside the natural wonders, there are small towns to feed and entertain you, plus Scenic World's attractions, taking you above and into the ancient rainforests of the Jamieson Valley.
Scenic World offers several experiences, from the low-key to the out-there. Located at the Blue Mountains' most iconic destination, Katoomba (famed for its Three Sisters rock formation), Scenic World has several attractions.
For a gentle ride across the Blue Mountains, opt for the full-enclosed Scenic Cableway. Sound too tame? How does taking an open-top ride on the world's steepest passenger railway sound? Still too tame? You can now enjoy the Three Sisters and Blue Mountains at twilight atop – yes on top of – the Scenic Skyway, some 270 metres above the craggy valley below! Would you?

Want to stay in the quirkiest, coolest place in the Blue Mountains? Check out our thoughts on the 1830s barn studio with sauna in this quirky accommodation guide.
Ku-ring-gai Chase National Park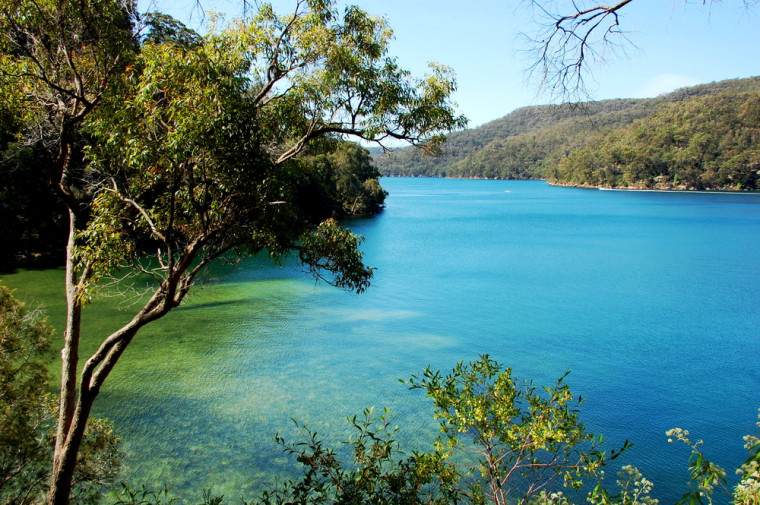 Drive only 40 minutes north of the city centre and you'll find yourself at the start of the lush Ku-ring-gai National Park. Once in the park boundaries, follow McCarrs Creek Road, stopping at Upper Gledhill Falls, a pristine swimming hole and charming waterfall that makes you glad you packed your togs (don't forget your swimwear, peeps!). From here, head deeper into the park, enjoying the bushland views of Australia's second-oldest national park.
If you're down for a hike, pack a picnic and take the 3.5-hour Resolute Beach Loop Walk; it's worth the effort! Highlights include secluded beaches, gorgeous views at Pittwater and Barrenjoey Head, and the chance to swim at Great Mackerel Beach (only accessible on foot or by boat). Ku-ring-gai National Park has 350 Aboriginal historic sites, including the famous Red Hands Aboriginal Rock Art Site, found on this trail.
If you're keen to add a scenic cycle to your scenic drive, the Centre Trail offers an easy mountain bike ride, good for the whole fam. Catch your breath at lookouts facing Akuna Bay and Coal and Candle Creek before continuing through the rainforest.
You can only tent camp at the Basin Campground (arrive on foot or by ferry). Hipcamp has bookable spots for campervans in the area, though.
Take the Scenic Central Coast to Budgewoi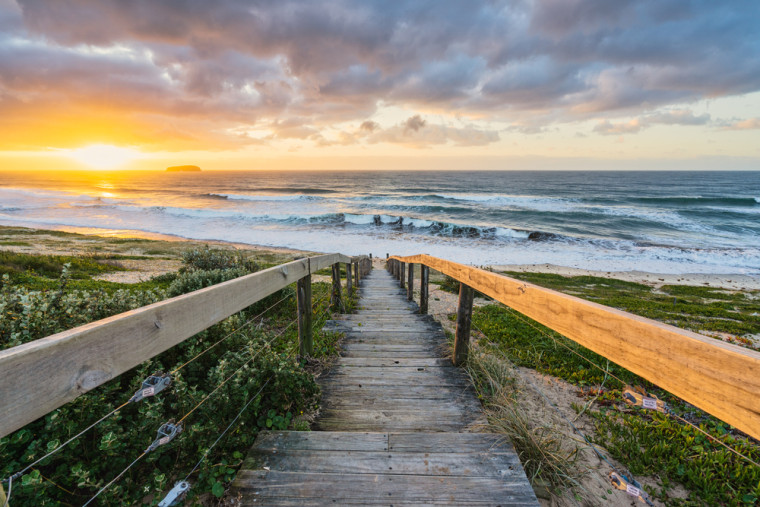 Wind the iconic Pacific Highway from Sydney to Budgewoi, just past the Entrance. While you can reach the Central Coast faster via the M1, the Pacific Highway is unrivalled in its beauty. Be as carefree as you like (it's the magic of having your own transport): stop by idyllic beaches, dip your feet in pretty rivers, and sample wares from every café, fish and chip shop, and artisanal food boutique en route. The Central Coast offers the perfect scenic drive escape from the Emerald City.
First up, head to the mesmerising Kariong Brook Falls in the Brisbane Waters National Park (850 kilometres from actual Brisbane city, btw). A sense of serenity is the norm here, as the gushing falls (especially after rain), bird song, and native bush rustling in the breeze soothe the soul. Reach Kariong Brook Falls from Staples Lookout, after checking out the incredible national park and Central Coast views.
Know what follows a good waterfall hike? A beach swim! Drive only 15 minutes to picturesque Ettalong Beach. If you're keen for more than a rest and a swim, the calm waterways make for epic kayak, paddleboard, fishing or boating fun!
The scenic drive continues, this time through Bouddhi National Park. Start at Maitland Bay Beach and the Gerrin Point Lookout, then take the Scenic Road – one of the best on the Central Coast – navigating an hour or so (unless you add stops) to the Entrance.
The Entrance is so-called for sitting at the narrow channel that splits the mainland and connects Tuggerah Lake to the ocean. Watch for the entertaining pelicans here; their breeding island is just offshore. The Waterfront is a good spot if you're looking to refuel with caffeine, cake, or something more substantial. For a leg stretch, the 700-metre Tuggerah Lake Walking Trail is popular.
For the final stretch of drive on your Central Coast day out, take the 15-minute drive to Budgewoi across the narrow land that acts like a barrier to Tuggerah Lake. It almost feels like you're driving on water!
Grab a final swim and perhaps some fish and chips at the stunning Budgewoi Beach before calling it a day. And what a day it will have been!
Budgewoi Holiday Park has lakeside cabins and campervan spots if you're keen to stay out of Sydney even longer. If you want to stay away for even longer again, choose our Sydney to Byron Bay road trip!
Wondering where the Grand Pacific Drive tips are? It's such a legendary coastal route, we made a dedicated 3-day Jervis Bay itinerary for inspo! You're welcome.
If a scenic getaway from the boss, the bills, and the boredom sounds like a legit great idea, we've got campervans and rental cars ready to whisk you away from it all! Click BOOK NOW or call our crew on 1800 150 850.