Campervan hire tips - choosing a campervan
They might all be painted the same unmistakable shades of green and purple, but our different campervan models are all unique. If you're considering hiring a JUCY campervan but aren't sure what the differences are, or which model would suit you, check out our handy guide to choosing a campervan.
What are the main differences between campervans?
Here's a rundown of the key differences between the campervans.
| | | | | | | |
| --- | --- | --- | --- | --- | --- | --- |
| | Seats | Sleeps | Self-contained | Child seats | Fuel type | Automatic |
| Condo | 5 | 4 | ✔️ | ✔️ | Petrol | ✔️ |
| Chaser | 3 | 4 | ✔️ | ❌ | Petrol | ✔️ |
| Cabana | 2 | 2 | ❌ | ❌ | Petrol | ✔️ |
Best of: which campervan suits you?
Our campervans can suit different travellers at different stages of their lives. Whether you're a freshly graduated student on a budget, or new parents looking to introduce your kids to the camping lifestyle, you can find your perfect match in our fleet. To help you pick out the right vehicle, here are our 'Best Of' nominations.
Knowing which campervans are better for what could help you when it comes to choosing your rental.
Best for freedom camping
The Condo and Chaser are all fully self-contained, so they all win on the freedom camping front!
When it comes to cooking, the Condo and Chaser are the most comfortable, as you can cook inside if it's cold, wet, or dark (just open one of the doors for ventilation). This can make freedom camping much more comfortable.
Best for kids
The Condo is ideal for parents travelling with a baby or small children. This is our only campervan that can take a baby capsule, booster seat, or child seat, with space for two children. The Condo also has two double beds, so there is room for four people.
Best for solo travellers
For a solo traveller looking to hire a campervan, we recommend the Cabana. It's a great size for one person, and it's usually the easiest on the pocket (campervan hire can get expensive if you don't have a buddy to split the cost with). Plus, you'll need to stay in campgrounds because it's not self-contained, which is the perfect opportunity to meet other travellers!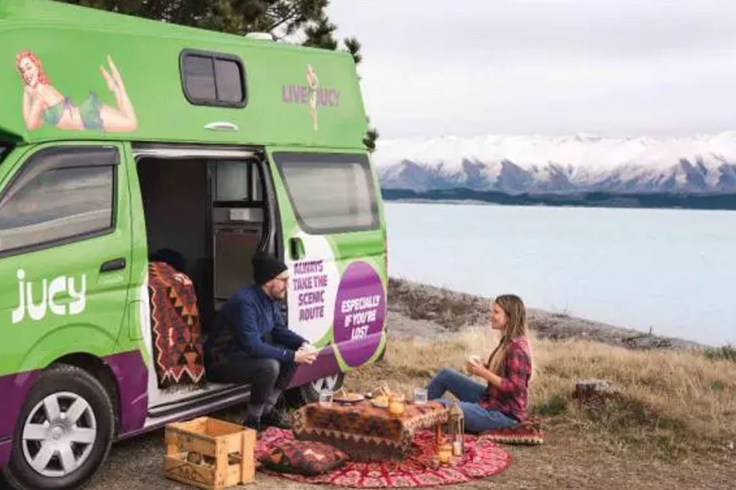 Best for couples
Although all of our campervans are ideal for two people travelling together, the Chaser is our top pick for couples. You have a shower and toilet for added privacy, with plenty of room for storage and sleeping. You even have two beds to choose from!
Best for groups
The Condo has the most seatbelts - you can safely seat five people inside. It only sleeps four though, so you'll need to take a tent as well!
The Condo has a more spacious kitchen and table area inside the vehicle.
There are only three seatbelts in a Chaser, so it's only suitable for small groups.
Best for budget travellers
Each campervan has its own cost-saving benefits. When hiring a campervan you need to take into account the cost of campgrounds and fuel on top of the rental price.
Cabana

is the cheapest campervan to hire. However, as it is not self-contained you'll need to pay extra for campgrounds.
Our fully self-contained campervans (Condo and

Chaser) can save you money as you can freedom camp in areas where it's legal.
All of our campervans come with a fully equipped kitchen. You can save money by buying groceries in the supermarket and keeping them in the fridge and kitchen storage areas, plus you can whip up amazing meals on the gas hobs. With a sink and a tap, you can do all your own dishes! The kitchen will save you a lot of money, like dining in restaurants in New Zealand is an expensive activity.
Best for long-term travel
Any of our campers will serve you well on a jaunt around New Zealand. For trips of two weeks or more though, we recommend the Condo or Chaser vans. The Condo has more bench space in the kitchen, which is nice if you'll be making lots of meals. The Chaser has a luxurious shower and toilet onboard, which can make longer trips more comfortable. Both have lots of space inside, with plenty of storage space and high ceilings. You can decorate the inside of your campervan so it feels more like home. You might be surprised how cosy they are!
Best for short trips
All of them! You can't go wrong with any of our campervans. If you're heading off for a week surfing, just need to get out of the city for a weekend, or want to head to a festival for a few days, any of our campers will do the trick.
What's it like to travel New Zealand in a JUCY campervan?
It's awesome - but don't just take our word for it, check out this video!
If you have any more questions about our campervans, email us on [email protected] or freephone 0800 399 736.

Ready to jump right in?
BOOK ONLINE

today!