Save 15% Off Your Australian Campervan Rental!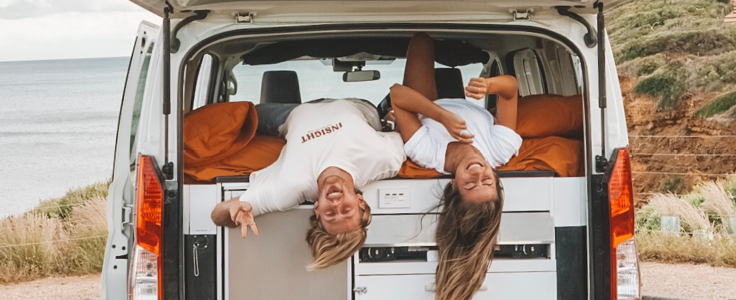 Come & Say G'Day & Get 15% Off Your Australian Campervan Holiday!
Been dreaming of an Aussie road trip? Well, now's your chance! The borders are open, and we've got a sweet 15% off your JUCY campervan hire!
We're stoked to say G'day again and welcome you to Australia after two years of border closures. The koalas have been missing their photo ops, the national parks missing visitors declaring "wow", and we've been massively missing handing over the keys to our customers from all over the world for the adventure of a lifetime!
Like any grand reopening, we wanted to celebrate in style - and, to us, that means giving you a fat discount! Yup, travel in any JUCY campervan for 10 days or more from mid-May to the 30th of November 2022, and you'll get 15% off your booking. Woo hoo! Simply BOOK your JUCY rental NOW before the 30th of June 2022.
Why Travel Australia by Campervan?
Do you like freedom? And seeing incredible sights on your own terms, not on some tight schedule? And spending more on cool attractions and once-in-a-lifetime experiences than your travel costs? Then a campervan is for you!
Driving across Australia with your bed and kitchen gives you the ultimate freedom to travel where you like when you like – and in style! Match a JUCY camper to your travel style: choose from our budget campers, 2-berth vans, 4-berth custom campervans, and our fully self-contained vehicles. Your trip, your way, remember?
I'M IN! SO, How Do I Get That 15% Discount?
So glad you asked! Here are the promotion deets:
BOOK YOUR AUSTRALIAN HOLIDAY NOW!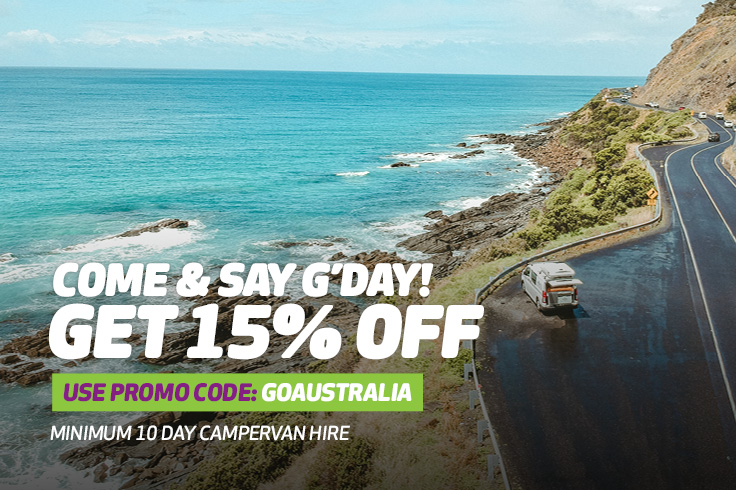 Where to Go in Your JUCY Campervan?
Australia is a vast country, and it takes years to visit every gorgeous beach, quirky attraction, lush national park, and try every thrilling activity.
With so much to see and do, you can choose your destinations based on your Australian travel wish list, trip style, and budget. Want to take an iconic drive along the Pacific Highway from Brisbane to Sydney? Or to take the road less travelled into outback Queensland? Or maybe take in the serenity of East Victoria? It's all possible when you hire a JUCY campervan. We've even got loads of road trip inspiration and itineraries for your planning pleasure.
Why Else Should I Road Trip with JUCY?
Aside from this awesome 15% off campervan rental deal, we also offer a monthly competition for you to WIN a full refund from your trip. How? Simple tag us #JUCYMOMENTS in your road trip pics or upload a video from your JUCY roadie. And we do this Every. Single. Month! Discover more here.
If you're still a bit pandemic paranoid (understandable), then you'll be keen to hear that we have a flexible cancellation policy and COVID safe practices to ensure you feel confident and secure in booking with us. Check out more on that here.

Pack your passport, your thongs, your budgie smugglers, and come and say "g'day mate" on an epic Australian JUCY campervan road trip. Ready to book your discounted campervan?


BOOK NOW or call 1800 150 850 now.

TERMS & CONDITIONS
Booking promo code GOAUSTRALIA must be applied when making your booking

A 10-day minimum hire period applies.

Booking and travel must be within specified deal dates above
This promo is for new bookings only and must be added during the booking process and cannot be added to existing bookings.
Offer may not be used in conjunction with any other JUCY offers.
Offer does not apply to the excess reduction options and extras.
All other standard JUCY terms and conditions apply.