The Chaser Campervan
Other campervan options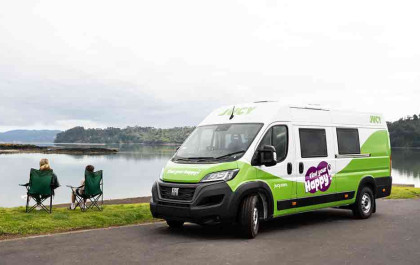 Self-contained with shower and toilet. Sleeps 4, well-equipped kitchen.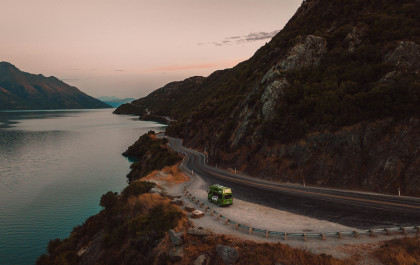 A legend on the NZ roads, our self-contained Condo sleeps 4, with a kitchen and toilet.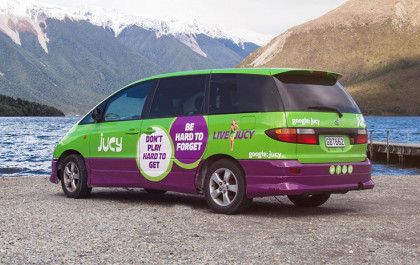 Looking for a zippy, economical campervan? Our Crib comes with a kitchen and sleeps 2.
Explore New Zealand in the 3-berth JUCY Chaser campervan
Three's a company in our custom-converted JUCY Chaser campervan! Whether you're bringing your besties or your plus one's plus one, there's room for you all in this 3-berth campervan. It's perfect for the quintessential Kiwi road trip!
Not only is our JUCY Chaser decked out with two double beds, it's also got a toilet and shower. This is a great win for New Zealand travelling. Why? Because when your vehicle is fully self-contained, freedom camping is on offer. Less money on campgrounds means more dosh to spend on cool Kiwi activities, like bungy jumping, white-water rafting, and dolphin watching! The Chaser is the only campervan on our fleet with this compact bathroom set-up. Did you know you get access to travel partner deals with JUCY once you've booked?
Whether you love whipping up a fancy feast or prefer to grab a takeaway, the comfortable interior table means you dine in comfort, rain or shine. Our custom-designed Chaser kitchen has got everything you need to dine in style. For inspiration, consider this Cosy Campsite Paella, followed by a delicious Wild Berry Dough Dessert.
While there are two double beds, there are only three seatbelts. This means one lucky traveller gets to starfish across one whole bed! If you're thinking your mini-me could come, it depends on how mini they are. If they need a child restraint, check out our Condo as the Chaser isn't equipped for child seats.
Oh, and if you're worried about driving a campervan, zero stress! Our Chaser is an automatic vehicle, so nice and easy to navigate. As we super-spruce up a Toyota Hiace, it's not one of those giant RVs that you can't park anywhere near a town centre. Everything you need in one tidy package!
A Drive on the Wild Side: Where to Travel in Your JUCY Chaser
You want to go on a road trip; we know road trips. Could this be the greatest match since Whittaker's made that L&P chocolate? (Well, we thought it was heavenly.)
Like any great partnership, we continue different things. You bring the thirst for adventure; we'll bring the campers and road trip know-how! This means destination highlights, foodie tips, ideas for great hikes and more. While you can find all our inspirational campervan blogs here, below, we give you the skinny on the ones we think most compatible with our JUCY Chaser campervan hire.
Here's what we got:
It's All Well and Good: Five Wellness Day Trips Add-ons from Auckland
Did anyone else notice how self-care went from being a buzzword touted by Gwenyth Paltrow to an actual necessity in our lives (thanks, COVID)? Road trips already do a majestic job reducing crummy stress levels and helping you forget about work to-do lists and life admin tasks. But if you want to go one deeper, then you'll want to read our epic wellness-inspired road trip add-ons for trips starting at our Auckland branch.
When we say wellness, we're not saying to pack the celery for juicing or asking you to commit to hours of yogic headstands. Nope. In fact, we don't mention either of those (but you do you if they sound good). Instead, we show you how to weave wellness into the things already on offer to you, like epic hikes across Waiheke, Rotorua, and Cape Reinga. Or reminding you that self-care comes in the form of play, so why not skydive Taupō or go parasailing in the Bay of Islands? Then there are wineries, and mud pools, and kayaking and yummy treats! It's the perfect way to get Zen!
Surf's Up: Three South Island Surf Itineraries
Whether you're a surf pro or a surfing newbie, adding in some surf stops to your JUCY campervan roadie is a great way to amplify your Kiwi travel experiences. In this epic surfing road trip blog, we share three itineraries that get you amongst the best surf action around the South Island. All three itineraries start from our Christchurch Airport branch, but from there, the road forks into three awesome ideas.
How does a 4-day northbound surf roadie sound? Along with some of Christchurch's best breaks, you'll also stop by an almost empty Hawaiian-sounding beach (know which one?). Plus, the legendary rocky reef points of Kaikoura await on this itinerary.
Maybe you've always hankered after a hang ten in the Catlins' famous PK Bay break? Or feel ready to bust some advance moves in Colac or Beaton? We've got a 4-day itinerary to squeeze it all in.
Alternatively, cross the South Island to experience the thrilling West Coast beach breaks. Nine Mile Beach and Farewell Spit will not disappoint, along with the other non-surfing travel opportunities this way.
Surf roadies are a totally rad way to experience NZ!
Yasss Queen: One Week Around Queenstown
Been feeling the draw to Queenstown? Whether it's your first time or your fiftieth, the Adventure Capital of the World always surprises! With so much to do and see (and jump off), having a handy 1-week Queenstown and surrounds itinerary is the equivalent of being told your crypto is about to surge just before you miss out. Too valuable to not take action!
We share Queenstown's best hills to climb, the best vantage points to gasp at, the yummiest food to eat (no surprises, Ferg Burger is on there!). From there, you'll drive the world's most scenic route (in our humble opinion) to Milford Sound, where your JUCY Cruise awaits. Rudyard Kipling didn't call it the "8th wonder of the world" for nothing! Round out your travels with a spot of history in Arrowtown and a spot of OMG-is-this-real-life in Wanaka!
Warning: you may never want to stop road tripping after a week living the #vanlife way down this way! Read our Queenstown itinerary here.
Aotearoa South to North
Feeling the need for a mega whoa moment in your life? Or many of them? Like at least three weeks of them? Then oh-wow, do we have the itinerary for you: travel New Zealand South to North in this fun-filled, adventure-addled, mind-blowing mega roadie! And, as we permit one-way trips (fee applies), it's not necessary to backtrack unless you want to. Pick-up your campervan hire at our Queenstown Airport branch and drop your JUCY Chaser back at our Auckland branch (or vice versa).
Obvs if you're starting in Queenstown, you'll want to check out the gems around there: Queenstown itself, Wanaka, Glenorchy, and Milford Sound. Then take one of the most scenic drives across the country, so you can experience the best Christchurch, Kaikoura, and - a JUCY fave –Nelson has to offer.
From there, hop aboard the Interislander to explore the capital before hitting up some stellar wine regions. Onwards and upwards to Taupō, Rotorua, and the Mount. By the time you reach Auckland, you'll be filled with all the treasures you've experienced, seen, and tasted from one of the most desirable travel routes in Aotearoa!
12 Awesome North Island Campgrounds
Maybe you already know the destinations you want to visit in our awesome green-and-purple 3-berth campervan. Perhaps you're tying in your roadie vacay with another occasion; a wedding, a 60th, an astrological phenomenon. That doesn't mean we can't be of assistance here. We've picked our 12 favourite North Island campgrounds to share for your planning pleasure.
If you're looking for a beach break, we got you, boo. Want to take your plus one on the kind of adventure rom coms are written about? We've got just the place! Angling to keep both the kids and the grown-ups happy? A tall order, but our Coromandel pick has lots on offer for all ages.
Oh, and if you're sad about leaving Fido at home, don't be! Not only do we have an excellent campground pick where your dog is more than welcome, but we permit dogs to travel in a JUCY, too! You'll need to let us know in advance, but how cool is that? Woofing fabulous, we think!
12 Best South Island Campgrounds
We obvs couldn't leave South Island travellers hanging when it comes to campgrounds (that would be just rude, no?). So, we'll tempt, and we'll tease with our top pick of the best South Island campgrounds for your Kiwi road trip adventure. There are even free campsites suggestions – great if you're on a budget!
If there's one place in the country that stargazing is a #NZmustdo, it's in the Mackenzie Basin. If your JUCY Chaser, you can freedom camp here. Sweet as! Camping under a starlit sky sounds magical, no?
We also share our favourite hikes with nearby campground recommendations, as well as family-friendly, wildlife-friendly, surf-friendly, and a pawsome dog-friendly option. That's us though – so, so friendly!
Whatever your vibe, we've got a campground to match!
Got you feeling a road trip might be in order? Yeah!! We've love to show you what it's like to Live JUCY! To book your campervan, call us on 0800 399 736 or complete the booking form above.
Book The Chaser Campervan now