We've Got 9 Reasons Why Camper Life is Awesome
Not sure if campervan travel is for you? We've got 9 reasons why campervan travel is the best way to experience Australia, including the freedom, savings, and new best friends you'll make!
If you're planning an adventure around Australia and considering campervan life, you may have an inkling of why it might be a good time. But do you really know how many ways it can rock your world? We do (we might be slightly biased) and we've got the 9 best things about campervan travelling to show you why it's the ultimate way to explore Australia!
1) Your Home on Wheels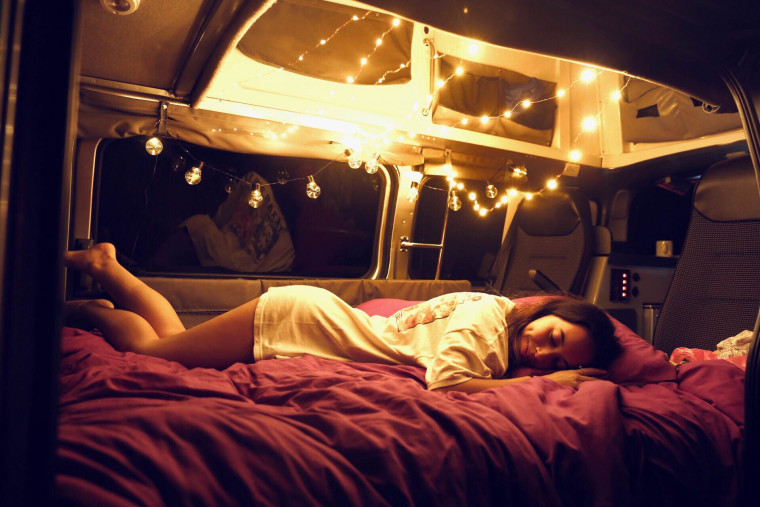 You know how real estate websites describe a place as 'tidy', 'compact' or 'cosy'. For an apartment or home, that means cramped or minuscule. For your campervan, it means actually cosy – the place to nestle into a night after a brilliant day's exploring. The fact that your home and your transport are all-in-one ensures you drive with everything you need (and nothing you don't) - and all at an affordable price, too. Woohoo!
We love tents. We do. We love them packed up in the garage at home gathering dust because really, (again, slight bias), we love campervans more. Why wouldn't you love a mattress, full bedding, security, and zero risk of finding your home whisked away in a strong wind? Sleeping in comfort FTW!
Know what also happens at home? You don't keep shoving your belongings into a 20-litre bag every day! When you're in a campervan, while being organised is good (trust us), you don't need to keep packing every single day! And – bonus - you can also pack a bit more! Check out our handy packing list if you're wondering what to take on your JUCY camper roadie.
2) The Freedom to Take a Spontaneous Right Turn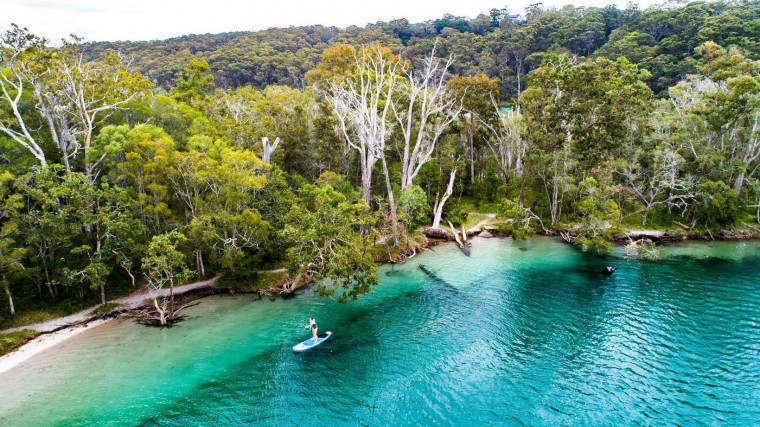 Adventures across Australia are fun, no denying it. Wanna know what can be more fun? Off-the-beaten-track roadies that open your eyes, expand your mind, and reveal something cool, unusual, weird or wacky in an unexpected place.
When you decide to go campervan travelling, you have everything - including the kitchen sink – with you, you are beholden to no one! No wasting half a day while a hotel holds you to their 2pm check-in time. No stressing if you're held up in traffic or by a kangaroo laying in your path.
And if you arrive at a destination and realise it's got way more to do than you'd planned for? Stay another day! Or maybe you've been seduced by the marketing blurb of a tiny town only to realise you can see the sights in under an hour? If that's the case, you have all the freedom to change your plans and head off early! The freedom you get with campervan travel is unrivalled!
3) See more of Australia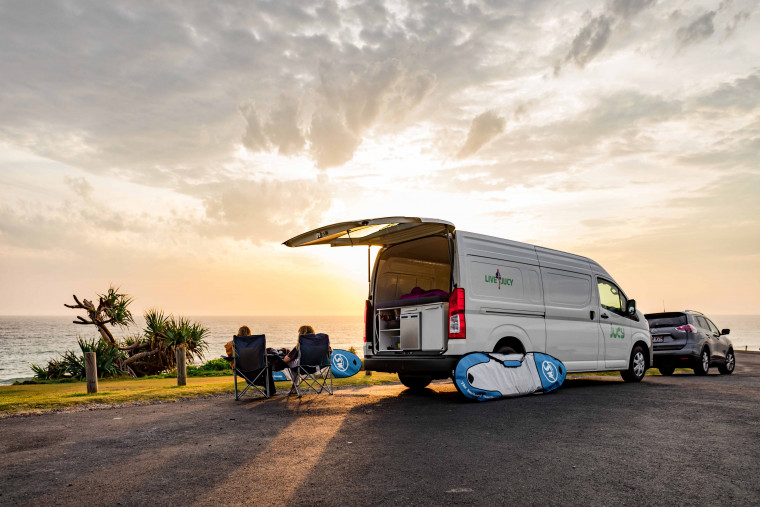 When you travel by campervan, you open your eyes to more of Australia. Whether it's driving a gorgeous mountain road, exploring an Outback gem or beach-hopping the East Coast, you see far more driving versus flying. In fact, have you noticed that the routes to most airports in Australia are often the ugliest? And it's usually your first impression of a place!
Whether your journey is a long weekend out of Sydney to Jervis Bay, a lesser-known roadie in South Australia, or a mammoth road trip from Cairns to Sydney, doing it 100% your way ensures you're left with incredible memories. Ones that you'll bore your friends with for decades. You become 'that' friend - "When I was campervanning around Australia..." - and you won't even be mad about it!
Did you know Australia has one most extensive campground and caravan park networks in the world? And so many of them have views better than any accommodation that's remotely close to your budget. For instance, the Gold Coast has nine caravan parks along its coastline with beach access and proximity to attractions - and all for a fraction of any of the Goldie's hotel providers. It's a great perk about campervan travelling!
4) The Savings, Baby!
Yes, gas prices are fluctuating right now, but there are plenty of savings compared to other types of travel. In fact, campervan hire is a no-brainer when it comes to budget travel. Think about it, while you can't split your airfare cost with your bestie, your plus one, or your mum, you can share the costs of your campervan trip, from the petrol to the food to campground fees.
Campsite savings are legit; they are cheaper than hotels, motels, Airbnb, and most backpackers. And, you can grab the unpowered campsites, saving you money over the powered ones (used for big RVs).
Want to know what's cheaper than a campsite? Free camping! In Australia, there are places across the country where, if you have a self-contained campervan, you can stay free. More on that below.
Oh, btw, you don't need to fork out for a new driver's license to drive any JUCY camper – your regular license is good to go for drivers 18 and over. And also, no additional fees for 18-21 drivers, another great JUCY saving!
5) Sleep Where You Want When You Want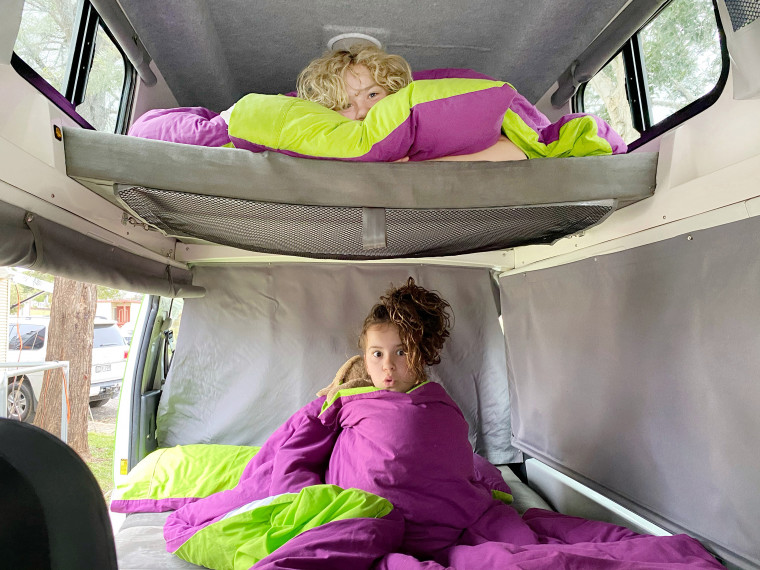 Okay, so maybe not sleep everywhere you want, when you want, but when you rent a self-contained camper (book a JUCY Compass, Condo or Coaster), you have a lot more freedom than the accommodation-bound traveller, thanks to free camping.
Free camping is the opportunity to park your JUCY campervan in designated campgrounds without cost. At places that are not official campgrounds or holiday parks. It's legit, and it helps happy campers feel freer - and it saves cash leaving you more to spend on cool Aussie activities!
We've got the full free camping low-down here if you wanna know more, as well as this equally useful guide to being a responsible campervanner.
6) All the travel perks, none of the faff
We're not fans of airport check-ins. The whole getting there 1-2 hours early, waiting at different points across an airport, the chance of delays, the whole forgetting you packed your fave fragrance just as it's going through the scanner (and soon into a giant bin) - not if we can help it!
At JUCY, we make it a priority to get you on the road as swiftly as possible. Whether it's through our free airport shuttle (branch hours only), speedy vehicle show-throughs (with backup video content), or using our online check-in feature, we want you to get exploring Australia ASAP. Our online check-in sorts most of your paperwork in advance, so the boring bit is not the start of your JUCY roadie (hurrah!).
You know the other painful bit of travel? Noise! There's always one rustling backpacker at 4am. Or one hotel guest who's blasting the TV at 1am. Not in a camper. Unless it's your bestie, in which case you're either getting up with them for a sunrise event or you can curse at them in complete familiarity for waking you up so rudely.
What you do wake up to, instead, is a fresh perspective on Australia. Many places to camp are in absolutely stunning locations, and campervans give you the best access to them. Whether it's a kangaroo around your campground at sunrise at Deep Creek Conservation Park or a million-dollar ocean view at Mission Beach, Australia's brilliant scenery sure beats the bland beige walls of a run-down m/hotel.
7) Healthy Eating (When You Feel Like It)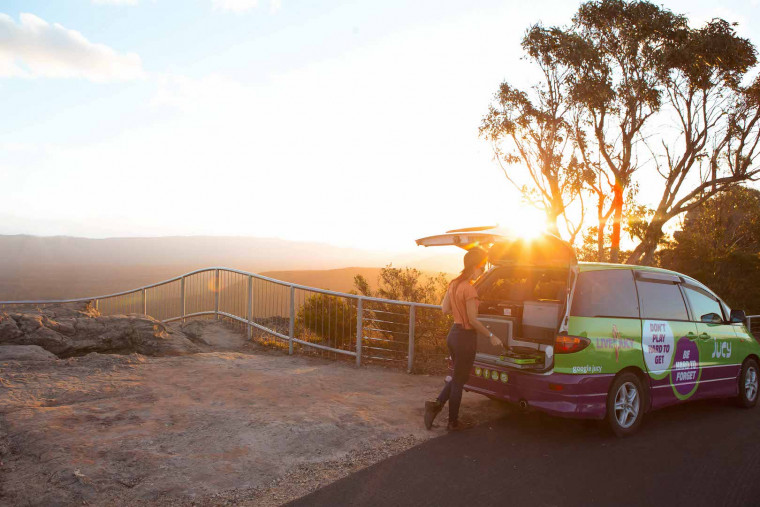 We're not saying your Aussie campervan adventure should all be kale salads and lentil pasta, but the fact that you CAN eat healthy while you're on a (sometimes long) road trip, can be a huge bonus: from a health perspective and a wallet one.
Yes, to stopping for a delicious pie from Harry's in Sydney. Most certainly don't miss out on a bug roll from Rick Shores in Burleigh. And you'd be a fool to skip the doughnuts at the Famous Berry Doughnut Van in Berry!
But also take advantage of the fridge in every JUCY camper and stock it with fresh produce from the local farmers' markets and independent stores to keep yourself healthy on the road. Each kitchen has a sink, fridge, utensils, pans, and dinnerware – everything you need to make a home-on-wheels cooked meal!
BTW, if you tend to travel with your tastebuds, you might enjoy this Sydney to Melbourne Foodie itinerary.
8) JUCY Campers Are Friend Magnets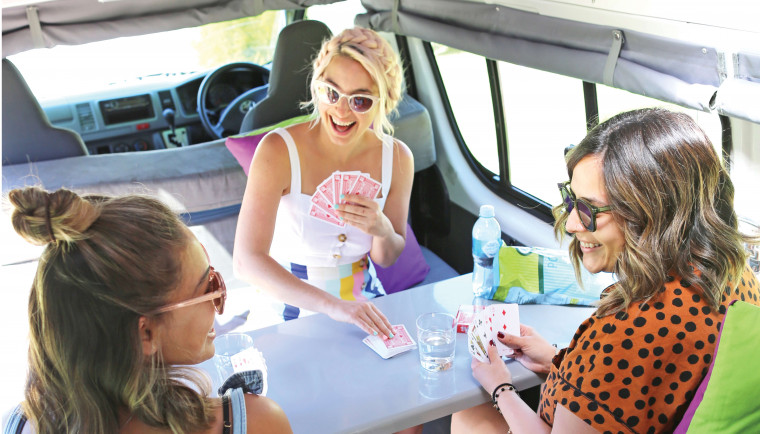 If you have a dog, you know that people want to stop and pet your pooch frequently. Owning a dog is a good way to meet people, make friends, and even act like a low-key matchmaking service. JUCY is kind of like your green and purple pooch: a magnet for conversation and potential friendships (no comment re: dating!).
How do we know this? Because over the past 20 years, an organic trend has taken off, and we've always been stoked about it! We call it the JUCY Wave – it's when two passing JUCY campervans give each other a mutual hand wave, kind of like recognition of one like-minded traveller to another.
This affinity gets amplified at a campground when JUCY travellers seem to naturally gravitate towards each other, either parking close, or hanging out by a campfire at night. We've heard countless tales of new friends, shared meals, campfire games, and even free wine! While you may not always want to meet new peeps, it's nice to know you can, right?
9) The Emotional Feels
And by emotional feels, we mean the ways campervan travel provides opportunities for gorgeous, glorious photos and selfies that capture you living the #vanlife (and #bestlife) to make everyone else feel FOMO-level feels! Jokes!
For reals, though, we think the camper life gives your travel pics an advantage (okay, that bias again, we'll stop now!). Check out our Insta for inspiration on the kind of unreal photos and videos you can create.
You could be rewarded for those feels, btw! If you tag us #JUCYMoments, you could WIN a 100% refund of your camper trip! We give a refund every month! Find out more here.
So, there you have it, nine epic reasons to click BOOK NOW and say yes to campervan living as you explore Australia. You can also give our camper-lovin' crew a call on 1800 150 850 for questions or to book.