On Set: Your Road Trip Guide to NZ's Most Famous Film & TV Locations
Keen to experience the New Zealand you've seen on the big screen? Read our handy guide to NZ's most iconic filming locations.
New Zealand has long been a popular destination for film movies, TV shows, and even advertisements. Our stunning scenery is a huge part of the appeal, along with our friendly locals, excellent production companies, and the lower costs to film.
Seeing New Zealand on the big (or small) screen is often how international visitors bump Aotearoa up their bucket list. As a Kiwi-owned company on a mission to help people find their happy touring NZ, we're a little biased on how New Zealand's incredible landscapes make everything jaw-droppingly great. And it seems we're not alone: all those big-name movie directors think so, too! Choosing our small little corner of the world for their big-bucks blockbuster films, Netflix shows, and TV series. We're flattered, of course, but we're not surprised.
If you took inspiration from New Zealand's mind-blowing scenery from a show or film, read on! We're sharing the best movie locations across the country. Trust us, when you get to the destination, it'll feel like you stepped inside the cinema, TV, or laptop screen and came out the other side in some other (often fantasy) world!
Lord of the Rings & Hobbiton Trilogy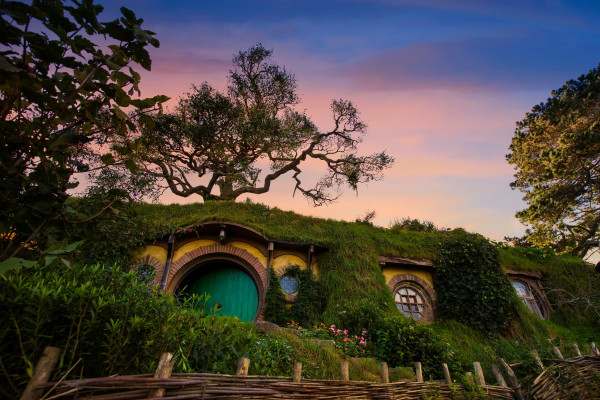 "I cherished my time filming 'Lord of the Rings' in New Zealand - it's the most beautiful, magical place with great hospitality. I love places that are completely cut off from everything - where I can relax and enjoy the simplicity of nature." - Orlando Bloom (Legolas)
Of course, we're going to lead with the most famous movie franchise to ever be filmed in New Zealand. The Lord of the Rings and Hobbiton movies are frequently cited as how our international visitors got their first taste of our epic mountains, rivers, forests, and lakes (and Hobbit homes!).
Based on your feedback, we were recently inspired to pool our LOTR movie intel into two jam-packed blogs, so you could make a full Lord of the Rings road trip like a true fan.
Check out our North Island Lord of the Rings itinerary here and our South Island companion here. For the ultimate roadie, combine the two for a mega LOTR trip - you know you want to!
The Last Samurai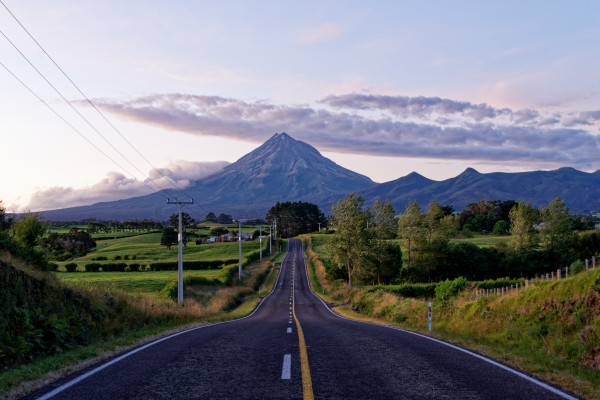 "There is indeed something spiritual in this place." - The Last Samurai
The 2004 blockbuster movie, The Last Samurai, starring Tom Cruise, Billy Connolly, and Ken Watanabe, was filmed in New Zealand. On the West Coast of the North Island, Taranaki transformed into the 1860s hillside rural village of Uruti Valley for the film. The conical peak of Mount Taranaki was the perfect stunt double for Japan's Mount Fuji.
To explore The Last Samurai's Uruti Valley, you'll want to be in and around Mt Taranaki itself (AKA Mount Fuji). As New Zealand's most climbed mountain, Taranaki Maunga offers over 300 kilometres of hiking tracks, including the strenuous all-day hike to the summit and the popular Pouākai Crossing day hike. In winter, skiing is a hit here, too.
Remember the Imperial Army Parade area in the movie where they marched to battle? Recreate the scene at Pukekura Park in New Plymouth. Expect no battles (unless it's for a car park on a sunny Sunday); instead, this is a serene 52-hectare park with fun leisure activities on offer. The park's natural amphitheatre area, called the Bowl of Brooklands, frequently hosts events and concerts, including the world-renowned WOMAD festival. Find out more about WOMAD in our summer festival guide. Another battle scene to recreate in a selfie is at Lake Mangamahoe.
Port Taranaki was the host for the Japanese fishing village that was burnt down during the film. While it's no longer there (well, duh, it burnt to embers), you can see the filming location from the port. While there, grab a flat white, take a boat trip or walk, run or bike part of the Coastal Trail. It's a vibe!
Feeling inspired? Tom Cruise and Billy Connolly were! While in Taranaki, Tom (yeah, we're on first-name terms now) took to the surf and horse riding. Our fave Scottish comedian, Billy Connolly, enjoyed fishing. Both allowed NZ's stunning scenery to rekindle old passions.
Explore Taranaki from our Auckland branch following our comprehensive 5-day West Coast Road Trip itinerary.
Mission Impossible: Fallout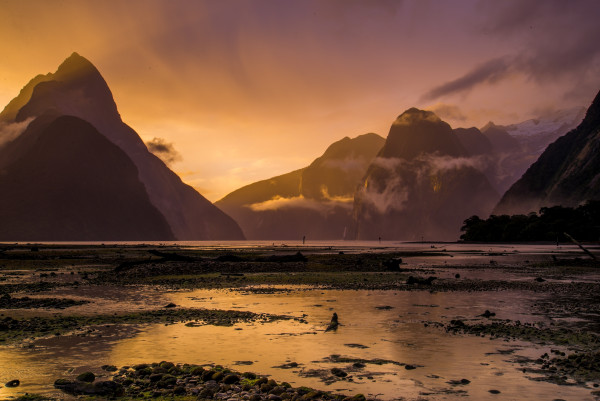 "New Zealand is earth at its most fantastic in terms of the scenery and natural beauty. You get a very different vibe." - Simon Pegg (Benji Dunn)
Tom Cruise must really love New Zealand (rumours are he's looking for a pad to call his own), as he also filmed the $791-million-grossing Mission Impossible: Fallout here, too. Well, some scenes, anyway.
Spending six weeks in the South Island is a dream for any adventure lover, but doing it filming helicopter sequences over Queenstown and the "8th wonder of the world" Milford Sound is the stuff of fables! Remember Ethan Hunt (Tom Cruise) dangling from that chopper? And then going on a daring mountain-dodging helicopter chase? All filmed in New Zealand!
Want to soar over Milford Sound like Tom (minus the precarious hanging)? JUCY travellers get $50 off their first Travello adventure, and they've got an exciting fly-cruise-fly tour out of Queenstown!
BTW, Alien: Covenant and X-Men Origins: Wolverine also shot some scenes at our gorgeous Milford Sound. No matter how you see it, Milford is definitely a New Zealand's must-see movie location!
For Mission Impossible, Christopher Nolan also directed scenes of a Kashmiri village in Rees Valley, an hour out of Queenstown. The valley is famous for its 5-day Rees and Dart track and for fly-fishing opportunities.
Check out more about Queenstown and Milford Sound in our Queenstown Day Trips blog.
The Last Samurai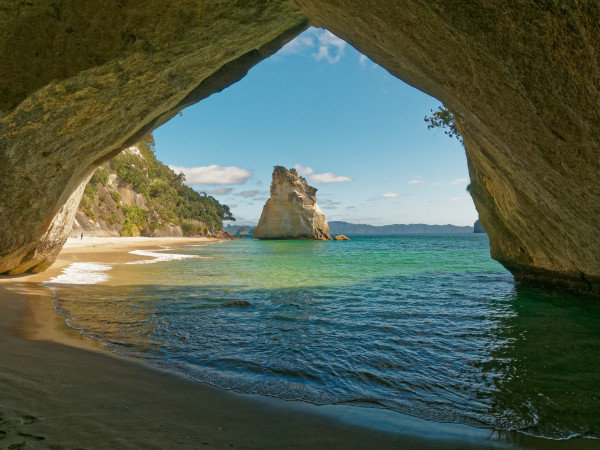 "In many ways, New Zealand is a fairytale country with the kind of locations that make your jaw drop."- Mark Johnson, Producer, Chronicles of Narnia
If Narnia captured your imagination as a child, you can bring your childhood fantasies to life to recreate moments from the 2005 Chronicles of Narnia: The Lion, the Witch, and the Wardrobe movie! Only instead of getting into a wardrobe to get there, you'll travel in our epic custom-designed JUCY campervans! Woop!
The great thing about travelling to some of the Chronicles of Narnia locations is that it's across the whole country. That means you have a valid excuse for *another* road trip and asking the boss for more annual leave! Sweet as!
Cathedral Cove in the Coromandel Peninsula is around a 3-hour drive from our JUCY Auckland branch, giving you easy access to the scenes where the Pevensie kids first went into Narnia. As a location stand-in for the ruins of the cascading falls and canyon of Cair Paravel, it brought the drama, for real. For you, it'll bring adventure and some romance, if you're keen. Check out the first two days of our Romantic Campervan itinerary to see what we mean.
Venturing south, head to Elephant Rocks near Oamaru in the Waitaki District. Once transformed into Aslan's camp, the weather-worn rocks added a sense of foreboding to the scene where Aslan helped the Pevensie kids work on their combat skills. While you're here, take advantage of Oamaru's main claims to fame: as the steampunk capital of the world and for its blue penguin colony!
The dramatic valleys, peaks, and rivers of the South Island obviously inspire directors from across the world! For the Chronicles of Narnia, the Southern Alps were the filming location for the grassy slopes of Flock Hill and that climatic battle between good and evil.
Flock Hill is only a 90-minute drive from our Christchurch Airport branch on the stunning Arthur's Pass Highway. Flock Hill has a bit of a rep for thrill-seekers: choose to abseil, rock climb, hike or go canyoning when you're done revisiting those Narnia movie scenes. In winter, five small ski fields surprise and delight around Flock Hill.
King Kong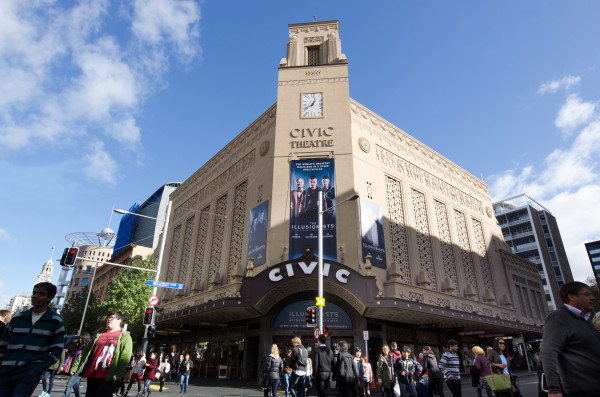 "New Zealand is not a small country, but a large village." - Sir Peter Jackson, King Kong Director
Could King Kong really take place outside of New York? Well, yep, because it did! The entirety of the 2005 Peter Jackson King Kong movie was shot in his home country of New Zealand, mainly around the capital, Wellington! This means even more opportunities for location-spotting on your Kiwi car or campervan road trip. Yay.
Of course, you'll remember the long-forgotten, mystical Skull Island scene during King Kong, right - so much of the action takes place there! Well, it was filmed at Lyall Bay, a popular Wellington surf spot, along with Shelly Bay in Massey Regional Park. Only an 8-minute drive apart, experience sun, sand, surf, and spotting scenes across the two bays.
You'll be thankful that Peter Jackson filmed the Venture ship ocean scenes around Kapiti Island, as it gives you an extra excuse to day trip to the island's protected bird sanctuary. While you can take in the craggy coastline when travelling between the North and South Islands on the Interislander ferry, we prefer taking a nature tour or overnight stay at this predator-free wildlife haven. You may even be lucky enough to spot one of the 1200+ little spotted kiwis that call Kapiti Island home.
If you're a die-hard King Kong fan, you may be keen on a side trip for the history of this location. On a vacant lot in Seaview, Lower Hutt, Peter Jackson recreated the Big Apple in all its 1930s glory, including using vintage cars from around NZ.
And finally, if you're in downtown Auckland and are wondering why the Civic Theatre looks familiar, it's because its gorgeous 1929 interior was chosen to replicate the New York theatre in the film. You know, the one where Kong snaps his chains and does a runner. Check out what's on at the Civic as it's one of the premier places in Auckland to catch a show.
Honorary Mentions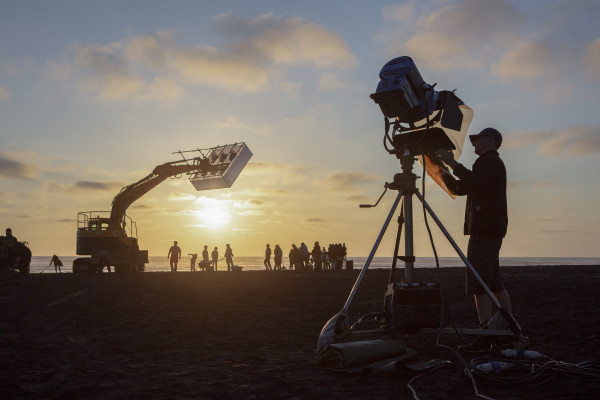 "I insisted on location, because the flora and fauna in New Zealand is not anywhere else in the world." - Eleanor Catton, Kiwi writer, The Luminaries
Some other rad destinations that put Aotearoa on the big screen were filmed in one area. Less road trip inspiration in itself (like the Lord of the Rings), more if-you're-in-the-area stops to add to your JUCY road trip itinerary.
Like the famous beach shots from the 1993 Oscar-winning period drama, The Piano. Those iconic moments with the piano on the beach took place on Karekare Beach, close to Piha in the Waitakere Ranges. Every visitor to Auckland should be heading out to the West Coast beaches anyway – they are utterly gorgeous (and the waves are huge (and fun) for body boarding!) - but why not recreate those famous scenes while you're there?
In the same area of Auckland, you'll find the filming location for season one of Amazon Prime's mystery drama TV show, The Wilds. While we think Te Henga (Bethells Beach) looks like a perfectly good place to be stranded after a fake accident, we're not sure the angsty teens would agree. The legendary Xena: Warrior Princess was also filmed in the Waitaks! Check out our review of Bethalls Beach for a wild day out.
North of Auckland you'll find the small community of Whangara. Māori legend states that this is where Paikea landed after riding a whale to Aotearoa from Hawaiki a thousand years ago. It was also the main filming site for the 2002 Kiwi classic, Whale Rider. While visiting, look out to sea to spot Te Ana o Paikea, an island shaped like a whale and said to be the resting place of Paikea's whale.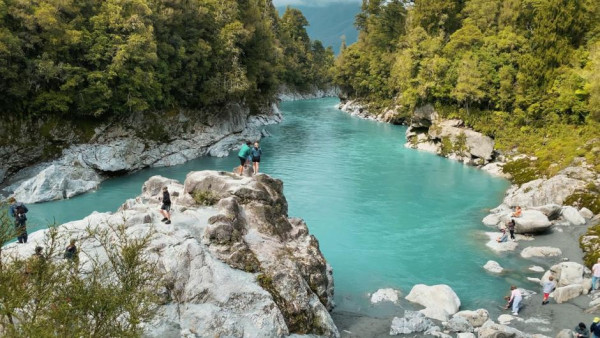 The 6-part BBC Gold Rush drama series, The Luminaries, was shot solely in New Zealand, with 87% of the cast Kiwis. While the book is set around Hokitika and Dunedin, the filming took mainly place in and around Auckland, including – you guessed it – a West Coast Auckland beach! Famous Piha, to be precise! Director, Claire McCarthy claimed too much had changed since the 1860s to shoot at the original towns (unsurprisingly). With the backing of the Ngāti Waeware people, they filmed the river scenes in the Hokitika River, where the spiritually significant greenstone is often found. Read more about road-tripping to Hokitika here.
If you're way down south Invercargill way, head to Oreti Beach, the location of those epic beach races in The World's Fastest Indian. The post office from the movie took place on Invercargill's The Crescent and you can see props from Burt Munro's toolshed at E Hayes and Sons, a local hardware store there.
So, there you have it. A mega guide revealing how to include these iconic movie and TV locations that put New Zealand on the map (and maybe made you want to travel across Aotearoa).
Are you ready for your "lights, camera, action" moments on a road trip around New Zealand? Click BOOK NOW or call our star-studded team on 1800 150 850.