The best New Zealand summer festivals you don't want to miss!
Upgrade your Kiwi summer with a road trip to some of the best music festivals around the country! We share our top picks.
In New Zealand, a good Kiwi summer includes trips to the bach (a Kiwi beach house), fish and chips by the ocean, and a summer festival or two. To help get you geared for an epic summer ahead, we've pulled together our fave Kiwi music festivals to see you live it up in style.
Add a festival to your road trip, or use this list as the perfect excuse to pull your mates together, rent a JUCY car or a campervan, and plan a road trip around these top-tier Kiwi events!
End 2022 Right: December Festivals
You could say goodbye to 2022 with a nice cuppa and a good book, or you can say adios in style with one of these legendary Kiwi music festivals.
With two one-day events close to Auckland and three jaw-droppingly good 3-day festivals across the country, opting for a road trip is the easy part. The hard part? Which one to choose!
Why wait until New Year's Eve to get the party started? Hidden Valley is the perfect appetiser to your NYE main, a one-day festival in gorgeous Matakana.
Say goodbye to festie FOMO; Hidden Valley's single-stage set-up means you and your mates can stick together as you dance to the latest bass-heavy beats. Running from 3pm to 11pm, this is an energetic way to dance off your Christmas pav, and it's only an hour north of Auckland.
Tickets start from $108*.
Want more time on the road? Check out our top 10 North Island places to visit.
Rhythm & Vines - 29 - 31 December
There's no bigger festival to see in the new year than Rhythm and Vines. Running for nearly 20 years, R&V pulls in top-notch international artists, cool-as up-and-comers, and some legendary local Kiwi talent over three party-heavy days.
Perhaps part of Rhythm and Vines' success is its Gisborne location – it's the first place in NZ to see the sunrise, after all. Whatever the magic formula, this is a Kiwi institution you won't want to miss.
R&V is perfect for JUCY campervans with ticket packages that include four nights camping onsite, ensuring you don't miss a minute of the action.
Single-day GA tickets start at $148 and 3-day GA tickets start at $370. Camping packages are from $493 upwards*.
From good to great: add in any of these top 14 places in Gisborne to your R&V roadie!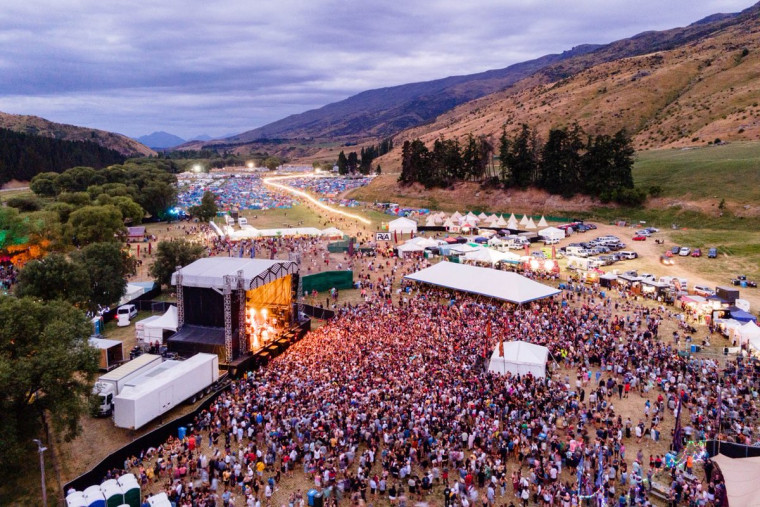 Photo Credit: https://www.remixmagazine.com/
Rhythm & Alps - 29 - 31 December
If you're planning a South Island summer roadie but still want to party with the best, R&V's sister festival, Rhythm and Alps host a 3-day festival in the stunning Cardona Valley in the Southern Alps. It's the South Island's biggest NYE party.
Visiting this alpine paradise is epic in itself; partying there with 10,000 peeps is next level. Four stages dedicated to different music genres give you plenty of choice for the three days of frivolity and fun.
With a dedicated campervan section, life is easy for those living the JUCY #vanlife. Alternatively, travel from nearby Queenstown (40 minutes) or Wanaka (15).
Tickets start from $179 for a single-day pass up $389 for 3-day GA and camping*.
Make a trip of your journey to R&A with our awesome Christchurch to Wanaka via the West Coast itinerary.
Northern Bass - 29 - 31 December
Keen to party harder? Holler in the count to 2023 with a 3-day rager at Northern Bass! As the name suggests, Northern Bass offers a bass-laden line-up in Mangawhai, Northland. Not for the fainthearted, your grandma should stay away from this one.
Tickets are limited with only 2-day tix left, so hurry if this sounds like your kind of NYE party. Campervans are permitted – hurrah!
Go hard at Northern Bass, then recover with one of our 5 wellness day trips outta Auckland.
Highlife NYE - 31 December
If you're a go-hard-or-go-home kind of reveller, Highlife's NYE event could be the event for you. Located in dreamy Matakana, only an hour north of Auckland, throw down your signature dance moves at Ascension Wine Estate.
Featuring a solid line-up of local faves and George FM DJs, this boutique event gives Ibiza vibes with a hint of Kiwiana. As the event is 22+, expect to party with a more stylish crew.
Tickets are around $172 per person. upgrade to VIP from $265*.
Impress your S/O with tickets to Highlife, followed by this romantic roadie!
Kick the year off in style: January Festivals
Let the dust settle from your NYE shenanigans before signing up for some stomping parties for January.
Keep the NYE party going with a road trip to Bay Dreams. A visit to Mount Manganui is always dreamy; add a fun day in the sun at Bay Dreams, and you're onto a winner. Especially as it's at Trustpower Stadium with the magical bay on either side!
Not on the North Island during these dates? Sweet as, Bay Dreams Nelson follows on 5 January. Tickets for both Bay Dreams events start from $169. Add $129 for a VIP upgrade*.
For an even dreamier vacay, take this 5-day woo-worthy road trip from Auckland to the Mount.
Soundsplash - 20 - 22 January
Parting with your mates in Raglan, NZ's idyllic surfing beach sounds like a heavenly way to spend three days, if you ask us!
Soundsplash is the perfect name, too. Listen to the top sounds across four stages at Wainui Reserve, then splash to the tunes at Ngaranui Beach.
Get a camping pass to stay onsite or book a pre-pitched tepee if you're in a JUCY car. Tickets start from $239; add an extra $100 for a camping pass*.
Want other Raglan to-dos? Check out days 1 and 2 of this itinerary.
If you're in Auckland at the end of January, you won't want to miss Laneway, a quirky festival with the coolest vibes. Laneway's new venue at Western Springs means more greenery and more space.
Expect artists that ooze creativity and flair, a crowd that knows that anything goes, and food trucks offering artisanal fuel in just the right way. Laneway gates open on Auckland Anniversary Day (a public holiday) at 11am and close at 10pm. Tickets from $209; VIP from $272*.
Post-festival recovery is key. Do it at one of Auckland's best beaches!
The right kind of woo: February Festivals
Every Kiwi knows there's only one party that really matters every February: Splore!
While many associate February with love, Aucklanders get far more excited about their February sojourn to Splore! This is a VIBE in so many ways, and it's NZ's most talk-about festival.
Bring your best bold, bright, out-there outfits that outside Splore would see you stand out. Inside the Tapapakanga Regional Park grounds, you'll fit right in. The six stages of diverse music at this 3-day boutique festival are almost secondary to the community spirit of the festival. Arrive with your mates, leave with hundreds of new ones.
Plan your Splore roadie by getting your preferred radio station tuned in before you go. Check out who plays what here.
March Madness: March Festivals
As the end of summer draws close, music lovers across the country look to revel in those Kiwi summer vibes one last time. Luckily, there are two cool-as opportunities to throw down!
WOMAD - 17 - 19 March
If a World of Music Arts and Dance (WOMAD) lights you up, you'll want to drive to New Plymouth in mid-March. WOMAD is a celebration of all things cultural, bringing the good vibes of artists from around the globe together over three inspiring and fun-filled days.
WOMAD is a cultural hodgepodge event that allows attendees (that's YOU) to sample global beats, eats, and good vibes across eight stages.
One-day tickets start from $190, but we recommend the 3-day bundle with camping for the full WOMAD experience (from $490)*.
Road trip to the quieter side of the North Island with this fun-filled 5-day itinerary.
For a top-rated 1-day event on Wellington's gorgeous waterfront, head to Homegrown. As the name suggests, this is a whopper of a festival dedicated to up-and-coming and the best of Kiwi artists, showcased across five stages. If you're a Kiwi, expect the new blended with nostalgia. For visitors, this is an idyllic way to capture the talented and varied sounds of the nation.
Homegrown is an all-ages event, so bring the fam to celebrate the carnival-like atmosphere the 20,000-strong crowd commands. Tickets start from $169*. Follow up Homegrown by catching the ferry to the South Island to explore Kaikōura.
*Hey, quick note: the ticket prices listed are correct at the time of writing. Check the relevant website links for prices, availability, and FAQs.
Inspired to plan a Kiwi road trip around one (or some) of these epic summer festivals? Lock in your JUCY wheels by clicking BOOK NOW or giving our festival-lovin' team a call on 0800 399 736