Be a Happy Camper: the 10 Best Camp sites on Australia's East Coast
Needing assistance with your travel planning? We've picked the 10 best East Coast Australia camping grounds to help you out! Click to read.
As it's our mission to help you find your happy. We're never going to be content with just handing you the keys to your JUCY campervan or car and giving you a vague wave goodbye. Nope. We're road trip enablers. This means we want to share our 20+ years of camper and car experience via our epic itineraries, helpful travel tips, and blogs. Like this one about the best East Coast Australia campsites.
Choosing a campground in Australia is like picking the best Ben and Jerry's flavour – there are so many to choose from! There are over 4,000 free or low-cost campgrounds in itself (check out this handy blog about free camping), plus 700 national parks and 2,000 tourist parks. In short, there are loads of places to park your camper or pitch your tent, and prices range from free to pricey, so how can you choose?
Let us help by sharing some of our faves. Whether it's their stunning natural setting, native wildlife-spotting opportunities, or cool facilities, read on to see our 10 best East Coast Australia campsites, from Queensland to Victoria.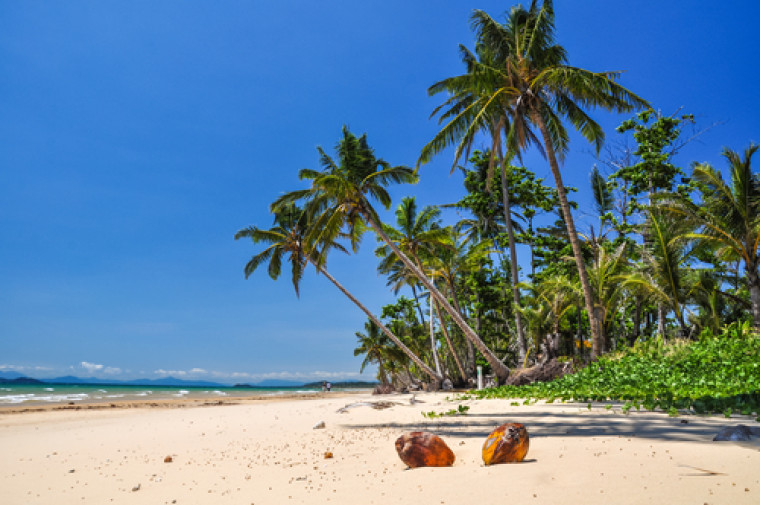 Mission Beach Hideaway Holiday Village
Easy access to an incredible beach, beautiful gardens fringed with wavering palm trees, and well-kept facilities make Mission Beach Hideaway Holiday Village a shoo-in for our top places to camp on the East Coast.
Mission Beach is a hot spot for sky diving, day trips to Dunk Island, and incredible outings to the Great Barrier Reef. Not forgetting that Mission Beach is a great place to spy the prehistoric Cassowary bird, and as a base to explore Etty Bay, Paronella Park, and Millaa Millaa Falls.
Discover more about Mission Beach in our Cairns day trip inspo blog. Reach Mission Beach in under two hours from our Cairns branch.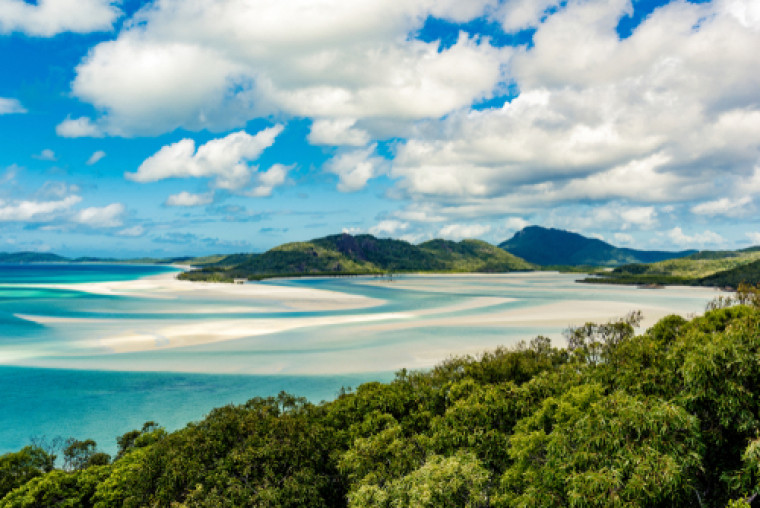 Big4 Whitsundays Tropical Eco Resort, Airlie Beach
Airlie Beach is a magical destination to explore this region of Queensland, including the stunning Whitsundays Islands, where "Is this real? Pinch me" is the most commonly heard phrase.
Base yourself at the Big4 Whitsundays Tropical Eco Resort to enjoy Airlie Beach and its surroundings, and the resort itself. Set across seven acres, the tropical rainforest and Conway National Park mountains create shade for your campervan, which ups your comfort levels. The eco-cabins are great for car road trips.
Follow our Cairns to Airlie Beach itinerary if you're keen on a 10-day getaway through the Sunshine State.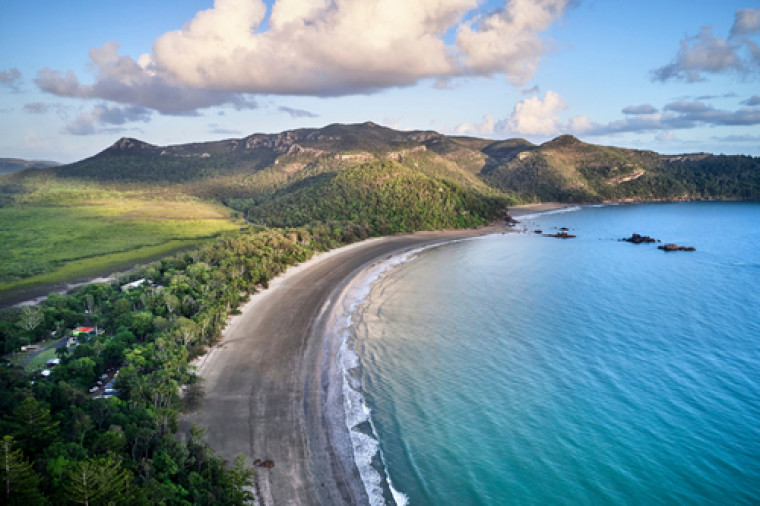 Cape Hillsborough Nature Tourist Park
We love, love, love stays in Cape Hillsborough because the chances of waking to the sound of a kangaroo around your camper or tent are high. We even wrote about it in this Cairns to Brisbane road trip itinerary.
There are two places to stay here that we rate, however, Smalleys Beach only has 12 spaces, so it's as hard to get into as getting your nan into Berlin's Berghain. Good job Cape Hillsborough Nature Tourist Park is available, then!
With a range of accommodation options, from tent spaces to unpowered sites to quaint beach huts, you not only get a gorgeous beach on your doorstep, but access to the wildlife that likes Cape Hillsborough, too. Along with kangaroos, your neighbours may also be wallabies, echidnas, and (in season), turtles and passing whales! Can't beat it.
1770 Camping Ground
The 1770 Camping Ground is not the place you can just rock up to and hope there's a space free. With its absolute beachfront site, secluded headland spot, and access to the southern end of the Great Barrier Reef, this is the campground equivalent of a unicorn (i.e., it books out). Why? Because it's one of the best campsites in QLD!
How does rising early for a morning ocean dip before coffee in the chill-as town of 1770 sound? Great huh! No doubt, the idea of paddleboard, bushwalking, reef and estuary fishing, plus trips out to the mesmerising Lady Musgrave Island, sound appealing, too? It's all possible from this gem of a campsite.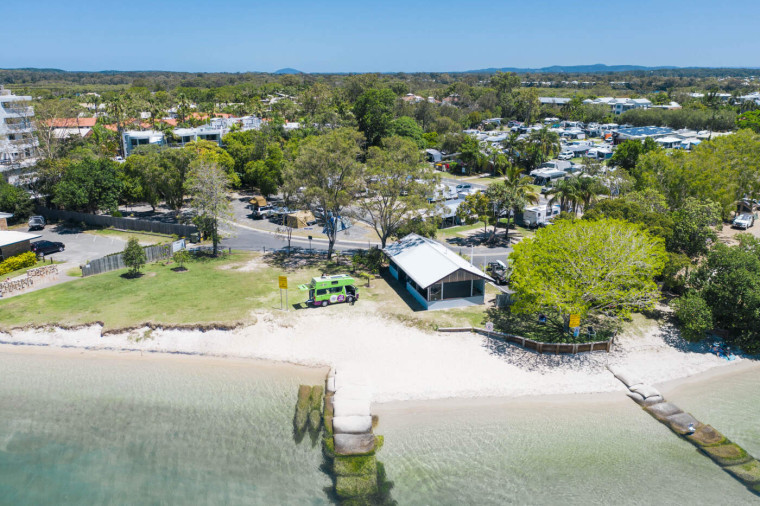 Habitat Noosa Everglades Eco Camp
Fancy a stay at "Australias Best New Tourism Business"? Located 25 minutes from Noosa, Habitat Noosa Everglades Eco Camp is found set amongst 65 acres of National Park and perched on the edge of picturesque Lake Cootharaba. With an array of accommodation options from campsites (powered and unpowered) to suit your campa!
Boasting several waterfront activities from stand-up paddle boards, canoes, wave skis, kayaks, and tinnie hire to the exciting sport of disc golf in a bushland setting, Habitat Noosa also offers daily boat and canoe tours, exploring one of only two everglades systems on the planet with discounts offered to anyone staying on-site, the hardest part will be deciding what to do first. The Eco Camp is the gateway to 1 of only 2 everglades in the world, where the tea tree-infused waterways and ancient rainforests provide a truly memorable tour experience. Habitat Noosa Everglades Eco Camp is the ultimate Accessible Wilderness Experience!
Noosa is included on our epic Sydney to Cairns road trip! Check it out.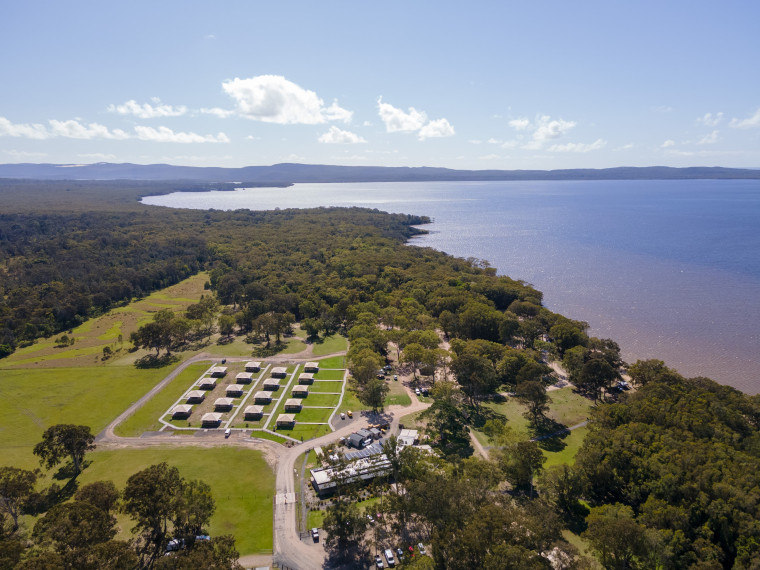 Calypso Holiday Park, Yamba
If you've heard that Byron Bay's a bit 'done', listen up: Yamba is the Byron! For the best of Northern NSW without Bryon's crowdedness, this small fishing town is it.
With a focus on sun, surf, and sand, Yamba is a fab place to pitch a tent or park your JUCY camper for a night or two (or three or four). Especially if you head to Calypso Holiday Park next to the Clarence River.
In the heart of Yamba, Calypso's cabin, camper, and tent sites give you easy access to the town's eateries and attractions. As one of the best river camping spots in NSW, it's also got the iconic Blue Pools nearby. And while Byron Bay may be a tad on the bustling side these days, it's an easy 90-minute drive from Yamba. See, you can have your cake and eat it!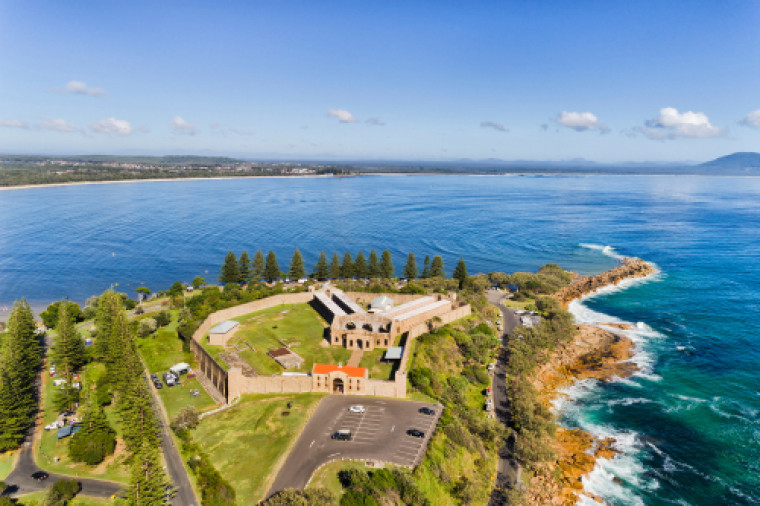 Trial Bay Gaol Campground
In NSW's South West Rocks, you'll find Arakoon National Park, a small park that packs a big punch in terms of natural wonders and friendly Aussie critters. It's an awesome spot for a day trip, and even better to camp there thanks to Trial Bay Gaol Campground setting on a beautiful peninsula.
An hour north of Port Macquarie, the campground takes its name from the historic Trial Bay Gaol, built in 1886. Besides exploring the jail's grounds and museum, a stay in the park affords access to bush trails, gorgeous beaches, surf spots, and epic wildlife encounters. In winter, be sure to watch for migrating whales off the coast.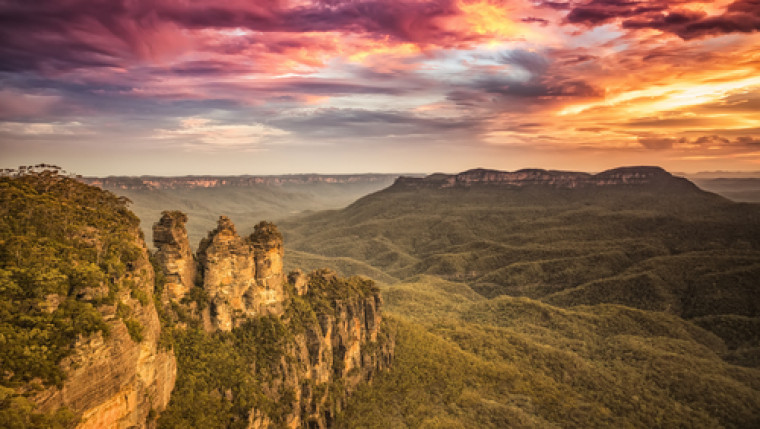 Euroka Campground, Blue Mountains
For road trippers looking for a change from beachside camping, head inland to the Blue Mountains National Park. Nestled amid the glory of this hazy-blue parkland and next to the Nepean River, you'll find Euroka Campground.
While Euroka doesn't have all the bells and whistles of some of the other sites we love, it offers a true Aussie bush camping experience we'd readily sacrifice hot showers for.
Use Euroka to explore the best of the Blueys. Head to Three Sisters, take a ride on Scenic World's epic attractions, meander trails like the Red Hands Cave Track, and go mountain biking along the Oaks Firetrail.
If you're travelling in a self-contained JUCY camper, you can free camp at Old Ford Reserve.
Plan your Blue Mountains trip here.
Murramarang Beachfront Holiday Resort, South Durras
Three and a half hours south of our JUCY Sydney branch, the blissed-out Murramarang Beachfront Holiday Resort awaits. We think it's one of the best camping spots in NSW! Set between the beach and the bush and just 15 minutes north of the famous Batemans Bay, this is an NSW South Coast gem.
Camp, glamp, pitch a tent or rent a cabin to enjoy the ample facilities and as a base for daily explorations of the local attractions. Like hiking the trails along Murramarang National Park's 44km coastline, surfing the breakpoints, swimming and snorkelling at Pebbly or Pretty Beach, and don't forget to make friends with the resident eastern grey kangaroos.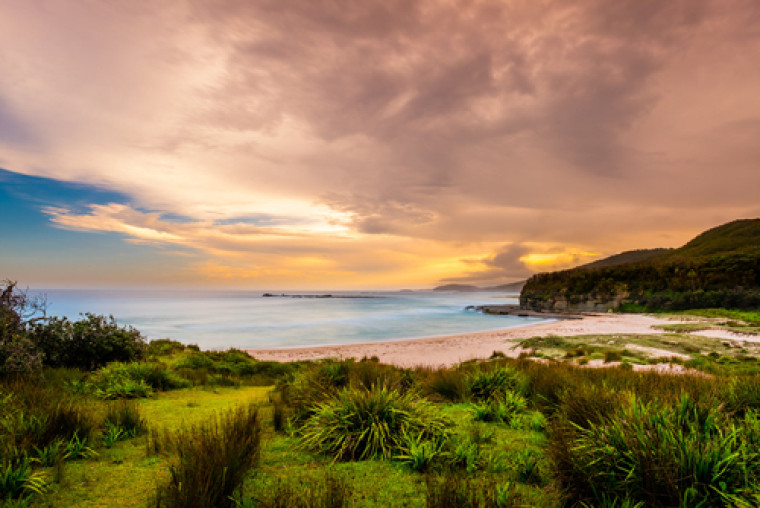 Phillip Island Beachfront Holiday Park
Off Victoria's southern coast, one of our absolute fave places to camp awaits: Phillip Island. Why do we love it? Because it's close to the action of waddling penguins, sleepy koalas, and lolling seals. While many visitors day trip to see the wildlife here, when you book a camper, tent, or cabin at The Phillip Island Beachfront Holiday Park, you're getting after-hours access once the crowds go home.
While on Phillip Island, commit to the evening pygmy Penguin Parade (a must), plus visit the Koala Conservation Reserve, and explore the Rhyll Inlet Wildlife Reserve. Hop aboard a cruise to see some of the 20,000 seals that call Phillip Island home.
Phillip Island is a 2-hour drive from our Melbourne Airport branch – perfect for short getaways and long!
What type of campground site do I need?
If you're in a JUCY camper, book an unpowered campsite. If you want to take advantage of the JUCY Condo's 240v mains, then you can upgrade to a powered site.
If you're travelling in a JUCY rental car, either pack and pitch a tent or take advantage of the numerous cabins, glamping tents, and eco stays on offer up and down the coast.
With so many camping sites across Australia, downloading a camping app gives you the easiest way to plan your roadie on the day-to-day. Even with the $7.99 price tag, we rate Wikicamps as a great investment, especially for longer road trips and for those travelling solo.
Are you ready to check out one (or all) of these epic East Coast Australia campsites? To get your JUCY wheels booked, contact our happy crew on 1800 150 or 850 or click BOOK NOW!
We can't wait to help you find your happy.