The 10 best Australian foods to try on your road trip
Experiencing the best of Australia's flavours is as important as seeing the best sights on your
road
trip! Use this handy guide to sample the top 10 Aussie flavours as you travel.
We're big on helping you plan your perfect getaway; it's why we have so many great itineraries for your campervan adventures and car road trips.
As road trip experts, we know that a good road trip is not just about the sights you see, the adventures you undertake, and the places you sleep. Your tastebuds are on holiday, too!
From savoury feasts to sweet-toothed treats, check out our handy guide to the best Australian food to try on your JUCY road trip. Don't be surprised if you drool a little as you read this!
Savoury Feasts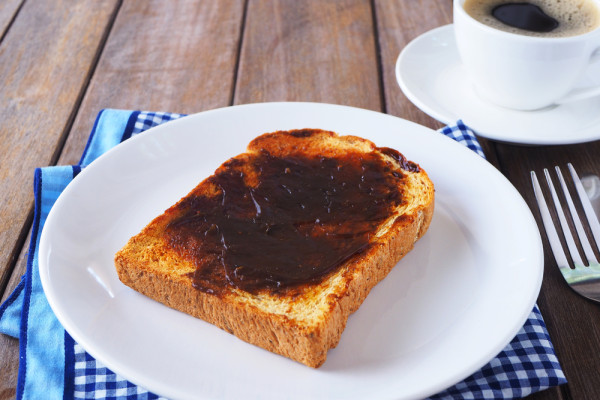 Vegemite
Australia's most polarising flavour, you'll either love or hate Vegemite. From looks alone, you might consider the sludgy brown paste a bit off-putting; it's made up of vegetables, yeast extract, and spice additives. And 'spices' are your clue to getting Vegemite right the first time: it's applied as a thin spread, not thick like peanut butter or jam!
Vegemite is a breakfast food, smeared over toast and butter. A melted cheese toastie is also popular.
Best places to try Vegemite: you can pick up Vegemite in any supermarket, of course, but why leave the right amount of Vegemite in your inexperienced hands? The Vegemite scrolls at Baker's Delight (found across Australia) are a great way to try without buying a whole jar, too.
If you're in Queensland, detour to try Vegemite fried chicken at Kajoku in Toowoomba. In Melbourne, head to Sunda for a Vegemite curry – it's legit!
Try while road-tripping this JUCY itinerary: 5 best day trips from Brisbane
Meat Pie
An Australian staple, a meat pie is a fab on-the-go snack to grab at petrol stations, bakeries, and pie stores. It's popular for its convenience and a homely taste that satisfies every kind of craving.
While minced meat with a rich gravy is the most common filling (often with a dollop of tomato sauce), there are all kinds of meat pies to choose from, including gourmet delights. You could even make it a road trip game to see how many pies you can eat on your Australia road trip (use this list as a guide)!
Vegetarian or vegan? No worries, mate, there are loads of meat-free pies to try, too.
Best places to try meat pies: look for specialty pie shops as you travel. However, these are our top meat pie recommendations.
Harry's Café de Wheels pies are Sydney's most famous. Originally from Woolloomooloo, you can now find their stores across the city.
In Adelaide, Banana Boogie Bakery has award-winning meat pies thanks to their skilled piemakers and fluffy pastry.
If you're passing Bundaberg in Queensland, be sure to try a prize-winning plain meat pie at Paradise Bakehouse. Old Fernvale Bakery outside Brisbane has a huge range of meat pie flavours, including kangaroo, emu, camel, and crocodile!
Try while road-tripping this JUCY itinerary: Journey from Brisbane to Cairns
Chicken Parmigiana
Getting a chicken parmy (or parmi or parma) in a pub is about as Aussie as it gets when it comes to pub grub. Yes, a parmigiana is from Italy, but this breadcrumbed chicken treat becomes Aussie with its melted cheese (and sometimes ham) topping. And a dollop of tomato sauce, of course. Drink a schooner of beer with it to blend in like a local.
The best place to try chicken parmigiana: The closest pub to your campground will have a parmy, for sure, but we've got a few extra recommendations.
The Italian disco vibes at Melbourne's Loueys make their giant parmigiana taste even better. In Sydney, the Newtown Hotel is a bit of a legend in the parma department.
If you want to go all-in, get schnit-faced at the Paddo when you're in Brisbane; they have six parmies to choose from.
Try while road-tripping this JUCY itinerary: 10-day Victoria campervan road trip
Barbeques
"Throw another shrimp on the barbie" is an Aussie saying everyone knows, and yet Australians rarely cook shrimps in this way (that job goes to prawns).
That said, there are plenty of other treats to be grilled, like steaks, seafood, veggie skewers, and snags (sausages).
The best places to try BBQs: Visit most parks or beaches, and you'll find a public barbeque ready for use if you BYO food. On sunny days, the groups of Australian families and friends will reveal where they are. Typically free to use; be sure to clean it thoroughly after use.
For an effortless BBQ treat, sniff out a sausage sizzle (often at hardware stores and mall entrances). A gold coin donation usually gets you a sausage-crammed sandwich in true Aussie style, plus you help with local fundraising.
Keen to upgrade your BBQ experience? Head to Firedoor in Sydney for barbeque fine dining or order the award-winning barbeque ribs at Hurricane's Grill.
Try while road-tripping this JUCY itinerary: 4 incredible scenic drives from Sydney
Fish and Chips
The other Aussie outdoor treat is good old fish and chips! With over 2,500 fish and chip shops, you'll find loads along Australia's 34,000-kilometre-long coastline.
Typically, battered fish and deep-fried chips, you can also get breadcrumbed, grilled, and gluten-free fish options these days. Eat on the beach for the best results.
Best places to try fish and chips: Jervis Bay is one of the East Coast's most famous beaches, so it makes sense you can also get an equally amazing fish and chip meal close by. Something Seafood offers fresh fish and crispy chips with a smile.
If you're travelling to the Sunshine Coast, plan for a visit to the Noosa Harbour Fish Market for fresh-as fish and chips. You can even dine in here.
Try while road-tripping this JUCY itinerary: 3-day Jervis Bay road trip
SWEET TREATS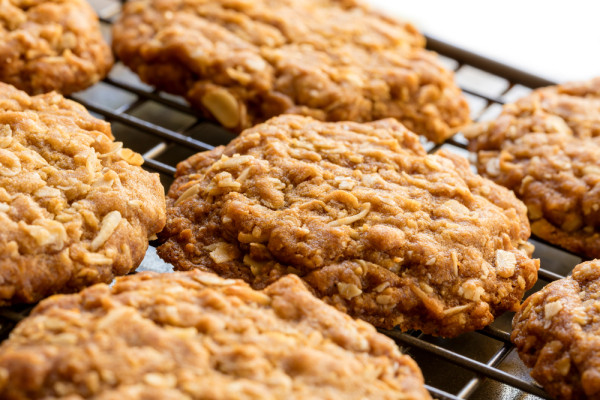 ANZAC Biscuits
ANZAC biscuits aren't just yummy syrupy, oaty treats to dunk in your coffee; they have a historical background, too. Named for the Australian and New Zealand Army Corps (ANZAC), soldier's wives would send them off to war with these biscuits.
Besides cheap ingredients, ANZAC biscuits lasted on long boat journeys. This sweet treat cheered the troops and made them feel connected to their families back home. And they'll cheer you up, too.
The best places to try ANZAC biscuits: It doesn't need to be ANZAC Day (our commemorative war service day, held in April) to get a good ANZAC biscuit. You can grab a pack year-round in supermarkets and bakeries.
If you're travelling the Great Ocean Road,the Irrewarra Sourdough Bakery will blow your mind with their ANZAC taste sensations.
In Sydney, Berkelo's are not just yummy biccies, but huge, too. Like size-of-your-head huge! They have four stores across the city, including one in Manly.
Try while road-tripping this JUCY itinerary: 11 places to get off the beaten track on the Great Ocean Road
Tim Tams
Unlike with Vegemite, it is a rare person who doesn't love a good Tim Tam. It's Australia's most popular chocolate biscuit.
The perfect balance of cream filling, crunchy biscuit, and chocolate coating make this the perfect road trip snack to store in your JUCY campervan fridge. Ask a local to show you what a Tim Tam slam is, too.
Best places to try Tim Tams: You can get a variety of Tim Tams in supermarkets, gas stations, and convenience stores, including limited edition flavours.
If you want to go bigger with your Tim Tam treats, head to Oh My Waffle in Burleigh Heads on the Gold Coast for a waffle extravaganza.
The Tim Tam gelato at Blue Co˚w in Port Macquarie and the Korean take on a Tim Tam dessert in Melbourne are both worthy of a side trip, too.
Try while road-tripping this JUCY itinerary: 5-day Gold Coast road trip
Fairy Bread
The taste of nostalgia for millions of Australians (and New Zealanders), fairy bread is a simple dish, one you can prepare in your JUCY kitchen. The ingredients? White bread, butter, and hundreds and thousands.
Best places to try fairy bread: to be fair, the best place to try fairy bread is at a kid's birthday party. Since you're unlikely to get invited to one, you may have to make this one yourself.
Keep an eye out as you travel, as some bakeries, cafes and high tea places put fairy bread desserts on their menus occasionally.
Make in your JUCY camper while checking out: the 10 best East Coast campsites
Pavlova
Whereas Vegemite is contentious on a taste front (love or hate, remember?), pavlova is contentious due to its origins. Australians claim it as their own, and Kiwis, too.
We don't care who birthed this delectable meringue, cream, and fruity deliciousness into the world; we're just happy it's here! Light and fluffy, it's the perfect summer dessert.
Best places to try pavlova: Chocklait in Melbourne has "world-famous" pavlova that is so yummy we recommend skipping dinner so you can have two!
For a pavlova that is almost too pretty to eat, visit Rockpool in Sydney, Melbourne or Perth. The passionfruit topping makes this a flavour bomb in your mouth. For the best pavlova with a view, splurge at Bennelong at Sydney's Opera House.
If you're hiring a JUCY car or camper from our new Tasmania branch, the banoffee pavlova at Rockwell in Hobart rocks our world. Adding banana and cream caramel to Australia's favourite summer dessert is genius.
Try while road-tripping this JUCY itinerary: 5 easy road trips out of Sydney
BONUS AUSSIE FLAVOUR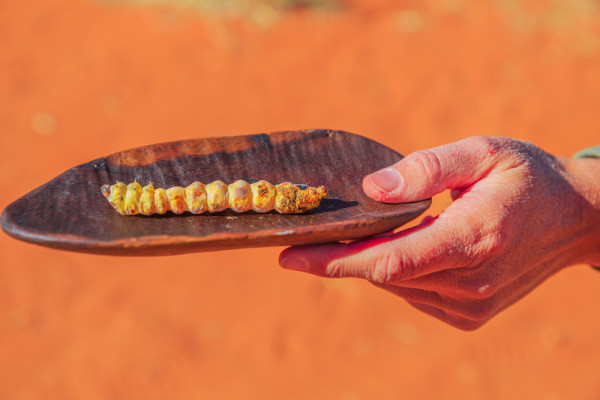 Witchetty Grub
Okay, there's zero chance you'll finish your Australian road trip and declare the witchetty grub your favourite flavour. Not when there are pavlovas and Tim Tams and filling meat pies. However, this is Australia's most authentic food, one Aboriginals have been eating for thousands of years.
Filled with nutrients and protein – as much protein as a steak – these nutty, gloopy bush tucker bugs are best eaten raw or lightly cooked.
Side note: if you'd like to try more bush tucker on your trip, Mabu Mabu in Naarm / Melbourne and Kawul in Pokolbin in the Hunter Valley are top spots.
Try while road-tripping this JUCY itinerary: 10-day Sydney to Central Coast road trip along the Pacific Coast Highway
So, did you drool? Is your tummy rumbling? Are you already digging out your stretchy pants ready for a flavour-filled road?
If you said yes, our food-lovin' crew are on standby to get your JUCY car or campervan booked. Call 1800 150 850 or BOOK NOW.