The best one day South Island hikes
Mountains, lakes, glaciers, and pinch-me vistas are a large part of any South Island hiking itinerary. A car is a must to reach the best of New Zealand's great outdoors. Renting some cool JUCY wheels gives you not only the flexibility to travel on your own timetable, but also to leave no pounamu (jade) stone unturned.
The South Island is one of the world's best outdoor hiking playgrounds. Untouched, unspoiled, and primed for your adventure. With just over a million residents populated in pockets across a landmass of 50,000 km2, that's a LOT of space to play. We can think of no better place to be.
Whether it's New Zealand's highest mountain at Mt Cook, the country's deepest lake at Lake Hauroko in the Fiordlands, or Aotearoa's most visited site at Milford Sound, it all astounds. Even a quick trip to a grocery store can be a wow moment when you travel around the South Island by car. Sounds ridiculous, but it's true.
Don't believe us? Get this: New Zealand's South Island is home to 10 of the country's Great Walks. A whopping ten! Great Walks are our hardy 3-4 day tramps (Kiwi speak for hiking). But, what if you want to get out without carrying your luggage on your back? Or you have a little less time to spare on your Kiwi vacay? We've compiled the JUCY staff pick best of the south island day hikes. Read on.
New Zealand's Easiest Glacier Hike: Rob Roy Glacier
If you do not want to go all-in on a full day hike, Rob Roy Glacier, close to Wanaka, is a solid compromise. It's a medium-grade hike, so you'll need some level of fitness, but you don't need to be iron-man ready to enjoy it. The scenery is ample reward for every butt-building climb up, and knee-busting step down, no matter how much effort it is for you.
Walking in Mt Aspiring National Park is an #NZMustDo, so why not follow a trail that traces the Rob Roy Glacier path, formed some 20,000 years ago. Along the way, you'll pass gorges, streams, alpine bush, and an abundance of waterfalls. And, of course, the mesmerising views of the Rob Roy Glacier! The hike allows you to reach the glacier's edge, as long as you're prepared to put in the effort for the steep bits (do it).
When you reach the glacier and upper viewpoint, you may also be rewarded with a visit from the kea, our alpine parrot. A cheeky beggar, the kea is not to be fed and may even try and take a chunk out of your JUCY rental car, if you're not paying attention. Yup, they love to chew on the windscreen wipers, radio antennae, and anything else their destructive beaks can chow down on. You've been warned.
It's best to tackle the Rob Roy Glacier Track in the morning before the sun tucks itself behind the cliffs. Plus parking is more readily available before noon.
Pack layers, as the temperatures will cool as you climb. A waterproof/windproof jacket is always a solid idea on any New Zealand tramp, as well as plenty of water and snacks. Park your JUCY hire car at the Raspberry Creek car park and be cautious with leaving any valuables in the boot.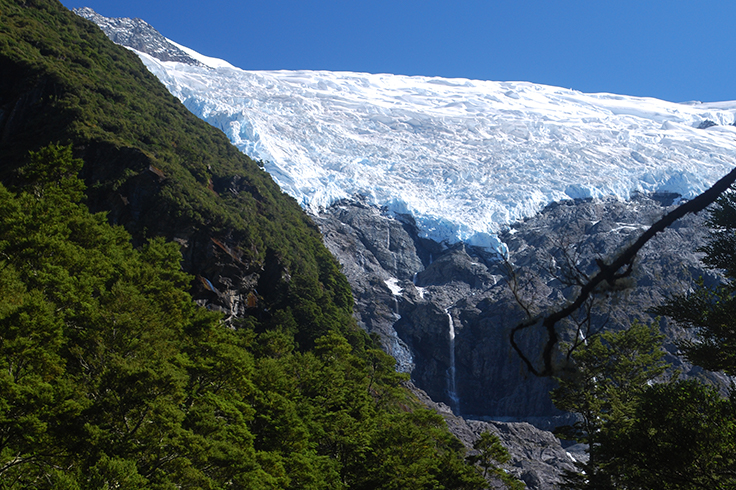 The South Island's Most Surprising Hike: Mt Robert Circuit
Many trampers to the Nelson region only hike the Abel Tasman, skipping the other nearby. At Nelson Lakes, there are six trails to choose from, but a JUCY favourite is the Mt Robert Circuit.
Also known by its Maori name of Pourangahau, this intermediate-level tramp is a 9-kilometre loop that attracts due to its spectacular views. To the east, you'll spy Lake Rotoiti; to the west, the postcard-perfect Southern Alps. In New Zealand, you're pretty much guaranteed a fantastic view on all south island hikes, but sometimes they smash all your expectations. It's like the days when you go to buy a chocolate bar and find that the posh Whitakers bars are on sale. Score!
Only an hour from Nelson, or an hour and twenty from Blenheim, the Mt Robert Circuit is accessible when you have some wheels. Climb the Pinchgut Track up, initially following steep switchbacks in and out of the native beech forest. Take a hint and enjoy some chill time at Relax Shelter with whatever yummy snacks you've packed, or continue on to the Bushline Hut.
To make your way down, follow Paddy's Track, offering a reasonably gentle descent. Cool tip: if you don't love the sun, take this route in the opposite direction, as you'll have shade in the afternoon for your descent. Allow 3-4 hours, whether you go clockwise or anti.
Park your JUCY car at the Mt Robert car park. There is typically ample parking space unless it's the weekend when you'll need to go early.
As with any Kiwi hikes, layers, sturdy shoes, ample food and water (and some common sense) go a long way to ensuring your day is enjoyable. Please note, it's risky to tackle this trail when the winds are high, so do check the forecast before you set off for the day.
The Great Walks of New Zealand Taster Hike:
Key Summit
Keen on the Routeburn Track but not on the three-to-four day part? We have the answer – take a day tramp up Key Summit and still soak in the pristine Fiordland views.
The Key Summit trail starts on the Routeburn Track, so you get a taster of the full trail. Consider it like tasting the cheese sample in a supermarket, before buying the whole block. It doesn't hurt to try before you buy.
The trail starts at the Divide Shelter, 85km from Te Anau. From the car park, head up to Key Summit where instant gratification hits with views of the Darran and Humboldt Mountains. The trail moves in and out of the native forest before you'll veer above the Routeburn Track to Key Summit. While it is a steady climb, it's a good-for-the-soul tradeoff thanks to the impressive views of the Hollyford Valley. You'll also want to keep an eye out for the wild keas that also call this region home (though please don't feed them).
When you hit the signs for Lake Marian, take the summit nature loop before preparing to head back the way you came. Views of Lake Marian offer the perfect picnic spot. The azure hues of this alpine lake, surrounded by snow-capped mountains are as mentally nourishing as your trail mix and protein bars are physically.
Allow around 3-4 hours for this intermediate-level hike. If you are making good time, consider a side trip to Earland Falls, which will add another three hours. You can reach Earland Falls by following the signs to Howden Hut.
As always, your snack, clothing, water, and footwear options are crucial decisions in both enjoying and surviving a New Zealand tramp. Pack appropriately and check the forecast before you set out.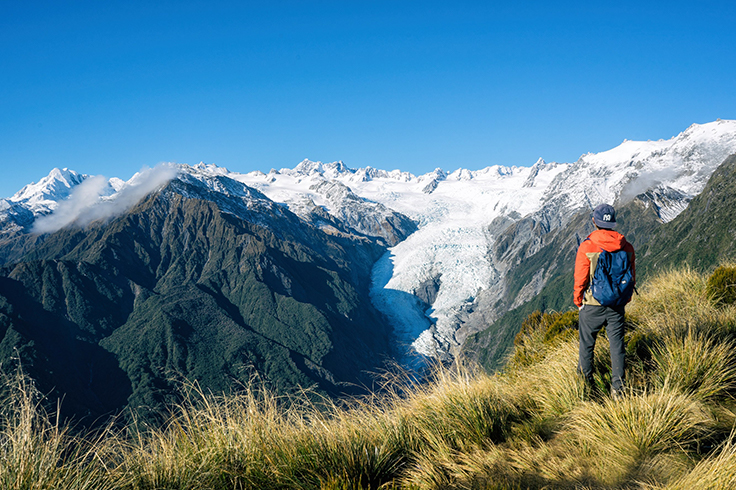 The South Island's Most
Braggable
Hike:
Alex Knob
If you're fit and experienced, skip the chopper ride over Franz Josef and instead use your legs (and sturdy walking shoes), to hike Alex Knob.
One of the more advanced south island hikes on our list, Alex Knob offers expansive views over Franz Josef Glacier and valley. And, let's be honest, it's not just the panoramic vistas that make this hike appealing, but also the bragging rights for having climbed to a peak that everyone else is paying a shed-ton of cash to fly over.
Start the trek on the great-sounding Wombat Lake Trail to the summit of Alex Knob. At the top, weather permitting; you'll have unobstructed views of not only Franz Josef Glacier, but also Waiho River, the Tasman Sea, and a ring of mountains, many of which also reach over 3,000km in height.
The Alex Knob tramp takes you through dense forest, zigzag trails, alpine tussock, herb fields, and exposed ridges. It is not for the faint-hearted or sufferers of vertigo. Christmas Lookout is a highlight thanks to its panoramic views of the glacier and mountains. It's also the perfect place to crack open your lunch and appreciate the moment. You can't help but remind yourself that it's great to be alive when you're up here!
Travel to the Glacier Access Road and allow 5-7 hours to complete this 17km trail. It's best to tackle the hike earlier in the day as afternoon clouds may impinge your views at Christmas Lookout. The earlier you climb, the less the annoyance factor of helicopters hovering past. While the trail is accessible year-round, Christmas Lookout can get snow; it's recommended to only go past the snowline if you are experienced in these conditions.
As with all New Zealand hikes, it's best to check the forecast before setting off; call Westland Tai Poutini National Park Visitor Centre on +64 3 752 0360 for the most up-to-date info.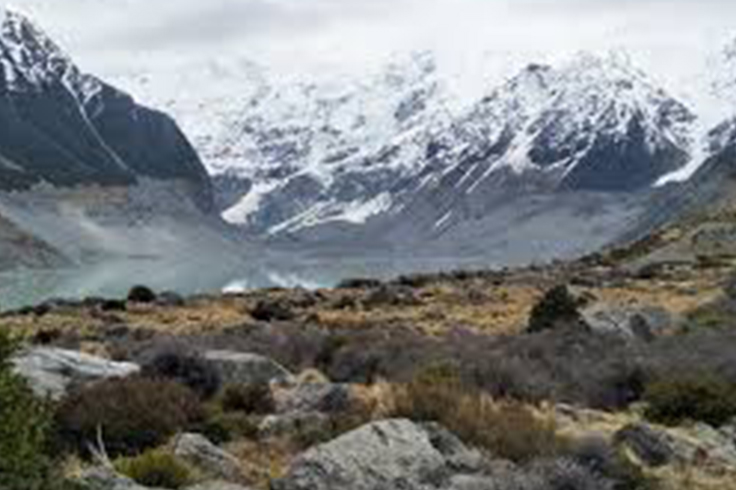 Hike in the Shadow of New Zealand's Highest Peak: Hooker Valley Track
The Hooker Valley Track is one of the best one-day New Zealand hikes – why? Because it's accessible to everyone – mountain lovers and couch potatoes alike! This is thanks to the lack of elevation gains and easy grade by the DOC (Department of Conservation). Woop.
While the flat terrain may be alluring, it's the views of Mt Cook, Mueller Valley, and the Southern Alps that are the drawcard for this 10km trail. Add to that the sacredness of the Töpuni area for Maoris. The rewards far outweigh any effort required.
You know on some south island hikes you have to wait for the big reveal? Trekking through dense bush and forest before a vista opens up? Not on the Hooker Valley Track – from Mueller Point onwards, every step is a moment of magic with epic scenery across the Southern Alps.
Start your day at the White Horse Hill Campsite. Go as early as you can; it's a popular trail so the foot traffic around you can be decent. After a short climb to Mueller Point and that first intake of breath at the view, it's an effortless hike.
You'll cross three suspension bridges over the Hooker River (always fun), and pass alpine meadows. Listen out for the ice calving from the Hooker Valley icebergs, the telltale yawning creek gives you the first sign of where to look for the ice breaking away.
As this is only a 3-hour tramp, pack a picnic. You'll have ample time to soak up the views of Mt Cook. Mt Cook was the imposing mountain that Sir Edmund Hillary's used in preparation for his historic Everest climb. Of course, there are plenty of other peaks to take in, plus the magic of the slow-moving icebergs in Hooker Lake, but somehow, the striking vista of Mt Cook's 3754m peak has the biggest pull for your attention.
If you're game (and maybe have some Wim Hof breathwork practice under your belt), consider a swim in the glacial temperatures of Hooker Lake. There's nothing like the rush of blood returning to your extremities, and an ice dip has anti-ageing benefits, allegedly.
Keep an eye out for our endangered kea birds (don't feed them), and also the Mount Cook buttercup, the world's largest.
Usual hiking smarts apply – pack layers, food, water, and your common sense. Check with Mt Cook Visitor Centre before setting off for an update on conditions. Call them on +64 3 435 1186.
One last thing. We love New Zealand and ask you to read the Tiaki Promise before exploring our great outdoors and join us in doing all you can to protect this brilliant land of ours.