Campervan Hire at Queenstown Airport
The adventure capital of New Zealand makes for a thrilling starting point for your campervan travels.
Our Queenstown branch is located only ten minutes from the airport for a fast campervan getaway! Whether you're looking to head south to Milford Sound, cross the Southern Alps, or drive all the way north to Cape Reinga, we have a range of campervans to suit your budget.
Did you know that during business hours you can catch a free shuttle bus from the airport to JUCY Queenstown? Read further down the page to find out all the deets for picking up your JUCY campervan rental!
Contact JUCY Campervan Hire Queenstown
| | |
| --- | --- |
| Address: | 52 Grant Road, Frankton, Queenstown 9300 |
| Reservations: | 0800 399 736 |
| Phone: | |
| Hours: | 08:30am - 04:00pm daily |
JUCY camper at Queenstown Airport
Want to get away as soon as you've landed? Our convenient location between Queenstown Airport and downtown gives you the best of both worlds. It means you'll be signing your paperwork and on your way in no time! We even offer a free shuttle bus so you have more time for bungee jumping, jetboating, or an epic mountain drive!
With a range of campervans to hire, you can create the holiday you want. Our passionate JUCY crew can provide you with free travel advice to help with your New Zealand planning. We don't want to hold you back on how far you can go either, so, we also offer unlimited mileage.
If you're travelling solo, consider our Cabana or Coaster. For couples and besties, our Chaser and Compass are faves. For the family or groups, our Condo is a long-standing winner.
JUCY airport shuttle

JUCY airport shuttle map

Picking up your vehicle

Dropping off your vehicle
If you're like us, you like freebies. Hell yeah, you want to spend more money on Ferg Burgers, right? That's why we've got a free airport shuttle to whisk you to our nearby Queenstown branch.
Here's how you get a seat on the fun bus:
Once you've grabbed your luggage, head to the airport's free phone area and dial 0800 399 736 to request a ride. Follow the prompts and pick Queenstown when it comes up.
Exit at the Jetstar check-in area. You'll find the shuttle meeting point right outside.
We're not even going to tell you to stay alert for our shuttle bus, but it's green and purple so… Hop on in when it arrives!
The last shuttle bus to pick up from the airport for campervan bookings is at 330pm, an hour before our branch closes.
If you're dropping off your JUCY camper, you can hop on the next shuttle bus heading to Queenstown Airport any time until 330pm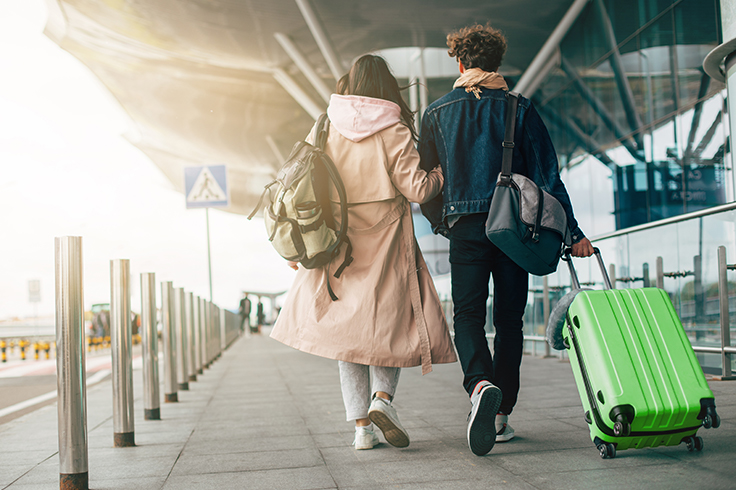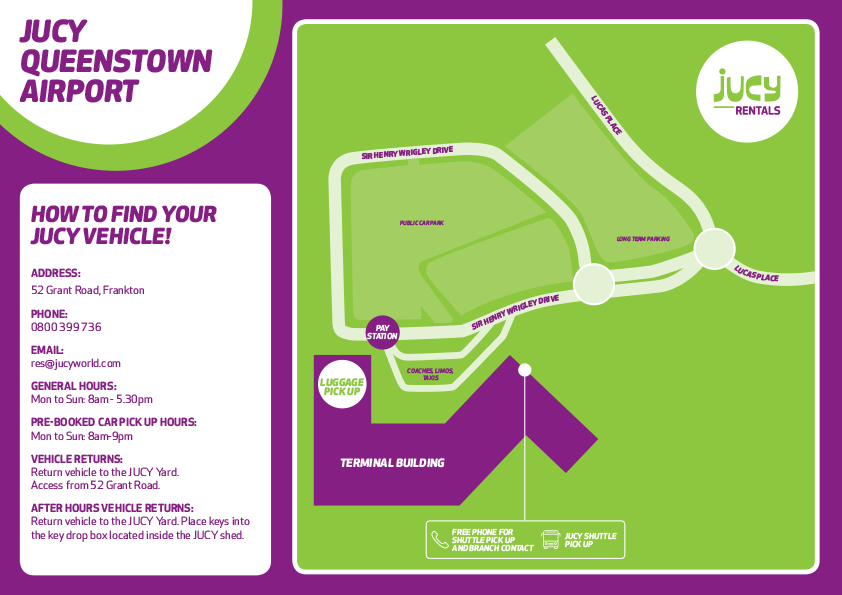 During our business hours, follow these easy-peasy instructions to reach our Queenstown Airport branch:
If you're arriving at Queenstown Airport during our branch hours, you'll want to check the tab to the left to find out how to get your butt on the seat of our free shuttle bus.
If you're coming from the city, you'll need to make your own way to us. The cheapest option is to take bus #11 from 30 Camp Street to the airport. From there, call us on 0800 399 736 to catch our free shuttle bus. If you're looking for the fastest route, a cab is about $30. It's a 10-minute drive but save some wiggle room as traffic can build up to the airport.
Unfortunately, after-hour pick-ups are not available at our Queenstown Airport branch.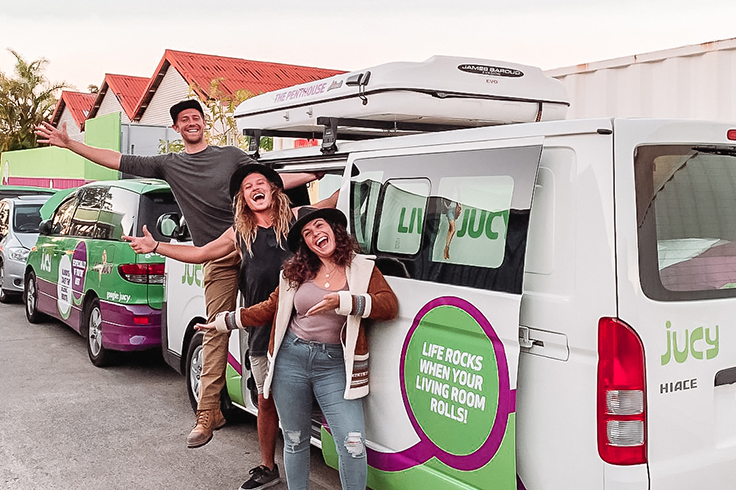 Dropping off your vehicle
Your road trip is over. Head to us during business hours so we can say goodbye and hear about your kiwi trip highlights. Here's how:
Drive to 52 Grant Road in Frankton and follow the signs to park your campervan.
Before you drive into our branch, have you fueled up? If you haven't, backtrack to the nearest gas station – BP Connect Queenstown, Cnr State Highway 6 and Frankton Road.
Remove your belongings – even the stuff that's rolled under the seat! You might find some empty L&P bottles and Pineapple Lumps wrappers – we'd appreciate if you can put those in our onsite bin.
Lock the car and hand the keys to the JUCY crew. This is your moment to tell us about your most momentous campervan escapades!
Please note, after-hour campervan drop-offs are not permitted at our Queenstown Airport location.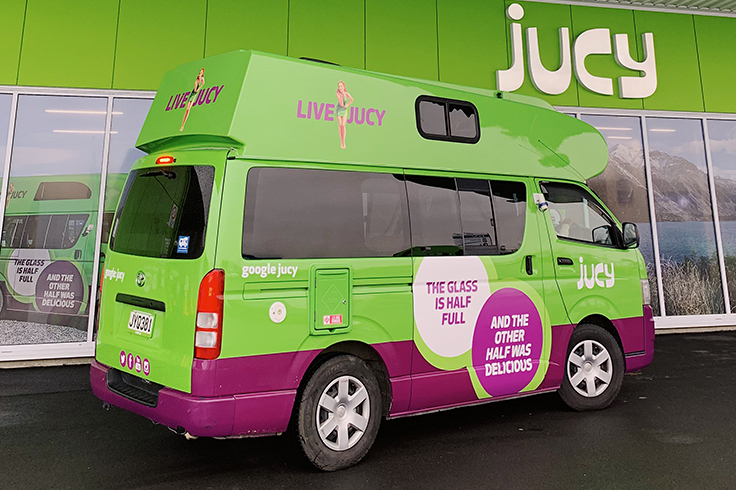 Discover the best of New Zealand's South Island in a JUCY camper
If you want to start your Kiwi campervan travels with a bang, then Queenstown has everything to ensure it's a cracking adventure. It's a thrilling destination, in more way than one!
Aside from the significant number of ways to get your heart rate up, Queenstown is also the perfect start point for gems like Wanaka, Milford Sound, or the West Coast glaciers.
If you're looking for a more low-key vibe, check out sunny Alexandria, the steampunk town of Oamaru, or 235-person town of Collingwood and its tiny museum.
The ultimate joy of a campervan trip is the freedom it affords. Once you've picked up your camper wheels from our Queenstown Airport location, stock up on some groceries, open Google Maps, and just go! We offer one-way drop-offs, so we're not holding you ransom to return to Queenstown. It's up to you if you want to drive north to Christchurch, Wellington, or even drop off at our Auckland Airport branch.
If you're not sure what kind of campervan you want to rent, consider this: people travelling, luggage space needed, and a petrol budget (aka fuel economy).
It's great to travel solo in a Cabana or Coaster, take the crew in a Compass, or get some headroom in our Condo or Chaser. Aside from the Cabana, all our campervans are self-contained, meaning you can consider (legal) freedom camping sites.

If this sounds like your kind of trip, get a quote above, or give our passionate crew a buzz on 0800 399 736.