Campervan Hire in Cairns
Want to see the best Cairns and Queensland has to offer? There's no better way than by campervan.
Our vans sleep 2-4 people. It's the ultimate freedom when you travel with your bed (and a kitchen) with you.
Our Cairns branch is conveniently located only 10 minutes from the airport, perfect for a fast departure to hit the road!
Did you know that during business hours you can catch a free shuttle bus from the airport to JUCY Cairns? Read further down the page to find out all the deets for picking up your JUCY campervan rental!
Contact JUCY Campervan Hire Cairns
| | |
| --- | --- |
| Address: | 55 Dutton Street, Portsmith, QLD 4870 |
| Reservations: | 1800 150 850 |
| Hours: | 09:00am - 04:00pm Monday to Friday |
| | 09:00am - 02:00pm Saturday and Sunday |
Please note our JUCY Cairns branch is closed on Christmas Day, Boxing Day and New Year's Day.
JUCY campervans in Cairns
Cairns is a popular hub to start a North-to-South road trip adventure or to explore Queensland's Tropical North.
From Cairns, explore the spectacular coastline, head outback to Savannah Way, and stay alert too for wildlife. Koalas, kangaroos, and echidnas are abundant out here! Our fave? Head early to Cape Hillsborough – the best place to see wallabies at sunrise.
How to pick the right campervan for your trip of a lifetime? We have a range to make it easy. If you're on a budget, the El Cheapo is our no-frills model. If economical driving is key, the new Coaster and Compass give you bang for your buck with their diesel engines. The JUCY Condo is our most popular model for families.
Still not sure? Call our friendly JUCY crew on freephone 1800 150 850.
JUCY airport shuttle

Picking up your vehicle

Dropping off your vehicle
Note: Our branch airport shuttle runs on demand during JUCY business hours, and the last shuttle leaves the airport 30 minutes before closing time.
Want a free ride? Here are three easy steps to get our absolutely FREE shuttle from Cairns Airport to our JUCY branch:
Step 1
Get off the plane, stretch your legs, and smell the incredible Tropical North Queensland fresh air for the first time!
Step 2
Collect your bags and call us on 1800 150 850. Select option #1, then #5 to request your free shuttle transfer.
Step 3
For domestic and international terminals, exit the airport and follow the green line and signs to the courtesy coach pick up area and wait for your JUCY shuttle.
Wondering if you'll see us coming? Our shuttle van is bright green and purple, so it's almost impossible to miss us!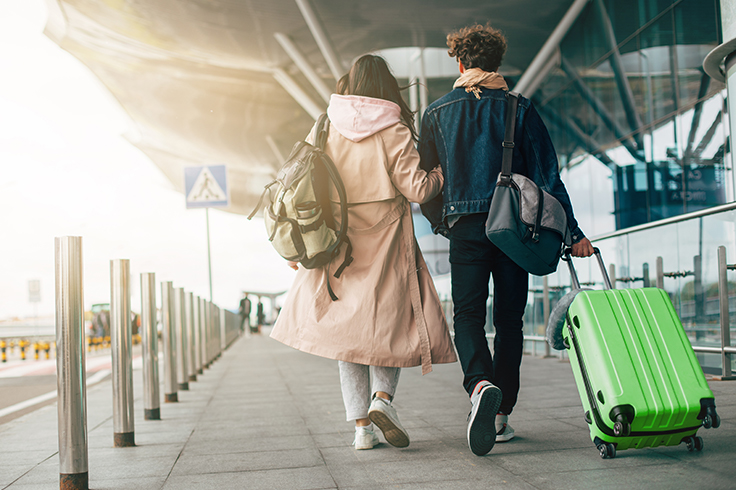 We can't wait to get you into your JUCY campervan and on the road. We've got these handy steps to help you with your vehicle pick-up during our branch opening hours:
Did you know we have a free shuttle bus from Cairns Airport? Check the tab to the left to find out all the

deets

.

Upon arrival at the branch, we'll get the paperwork sorted as quickly as possible. It's the least fun bit, we know! After that, we'll introduce you to your campervan (will you name it?). This entails a vehicle show-through so we can go over details like the bed, kitchen, and all the cool nooks and crannies we custom-build into the design. Now's a good time to talk

travel with us. We love it!

We request that you're at the branch an hour before we close for campervan pick-ups. That means by 3 pm on weekdays and 1 pm on weekends.
After-Hours pick-up is unavailable until further notice.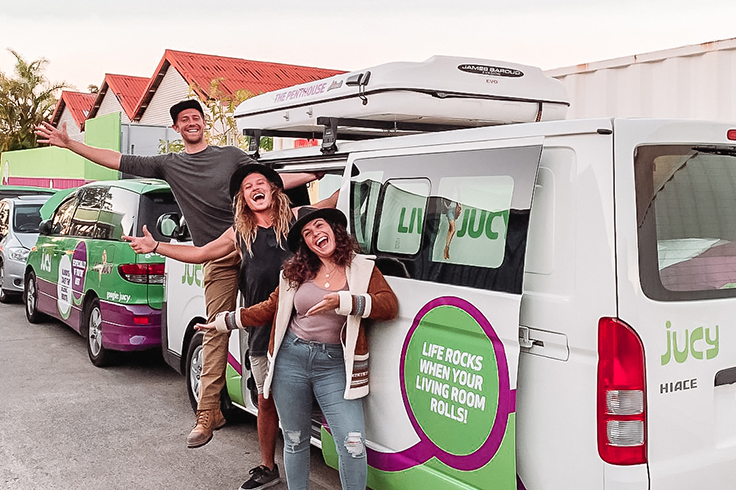 Dropping off your vehicle
All good things come to an end, as they say, even your epic travels in your JUCY camper. Here's how you can manage that sad farewell with ease:
Drive to our branch at 55 Dutton Street, Portsmith.

We recommend leaving yourself at least 45 minutes between dropping off your wheels and the time you need to be at the airport.

Have you fuelled up? You'll need to do this before you hand over your keys

. As

we're centrally located, you'll find

several

petrol stations

close by

.

One last step before you say goodbye to your trusty camper… collect everything! Not just your luggage, but also you

r sunnies from the side pocket and

your thongs from under the se

at (that's a flip flop to you).

Oh, and your rubbish

,

too, please.

Please hand your keys to our friendly Cairns crew. They're travellers, just like you, so share you

r

best

stories

while you wait for the shuttle bus.

You're

now welcome

to jump on the next shuttle bus – it's free, yippee.

If you're not heading to the airport, you

can probably walk to your next stop from our Cairns branch.

It's so central.
JUCY RENTALS IS NOW ZERO CONTACT FOR ALL VEHICLE PICK UPS AND DROP OFFS!
JUCY's new zero contact booking option allows you to pick up and drop off all vehicles 24 hours a day and 7 days a week(except Melbourne Airport) with a contactless experience to minimize human contact.
We also offer after-hours pick up and drop off for both cars and campervans now! Find out more information here.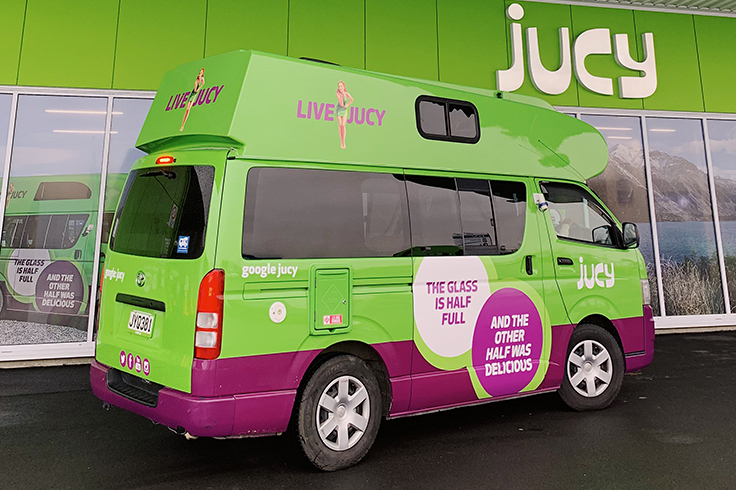 Choose your JUCY campervan
Are you ready for the trip of a lifetime to Cairns and Australia's Tropical North?
When you're planning an Australian road trip, it's hard to pass by the lure of Cairns and Tropical North Queensland. Crystal clear waters filled with a rainbow of marine life, the squeakiest white sandy beaches, and a promise of wildlife spotted across the region.
It's crazy to turn down this opportunity, right? That's why we have had a JUCY branch in Cairns for ten years. We're as a travel-mad as you are so, how could we not help as many travellers as possible get to experience the magic of Cairns, and beyond. We're thoughtful like that.
Hiring a campervan has long been considered the best way to not just see the sites, but live among them.
Think about it, the patience needed to spot a cassowary is best experienced from the comfort of your camper when you're visiting Etty Bay. Camping at Cape Hillsborough is the finest way to not only see wallabies but also, temporarily call them your neighbours. And, some of our campervans offer you the chance to rise from the tropical waters and quickly rinse the saltwater away in your on-board shower. We may be biased, but, we can think of no better way to immerse yourself in the region.
So, when to go and how to plan your trip? June to October is considered a sweet time to visit, thanks to low rainfalls, and moderate temperatures. We also book out over the Australian summer, so it pays to book ahead.
As for your trip planning, did you know that we offer free travel advice for every booking, along with a bunch of resources here? Check the 'Get Inspired' pages or call us on 1800 150 850. We can't wait to chat!