Car Rental at Brisbane Airport
The perfect entry point for an Australian adventure – north, south, or inland - Brisbane has it all. Alongside a ton of flights daily, the region also offers diverse landscapes, attractions, and natural wonders. And us, of course!
Our handy airport branch affords a fast getaway in one of our stylish and affordable hire cars. Plus, we offer a free shuttle from Brisbane Airport. Too easy! Read further down the page to find out all the deets for picking up your JUCY campervan rental!
Contact JUCY Car Rentals Brisbane
| | |
| --- | --- |
| Address: | 771 Kingsford Smith Drive, Eagle Farm, QLD 4009 |
| Reservations: | 1800 150 850 |
| Hours: | 08:00am - 05:00pm Monday to Friday |
| | 08:00am - 02:00pm Saturday |
| | 09:00am - 02:00pm Sunday |
Branch closed:
JUCY car rentals Brisbane is closed on Christmas Day.
JUCY cars at Brisbane Airport
When you start planning your Brisbane adventure, it can be overwhelming! After you've visited the city, do you want to explore the beach towns, hit up the adventure activities, or go bush in native Queensland flora?
If you're busy, planning your road trip can add some stress, so we came up with some great solutions to help you out. Along with, of course, offering great cars at an affordable price, we also add in unlimited mileage, travel advice, and round-the-clock roadside assistance. Plus, did you know we offer a free shuttle from Brisbane Airport to our branch?
Whether it's a quick work outing or the trip of a lifetime, we're all about supporting your travels. Book with us here, or call 1800 150 850.
JUCY airport shuttle

Picking up your vehicle

Dropping off your vehicle
How does a free shuttle, fast getaway, and a friendly welcome from our JUCY crew sound?
Here's what you need to know about our free shuttle service, offered during our opening hours:
Give us a call on

1800 150 850, select option 1, and then 2 to book your complimentary shuttle transfer.
For international arrivals: Proceed to the left end of the arrivals hall, exit the terminal, go down the ramp and f

ollow the signs to the Bus and Coach area

. Wait here for the shuttle to collect you.
For domestic arrivals: Exit the terminal, walk across the skywalk and go down the travellator to B1/B2 on the ground floor. Wait here for the shuttle to collect you.
Please note our last shuttle for car pick-ups is 30 mins before closing.
If you are travelling from the city, you'll need to organise your own transportation. An Uber is approximately $20.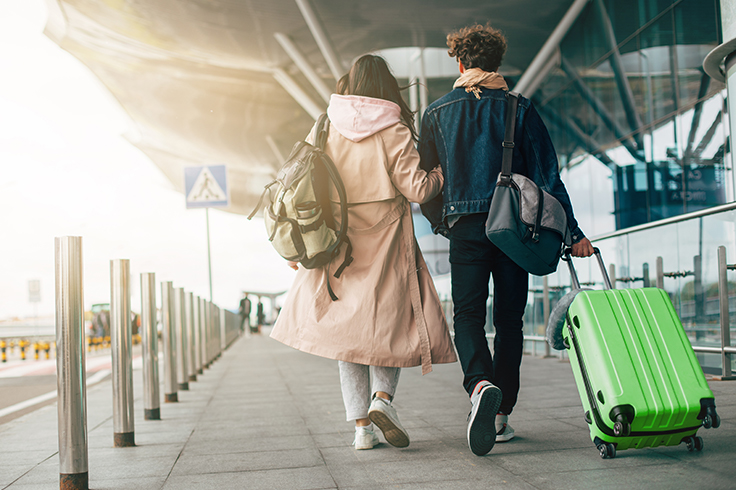 We're so excited to have you travel in a JUCY rental car. Here's what you need to know about your pick up:
Once you reach our branch (check out the

shuttle tab about

our free bus), our friendly crew will get you checked in. It's a little paperwork, a vehicle inspection, and any info that'll be useful for your journey.

Please note, you

r car hire pick-

up must start 30 minutes before we close.
After-Hours pick-up is unavailable until further notice.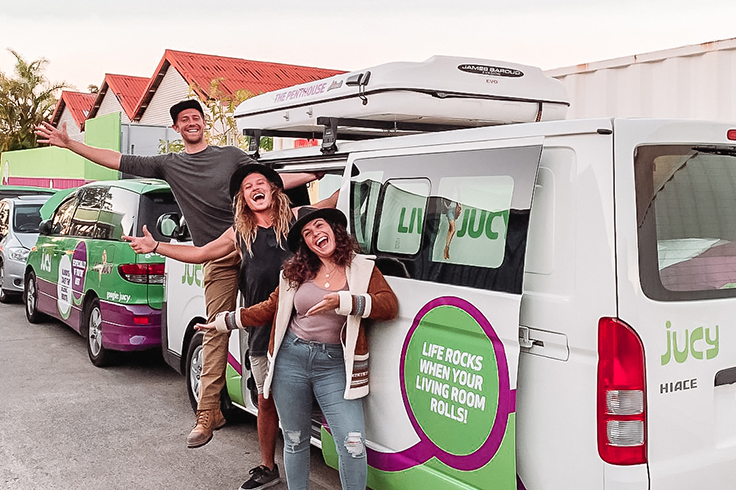 Dropping off your vehicle
We'll be sad to see you go! We want to make your drop off experience as smooth as possible. Here's how we do it:
Drive to our Brisbane Airport branch at 771 Kingsford Smith Drive, Eagle Farm.

Fuel up on the way! The nearest petrol station is

at Caltex Eagle Farm, 645/647 Kingsford Smith Drive, Eagle Farm.

Next up – remove

all

your

luggage. Check again – have you got everything? No iPad under the seat, passport in the glove box or cash you hid in the sun visor? Okay, cool! Oh, and please remove your ru

bbish while you're checking for that wayward sock

.

Lock up your car and hand the key to the Brisbane Airport crew. (Now would be a good time to say goodbye if you really fo

rmed a bond with your JUCY car

).

Jump aboard the next free shuttle to Brisbane Airport (if you're heading that way). Our last shuttle

departs

at 4.30pm on weekdays, and 1.30pm on weekends. We recommend

ensuring you have an extra

45 minutes up your sleeve before you need to be at the airport.
Leaving your JUCY wheels behind when we're closed? Check out these instructions:
Drive to us

at 771 Kingsford Smith Drive, Eagle Farm. Do

n't forget to fuel up en-route.

Park your car along the green and purple fence

to the left of our branch.

Empty all your gear out – like, everything! If you can clear your trash out too, that'd be sweet.

Clos

e all the windows, lock the car

and place the keys in return box. It's located on the front of the building, in the right corner, past the windows.

As we don't offer a shuttle service out of hours, you'll need to make your own way to the airport. An Uber is usually $15. To the city, expect to pay $20(ish).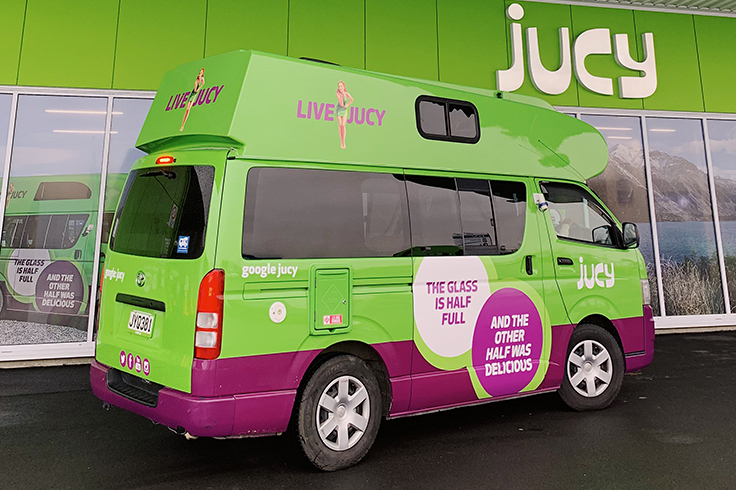 Choose your Brisbane rental car
Experience the best of Brisbane and Queensland with JUCY
Exploring Brisbane by car is the equivalent to getting the combination code to a safe – it's filled with unimaginable treasures, yours for the taking. Everything and anything is possible when you can travel your way!
Whether you're into your beach and surf vibes, or keen for some rainforest action, there is plenty on offer. Brisbane's central location and natural beauty make it the perfect starting off point for your adventures.
The famed surf-town of Noosa is an hour and a half north of Brisbane; it's a perfect spot for to bask in nature's finest. Or maybe you're up for some wildlife action at Australia Zoo, Lone Pine Koala Sanctuary, or Currumbin Wildlife Sanctuary, all accessible by car from Brisbane. For something a little different, consider a roadie to the Moreton Hinterland, where lakes, rock pools, and hikes are on offer. You might as well stock up on postcards as lower Queensland has some mind-blowing attractions to write home about!
It's not just the sights that make your Queensland roadie special. We take our part in your adventure seriously, too. Alongside a stylish set of wheels, we also include unlimited mileage, 24/7 roadside assistance, and free travel advice. We're not ones to hold you back, either. So we'll say yes to one-way travel plans (for a fee), and a 'heck yes' to travellers 18 years and over with a valid license. Plus we have some cool add-ons if you need items like a child seat, roof rack, or GPS.
If you're ready to book in your Brisbane adventure, give us a call on 1800 150 850 or book now above.