Campervan Hire at Gold Coast Airport
Get on the road with JUCY Gold Coast campervan hire and uncover the region on your terms. Booking a Gold Coast campervan rental is a great way to see more of the hinterland, soak up the beach vibes, or turn off the GPS and take the scenic route. There are no bad turns when you grab a van hire Gold Coast and travel around South East Queensland at your own pace.
JUCY has cheap campervan hire and is located in Tugun so we are only minutes from the Gold Coast Airport. We'll make it easy for you to get on the road and explore the best parts of the region in your easy to drive campervan rental Gold Coast. Plus, if you're looking for cheap car rentals near the Gold Coast then JUCY also has you covered!
Once you've booked your van hire Gold Coast with JUCY, you can get inspired on where to go with our 5-day Gold Coast campervan road trip itinerary. Plus, our JUCY crew loving sharing local tips and tricks when you pick up your camper too.
Did you know that during business hours you can catch a free shuttle bus from the airport to JUCY Gold Coast? Read further down the page to find out all the deets for picking up your JUCY campervan rental!
Contact JUCY Rentals Gold Coast
| | |
| --- | --- |
| Address: | 71 - 77 Boyd Street, Tugun, QLD 4224 |
| Reservations: | 1800 150 850 |
| Hours: | 08:00am - 05:00pm Monday to Friday |
| | 09:00am - 04:00pm Saturday |
| | 09:00am - 02:00pm Sunday |
Please note we are closed on Christmas Day, Boxing Day, and New Year's Eve.
JUCY campervans at Gold Coast Airport
We have an is-this-real-life Gold Coast Airport branch. Yeah, it's only minutes from the airport, but it's also only a block from the beach! Pick up happy vibes along with your campervan when you visit us here.
Our awesome JUCY crew is not just on hand to brag about the beach; they also have pro tips on many road trips. We love sharing travel advice.
And that's not all we offer. We also chuck in kitchen and bedding kits, unlimited miles (we won't hold you back!), and 24/7 roadside assistance.
If that's enough to make you say 'heck yeah', then grab a quote or book online, or give our crew a call on 1800 150 850.
JUCY airport shuttle

Picking up your vehicle

Dropping off your vehicle
We're all about your road trip – that's why we have a free shuttle bus (within office hours) to take you from Gold Coast Airport to our nearby branch to get you on the road faster. Here's what you need to know to pick up your JUCY wheels:
From Airport: Once you have cleared customs and collected your luggage, give us a call. Dial 1800 150 850, then option 1, then 3. Exit the terminal, go left to the end of the terminal, and wait at the shuttle collection area. The last shuttle is 30 minutes before closing.
To Airport: Once you have dropped off your JUCY wheels to our Gold Coast Branch you can jump on our free JUCY shuttle bus to the airport. Please return your vehicle at least 45 minutes before you need to be at the airport.

If you are making your way from downtown Gold Coast or Byron Bay, the SkyBus offers the cheapest options to the airport. From there, call us for our free shuttle (as above). Alternatively, an Uber or cab will get you there for around $40-50 from the GC, or approximately $100 from Byron.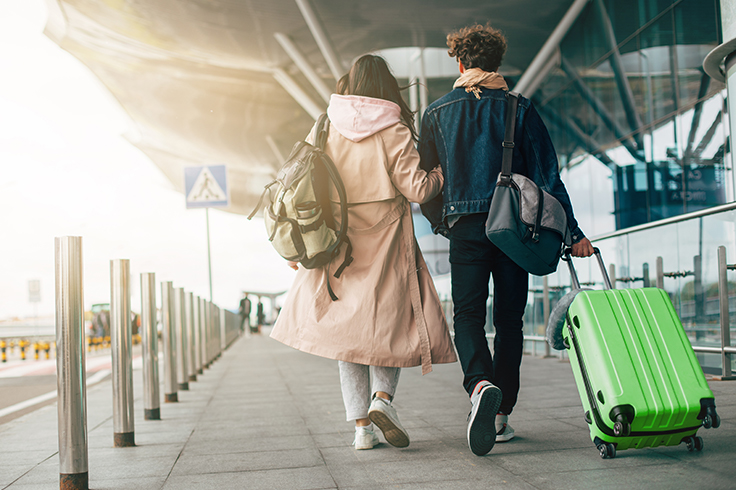 Wow. It's time. Time for whatever adventure you've planned to begin. As much as we'd love to think you want to hang with us, we know it's all about your camper and the Australian road.
This is what will happen when you come to pick up yours:
Did you land at Gold Coast Airport? If so, we offer a free shuttle bus ride. Check the tab to the left to read all about it.

How does a warm JUCY welcome, a bit of paperwork (if you haven't finished online check-in), and a detailed show-through of your campervan sound? Cool! The magic is in the last part where you learn all about your home-on-wheels for your Australian travels.

Did you know we offer free travel advice, on top of a range of other bonuses? Before you set off, take the chance to fill in any missing gaps, or get some local intel.

All of us at JUCY is passionate about trips, especially the road kind!

Please arrive at the branch at least one hour before closing time. This is the last time slot for campervan pick-ups.
After-Hours pick-up is unavailable until further notice.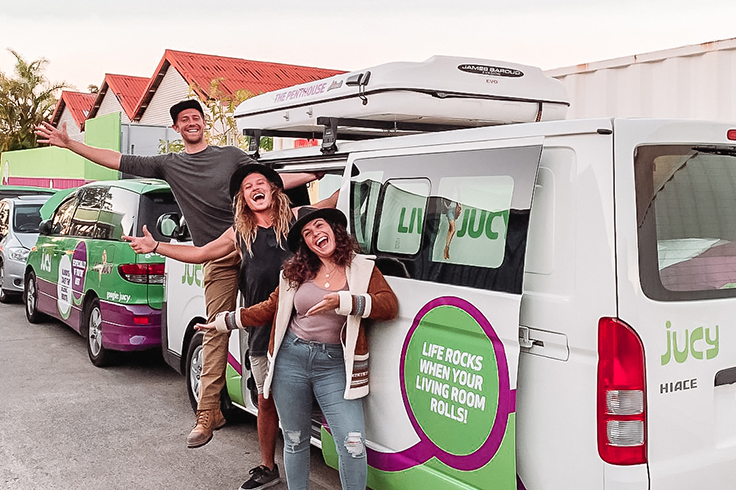 Dropping off your vehicle
When you say goodbye to your best travelling bud (aka your JUC Y camper), it's got to be swift. Here's how we pull that Band-Aid off with our speedy drop off procedures:
Dr

i

ve

to 71 - 77 Boyd Stree, Tugun

.

Be sure you're fuelled up before you drop off your campervan. The nearest petrol station is

Shell Service Station, corner Gold Coast Hwy & Toolona St & Maud St, Tugun QLD 4224

Once at the branch, check the

campervan

for all your belongings. Like, all of them (check under the seats, we always find some gems there). We'd love it if you can clear out any rubbish too. Might as well hide the evidence of all those road trip Aussie meat pies, right?

Find a member of our crew and hand over your keys.

Hop aboard the next free JUCY shuttle to the airport.

T

ag us #

jucyworld

in any Insta-pics so it's not a true goodbye.
JUCY RENTALS IS NOW ZERO CONTACT FOR ALL VEHICLE PICK UPS AND DROP OFFS!
JUCY's new zero contact booking option allows you to pick up and drop off all vehicles 24 hours a day and 7 days a week(except Melbourne Airport) with a contactless experience to minimize human contact.
We also offer after-hours pick up and drop off for both cars and campervans now! Find out more information here.
ch.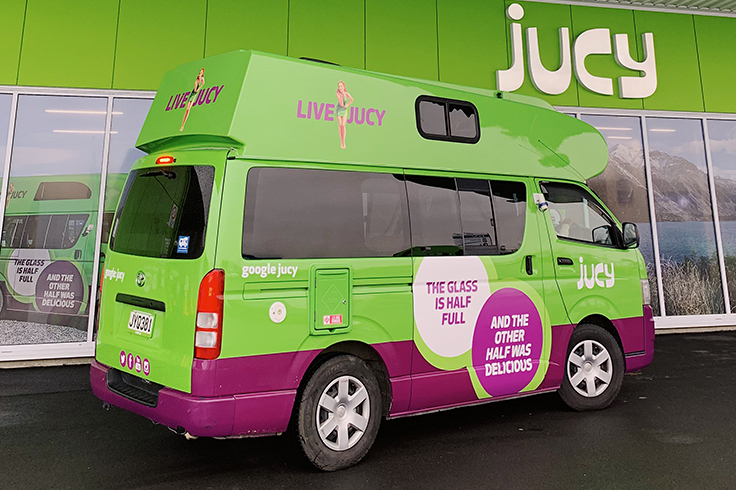 Your JUCY campervan options
The freedom of a JUCY campervan from Australia's Gold Coast
Oh, the places you'll go. You've been dreaming of an Australian road trip since forever ago. When you close your eyes, you can smell the Gold Coast surf, hear the birdsong in the nearby hinterlands. You've scoured #goldcoast hashtags for inspiration, memorised cafes, and restaurants, and theme parks to visit. You've mapped the road you want to drive. You're ready.
So are we. With close to two decades in the campervan business, we know how to prep an epic trip for you.
It starts with five awesome campervan models to hire. We have a van to suit your budget and group size, from the inexpensive El Cheapo to the family-sized Condo.
It's not only the campervan! You'll also receive a kitchen and bedding kit at no extra charge. Once you've stowed your luggage and stocked up the fridge, you're road trip ready.
You'll also get unlimited miles. It's up to you if you stay close to the Gold Coast, or decide on a cross-country escapade. We're not big on holding back, either.
We also have a passion for sharing free trip advice, via our well-travelled JUCY crew, or on our website. Go to the Get Inspired page to access itineraries and blog posts. There are even campground recipes to save you from eating Vegemite on crackers for every meal (you're welcome).
Your home-on-wheels becomes your access point to stunning beaches, the Aussie bush, outback outposts, and wildlife to write home about. Better practice your handwriting for those postcards to mum!
If you're ready to get that bucket list trip locked in, we recommend booking ahead for any summer travel plans as we do sell out. To get your camper sorted, book here on our website, or call us on 1800 150 850.