Car Rental in Cairns
Queensland, as Australia's second-largest state, is huge. In fact, it's 22% of the Australian continent! Having a car gives you the freedom to travel your way.
At JUCY, we leave how you want to travel in your hands. Whether you're looking for a low-cost ride, love a lot of legroom, or want to drive your buddies to an event, we've got you.
Plus, our Cairns branch is located only 10 minutes from the airport by our free shuttle bus service. Read further down the page to find out all the deets for picking up your JUCY car rental!
Contact JUCY Car Rentals Cairns
| | |
| --- | --- |
| Address: | 55 Dutton Street, Portsmith, QLD 4870 |
| Reservations: | 1800 150 850 |
| Hours: | 09:00am - 04:00pm Monday to Friday |
| | 09:00am - 02:00pm Saturday and Sunday |
JUCY Car Rental Cairns is closed on Christmas Day, Boxing Day, and New Year's Day
JUCY cars in Cairns
As Cairns is the gateway to Queensland's Tropical North, we know it's the jumping-off point for many an adventure. Whether you're planning on diving the Great Barrier Reef, sunning yourself on the region's white sandy beaches, or heading into the Daintree Rainforest, we're committed to getting you there quickly.
We do this by being close to the airport and the city, and by offering a free shuttle ride. Plus, our dedicated crew is as passionate about travel as you are and work quickly to get you in your JUCY wheels.
So, what are you driving? Our zippy Italian Small Hatch is the complete package if you're looking for a great value, compact ride. Our Mid Hatch suits a family or friend roadie; though you may want to book a Sedan if you love legroom. For events, groups, and cool sing-a-long road trips, our 8 Seater is a fun car!
JUCY airport shuttle

Picking up your vehicle

Dropping off your vehicle
Note: Our branch airport shuttle runs on demand during JUCY business hours, and the last shuttle leaves the airport 30 minutes before closing time.
Want a free ride? Here are three easy steps to get our absolutely FREE shuttle from Cairns Airport to our JUCY branch:
Step 1
Get off the plane, stretch your legs, and smell the incredible Tropical North Queensland fresh air for the first time!
Step 2
Collect your bags and call us on 1800 150 850. Select option #1, then #5 to request your free shuttle transfer.
Step 3
For domestic and international terminals, exit the airport and follow the green line and signs to the courtesy coach pick up area and wait for your JUCY shuttle.
Wondering if you'll see us coming? Our shuttle van is bright green and purple, so it's almost impossible to miss us!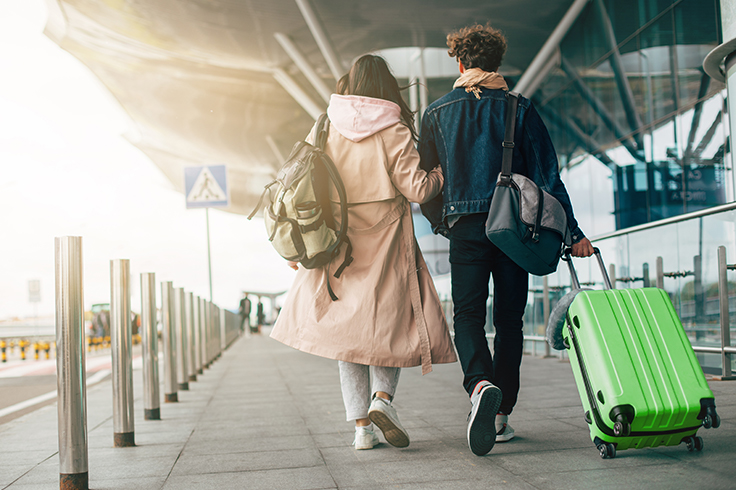 If you're arriving during our branch opening hours, our friendly JUCY crew will be ready and waiting.
Here's the skinny on your rental car pick up:
We offer a free airport shuttle – yay! Click the tab to the left to find out how to book your place on it.

Once you're at our branch, we'll take you through the paperwork, car inspection, and any travel info you

may

need to help you on your way.

Make sure you're with

us by 3.30pm on weekdays

and 1.30pm on weekends for our last car check-in times.
After-Hours pick-up is unavailable until further notice.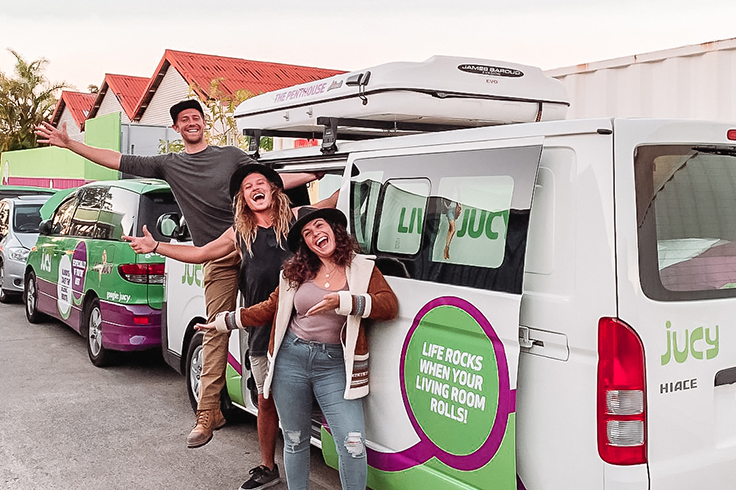 Dropping off your vehicle
Is it time to go? So soon! We'll miss you but before you leave us, follow these steps to return your car:
Drive to our Cairns branch at 55 Dutton Street, Portsmith. We recommend adding

a 45-

minute

buffer

to your journey time.

Have you fueled up?

If you have forgotten, a

s we are centrally located, there are plenty of petrol stations close by

(Caltex Cairns Kenny Street, 30 – 36 Kenny Street,

Cnr

Bunda

Street, Cairns City

.

Grab you

r

luggage. Like, everything! Check in the many hidey-holes that we find so many

travellers'

possessions. If you can remove any rubbish at the same time, we'd be stoked.

You're now ready to hand your car keys to our friendly crew. We don't mind hearing a good travel

ler's tale or two from the road

if you're keen to share your road trip highlights

.

If you're heading to the airport, hop on our next free shuttle ride. Our last b

us

leaves at 3.30pm on weekdays

and 1.30pm on weekends.
Dropping off out of hours? Read this (on a need-to-know basis):
Drive to us at 55 Dutton Street, as above, fueling up on the way.

Clear out your possessions (alllll of them), and check the windows are closed before locking your car.

Drop y

our keys in the key return slot, located on the front of the building.

You'll need to coordinate your own travel arrangements from here. To the airport, it costs approximately $20 in an Uber. To Cairns centre, it's around $10.

You can also walk if you have minimal luggage.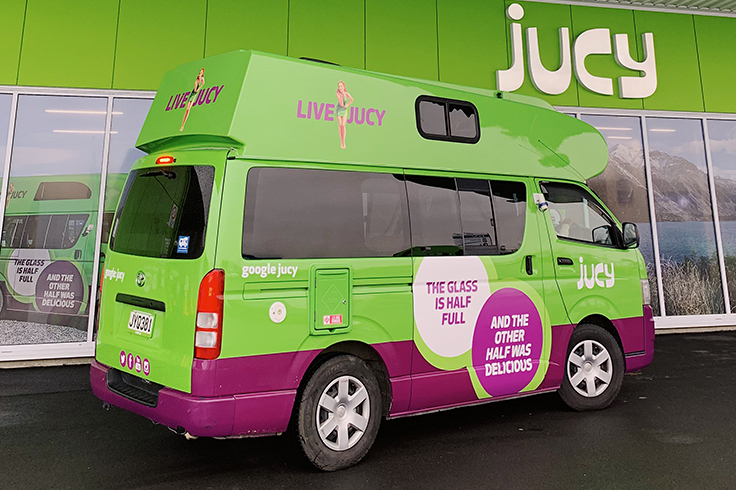 Your JUCY hire car options
Your Cairns and Tropical Queensland trip with JUCY
The far north of Queensland is usually high on an Australian visitor's bucket list. Even on Aussie residents own wish list! Why? White sandy beaches, a world-famous reef, more adventure sports than you can shake the proverbial stick at, and daily wildlife spotting opportunities across the state. Hard to ignore the bait, huh?

Cairns is the obvious kicking off point for a regional roadie. With a large number of flights daily, a buzzing city vibe, and its central location amid the Tropical North's main attractions, it makes sense to start here. That's why we have a branch located between the airport and the city for your convenience.
We don't only offer you a central location. Nope, we're generous with our free airport shuttle bus and round-the-clock roadside assistance once you hit the tarmac. Plus, a fave JUCY feature is our unlimited mileage on all vehicles. No matter your budget, you're not going to have to worry about how far and deep you go into Australia's magic. We say 'go for it!"
So, when to visit us? We welcome you year-round, of course, but if you're looking for the best temps and least amount of rain, then a June to October vacay is best. If you're planning on coming over Australia's busiest season – summer – note that it pays to book as far in advance as you can. A lot of visitors choose to Live JUCY then!
Whether you're in the early stages of trip planning or ready to book, our website is chock full of travel tips, inspiring itineraries, and information about our vehicles. Alternatively, give our team a call on 1800 150 850 to get all the info you need. We can't wait to chat!