11 places to get off the beaten track on the Great Ocean Road
There are plenty of places to visit on the Great Ocean Road, especially if you're self-driving the whole route. But if you're looking to dodge the crowds and want to see some hidden gems beyond the 12 Apostles on the Great Ocean Road, you'll need to get off the tourist trail and start exploring the wider area.
To help you map your road trip and plan some quiet stop-offs, here's a list of 11 unmissable, off-the-beaten-track places to visit on the Great Ocean Road:
1. GREY RIVER ROAD, KENNETT RIVER
Kennett River is a popular stop off on the route as it's got easy access to the beach, plus plenty of camping grounds.
But if you want to spot a koala in the wild on your road trip, taking a ride down quieter Grey River Road is your best bet. Most tour buses stop in the Kennett River car park to use the amenities, but if you travel further up Grey River Road, you'll more than likely have the road to yourself.
Take it nice and slow, or park safely in the car park and take a stroll up the hill to spot some cuddly koalas hanging out (and most likely napping) in the eucalyptus trees that line the road.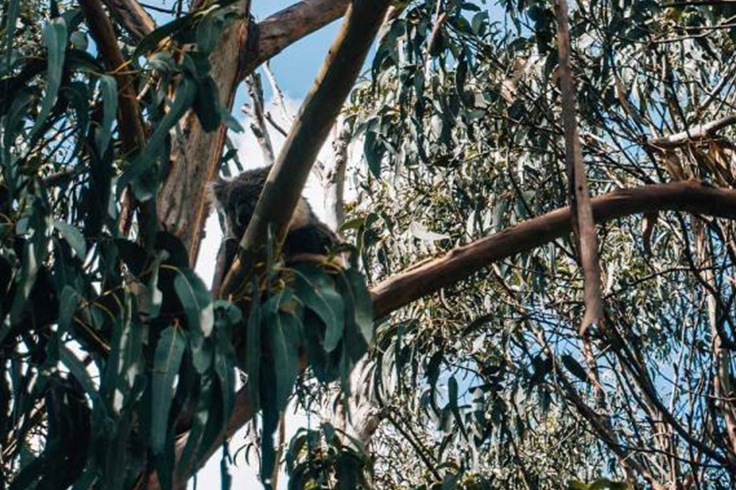 2. BELLS BEACH, TORQUAY
The town of Torquay is known for being a bit of a surfer's paradise, but just outside of town is Bells Beach, a world-famous surf beach.
There are plenty of vantage points along the long beach if you want to have a driving break and watch surfers take on the huge rolling waves that come in along the bay. It's also home to the Ripcurl Bells Pro surf competition each year in March, so if you can tie in your visit around then, you're bound to see some great surf in action.
If you're new to surfing, this probably isn't the best beach to start catching waves, but it's still a great place to watch!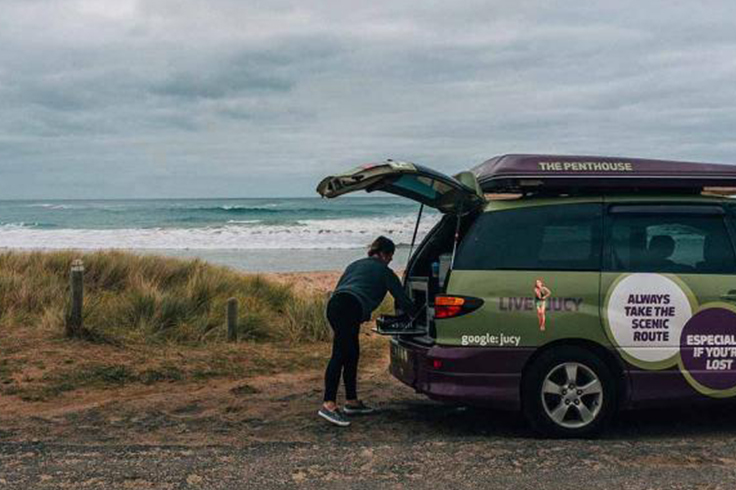 3. GRIFFITHS ISLAND, PORT FAIRY
Port Fairy often gets missed out on the Great Ocean Road, but if you're looking for an epic sunrise, stay a night nearby.
Griffiths Island is home to Port Fairy lighthouse and its colony of shearwater seabirds, so another great place to spot some local wildlife.
Plus, Port Fairy is known for all things artisan, including its annual folk festival, so is a hub of inspiration and creative talent. Once you've experienced a sunrise on Griffiths Island, stop off to get a coffee in town and start exploring the hidden art galleries, heritage buildings, and craft stores Port Fairy has to offer.
4. GREAT OCEAN ROAD WILDLIFE PARK
This family-run animal sanctuary is tucked away, but one of the best places to visit on the Great Ocean Road if you want to see some local wildlife up close.
The self-sustaining farm is a safe-haven for some of South Australia's wildlife - the petting area is where you can get friendly with kangaroos, wallabies, emu, dingos, and deer, while some spaces are kept for recovering or injured animals.
One of the most peaceful places to stretch your legs and get a change of scene from the ocean views.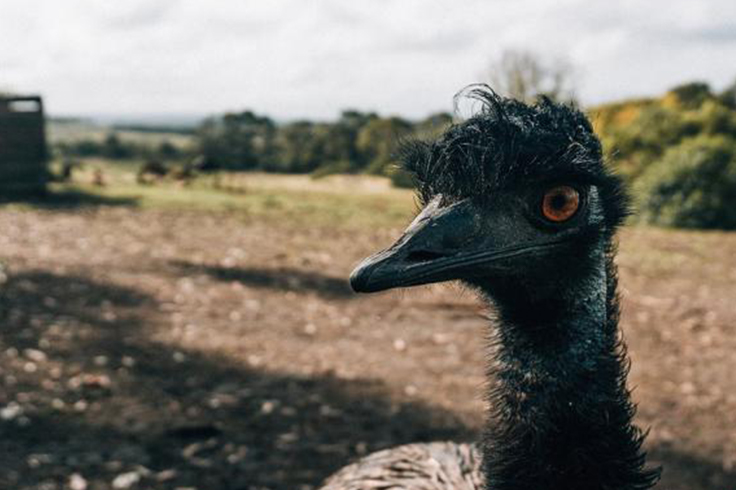 5. SWING BRIDGE CAFE, LORNE
Lorne is a cool little town, but there's no cuter spot to take a driving break than the Swing Bridge Cafe.
It's a bit of a local secret as you have to walk or drive through a campsite to get to the Swing Bridge Cafe car park. But once you're there, you've got front row seats to Victoria's stunning South-West coastline.
Plus, if you collect a bucketful of litter from the beach before brunch, you'll get a free coffee on the house! Just pick up a bucket before you go.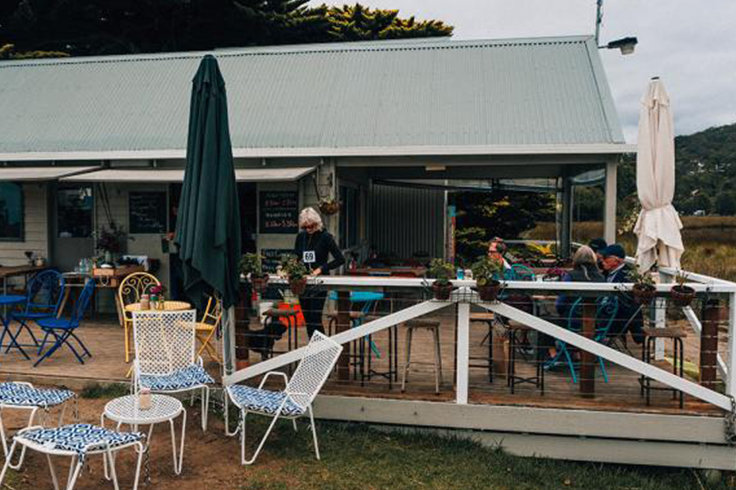 6. PORT CAMPBELL BAY
Port Campbell National Park should definitely be on your places to visit on the Great Ocean Road list.
But don't forget to stop off in Port Campbell town - it's the perfect spot for a swim in the bay (weather permitting) or picnic right on the shore with stunning cliff faces as a backdrop.
7. THE LONDON BRIDGE, PORT CAMPBELL NATIONAL PARK
Known for its unexpected collapse in 1990, the London Bridge rock formation off the coast of the Great Ocean Road is a sight that most visitors miss out on.
Now, you can take in the stunning rock formation from the viewing platform, and if you're lucky, spot a penguin or two on the shore.
Definitely one stop to add to the route as you drive past the 12 Apostles on the way to Peterborough or Port Fairy!
8. THE ARCH, PORT CAMPBELL NATIONAL PARK
Another arch formation that a lot of tours skip out on, but is well worth a visit! The Arch on the Great Ocean Road has two great viewing platforms so you can get quite low to the shoreline, and get an unusual photo perspective looking back toward the 12 Apostles!
Try to visit in the afternoon when the setting sun leaves a golden light across the arch itself - truly magical!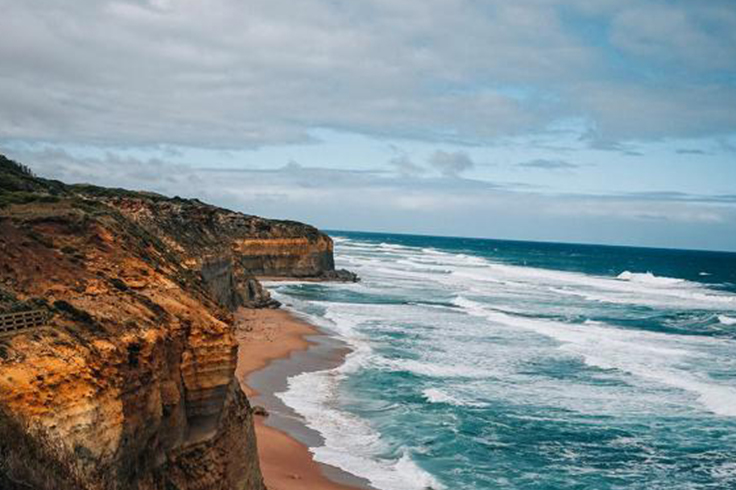 9. TRIPLET FALLS AND HOPETOUN FALLS, CAPE OTWAY NATIONAL PARK
Cape Otway National Park is famous for its lighthouse, but it also has awesome Great Ocean Road bush walks.
For the best waterfalls, avoid the crowds at the Otway Fly tourist walk, and instead, head further down the road to Triplet Falls, or hike to Hopetoun Falls - a 30-metre high waterfall that cascades into the Aire River.
If you fancy a beautiful boardwalk stroll through rainforest gullies with ancient Myrtle Beech trees, take on the Maits Rest Rainforest Walk.
10. GIBSON STEPS, GREAT OCEAN ROAD
You might think that the Gibson Steps is 'just another stop on the Great Ocean Road', and for that reason, many people drive past, eager to get to the 12 Apostles.
But, if you really want to take in the magnitude of the cliff faces and the height of the Apostles, head down to the beach on the Gibson Steps. Tide and sea permitting, you can walk down the man-made steps to the shore and take in Gog and Magog, the names given to the two offshore stacks!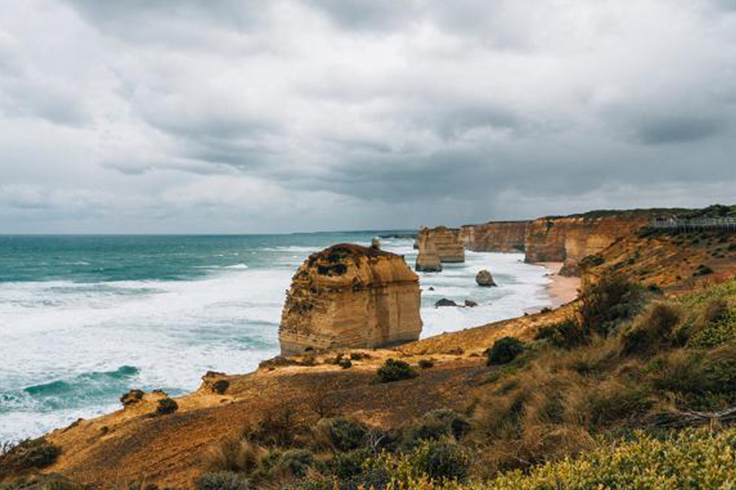 11. BLUE LAKE, MT GAMBIER
Some of the best places to visit on the Great Ocean Road are actually just off it. This is a stop-off for the long-term road-trippers.
If you're travelling from Adelaide to Melbourne or vice versa, you'll probably pass through Mt Gambier. While it's not technically in the Great Ocean Road, if you find yourself in the area, a pitstop at Blue Lake is a must.
During the summer months, the lake is an ultra-vibrant blue colour and the perfect backdrop for your road trip photos! Just remember that you can't swim in the Blue Lake, but just a 10-minute drive away is "Little Blue Lake" at Mount Schank, if you fancy taking a dip.
VISIT THESE PIT-STOPS THAT ARE OFF-THE-BEATEN-TRACK BUT STILL SOME OF THE BEST VIEWS THE GREAT OCEAN ROAD HAS TO OFFER! BOOK YOUR JUCY ROAD TRIP NOW