Car Rental at Sydney Airport
A visit to Sydney can range from the leisurely to the hair-raising. With so much on offer, everyone's needs are met with JUCY car rentals Sydney.
While public transport is reasonable in the city centre, if you're looking to travel further afield, a car offers some solid advantages. Like outback towns with artisanal vibes. And alpine villages, wineries, heritage towns, and incredible wildlife.
Thankfully, we can get you there! We have four car categories with unlimited mileage, 24/7 roadside assistance, and our helpful JUCY rentals crew ready to welcome you to the family.
Did you know that during business hours you can catch a free shuttle bus from the airport to JUCY Sydney Airport brunch? Read further down the page to find out all the deets for picking up your JUCY car rental!
Contact JUCY Car Rentals Sydney
| | |
| --- | --- |
| Address: | 286 Coward Street, Mascot, NSW 2020 |
| Reservations: | 1800 150 850 |
| Hours: | 08:00am - 05:00pm Monday to Friday |
| | 08:00am - 02:00pm Saturday |
| | 09:00am - 02:00pm Sunday |
JUCY cars at Sydney Airport
So you're planning a trip to Sydney? It's a city filled with 'best of' places, attractions, and eateries. World-renowned beaches, a spectacular harbour, and a plethora of ways to participate like a Sydney-sider. (We're talking Sydney's unforgettable café culture, of course.)
If you are hiring a JUCY car, that's only the start of your adventures here. There are ample gems that are accessible within 2-3 hours of the city centre and are as equally enchanting. It's why we have a handy branch close to Sydney Airport. You get to choose if you want to sightsee locally or dash away to places like the Blue Mountains, Mungo National Park, and Minnamurra Rainforest.
The best part? We also offer a free airport shuttle bus, so you're on the road as fast as possible! If you're ready to Live JUCY in Sydney, book online, or call us on 1800 150 850 today.
JUCY airport shuttle

Picking up your JUCY rental

Dropping off your JUCY rental
How does a free airport shuttle sound to kick off your Sydney car rental adventure? Cool, because we've got one! If you're collecting your JUCY Sydney car rental during our business hours, you'll need to do the following to nab a seat on our free green-and-purple shuttle bus:
Once you've grabbed your bag and cleared customs, give us a bell on 1800 150 850 and select option #1, then #4 to order your free ride

Please exit the terminal (domestic & international) and follow the GREEN priority pick-up signs and wait at the Priority pick-up area for our green and purple JUCY shuttle. Pick up point is located at a 4 mins walk from the terminal

For car rental pick-ups, our last Sydney Airport shuttle collection time is 4.30 pm on weekdays and 1.30 pm on weekends
If you're already in the city, you'll need to make your own way to us and an Uber or Taxi is going to set you back $15 - $20 approx
How do I get a shuttle to SYDNEY airport?
Once you have dropped off your JUCY wheels at our Sydney Branch you can jump on our free JUCY shuttle bus to the airport. Please return your vehicle at least 45 minutes before you need to be at the air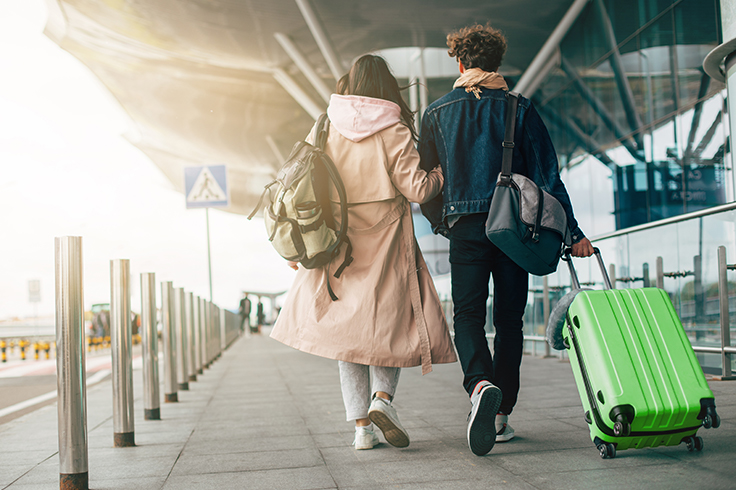 Picking up your JUCY rental
We're people-people at JUCY. That's why we get excited about every single customer coming to visit us. Not only do we get to help bring your planned road trip to life, but we also get to talk travel – our fave subject! Aside from sharing as many travel tips with you on arrival, the following will also happen:
You can pick up your JUCY car rental from 19 Ossary Street, Mascot, NSW.

Enter our JUCY branch via Coggins Place by heading up the driveway.

If you're arriving at Sydney Airport – domestic or international

–

we'll pick you up on

our

shuttle bus. It's free! Check the tab to the left to find out more.

Aside from a warm welcome by our Sydney Airport branch crew, you'll also need to complete a little paperwork and check

your

JUCY wheels. We can even help with some tips if this is your first time driving on the left side of the road.

Unless you're coming out of hours (see below), you'll need to arrive by 4.30 pm on weekdays or 1.30 pm on weekends for your car check-in.




After-Hours pick-up is unavailable until further notice.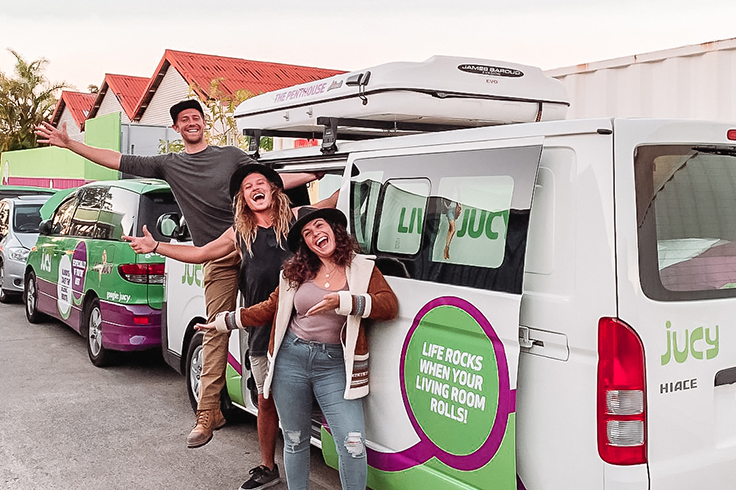 Dropping off your JUCY rental
In the words of Sam Smith, we're "Too Good at Goodbyes". That doesn't mean we won't miss you! Here's how we make returning your JUCY hire car easy:
Drive to our branch at 286 Coward Street, Mascot, NSW 2020
We recommend adding an extra 45 minutes to your schedule if you're planning to jump on our shuttle bus to the airport
As you're getting close to the branch, you'll need to fill up the petrol tank. Our nearest gas station is BP Mascot
Park your JUCY car rental, empty your belongings and pull out your Treasure Island skills as you dig deep for lost items. We've seen it all: left passports, electronic gadgets, and a weirdly high number of left thongs (that's a flip flop to you). Can you clear any rubbish out at the same time, too, please?
Hand in your key to our friendly crew. You're now welcome to jump aboard the next shuttle to the airport. It's free! The last bus goes at 4.30 pm on weekdays and 1.30 pm on weekends. We'll see you next time, yeah?
If you're returning your car after hours, read this:
Follow the steps above: drive, fill up, remove your gear and rubbish
Enter through the gate and proceed up the driveway
Please park your vehicle in the carpark beside the office building
Next up, check the windows are all closed, then lock the car
Return keys in the Key Return Box located on the office building
We're sad to say it, but you're now free to depart. Sob.

To Airport: Please make your own way to Sydney Airport via Taxi or Uber (approx. $20/6 mins/2 km)
To City: An Uber/Taxi will cost approx. $30 (13km/25mins)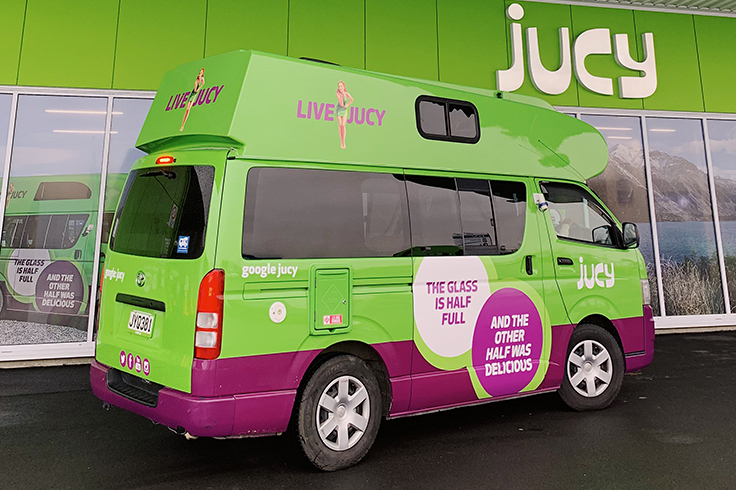 Experience Sydney's star quality in your JUCY rental car
Incredible Sydney. It's on almost everyone's bucket list. The appeal is obvious: activities in outdoor havens, on iconic landmarks, or indulging in the city's internationally recognised food and wine scene. And that's just a sample!
Venture further afield to see white sandy beaches, craggy coastal walks, stunning national parks, and lush wineries. Plus, maybe we're just lucky, but it seems to us that the wildlife around here appears to pose while we snatch our phones from our pockets.
To take that kangaroo selfie, or enjoy a magical moment staring at an unimaginably attractive landscape, you're going to want some wheels. Not like to carry in some weird Crossfit/travel adventures. A car! It gives you the ultimate freedom to explore on your own timetable and terms.
That's why we've got four categories for you to choose from. Go for a compact run-around with our Small Hatch. Pick our popular Mid Hatch, or upgrade to our Sedan for a spacious ride. We even have a motor for your girls getaway, team trip, or whatever other excuses you can come up with to take seven mates on a roadie!
We're generous with some extras too. We're not the distance police, so we won't be counting your mileage. We also offer 24/7 roadside assistance for peace of mind. Plus, we permit one-way trips and rent to all licensed adults, yep, even 18-year-olds. We also have a whole range of add-ons -– baby seats, child seats, roof racks, even camping chairs and tables!
If you're ready to book your Sydney Airport JUCY car today, call us on 1800 150 850 or book online.