Campervan Hire in Melbourne CBD
No need to backtrack to the airport when you can pick up your JUCY wheels from our St Kilda, Melbourne branch.
When you hire a campervan, you're not just choosing to drive with everything you need, you're also saying 'yes' to freedom.
To help you reach your road trip dreams, we have five campervan models to choose from. Pick by size, style, features, or cost. We got you!
Choose from four vehicle categories. Select your JUCY wheels by style, space, or savings. Book online today.
Find JUCY Campervan Hire Melbourne City
| | |
| --- | --- |
| Address: | 87 Inkerman Street, St Kilda, VIC 3182 |
| Reservations: | 1800 150 850 |
| Hours: | 08:00am - 04:00pm Monday to Friday |
| | 09:00am - 02:00pm Saturday and Sunday |
Every day is a travel day, which is why we only close JUCY Melbourne on Christmas Day!
Your JUCY campervan options
JUCY campervans in Melbourne City
When you've finished exploring Melbourne City, you want to get on the road as fast as possible. Our St Kilda branch makes that possible. We're all about spending more time exploring, too.
We've got you covered. Whether it's to drive the Great Ocean Road, north to Sydney, or in search for Australia's unique wildlife, we've got a vehicle to make it happen.

Along with your new best friend (aka your trusty camper), we also offer bedding and kitchen kits, 24/7 roadside assistance, and unlimited miles. Yep, you can go far and wide without stressing about paying per kilometre covered on your roadie. We also permit one-way rentals and hire to licensed drivers aged 18 and above. Score.
Ready to pick up your JUCY campervan from our Melbourne City branch? Here's how:
If you're not staying in popular St Kilda, you can reach us cheaply by tram. We're only 6km from central Melbourne so pick up tram 67 from the train station. They run every 20 minutes.

Get

off at the 34 Inkerman St stop

,

and it's a 1-minute walk from there. If you're looking for convenience, an Uber is approximately $20 from the city

centre

.

If you're coming from the airport, you'll need to take a Skybus and tram to get to us cheaply, or an Uber is around

$70-80.

We allow campervan pick-ups one hour before we close. So, get to us by 3pm on weekdays, and 1pm on the weekends.

After-Hours pick-up is unavailable until further notice.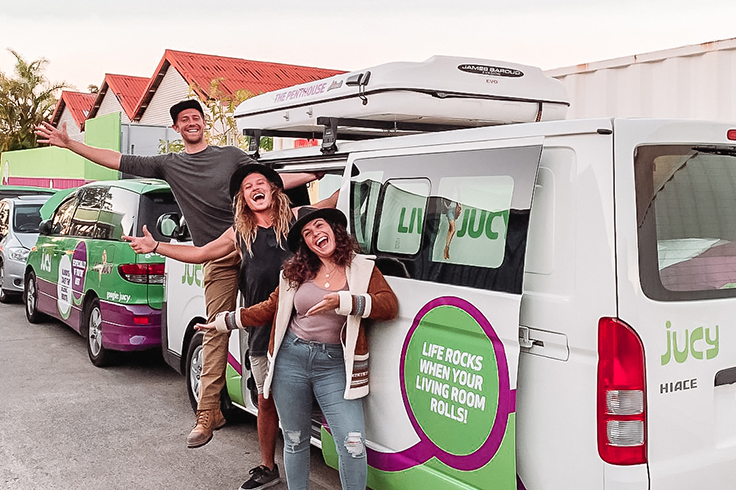 Dropping off your vehicle
We know it's going to be sad to say goodbye to your trusty campervan, so we'll keep our part simple with these steps:
Drive to our St Kilda branch at 87 Inkerman Street.

A q

uick check before you pull in – have you filled the tank with gas? If not, a quick detour to the nearest petrol station at

Coles Express, 120-134 Barkly Street & Corner Balance Street, St Kilda VIC 3182.

will be in order.

Park up then

make

a thorough check of your campervan to

ensure

you have everything. Imagine it's treasure buried on an island and each

l

ost shoe, headphones, or cuddly koala souvenir

is striking gold

. We'd love it if you removed your rubbish at the same time, too.

Say your goodbyes and hand in the keys to our friendly JUCY crew.

Walk away… turning once every few seconds to get one last glimpse of your road trip bestie. We hope to see you back soon!
JUCY RENTALS IS NOW ZERO CONTACT FOR ALL VEHICLE PICK UPS AND DROP OFFS!
JUCY's new zero contact booking option allows you to pick up and drop off all vehicles 24 hours a day and 7 days a week(except Melbourne Airport) with a contactless experience to minimize human contact.
We also offer after-hours pick up and drop off for both cars and campervans now! Find out more information here.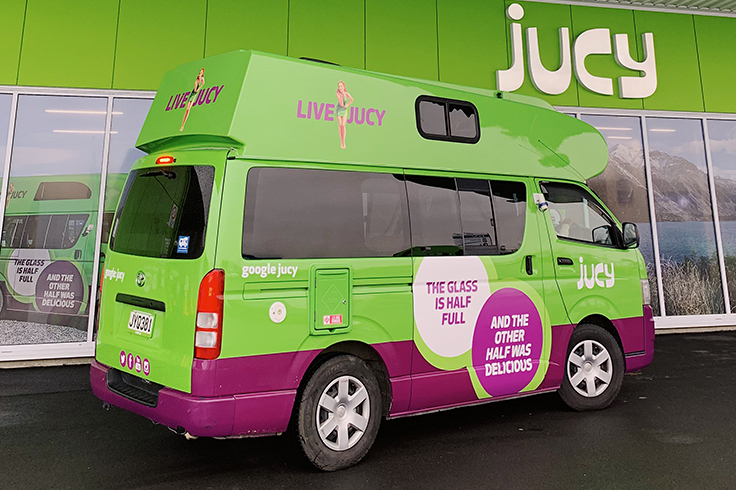 Unlock the secrets of Melbourne and Victoria with the freedom of a JUCY campervan
When you hire a JUCY campervan, you get cool wheels that give you travel autonomy. Want to pull over for a picture at the Big Cigar in Churchill, just because? Go for it. Thinking of a detour to the sandy beaches of Gippsland. Be our guest. When you are driving accompanied by your kitchen and bed, you are in control of your road trip destiny. Especially with unlimited mileage!
Compact Victoria is an accessible Australian state to explore. One day you can be viewing the familiar jutting rocks of the Great Ocean Road, the next you could be hiking in the Macedon Ranges. Or following instructions from your stomach on a Victorian food trail. Yum.
Victoria has natural wonders, a wide range of wildlife to spot, and coastline that is worth starting an Instagram account for. All reached, with ease, from our Melbourne City branch.
We know it can be challenging to plan a road trip of this magnitude, particularly from afar. Where to go? What to see? That's why we not only offer a range of campervans for you to rent, but also a ton of free extras to make your trip as effortless as possible.
Along with our unlimited mileage, how do you feel about free bedding and kitchen kits? Plus, all the support you need with our 24/7 customer service and roadside assistance freephone numbers?
We're always down to share our travel tips – you'll find a load in our Get Inspired section on here, but you can also call us on 1800 150 850 to get the skinny on what the JUCY peeps like to do on a VIC roadie.