Car Rental in Melbourne CBD
We know road trips and how to help JUCY customers get on their travels quickly. That's why we have two branches in Melbourne.
Our Melbourne City branch is by the beach in St Kilda, so no need to backtrack to the airport if you're already downtown. It saves time and money, a double win!
Choose from four vehicle categories. Select your JUCY wheels by style, space, or savings. Book online today.
Contact JUCY Car Hire Melbourne
| | |
| --- | --- |
| Address: | 87 Inkerman Street, St Kilda, VIC 3182 |
| Reservations: | 1800 150 850 |
| Hours: | 08:00am - 04:00pm Monday to Friday |
| | 09:00am - 02:00pm Saturday and Sunday |
Every day is a travel day, that's why we only close on Christmas Day!
Select your JUCY hire car
JUCY cars in St Kilda, Melbourne City
With two JUCY branches in Melbourne, you can pick where to start (and end) your trip! Once you've seen Melbourne's sights, you only need to travel to St Kilda to collect your JUCY wheels. And who doesn't love one more reason to see the ocean?
Perhaps you're planning to travel the iconic Great Ocean Road? Maybe our cool Victoria wildlife road trip suggestions have piqued your interest? Perchance, you're planning on an epic road trip to Adelaide or Sydney? Whatever floats your boat (or car in this case), we've got you covered.
How? Four car categories, free unlimited mileage, 24/7 roadside assistance and a 24-hour travel hotline, plus we rent to 18+! Book online in four easy steps. Or call us on our freephone number 180 150 850 so one of our crew can answer your queries.
Picking up your vehicle

Dropping off your vehicle
Picking up your JUCY hire car from Australia's hippest city is a breeze. Here's what you need to know about collecting your vehicle during our branch open hours:
Head to

us

at 87 Inkerman Street in St Kilda. If you're not staying nearby, a tram ride i

s

a cheap and convenient way to reach us. From downtown, tram 67 runs every 20 minutes. Hop off at 34 Inkerman Street then walk one minute from the tram stop. If you'd rather have a convenient

ride

, an Uber will cost you about $20.

Coming directly from Melbourne Airport? Take the Skybus,

then a tram if you have the time. A

n Uber will set you back

$70-80.

For car pick-ups, please reach us by 3.30 pm on weekdays and 1.30 pm on weekends.
After-Hours pick-up is unavailable until further notice.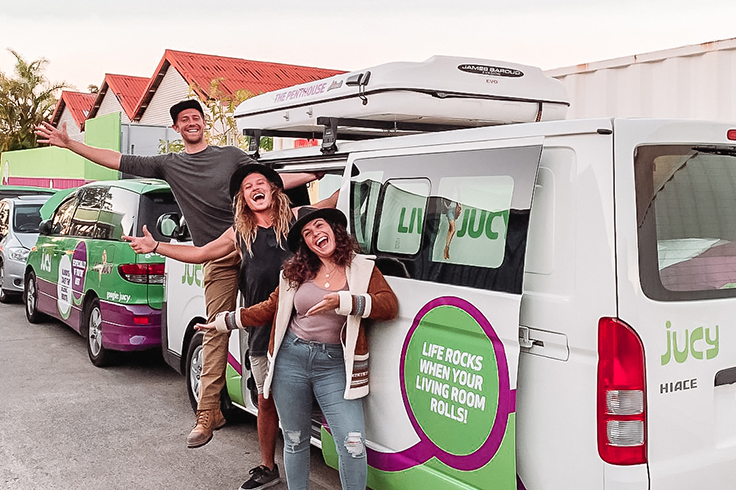 Dropping off your vehicle
Thankfully our goodbye is more fun than a Taylor Swift breakup song. It's 'see ya later', not goodbye!
To return your JUCY wheels, follow these instructions:
Drive

to our branch at 87 Inkerman Street in St Kilda.

Before you switch off the engine, check you've got a full tank of gas. If not, you'll need to make a quick detour

to Coles Express, 120-134 Barkly Street and

Cnr

Blanche Street, St Kilda

petrol station.

Remove your luggage

,

then it's time to play 'what have I left behind'. This is a

fun game that means you can head to the airport or your next stop confident that you have your passport, valuables, and trusty travel pillow.

It'd be ripper (that mean

s great to a non-Aussie) if you could clear out your rubbish, too.

Hand in you

r

car key to our

friendly JUCY crew.

It's over! But come back soon!
Here's the skinny if you've pre-booked to return your hire car out of our branch hours:
Drive to

us

at 87 Inkerman Street,

refuelling

your car on the way. Access our car park via the laneway on Market Street.

Clear the car of your belongings. Think of it like an Easter egg hunt only with more valuable items (usually). Can we ask that you remove your trash now, too?

Roll up the windows, turn off any electricals, lock the car

,

and drop th

e key in the lock

box. It's on the wall, to the right of the roller door, on the St Kilda Rd side of the building.

You're now free to make your own way to your next destination. We'll miss you! A handy guide: an Uber to the airport is $70-80

;

to the city

,

it's approximately $20. The Sky

bus and tram are also an option

if you have

spare

time.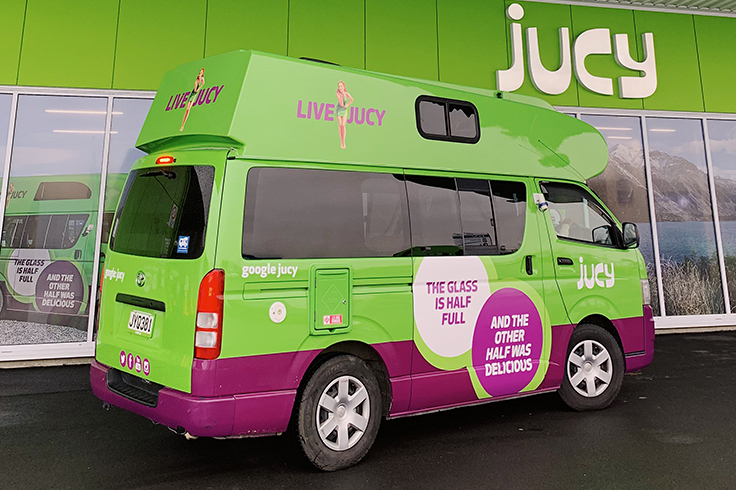 Uncover Melbourne and Victoria's secrets in a JUCY rental car
Travelling from Melbourne around Victoria state is going to awaken the FOMO in your friends as you share your travels. And family. And work buddies. As you'll soon discover, a lot of the state can be considered under the radar, like Gippsland, Mt Buffalo, and the Otways. If you have the time, we encourage you to think outside the box when you drive out of Melbourne city in your JUCY wheels.
Although Victoria is Australia's second-smallest state, it's still the size of the UK. Plenty big enough to reveal it's secrets if you have a vehicle to get around in. And that's where we come in!
Whether you're a driver that loves a small car for comfort on the roads, or a medium-to-large one for comfort in the car, we've got a motor for you. We've even been helping groups getaway for nine years now, in our 8 Seater vehicles. Our lips are sealed: what goes on tour, stays on tour!
At 225,000 square km, there's a lot to discover in Victoria alone. And, you may be considering going even further afield. That's why we don't count your kilometres as you travel.
So where will you go with this gift of unlimited mileage? Across the Great Ocean Road to see the Twelve Apostles? Inland to uncover the wildlife of the Grampians? To mainland Australia's southernmost point at Wilsons Prom? Or maybe you're planning a trip further afield: to Uluru, or even Cairns? So many options!
If whittling down your top destinations into an itinerary seems overwhelming, we've got the experience and passion for helping. Check out our Get Inspired section on here, or call us on 1800 150 850. We can't wait to talk travel with you and get your Australian road trip booked in!